The weather was glorious for this match and it looked like we'd be in for a nice day for a change. I got to the car park for the draw and we were a few anglers short for this match due to people being on holiday and it being Father's Day among other things and I have to say I do feel for Les as it can be a nightmare trying to run a league. He does his best trying to get stand ins so the pay outs are not affected but some times that's just not possible so today we were missing four anglers. Les took the rather brave step of deciding not to have any league payouts so the daily pools wouldn't be affected and everybody seemed happy with that.
After sorting some bait and paying my pools, it was time to find out today's draw sequence, I've already had my two corners so wasn't really too fussed where I ended up today and when Les said my home for the next six hours would be peg 14 I was happy enough. It looked quite nice with quite a few carp cruising about and I fancied I might get a few up in the water today. Picky was in peg 15 with a hangover and ready to concede the pound already! Exeter Mike was in 13 and we agreed on a pound on overall weight so with Janders on holiday it was just the two side bets today.
The two favoured corners (pegs 10 and 11) were occupied by Bushy and Hainsey today although the wind was blowing down towards the other end of the pond but I still fancied them to do well. I set up three rigs, a little dibber for up in the water with a size 18 B911 with a hair rig to fish banded pellet, a Tabucco dibber for down the edge and a Drennan 0.4 gram Carp Float to fish at five metres. My bait tray was simplicity itself with just corn and 6mm and 8mm Bait Tech pellets. The pre match entertainment was provided by Les and Hainsey as they tried to catch trout from the little stream behind the pond, they both lost a couple before landing one each with Les claiming victory with a nice spottie around the pound mark!
Eventually it was time to start and on the whistle I fed my five metre line and inside lines with corn and pellets before starting shallow at 11.5 metres. Bish in peg 9 got off to a flying start with two carp in as many chucks and Hoff in peg 8 also got in on the act with an early fish. Oz in peg 6 hooked a lump which turned out to be a 7lb fish and it was looking like it could be a decent match. I thought if I could catch two carp an hour I would stand a chance of framing and as per usual I would give it an hour fishing shallow and see what the response was like. I was constantly firing out 5 or 6 pellets and lifting and dropping the rig and had my first carp after half an hour and it was a decent one of 4-5lb. I had a second of a similar size before the first hour was up.
I cupped in some more feed on my other two lines and continued fishing shallow, from what I could see both Bish and the Hoff had slowed up and Bushy was struggling in peg 10. The second hour was really good for me and I added another four carp and I was ahead of my target and when I added another three in the third hour to put me on nine fish I thought a good weight could be possible. From the bank side banter it sounded like Hainsey wasn't getting much in peg 11 although I felt sure it was only a matter of time before him and Bushy started bagging up. Les had landed three decent skimmers in peg 12 and was looking good to win the silvers again. It was all going rather well for me and I hadn't lost a fish yet and I really should know better by now as it all went a bit pear shaped during the fourth hour. I didn't add any more fish with the only action being two lost foul hookers and a bumped fish.
I was still feeding my other two lines every hour but hadn't tried them yet, I was keeping an eye on both Hoff and Bish who kept trying their inside lines and would try mine if they started catching but so far they hadn't had much close in. Butch Baker was catching quite a few eels in peg 4 and could be pushing Les for the silvers money. I had three more carp in the penultimate hour, including one I mugged, and I had reached my target of twelve and had to put my third keepnet in for the first time this series. During the last hour I hooked another carp which somehow managed to find a snag in open water but I managed to get it out to put me on thirteen fish and I had number fourteen not long after. Just before the all out I hooked another which found the same snag and I couldn't believe not a single fish snagged me all day and then two in the last half an hour did! I wasn't so lucky with this one and had to pull for a break, losing my hooklength in the process.
I thought I probably had between 40-45lb and had done well from what I could see but I wasn't sure how the other end had fished with the wind blowing into it. I packed up and as I walked back to the car I asked how everybody had got on and it seemed like the other end had fished well, Paul Homewood was admitting to 30lb although his mate Jamie P reckoned it was nearer 50lb!, Chilly said he'd done okay and Dunner in peg 20 said he'd had around the same number of carp as me although he had some small ones and all of a sudden I wasn't so sure I'd done as well as I thought!
Mike T had struggled in peg 1 for 2lb 14oz and then Jamie P in peg 2 had 5lb of silvers which included a lovely tench and 29lb of carp to give him 34lb and set the early pace, he reckons he lost 20lb of fish as well! Andy Donovan had 8lb 4oz in peg 3 before snake charmer Butch had 9lb 9oz of mainly eels to go into the silvers lead. There was no one in peg 5, Oz had 13lb 4oz in peg 6 and then peg 7 was empty too. Hoff was in peg 8 and went into the lead with 34lb 5oz, just pipping Jamie P. Bish had 16lb 6oz in peg 9 and then Bushy had 34lb 8oz in peg 10 to go into the lead and the top weights were all really close.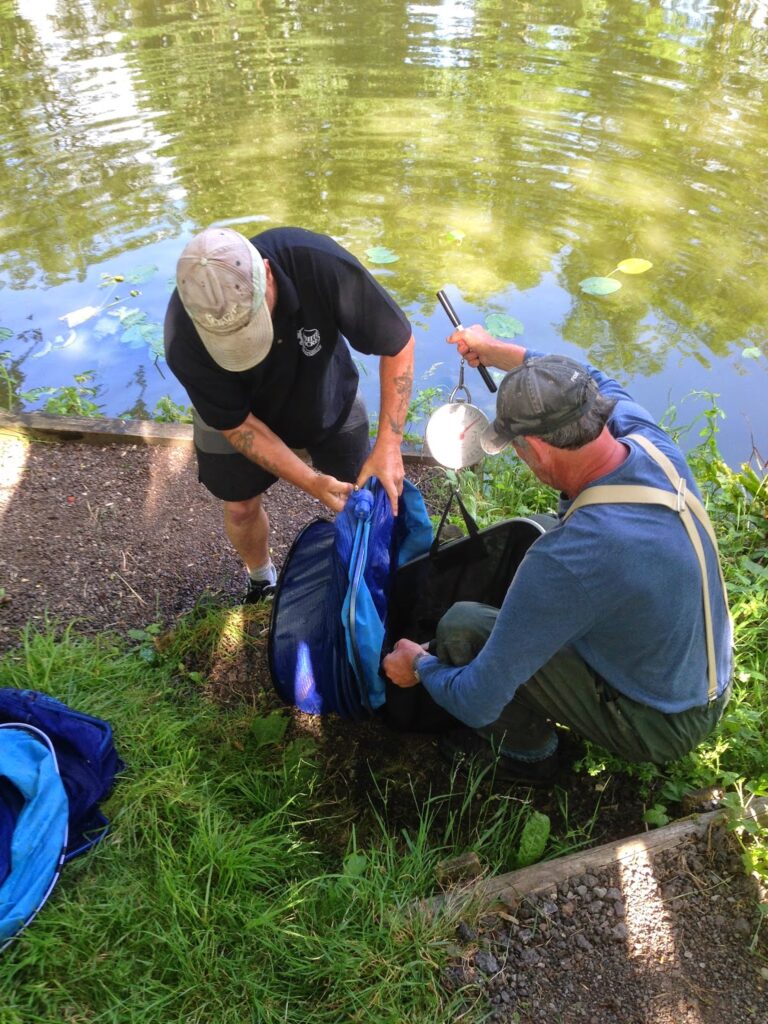 Jamie P weighing in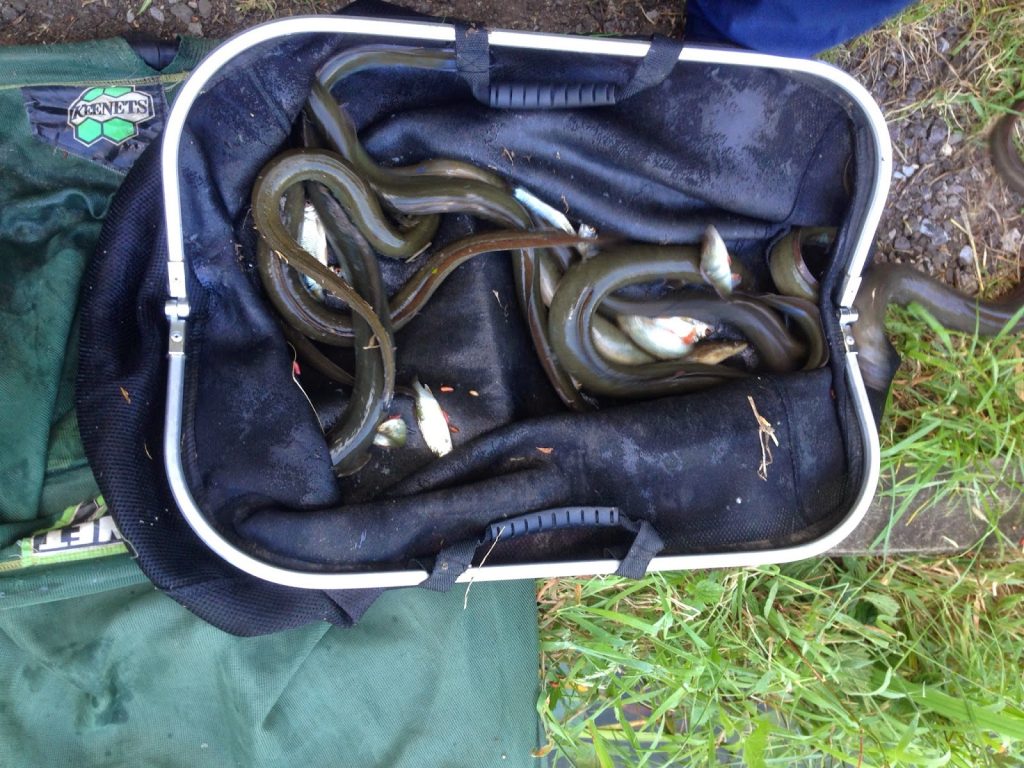 Butch caught mainly eels in his 9lb 9oz
Hainsey had 25lb in peg 11 before Les had three good skimmers and a couple of eels to weigh 9lb 14oz of silvers and go into the lead. Exeter Mike had 16lb 9oz and had a massive eel that had to pushing 3lb before it was my turn. After three weighs my weight was called out at 53lb 7oz and I went into the lead although I still thought Paul or Pup might beat me and I'd be left cursing a lost fish costing me a win yet again. Picky had 19lb 8oz so I've pulled it back to 3-2 and claimed a nugget to go with the one from Mike. Peg's 16 and 17 were blank and then it was Paul's turn, he weighed 46lb 9oz to go into second place which was a cracking weight from what's been a hard peg. Chilly had 22lb 4oz, which just left Dunner and he weighed 41lb 12oz which I think is the best weight off that peg so far this series. So I'd done it, won only my fifth match at Perry St and picked up £100 which was very nice plus the all important £2 in side bets.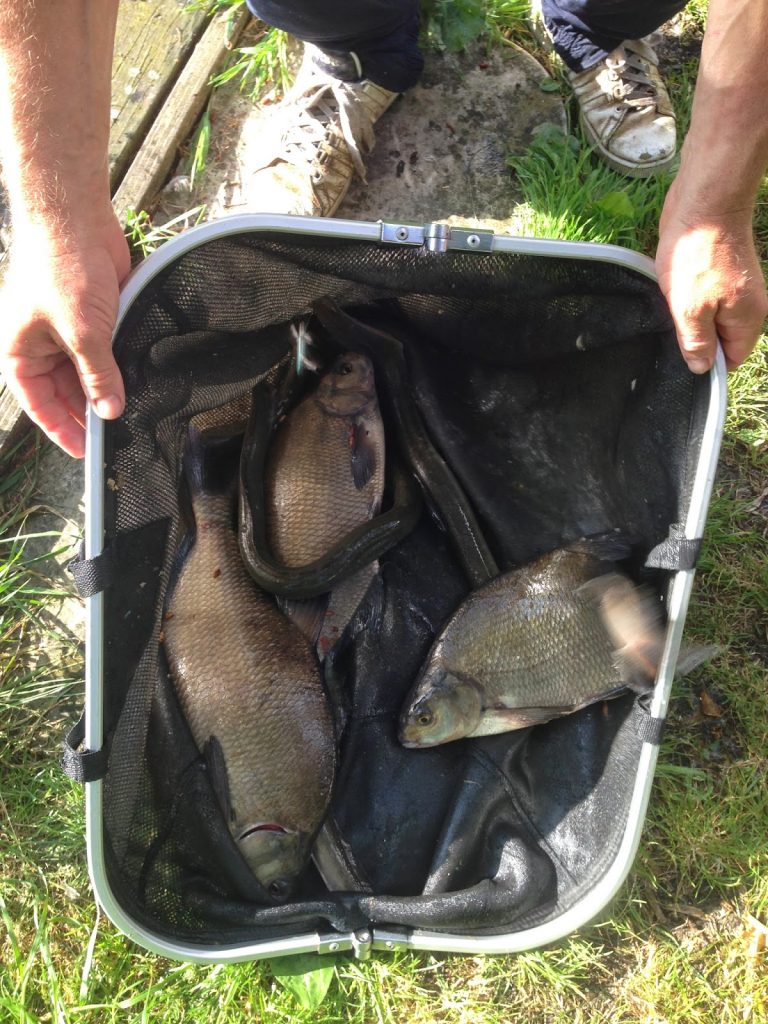 Les won the silvers with 9lb 14oz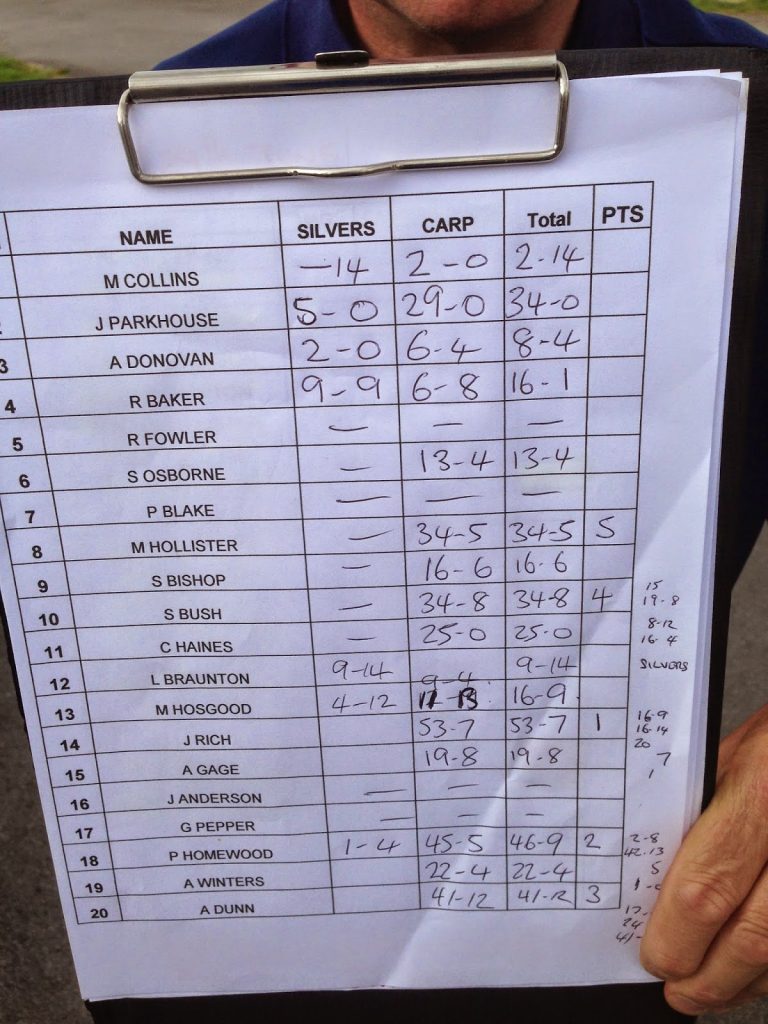 Today's board
1 – Jamie Rich (Against Men and Fish/Burt Baits) – 53lb 7oz
2 – Paul Homewood (Taunton) – 46lb 9oz
3 – Alan Dunn (Chard) – 41lb 12oz
4 – Steve Bush (Chard) – 34lb 8oz
5 – Mark Hollister (Chard) – 34lb 5oz
Silvers
1 – Les Braunton (Chard) – 9lb 14oz
After six matches Jamie Parkhouse still leads the league with 29 points followed by Steve Bush on 43 and Steve Osborne on 45.
Next up – Dillington
What's new – Lots of page updates
Check Out – How the juniors got on yesterday (below)