After some lovely weather of late, yesterday was just awful with some really heavy rain storms, the forecast was that Sunday would be the better of the two days and on waking up it looked like they had got it right for once. On arriving at the pond it was obvious we were a few short again with Pup and Exeter Mike away on their holidays and some others missing for various reasons. Janders was back from Cornwall and looking like a bronzed Adonis! I got the honor of choosing the envelope with the draw sequence in this week and on opening it, saw I was in peg 4 and I was fairly happy with that. The sequence also meant pegs 10, 11 and 12 weren't taken and also peg 3 on my right was vacant too and empty pegs are normally a bit of a bonus. With the top end empty, I felt pegs 9 and 13 and 1 and 20 would be the pegs to beat today.
On getting to my peg I noticed there were loads of lilies in front of me, luckily I managed to borrow a weed cutter off Picky in the next peg and clear a nice area in front of me. I set up three rigs, a dibber to fish up in the water with 0.14mm bottom and a size 18 B911 with a hair rigged band in a loop, a duplicate rig and also a 0.4 gram Drennan Carp to fish meat at 5 metres. For bait I had dead maggots, 6mm meat and 6mm and 8mm Bait Tech pellets. Picky was on my left with Janders next to him so I would be able to keep an eye on my side bets today.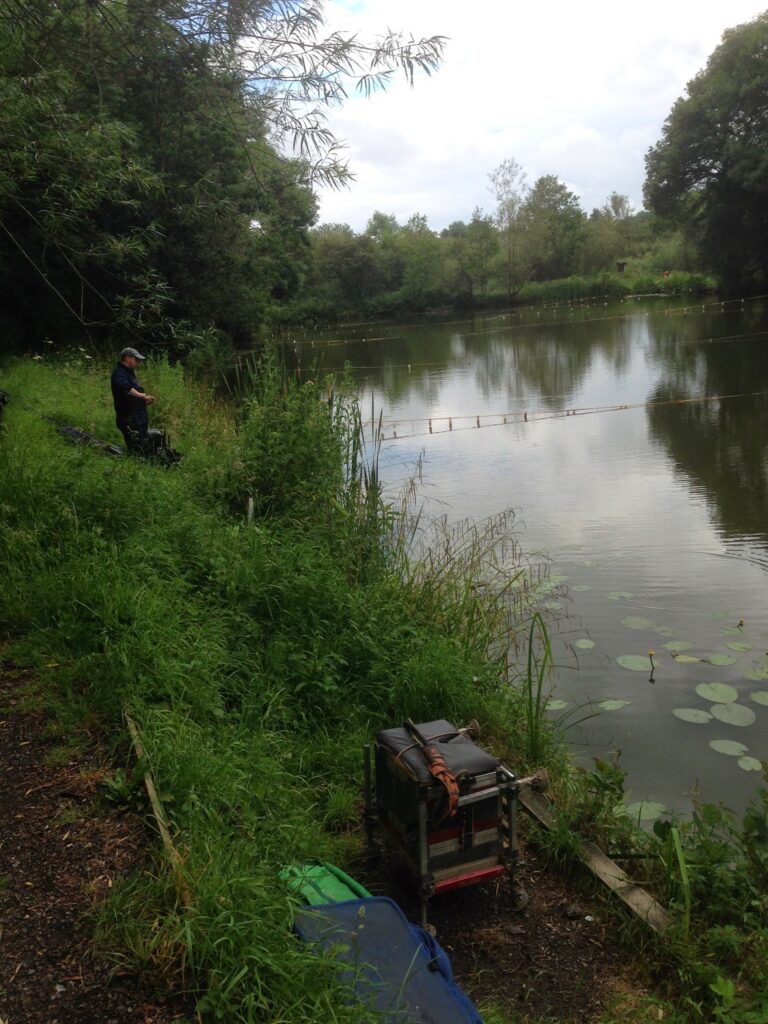 Peg 4 before I gave it a hair cut!
The whistle went and I cupped in some meat at 5 metres before starting on the shallow rig at 11.5 metres, with a 6mm pellet and firing out half a dozen pellets every few seconds. Oz opposite got off to a flying start catching a carp nearly straight away and then lost one not long after and I hoped we'd be in for a good day. Rocking Roy opened his account quite quickly too and then after about twenty minutes I've had my first carp which was about 2lb. I noticed Bushy in peg 20 had flown out of the blocks landing four or five carp really quickly and at this early stage it was looking like he'd be the man to beat. My first hour was steady and I landed three carp and I wasn't too far off the pace from what I could see.
Janders had landed a couple of fish although Picky wasn't doing much so far and from what I could see around the pond nobody was bagging up. I had two more carp in hour two although the second one snapped the hair in the landing net, I tied a new hooklength on and then hooked carp number six only to lose it and I came back minus the hooklength and I think the loop knot hadn't been tied very securely – schoolboy error! After a hectic start it looked like Bushy had slowed up and bankside reports suggested that Dino in peg 7 and Chilly in peg 9 were getting odd fish without setting the world alight so it was still all to play for.
I had my sixth carp at the start of hour three and then my mate Andy turned up and it was great to see him as it had been ages since we last spoke, I had a couple more carp while he was there and then Dave Lawrence turned up as well. I hooked another carp and my audience took the piss as the fish led me a merry dance through some lilies but I did safely net it. Dave left me to it and I hooked another just as he was leaving and I thought I had it under control when it went potty after I'd unshipped to the top two (why do they do that?) and eventually wrapped me around some lilies and I lost it.
Picky was now getting odd fish and Janders was still landing a few but most of the anglers on the far bank seemed to be really struggling. I had another carp snap my hair whilst thrashing about in the net and that was my last one! I tied another one but it took me a while and I hoped these stupid mistakes and lack of preparation wouldn't cost me. Andy had seen enough and said his goodbyes only to replaced a few minutes later by the Torquay Tart who had disappeared off the face of the Earth for the last few months (well we can live in hope!). I was still getting the odd carp but lost one when he was there when the hook pulled out which just confirmed he's a bloody jinx!
I'd been feeding the meat line all day but as yet hadn't tried it and the Tart kept suggesting I try it but I just couldn't see the point when I was still getting fish shallow! The last hour was pretty good for me and I landed another three of four carp to put me on sixteen but I'd had some smaller fish this week. I packed up and Les wandered up and said I'd won it but I wasn't so sure as Bushy had done well in peg 20. We all took our gear back to the cars and awaited the weigh in, the lad fishing for Hainsey in peg 1 had a torrid time, snapping his pole early on and he didn't bother weighing. Les in peg 2 had put together a nice net of eels and bream for 11lb 4oz on chopped worm and I think that's the best silvers weight this series. Then it was my turn and after I emptied my three nets my final weight was called at 48lb 8oz but would it be enough?
Picky weighed 15lb 2oz and for once he was telling the truth and his paste fish were on the small side and the scores on the doors now reads 3-3, Janders had some right lumps and weighed 25lb 6oz to go into second place but still had to pay me a pound. Dino had 22lb 6oz in peg 7 before Chilly in peg 9 pushed Janders down a place when he weighed 29lb 6oz. The far side had been hard work with several people chucking back and not troubling the scales until we got to Bushy, he was admitting to nine carp so I thought I was safe but he'd had some lumps and it was closer than I'd anticipated when he weighed 38lb 6oz. So luckily my faffing about earlier hadn't cost me and I picked up £100 to make this my best month ever.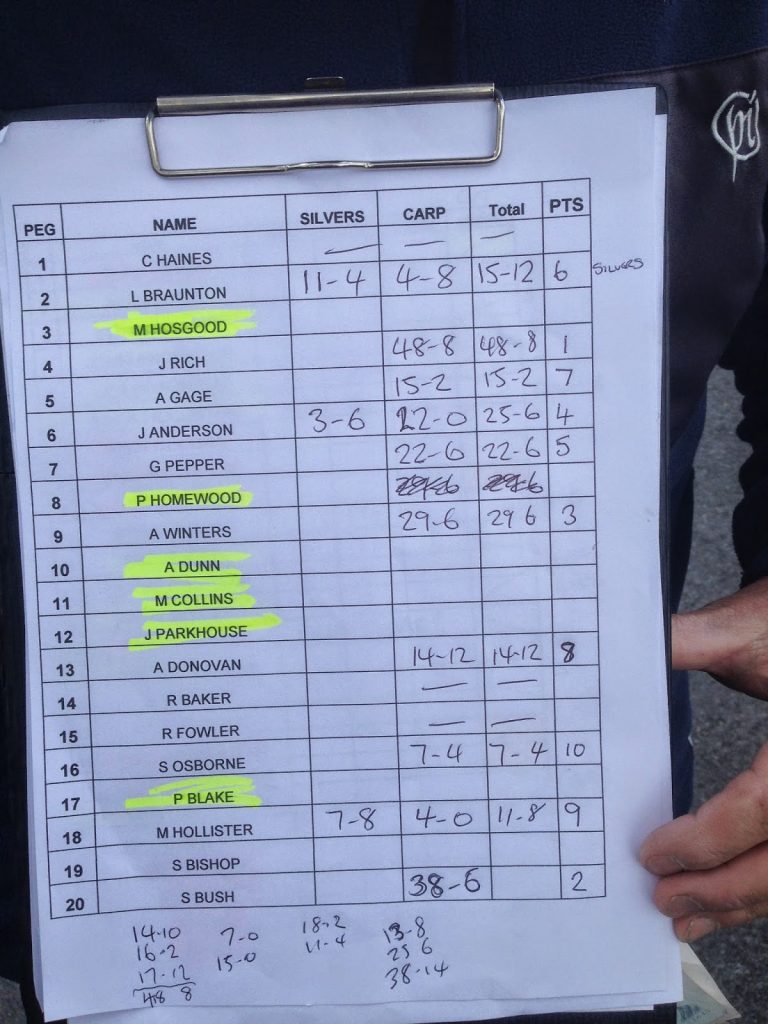 Today's board
1 – Jamie Rich (Against Men and Fish/Burt Baits) – 48lb 8oz
2 – Steve Bush (Chard) – 38lb 6oz
3 – Andy Winters (Chard) – 29lb 6oz
4 – John 'Janders' Anderson (Chard) – 25lb 6oz
5 – Graham 'Dino' Pepper (Taunton) – 22lb 6oz
Silvers
1 – Les Braunton (Chard) – 11lb 4oz
With Jamie P not fishing today, Steve Bush has moved into pole position in the league with 45 points followed by Jamie on 49 and Andy Donovan on 54.
Next up – Perry St
What's new – Latest Ilminster juniors match result on news page
Check Out – My latest ramblings (below)
Blog of the week – Tim was back on the bank and had a good result today Tim's Blog