I haven't done an interview for a while and hopefully I have another big name in the angling world lined up but until then, here's a little 'tongue in cheek' interview to tide you over (and you may even find some bits interesting!).
Hi Jamie, thank you very much for taking the time to answer my questions,
I've known you for a very long time (it almost feels like a lifetime!) but I thought the readers
might find it interesting to learn a little more about you
Against Men and Fish – When did you start fishing and what was your first fish?
Jamie Rich – I started fishing when I was 10 years old with some friends on the River Isle, we chucked a lead out and when we reeled in at the end of the day there was a bullhead on the end!
What's your favourite style of fishing?
I love fishing the pole and if I'm catching quality fish I'm happy although I have to say I'm not a huge fan of carp.
Your favourite venue?
I couldn't narrow it down to one, I enjoy fishing Summerhayes in the warmer months and I love the River Isle during the winter. I also really love Ilminster Canal although we don't fish it nearly enough and Dillington is a very fair venue when the river is flooded.
Although I said in the previous question that I wasn't a big fan of carp, I've fished a Spring/Summer league at Perry St Pond for as long as I can remember and I do quite enjoy fishing shallow for carp.
My favourite venue abroad is Gillhams of course!
And favourite fish?
In the UK I love tench and crucian carp and abroad, Amazon redtail catfish and arapaima take some beating in the looks department, and they put up a pretty good scrap too!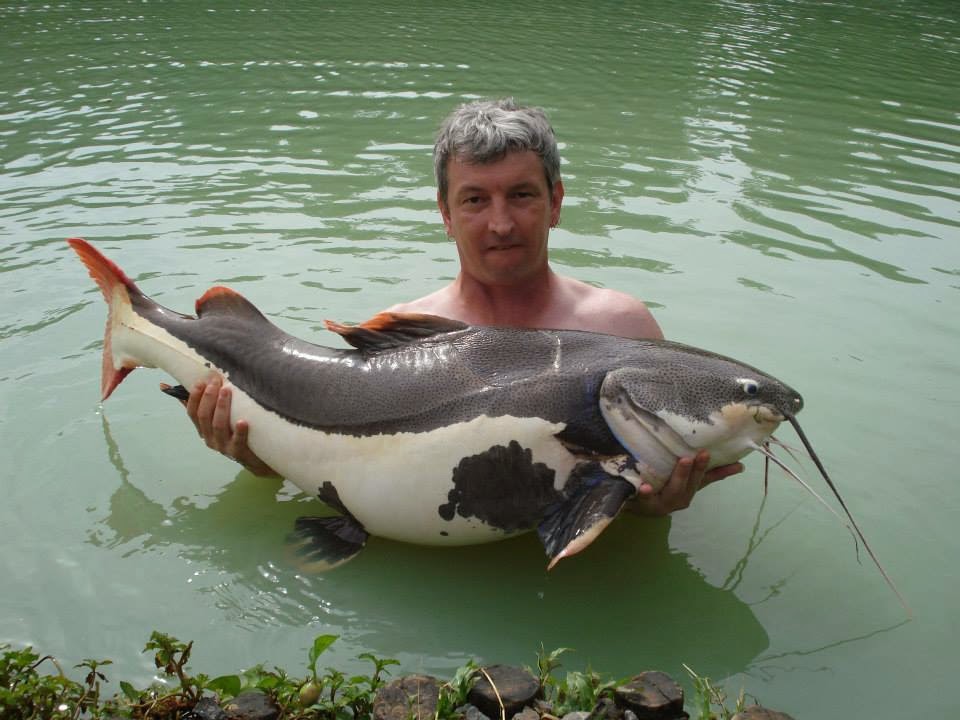 Amazon redtail catfish
You mainly fish club matches along with the odd open, what's been your best match result to date?
And are there any matches you would love to win?

I'm very proud that I've won the Chris Patten memorial match and Barney's Pairs which I've won twice with Bruce Hunt and Justin Charles as my partners. After many years of trying I finally won the V.E.S. Precision Winter League this year and that was very satisfying. I would love to win one of the two day festivals at Summerhayes with my best result to date a second place.
You started blogging in 2006, can you tell us a little about why you do it?
Good question! I've always enjoyed reading about fishing and my favourite articles were always the diary style articles written by the likes of Richard Wade and Lee Kerry to name a couple. I'd always kept fishing diaries myself so this was really just an extension of that. I enjoy doing it even
though it takes up a lot of my time, I've had some stick and sarcastic comments but you have to expect that and the positive feedback I've received far outweighs the bad. The best bit though is that through my blog I've met some fantastic people, some of who I now regard as friends.
An added bonus has been I've received tackle, bait, clothing and even a canvas to review and I've
really enjoyed that unexpected perk! I even got to do a feature for Match Fishing magazine with Steve Lockett and that has always been an ambition of mine. I can't really believe that when I started I was getting about 1000 hits a month (most of them probably from me!) and now I'm getting around ten times that number as I approach the 180,000 mark, thanks so much, I really do
appreciate the support.
These interviews are a fairly new feature for your blog, what prompted them?
Well I'm always looking at ways to try and keep it interesting, like focusing on various fisheries and bait and tackle reviews. I've gotten to know Hayley at Bait Tech quite well and she's been a huge help with getting access to Pete Clapperton and Dave Harrell and the feedback from the interviews has been amazing (not too sure how this one will go down though!).
I've also noticed that along with trips abroad after more exotic species, you've also started
trying your hand at fishing for some different types of fish in this country, what brought this about?
A fairly recent addition to the blog was a personal best's page and as I was putting it together I noticed there were several species of fish I'd never caught and decided to try and add them to the list. Also I'm a match angler and I love fishing contests every week but I found these trips after new species very refreshing and a total change to what I'm used to.
I must say a big thanks to Scotty Russell for being my guide when we fished for grayling, Justin Charles for trying to help me catch barbel, Russell Hilton for his assistance in me catching new pb's for pike and perch and my mate Andy Langdon for accompanying me on several mullet trips. I think these trips also bring a new dimension to the blog and I hope there will be many more and I would love to add zander and flounder to my list!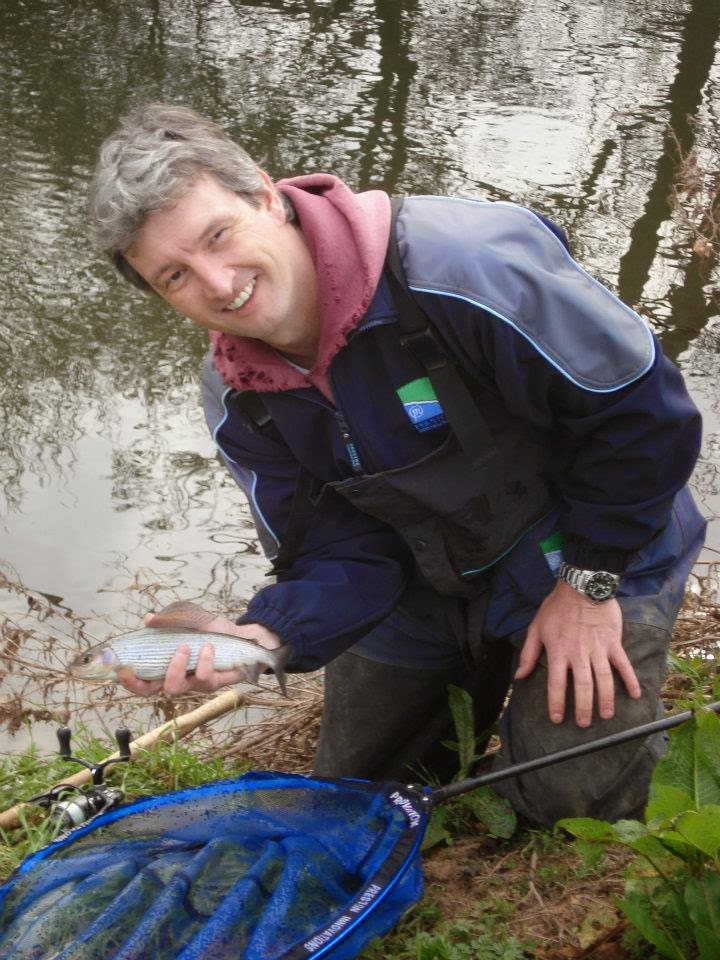 A River Tone grayling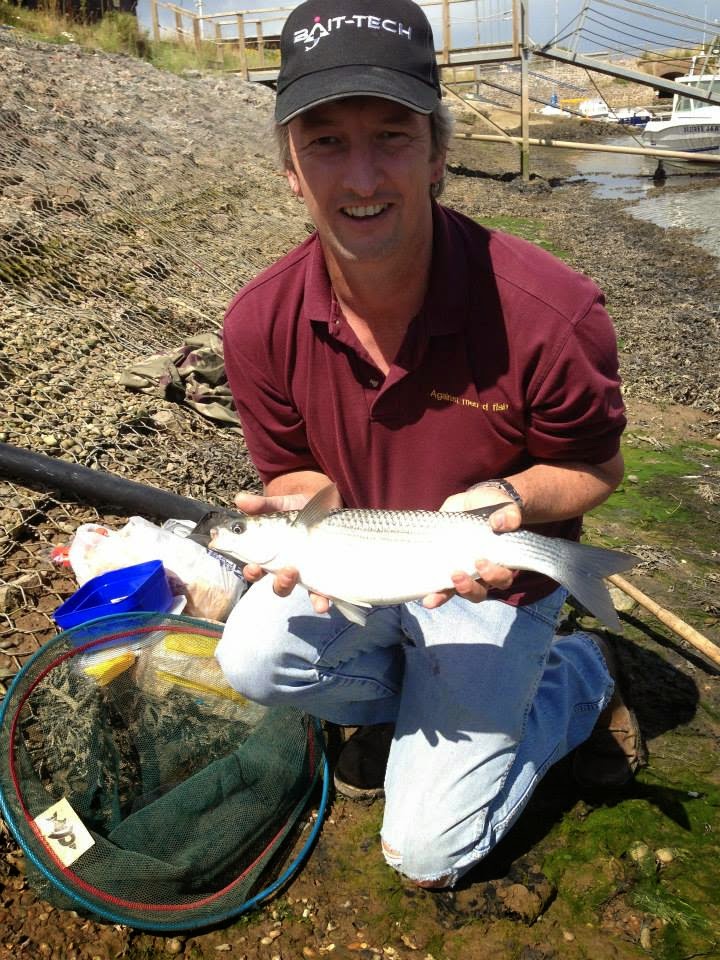 3lb 4oz mullet caught from the River Axe
Have you got any other plans for the blog?

I'd like to be able to earn enough money from it to do it full time! But as that isn't going to happen anytime soon I will keep blogging about my matches and other content which I hope you'll find interesting. In the near future I hope to be able to post about lure fishing, drop shotting (which
everybody seems to be doing at the moment) and I may even have a bash at some sea fishing!
In the blogging world, yours is one of the longest running (since 2006) but now everybody seems to be doing it, what are your thoughts on rival bloggers?
The more the merrier! Seriously, I love reading fishing blogs and no matter what type of angling you're into, there is a blog about it. On my blog I have a massive reading list of blogs which I'm adding to all the time (if you want yours adding, just contact me). I love the fact that anglers of
all abilities blog and writers of all abilities blog, anyone can do it. I try and advertise other blogs by sharing links to my favourite bloggers and hopefully they will return the favour!
The one piece of advice I would give is that if you start blogging you have to update regularly, there is nothing worse than getting into and following a blog only for the posts to fizzle out after a couple of months!
Before I let you go, here are a few quick-fire questions,
What's your biggest fish in the UK? And abroad?
My biggest UK fish is a 28lb 4oz carp caught on the feeder in a match at Chard reservoir and my biggest ever fish is a 260lb arapaima from Gillhams Fishery in Thailand.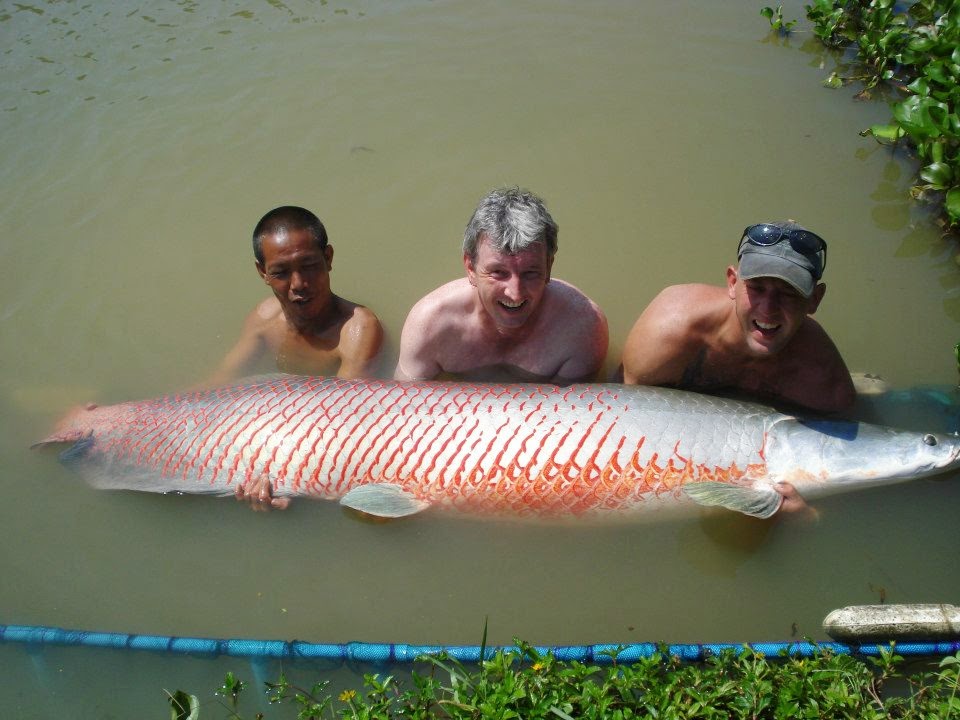 260lb arapaima caught at Gillhams Resort, Thailand
What's your favourite drink?
A pint of Carling Black Label (early evening) or Jack Daniels and Coke (end of the night!)
Favourite meal?
Steak and chips
Favourite film?
I love so many different films it's impossible to pick just one, but if pushed, True Romance and Pump Up The Volume are right up there.
TV show?
The Walking Dead and Buffy The Vampire Slayer
What music do you listen to?
Again, I love so many bands but at the moment I'm listening to Teenage Bottlerocket, NOFX and Propagandhi.
Do you have any other interests/hobbies outside of angling?
I enjoy live music and going to gigs and I also collect coloured vinyl although I get a lot of stick as I don't own a record player!
Thanks Jamie it's been lovely chatting to you and hopefully we'll meet again!
Against Men and Fish