Yesterday had been really hot and I'd managed to burn my face and neck while walking round the Thai festival in Bristol so would need to be more careful today, although it did look like it was going to be a bit more overcast which would be better fishing conditions. Everyone knew which pegs they were on today and I had peg 6 to look forward to. Picky was on holiday so Dave Lawrence would be fishing for him and Bushy wasn't fishing today due to back problems and Paul Homewood and Chilly were also missing today which meant pegs 10 and 11 weren't taken which could even things up a bit for the rest of us. Today's side bets were with Janders, Exeter Mike and Jamie P.
As I was setting up loads of carp could be seen cruising about and there was some ripple on the water and combined with it being overcast, the pond just had to fish better than last match, didn't it? I set up my usual dibber to fish shallow and also one of the new Drennan Crystal dibbers (not used) along with a 'Slappa' float (not used) that I will be reviewing soon, all three had size 18 Kamasan B911's with a hair rigged band in a loop. My final rig was a Drennan 0.4 gram Carp to fish at five metres (not used!). My bait tray was even simpler than normal today with 6mm and 8mm Bait Tech pellets and some dead red maggots.
The whistle went and I cupped in some dead maggots at 5 metres before starting at 11.5 metres up in the water while constantly flicking out 5-6 pellets. I was also feeding pellets down the edge and on the shorter line. Oz in peg 18 was into carp straight away and Jamie P opposite me in 14 also had a fish quite quickly and Exeter Mike hooked a carp on his skimmer rig. I had my first carp after half an hour and added a second just before the first hour was up, Oz had flown out of the blocks landing five carp already and Jamie P was just ahead of me with three. Hoff in peg 20 was also catching well and Dunner in peg 12 looked to be catching shallow and already the pond was fishing a lot better than last week.
My second hour was pretty good and I added three more carp but Jamie P stayed a couple of fish ahead although Oz slowed up a bit. Hoff had a bit of a nightmare snapping a top three on a carp and Les suffered a breakage too. Hour three was better again and I added four more carp to take my tally to nine and I lost one as well when the hook pulled out. There now wasn't much between me and Jamie P and he was struggling on his shallow rig so had switched to fishing up the edge.
I was still feeding my short line and up the edge but as I was still getting indications and odd fish shallow I was loathed to come off it yet and two more carp took me to eleven fish with one a right lump of 7-8lb and I lost another fish which did me in the lilies. Jamie P also suffered a pole breakage on a carp which turned his top two into a top four! With two hours to go, Jamie P and Dunner were still catching really well but me, Oz, Hainsey and the Hoff were all still in the mix too. I did briefly try my shallow rig up the edge as there were some signs of fish but it wasn't long before I was back out on the long line again.
I added another three fish in the fifth hour to put me on fourteen and lost another one but Jamie P was now pulling away with a succession of good fish from his edge swim, Dunner was still netting fish like a man possessed and I was sure it would be between those two for the winners spot today, leaving the rest of us to fight it out for the lower places. I added two more carp in the final hour to finish with 16 carp and I thought I must have around 50lb and I knew it wouldn't be enough to beat Jamie P and I thought Dunner had done me as well but then he said he'd had 15 carp which surprised me as I thought he had a lot more.
As I was packing up, Exeter Mike walked up and conceded his pound, we started taking our kit back to the cars and I asked Hainsey how he'd got on and he said he'd had 15 carp and a good skimmer plus some bits so it could be close between us. We loaded the cars and gathered by peg 1 to start the weigh in, Bish had struggled for 13lb 2oz and for a corner peg it's not been great this year. Les then chucked my hat in the pond for it's yearly wash but fair play to him, he did get it back for me and then proceeded to plonk it on my head!, at least it cooled me down a bit. Peg 2 was vacant and then Chris's silvers weighed a level 6lb before he stuck 44lb of carp on the scales and all of a sudden I wasn't so sure of my weight.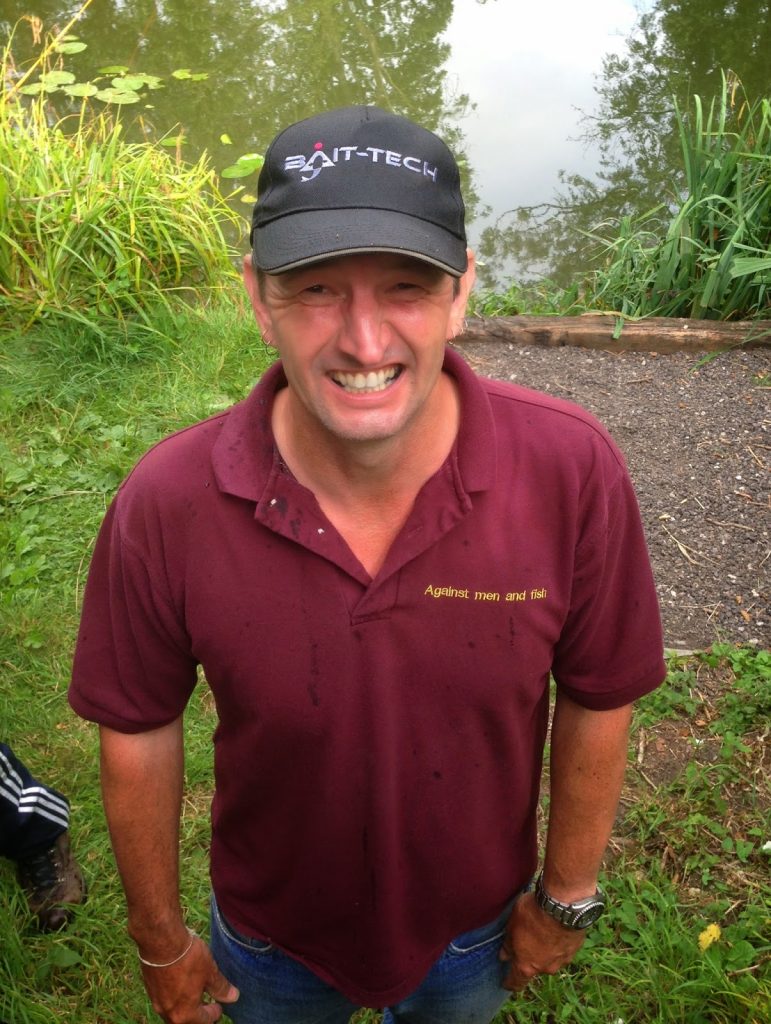 Me with my nice wet hat!
Les didn't weigh his carp but had 2lb of silvers and was hoping Chris framed, with Exeter Mike not weighing it was then my turn and after my first two weighs went 31lb 2oz I needed my third net to be more than 20lb to beat Chris and was relieved when the scalesman called it at 22lb 10oz to give me a 53lb 12oz total to go into the lead. Dave had 14lb 2oz and Janders weighed 10lb 4oz and paid me a squid although I was sure I'd be giving it to Jamie P very shortly. Dino in peg 9 had 38lb 8oz and had lost several carp as well, with 10 and 11 empty the scales reached Dunner and he weighed 58lb 14oz to push me down into second.
Mike C didn't weigh and then Jamie P stormed into the lead with 76lb and I was sure nobody else had that, I was now down into third place and hoping I wouldn't drop any lower. The Captain in peg 15 didn't weigh and then Butch had several carp but more importantly he had 3lb 4oz of silvers and he was now hoping Chris would frame. Rocking didn't weigh and then Oz had 39lb 8oz to go into fifth place and had done well from peg 18 which has been hard going again this year, Blaker chucked back and the Hoff had 33lb in peg 20. So Jamie P won with Dunner second and I had a nice little pick up of £60 for third place, Hainsey was fourth so him and the Captain had some burger money and Oz was fifth. Butch won the silvers by default.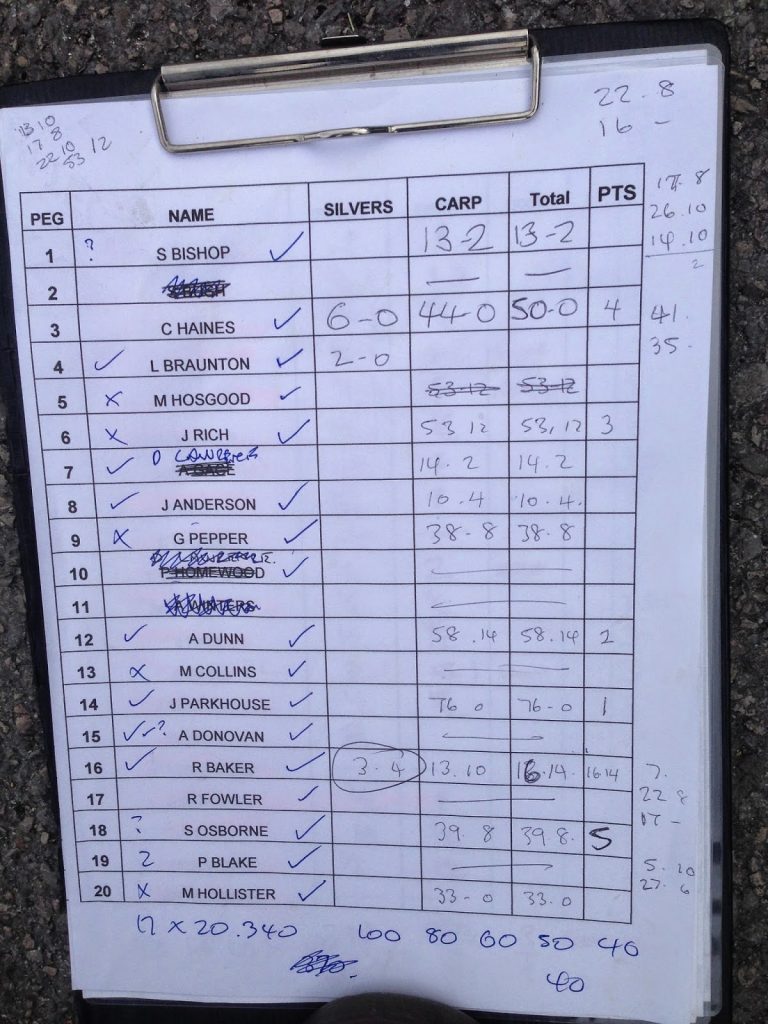 Much better weights this week
1 – Jamie Parkhouse (Burt Baits) – 76lb
2 – Alan Dunn (Chard) – 58lb 14oz
3 – Jamie Rich (Against Men and Fish/Burt Baits) – 53lb 12oz
4 – Chris Haines (Haines Angling) – 50lb
5 – Steve Osborne (Chard) – 39lb 8oz
Silvers
1 – Butch Baker (Chard) – 3lb 4oz
Jamie P's win today made sure of the league title with 60 points, the Hoff was second with 69 and with Bushy not fishing today I ended up in third place which I was quite pleased with after a disastrous start in the first match.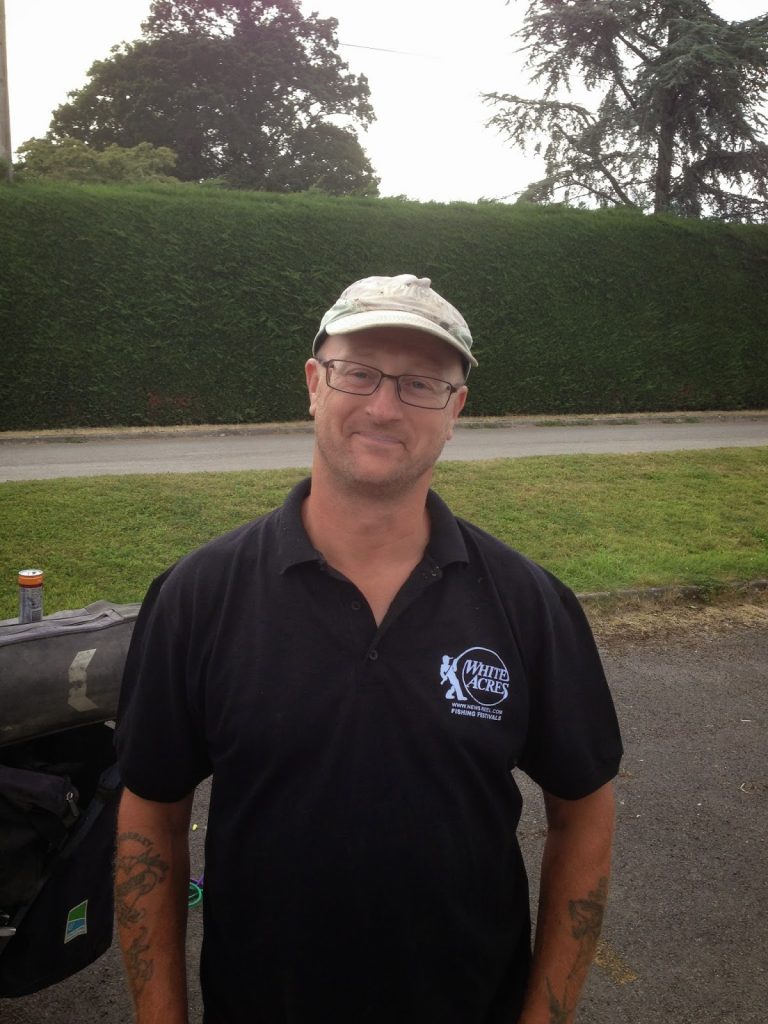 Winner on the day and Perry Street League Champion 2014 – Jamie Parkhouse
Final League Positions
1 – Jamie Parkhouse – 60 pts
2 – Mark Hollister – 69 pts
3 – Jamie Rich – 77 pts
I'm at Dillington next week, so come back then to see if the whip is still dominating!
Next up – Dillington Pond
What's new – Lots of page updates
Check Out – My latest review (below)