After watching the juniors yesterday I was quite looking forward to this match, the weather was nice again although some rain was forecast for later but I was hoping I'd be able to catch shallow again. We nearly had a full house again with only one absentee today. I had to pick the envelope for the draw sequence and when Les opened it and read out who was where, my home for the next six hours was to be peg 16, not a great peg but it leaves me with two half decent pegs for the last two matches, pegs 6 and 8.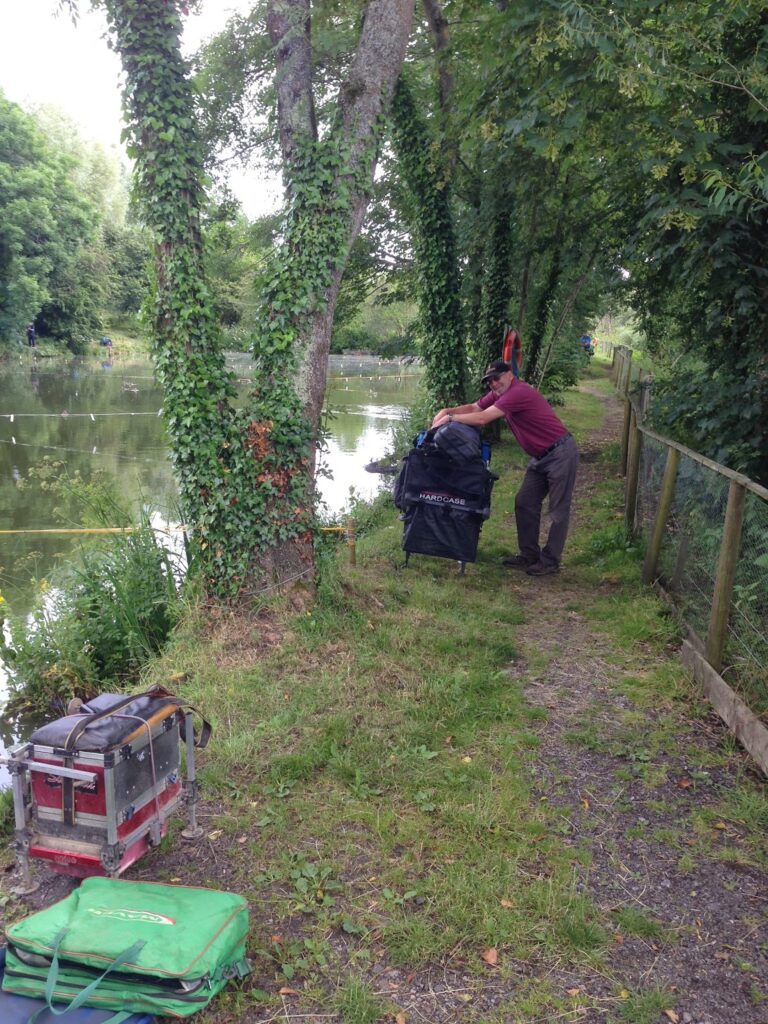 I was in peg 16 with Exeter Mike next door
Along with my normal side bets (Janders and Picky), Jamie P and Exeter Mike (who had a bad back) also fancied trying to nick all my change off me as well, this could be an expensive day. Quite a few carp could be seen mooching about and I really fancied another nice day fishing up in the water was on the cards. I set up the usual dibber with a hair rigged band on a size 16 Kamasan B911, I also set up a 0.4 gram Drennan Carp to fish at depth and a Trabucco dibber for fishing up the edge.
I was set up with a bit of time to spare to went to have a natter with Janders, Picky, Exeter Mike and the legend that is Dino who was on top form and had us in stitches. With five minutes to go we all wandered back to out pegs and awaited the start. Les shouted the all in and I cupped some dead maggots and corn down the edge before starting shallow at 11.5 metres with a 6mm pellet and flicking out a few pellets constantly and lifting and dropping the rig.
Jamie P opposite in peg 4 hooked a fish shallow nearly straight away but lost it and then lost another not long after. I had a small carp after about 20 mins and when I hooked another quite quickly, I thought the signs were there for a good match, I was shipping back slowly and keeping the feed going in when the poxy hook pinged out for no apparent reason! Jamie had now lost three fish and there was a bit of swearing going on, my swim then died a death but I did manage my second carp just as the first hour was up.
The second hour was very good for me and I added three more carp and from what I could see I was doing well. Jamie P said Paul Homewood in peg 20 was catching but other than that quite a few people were struggling at this early stage. I could still see loads of carp swimming about up in the water and it was all pretty much going to plan so far but then in hour three I just couldn't catch and I lost a foulhooked fish that led me on a merry dance. I get quite a bit of stick about my apparent 'mugging' of fish but to be honest most of my fish are caught fishing shallow in the conventional manner but if I see fish cruising I will dob a pellet in front of them and I did just that with my sixth carp, much to the disgust of several people! It was a decent fish of around 5-6lb and kept me in touch with the front runners.
I was still feeding maggots and corn down the edge but hadn't tried it yet as all the anglers I could see who were fishing the margins hadn't caught yet. I was now really struggling and just couldn't catch shallow with the only action in the fourth hour being a bumped fish. Exeter Mike had caught a few small skimmers early on but was now struggling and the only angler who seemed to be getting a few was Hoff in peg 10. I was still a couple of fish ahead of Jamie P but then he had two carp fishing on the deck and by my reckoning he'd edged ahead as I had some smaller fish.
Now of course you'd think I'd try my depth rig with banded pellet of perhaps have a quick go up the edge with corn but no I just kept blindly fishing shallow hoping I'd catch several fish late like last week. We also had some quite heavy rain showers which should have told me to try the deep rig but I took no notice! I only managed two more small carp in the remaining two hours. Jamie caught several carp shallow just off the lilies and despite him saying otherwise, I knew he'd battered me today and I'd be a pound worse off. I still thought there was a good chance of sneaking into the frame as the pond had fished hard today.
Exeter Mike conceded defeat and paid me a nugget so I was at least back on an even keel although to be fair he'd fished for silvers all match and had a bad back. Picky also wandered up and gave me a £1 as he'd only had a couple of carp and the score is now 4-3 and I've gone into the lead for the first time this series! Janders had caught some nice carp so we would have to wait for the scales to see where that pound was headed.
I took my kit back to the car and went to watch the weigh in which started today on peg 3 as Chilly in peg 1 and Pup in peg 2 had chucked back and gone which goes to show how hard it had fished today. Mike Collins in peg 3 had 5lb 4oz of carp before we got to Jamie P who weighed 27lb 14oz and I thought he'd frame with that. Andy Donovan had 4lb 6oz and then Butch didn't weigh, peg 7 was empty and then Oz and Dave Lawrence (fishing for Blaker) both didn't get the weigh sling wet either! The Hoff had 40lb 8oz in peg 10 to go into the lead and Bish opposite in peg 11 had 32lb to go into second place.
When Bushy weighed 24lb 14oz in peg 12, I wasn't sure I had that and my chances of a pick up today were disappearing fast. Hainsey had a few carp but his 4lb 8oz of small roach and rudd but him in the lead on the silvers front. Les in peg 14 had fished chopped worm and caster all day and was with a couple of nice bream was hoping to make it four silvers wins in four matches but the needle stopped at 4lb 8oz to tie with Chris. For good measure he plonked 21lb 6oz of carp on the scales as well. Exeter Mike didn't weigh and then it was my turn and I needed to weigh 25lb+ to stand any chance but I knew I had some small fish and Butch called out 22lb 14oz and I needed a couple more fish.
Picky had 4lb 8oz before Janders weighed 18lb 4oz with just four carp so at least I finished 3-1 up in side bets, Dino had 31lb 14oz to go into third place and then Paul Homewood in peg 20 had 31lb 8oz to finish in fourth place and just 8oz separated second and fourth positions.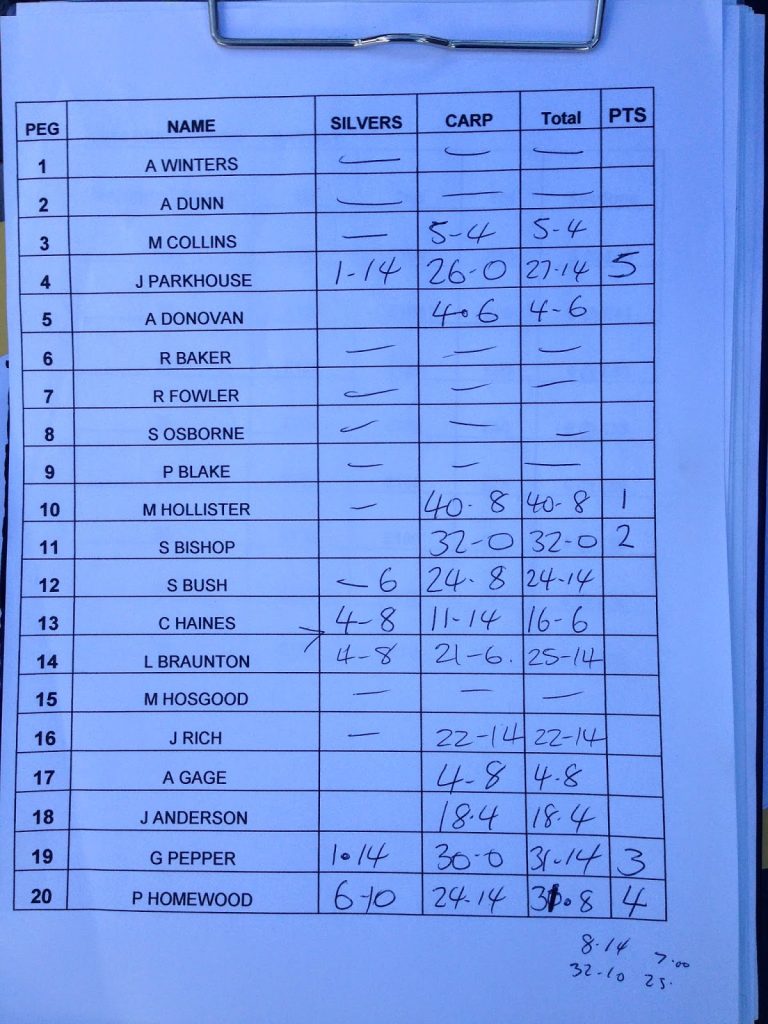 A tight frame but it was hard going for half the field
1 – Mark Hollister (Chard) – 40lb 8oz
2 – Steve Bishop (Chard) – 32lb
3 – Graham Pepper (Taunton) – 31lb 14oz
4 – Paul Homewood (Taunton) – 31lb 8oz
5 – Jamie Parkhouse (Burt Baits) – 27lb 14oz
Silvers
1 – Les Braunton (Chard) and Chris Haines (Haines Angling) – 4lb 8oz
After eight matches, Steve Bush still leads the league with 52 points followed by Jamie P on 54 and Mark Hollister on 60.
I'd got it badly wrong today after a great start and not trying my other lines has cost me but hopefully it's a lesson learnt the hard way.
Next up – Summerhayes
What's new – Latest Ilminster AA result on news page
Check Out – How the Chard juniors got on yesterday (below)