Before I get onto this weeks blog I must just mention that I picked up my new seatbox yesterday, yes you heard correctly, the Tardis has finally been retired! After talking to several people and looking at what's available I decided on the Martix Superbox as it's had great reviews and it doesn't cost the Earth. It's a nice looking box but I have to say I was a little disappointed that it didn't come with winders like the majority of boxes these days and I've had to buy winders (which themselves weren't great quality but more of that later), keepnet arms and a sidetray. Also my nice new, shiny winder trays don't fit in any of the drawers supplied! So I've had to put them in the removable base unit until I buy more drawer units!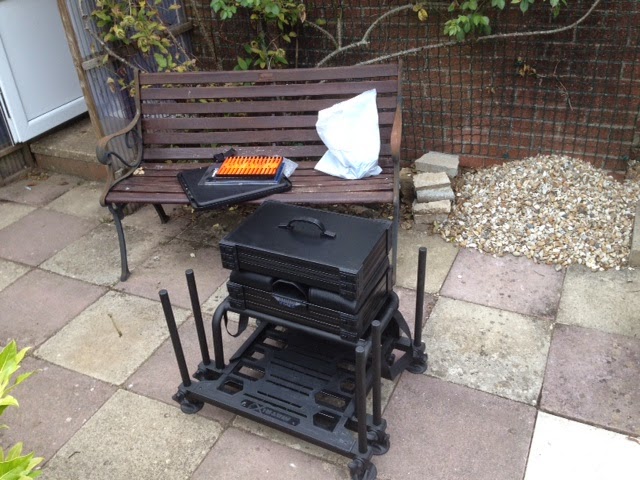 My new box
As I was transferring kit from my old box to the new one, I came to realise that I just wouldn't be able to fit it all in the new one!, maybe that's not such a bad thing as I carried around a lot of stuff that I was never going to use. The Tardis was a heavy old box but it was solid and sturdy and it served me very well for a long time and I just don't feel that with many of todays boxes (with the exception of the Rive perhaps) as a lot of the fittings are plastic. My final whinge is to do with my new winders (which cost me a tenner by the way), they have the slider on the side so no more perishable pole anchors for me but as I was putting rigs on them, these sliders just popped off! Now this isn't too bad when I'm in my garage but on a windy day by a lake like today, it's a recipe for disaster and I lost a couple of these sliders rendering the winders utterly useless!
Those of you that know me will probably know that I'm not a big fan of change so it'll probably just take me a couple of weeks to get used to my new box and then it'll be the best thing since sliced bread!
Right onto this weeks match, I was looking forward to getting back to Summerhayes and today we would be fishing on Longs which has been fishing well with silvers weights over 30lb and good backing weights too. I picked Janders up and as we made our way to Bridgwater the sky was getting darker and darker the closer we got and he said he hadn't brought a coat or brolly as the weatherman said it was going to be dry today! On arriving the car park was packed as there were several matches on various lakes today and this cracking venue seems to get more popular all the time. Our match was well attended and it was nice to catch up will all the usual suspects. We had a coffee while we waited for the draw and as always, this venue seems to have it's own micro climate where it's windy all the time and it would seriously affect presentation today.
Pete announced the draw and Janders and me hung back a bit, lots of anglers were coming out of the hut moaning and groaning about their pegs, Jacko had drawn peg 9 which was yet another golden peg. I delved into the bucket and pulled out peg 24 which wasn't the result I wanted, it can be a decent carp peg but it hasn't got much silvers form. Janders went after me and pulled out peg 11 which is one of the better silvers pegs and my pound was in serious danger today. Glynn Wickham also wanted his usual nugget on silvers and Rob Kingston wanted a pound on overall weight.
As I got to my swim I noticed I had an empty peg either side which can only be a good thing with a lot of anglers fishing like today. Glynn was in peg 21 so we could have a bit of banter and Bill 'The Paste King' Hopping was on peg 26. I set up two MW F1 Slim floats, a 10 x 11 and a 14 x 11, both with 0.12mm hooklengths and size 16 Tubertini 808's. Bait was the usual micros and 4mm and 6mm expanders but I'd also soaked some 4mm feed pellets the night before as several people had said feeding just micros brings in small roach and skimmers and also that the bigger skims can get preoccupied with them.
I plumbed up two swims at 8.5 metres (because of the wind), one straight out in front and the other angled to the right, I also planned to fish a closer line at top two plus one. I just had time to band up some 6mm pellets in case small fish became a problem and then it was time to start. I fed all three lines with half a pot of micros plus a few 4mm's before starting straight out with a 4mm expander on the hook. I missed a couple of bites which I suspect were small fish and was soon switching to banded pellet. Glynn had two good skimmers quite quickly and then I had one of my own and maybe this could be better than we'd anticipated. After half an hour I had two good skimmers plus a blade and Glynn had three plus some bits and he'd bumped a couple as well.
But then I couldn't buy a bite and trying my other 8.5 metre swim yielded nothing, Glynn added a couple more fish and he was fishing further across than me so I decided to start another line at 10 metres, I had another good skimmer but it proved to be a false dawn with my next two fish, both small carp. I tried the short line but could only catch the odd roach and with the match only two hours old, both me and Glynn were really struggling. The wind was being a real pain and to be honest I wasn't enjoying myself that much. Bill was catching quite consistently and he was doing well to fish paste tight across in the wind.
I was putting very little in the net apart from the odd roach and with a couple of hours left, I decided to fish my short line for the rest of the match where I had been feeding 4mm's. My first fish was a lovely golden crucian around the pound mark but I was still a couple of decent fish behind Glynn on the silvers front. Then I started catching carp quite well but I was never in danger of getting close to Bill who was now bagging and even had a big eel that looked to be 2lb+. As the whistle blew I was playing a decent carp that was foulhooked in the tail but just as I thought I might land it, the poxy hook pulled out which about summed up my day. I ended up with 14 carp plus a few pounds of silvers and I paid Glynn a pound as I knew he's beaten me today.
As the scales reached our end, Scotty Russell was leading with 77lb 6oz from peg 12 with most of his fish coming to the method feeder, he also won at the Viaduct yesterday with a massive 251lb and was looking to make it two out of two. Mark Hanham came close with 70lb 9oz from peg 13 but needed a couple more fish and Ray Wickham was leading the silvers with 13lb 5oz from peg 17. Janders had chucked back and paid me a £1 so I was evens for now and would have to wait to see how Rob had got on.
Glynn had 6lb 10oz of silvers in his 21lb 4oz total and then my carp weighed 24lb 10oz and my silvers went 4lb 14oz giving me a 29lb 8oz total. Bill 'The Snake Charmer' Hopping had 67lb 12oz to go into third place and had done really well battling the wind today. I loaded the car and caught up with the scales as they weighed the last few pegs. Rob Kingston weighed 26lb so I went 2-1 up in side bets on the day but as he had 13lb 13oz of silvers which put him second, I don't think he was too worried.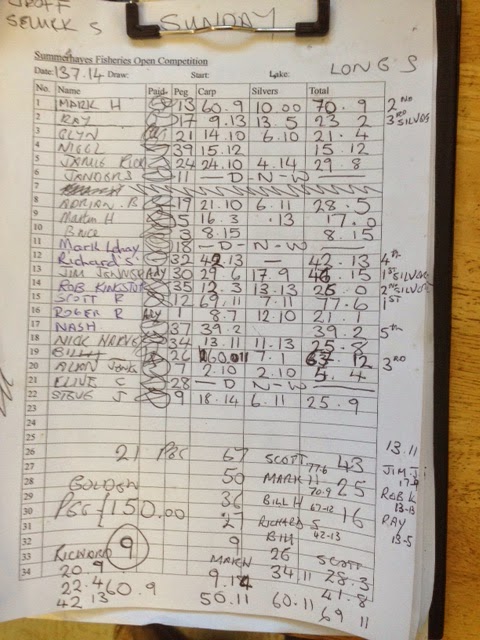 A tight frame as always
1 – Scott Russell (Tackleuk) – 77lb 6oz
2 – Mark Hanham (Summerhayes) – 70lb 9oz
3 – Bill Hopping (Summerhayes) – 67lb 12oz
4 – Richard S (Summerhayes) – 42lb 13oz
5 – Nash (Summerhayes) – 39lb 2oz
Silvers
1 – Jim Jenner (Summerhayes) – 17lb 9oz
2 – Rob Kingston (Summerhayes) – 13lb 13oz
3 – Ray Wickham (Summerhayes) – 13lb 5oz
So some good weights and a tight frame as always. I'm at Perry St next week so come back next Sunday night to see how I got on.
Next up – Perry St Pond
What's new – Latest junior Ilminster AA result on news page
Check Out – How my last match went (below)