After a few days of unsettled weather with some thunder and lightning, the weather was scorching for this one as we head towards the business end of this years league. I knew I'd either be on peg 6 or peg 8 today and after Hoff picked the envelope it turned out peg 8 was my home for six hours today. The draw sequence also meant Janders was in peg 10 so my pound was in grave danger today. As well as my other usual side bet merchants, Picky and Exeter Mike, Paul Homewood and Jamie P also wanted in on the action today and this could be expensive!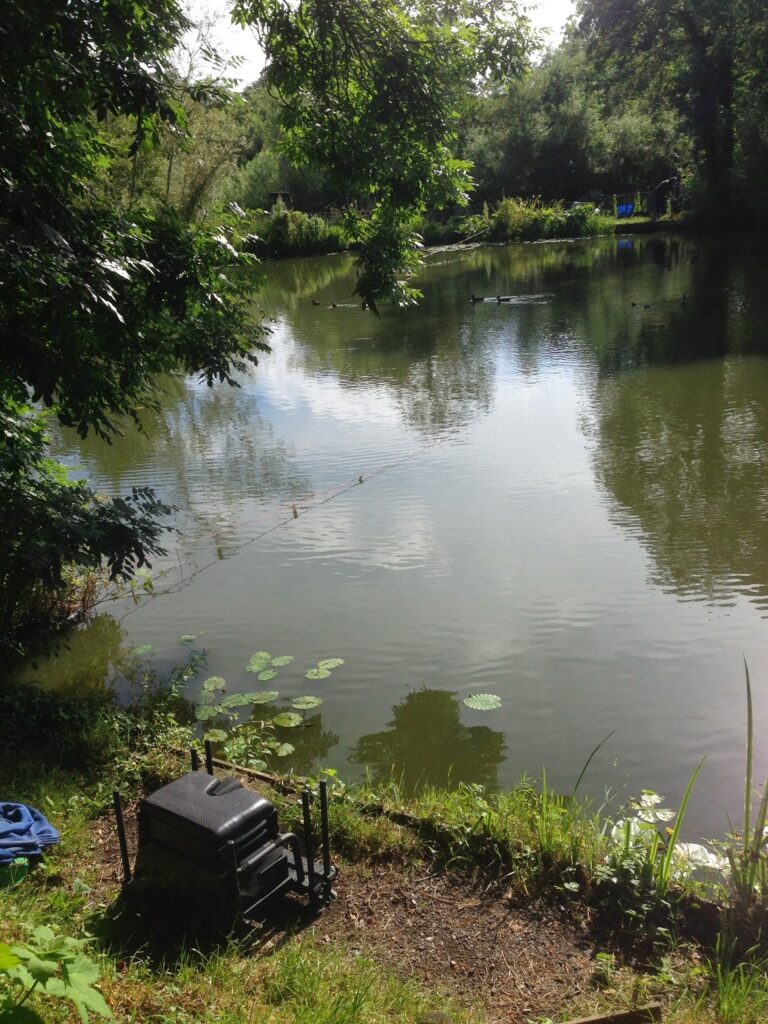 Peg 8
There were loads of carp cruising about and I was hoping for a nice day fishing shallow, I set up my usual little in-line dibber with a hair rigged band in a loop on a size 18 B911 but also set up one of the new Drennan Crystal Dibbers and also a 4 x 12 Slappa float which I'd been given to try and I will do a review of both of these float patterns (and some others) in the near future. A Trabucco dibber was also set up for the inside (but not used) and a Drennan 0.4 gram Carp for the five metre line (again not used). For bait I had 6mm and 8mm pellets plus some dead maggots, corn and casters. Poor Mike from Exeter didn't have the best of starts when he was putting his pole together only to discover his number six section had broken in half, he managed to telescope it through so he could use it today but I did feel for him as it's horrible (and expensive) when it happens.
The whistle went and everybody set about feeding their various lines, I fed corn and casters in my left hand margin and at five metres before starting shallow at 11.5 metres with a 6mm pellet. Both Chilly and Paul Homewood opposite in pegs 12 and 13 hooked early fish but lost them. After about half an hour I've hooked my first fish, a decent mirror about 5lb to get off the mark and added a second carp before the first hour was up and was doing as well as anybody I could see.
I had two more carp quite quickly in hour two and was starting feel a decent weight was on the cards, Paul Homewood was starting to catch fish shallow and Picky had landed a couple fish next door to me and he said Janders had caught three or four carp so a few fish were still being caught. But then in a carbon copy to the last match I couldn't get a bite despite loads of carp swimming about. I did pull out of a fish which I think was foulhooked and landed my fifth carp but from the banter round the pond it seemed as we headed for the halfway point that the fish had just shut up shop. The only person who was still catching was Paul and he was now on seven or eight carp. Dino was in peg 11 and just couldn't buy a bite.
Out of desperation I tried to mug some of the cruising fish but they just weren't having it, I tried fishing shallow on the inside line but that was a waste of time as well. None of the anglers I could see who were fishing on the deck were catching, so it was back out to 11.5 metres to try and snare a couple more fish but it was hard work. With about an hour and a half to go I finally managed to mug a fish only for it to come off at the net, much to Chilly's delight! He was now fishing the pellet waggler and had lost two carp with the second one snapping him off!
The final action for me was 15 mins from the end when I've hooked a good fish which tore off and snapped me and I knew those two lost fish would probably cost me. Chilly finally managed to get a fish out on the waggler but the score was still 2-1 to the fish! I couldn't believe it had fished so hard and for the second match on the trot I'd started really well and then struggled for the second part of the match. It sounded like it could be tight with most people seeming to have between three and five carp apart from Paul who ended up with eleven!
We all packed up and gathered at peg 1 for the weigh in, Dave Lawrence was fishing for Blaker and had a level 13lb and then the Hoff did really well in peg 2 catching 8lb 8oz of skimmers and then added 15lb 8oz of carp for good measure to give him a 24lb total and the lead. Bish had 12lb 10oz in peg 3 and Bushy had 8lb 2oz on the next peg, the lad fishing for Hainsey had 7lb 4oz before Les and Exeter Mike didn't bother weighing so I was one side bet up. My five carp went 19lb 10oz and I went into second place but I knew that wouldn't last. Picky had 12lb 9oz and paid me his nugget and I've gone into a 5-3 lead with just one match to go.
Janders had 11lb 4oz and I was 3-0 up in side bets, Dino had 12lb 4oz before Paul plonked 48lb 12oz on the scales and would win by a country mile with that and he took a pound off me. Then Chilly, Pup and Mike C didn't weigh which gives you an idea how tough it had been today, before Jamie P had 14lb 8oz and I was another pound to the good and I had my revenge for the last match. Andy D had 10lb 6oz and then Butch had 13lb 12oz but had 8lb of silvers in that and should pick up the silvers by default today with Hoff framing. Rocking didn't weigh and then Oz had some lumps in peg 20 to weigh 21lb and push me down into fourth place (I knew those lost fish would be costly!).
So the pond had fished really hard but the hot conditions hadn't helped and several people thought the carp might be about to spawn again! Paul won on the day with the Hoff second, Oz third, I finished fourth and picked up £50 and Jamie P was fifth. Butch did indeed win the silvers by default.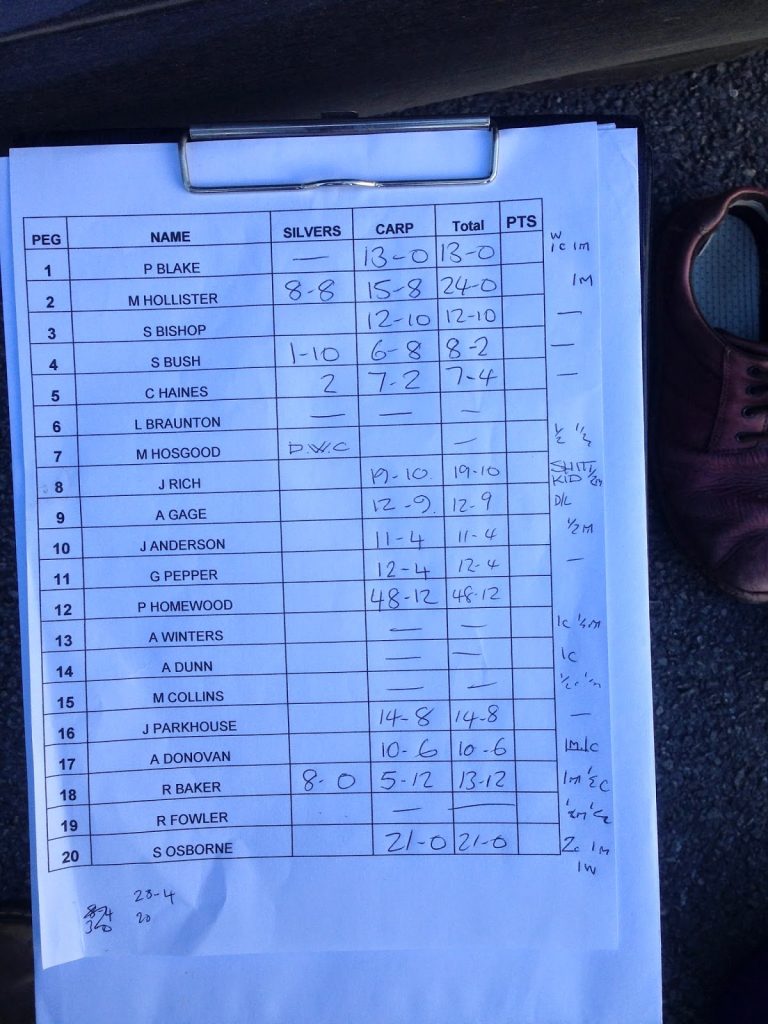 It was hard going today
1 – Paul Homewood (Taunton) – 48lb 12oz
2 – Mark Hollister (Chard) – 24lb
3 – Steve Osborne (Chard) – 21lb
4 – Jamie Rich (Against Men and Fish/Burt Baits) – 19lb 10oz
5 – Jamie Parkhouse (Burt Baits) – 14lb 8oz
Silvers
Butch Baker (Chard) – 8lb
So with one match to go, Jamie P is back on top of the league with 59 points, followed by the Hoff on 62 and Bushy on 65. I'm actually up into fourth place which isn't too bad after a disastrous start to the league.
Next up – Final Perry St League Match
What's new – Look out for the latest Ilminster AA results on the news page
Check Out – My last match (below)