My last visit to Dillington in June was a bit of a disaster and I ended up with 9lb 8oz for nowhere and I was a long way off the pace so I was expecting another battering from the whip boys this week. I got to the Oak for the draw and Bruce wasn't fishing today as he's poorly so get well soon mate. In his place we had Tackleuk mugger, Ashley Tomkins, to contend with instead along with the usual suspects like Fieldy, Rob, Steve, Justin and it was nice to see Leighton again as well.
Rob announced the draw and I pulled out peg 8 which put me in the middle of the far bank with Fieldy in peg 6 and Ash in peg 13 as my closest neighbours. I got myself comfy before mixing up some groundbait, today I was going to try some Burt Baits Black Bream, I tend to favour dark groundbaits for Dillington and the first thing I noticed was that it was a heavy groundbait (if that makes sense) and it didn't take much water before I could squeeze the mix and it would hold shape. I left it to fully absorb the water before setting up the rest of my kit.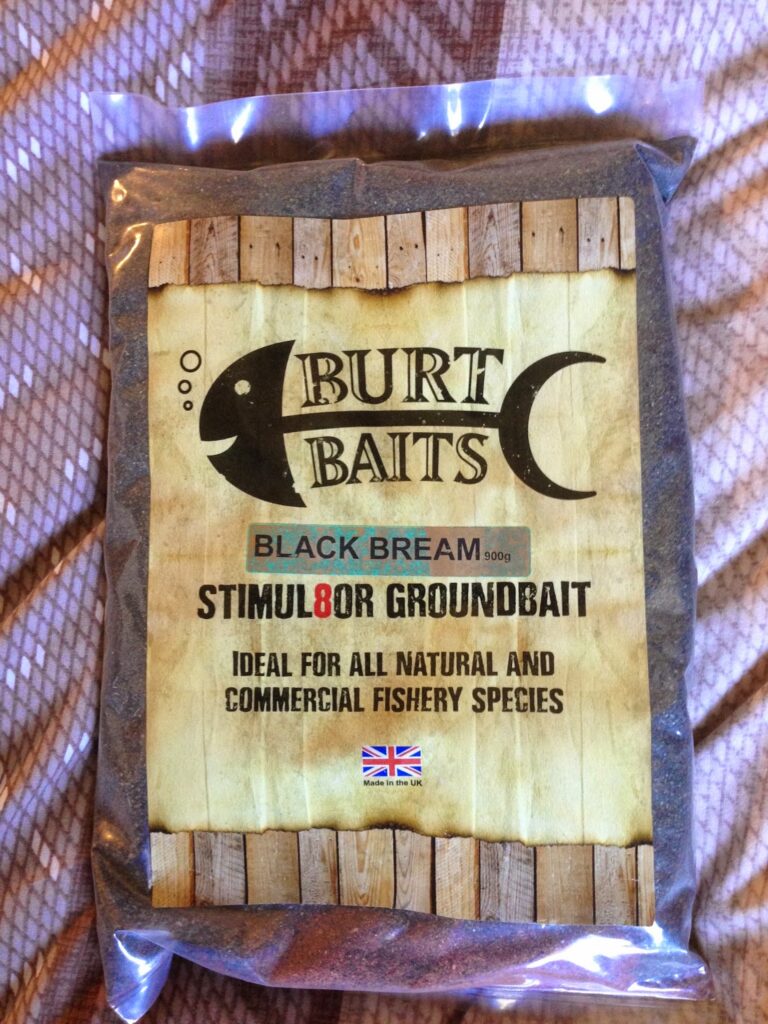 I was using Burt Baits Black Bream today
I set up a 0.5 gram Drennan Roach float to fish on the depth at 10 metres and a little Preston Chianti with spread shot to fish up in the water, both rigs had 0.12mm bottoms with size 18 Kamasan B611 barbless hooks (a little heavy I know but the fish here arn't particularly hook shy and I like to give myself a chance with any bonus fish that may happen along). Ash wandered up before the start for a chat and said to give him a bell in the shop and we'll see what trays I need to put my box at the right height, cheers mate so hopefully I won't be the hunchback fisherman for much longer!
I checked on my groundbait and had to add a little more water before it was perfect and I added some freebies before making two balls ready to go in at the start. Rob blew for the start and I cupped in the two balls at 10 metres before starting on the depth rig with caster on the hook but the rig wouldn't settle with fish hitting the bait on the drop, I had half a dozen small roach before trying the shallow rig but I was missing a lot of bites and the roach I did catch were 1-2oz apiece and I needed bigger fish if I was to compete with Fieldy on the whip.
I tried fishing two sections to hand and although the stamp of the fish didn't increase I was catching them quicker and after an hour I had around 40 fish for a couple of pound. I was still missing a lot of bites so I tried double red maggot and had some chunky perch and even had a gorgeous little tench of 6oz or so. After around an hour and a half, Ash shouted up to Graham asking how many fish he'd had to which Fieldy replied 82, he then asked me and I was on 60 and Ash said he was on 70 so I was behind at this early stage but not by too much and I was hoping some quality fish on caster might cancel out their early lead.
Bites slowed on my inside line and I stayed on it too long really, back out long and I would get a run of roach with the odd better one but the big rudd seemed conspicuous in their absence. Justin in peg 14 seemed to be struggling and from what I could see, Leighton across in peg 18 was only getting odd fish so I figured I was doing okay. Quite a few people came out for a look round including Scott Jackson and Big Frank and his boy, they reported that Ash and Fieldy were catching but nobody was getting much in the way of quality.
I kept swapping between my two lines and would get a run of fish off each but only odd better fish, I did catch my first gudgeon from the pond! With two hours to go I had well over a hundred fish and felt if I could get to 160 fish, it would give me around 15lb if they averaged 1.5oz apiece but was hoping they might go a bit more as I was netting the odd decent roach as well. Scott Russell turned up (fresh from his latest Viaduct win yesterday) and while he was with me I missed loads of bites on my long line and he reckoned I had too much line between the float and the pole tip so I will remedy that before the next match, he also said the rig could do with another shot on it (I didn't think it was that bad!). He left me too it and went up to offer Ash some coaching.
I hit my target of 160 fish with an hour to go but was still missing too many bites for my liking on the longer line, so switched back to the inside where I added some more roach and even added a couple more of those lovely little tench. When Rob blew for the finish I was on 184 fish and honestly thought I must have at least 16lb. Scott came up and said Ash had over 240 fish and had really motored in the last 20 mins when he probably had 4lb of quality roach and rudd! I was sure Ash had beaten me and thought Fieldy would have given me a 'whipping' too.
I packed up and took my gear back to the car before we all gathered at peg 1 to weigh Steve in, he had 5lb 2oz and hadn't seen any chub today, Rob was next to weigh and had 6lb 15oz before we got to Fieldy and the lying started, he only had small fish and hadn't used his landing net all day apparently! Mind you he did have more fish than Ash, he pulled his net out and his catch pulled the needle round to 15lb 4oz and Ash said (with a straight face!) that Graham would win with that. I was next and I honestly thought I had more than that and when I pulled my net out everybody was saying I'd done him but the scales told a different story and my weight was called out at 14lb 3oz – bugger! and I missed/bumped/dropped off a couple of pounds as well.
Steve had 5lb 2oz in peg 1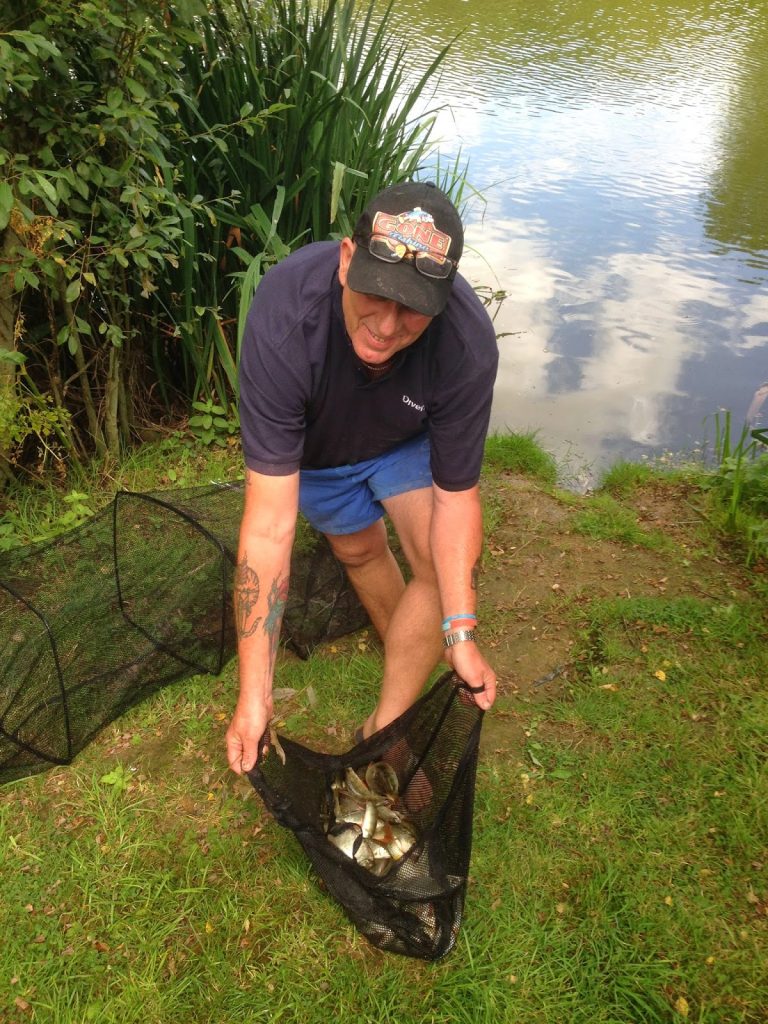 Rob had 6lb 15oz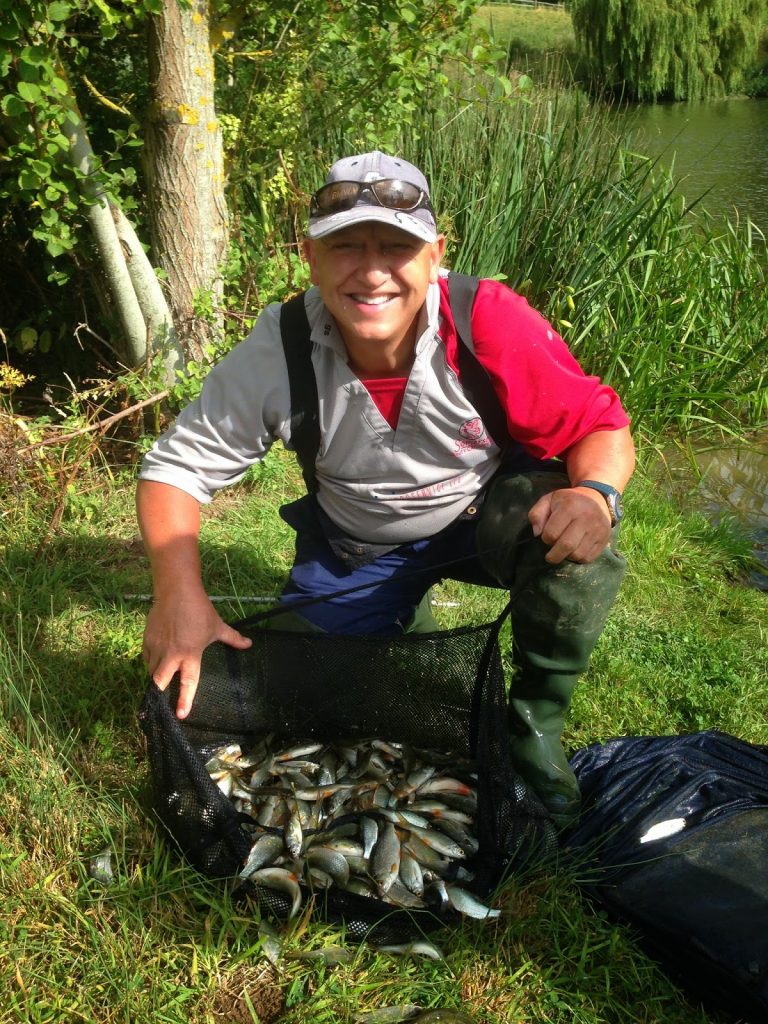 Fieldy went into the lead with 15lb 4oz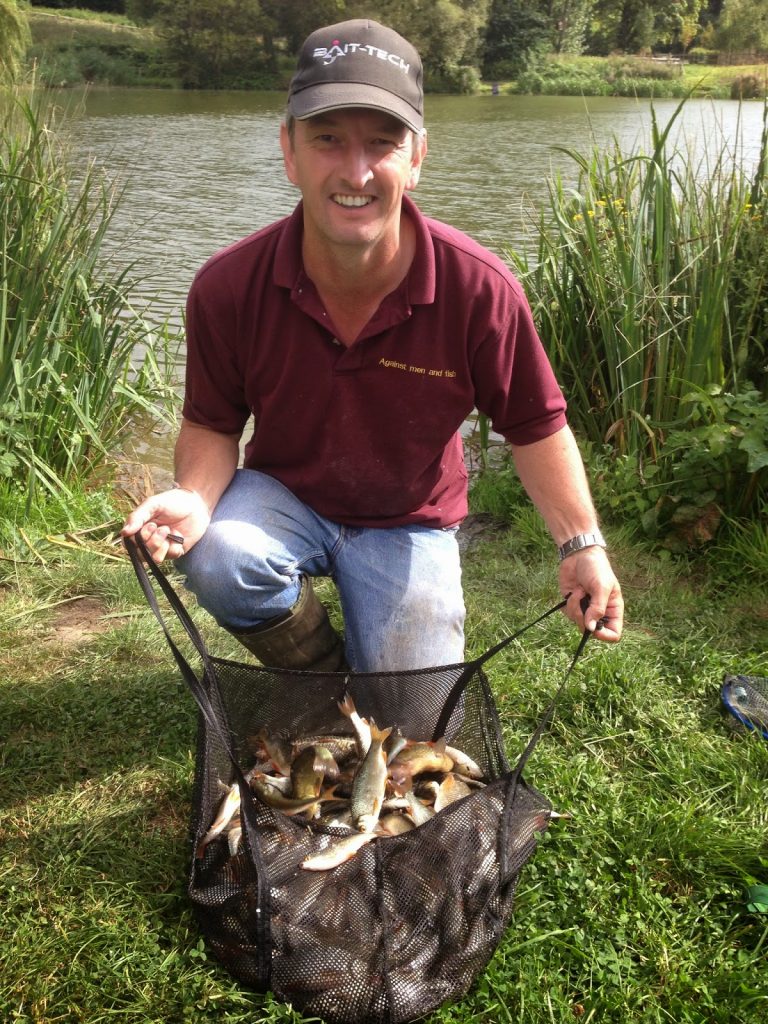 I fell just short with 14lb 3oz
Ash was next and when he pulled his net out it was obvious he would be the winner as he had a cracking bag of quality roach and rudd, after two weighs his total was called out at 21lb 10oz, well done Ash, a lovely net of fish. I thought I'd have to settle for third place but then we got to Justin who I hadn't seen catch bugger all during the day but there was an awful lot of splashing when he pulled his net out and he had loads of little tench and a decent skimmer plus some quality roach and rudd but thankfully the needle stopped just shy of my weight and 13lb 11oz was called out. That just left Leighton who had another nice net of fish weighing 10lb 6oz and the top five had all weighed double figures, great fishing but we still only get seven for the matches!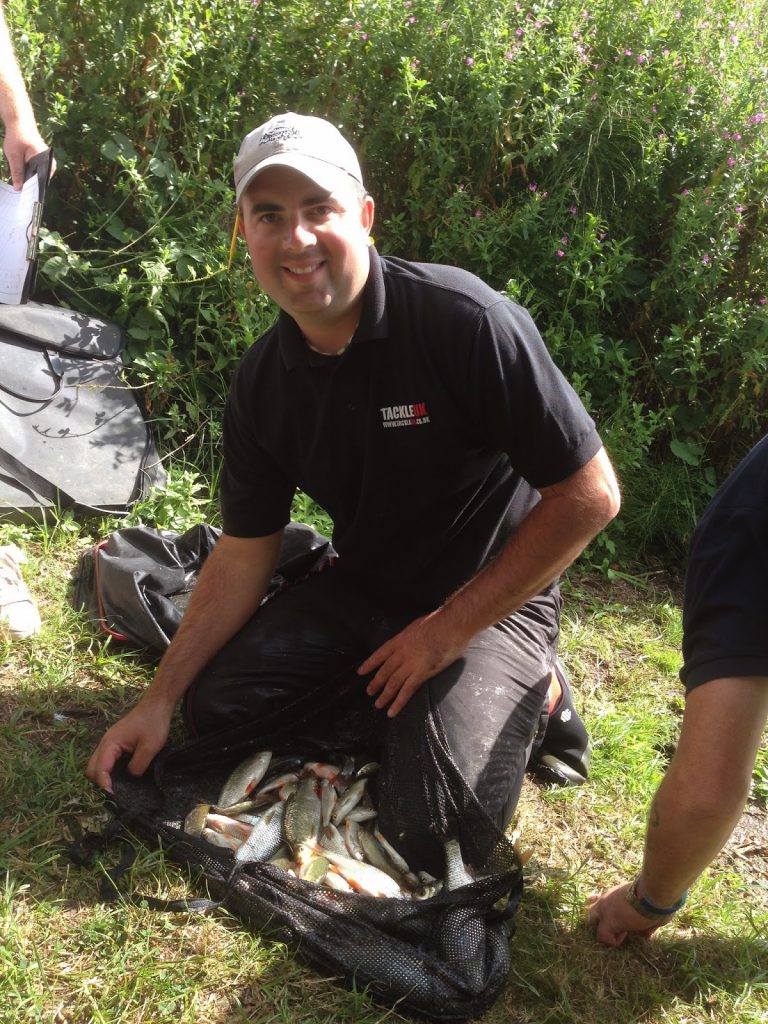 Ash with part of his winning catch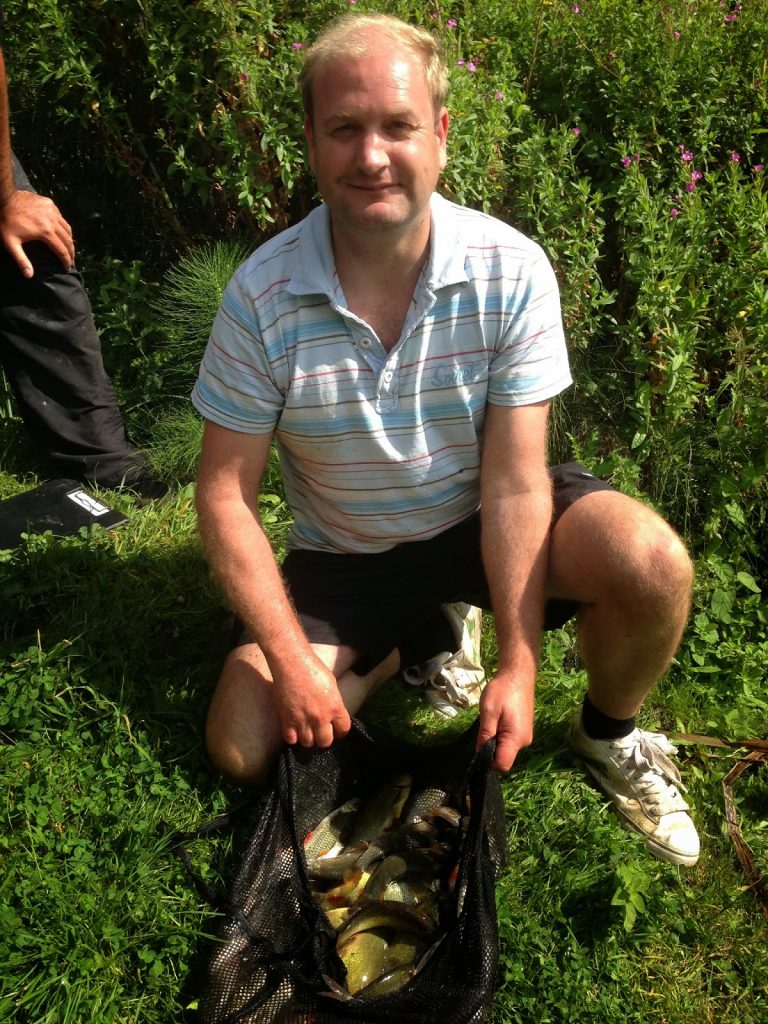 Justin had loads of little tench in his 13lb 11oz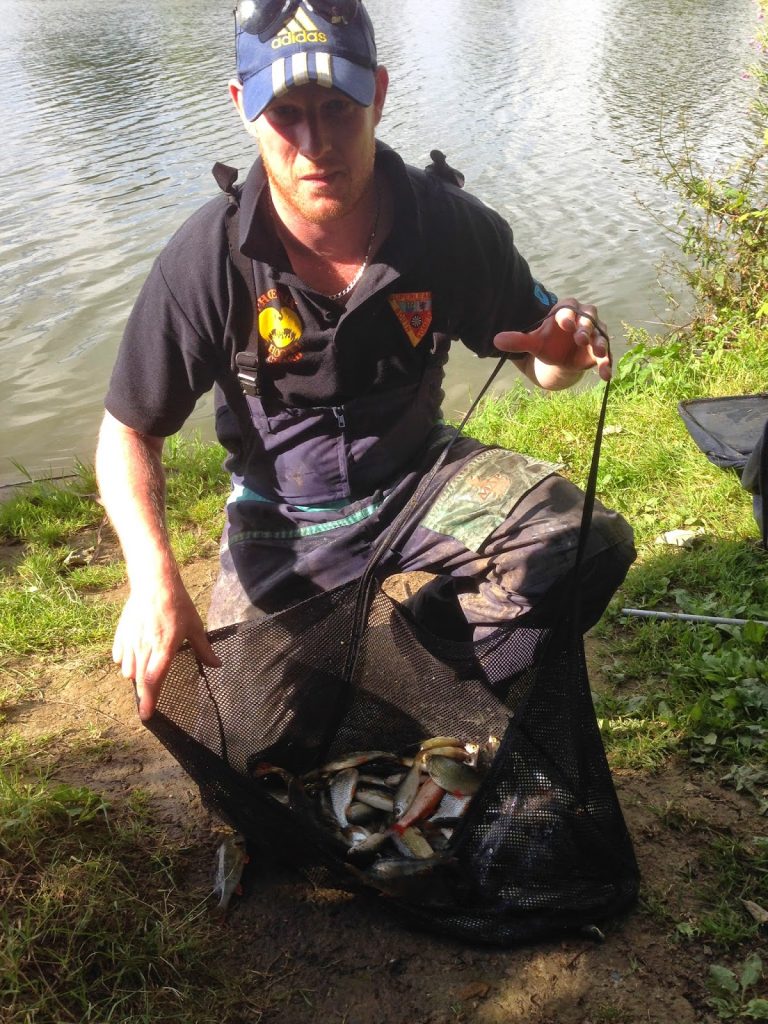 Leighton also hit double figures with his catch of 10lb 6oz from peg 18
So Ash won convincingly but only a pound and a half or so separated the next three places with Fieldy finishing second and I was third and picked up £15 to help cover the costs of the day plus a pound off Mr Parker.
1 – Ashley Tomkins (Tackleuk) – 21lb 10oz
2 – Graham Field (Taunton) – 15lb 4oz
3 – Jamie Rich (Against Men and Fish/Burt Baits) – 14lb
3oz
After seven matches and dropping the worst result, Fieldy leads the league with a perfect 6 point score followed by Rob on 18
and Stuart Alford on 21.
The pond is evolving as a fishery all the time and the fishing is just getting better and better although I still think it wouldn't hurt to put a lot of the small fish down the river to thin them out a bit (with the correct paperwork of course). I was quite encouraged today that Ash caught his fish shallow on the pole which means the whip isn't unbeatable and some really good weights are possible on the pole. I did okay today but a few little tweaks would have probably got me second place and I need to polish up my shallow fishing somewhat. I was also very impressed with the groundbait although it was probably the wrong day to try it when all the fish were up in the water!
Talking point – Before I sign off for this week I would just like to throw a suggestion out there about the pools, currently we pay £15 and have done for as long as I can remember and by the time £2 peg fees is taken out by the club, it doesn't leave a lot to pay out on the day. The current going rate everywhere else seems to be £20 and I think the club needs to follow suit (even if we do it by having a £5 superpool), we could at least then have a half decent payout and it might even encourage a few more people to fish (on the other hand I suppose it could scare people away!). Let me know what you think?
Next up – Summerhayes
What's new – Lots of page updates
Check Out – My review of the latest Drennan products (below)