While I was looking forward to the match on Longs, I wasn't looking forward to being on the tail-end of hurricane Bertha! I got to the draw fairly early and it wasn't that windy at all!, perhaps they'd got it wrong or it had missed us! I picked up some keepnets before paying my pools and having a cup of coffee. Pete announced the draw and I was quite late getting my hand in the bucket and pulled out peg 9, not the best of pegs and it can be alright for silvers. I had the usual side bet with Glynn and also one with Martin Addicot who is on fire at the moment, winning the last four matches on the trot and setting a new match record in the process, I'm not daft though and our bet would be on silvers!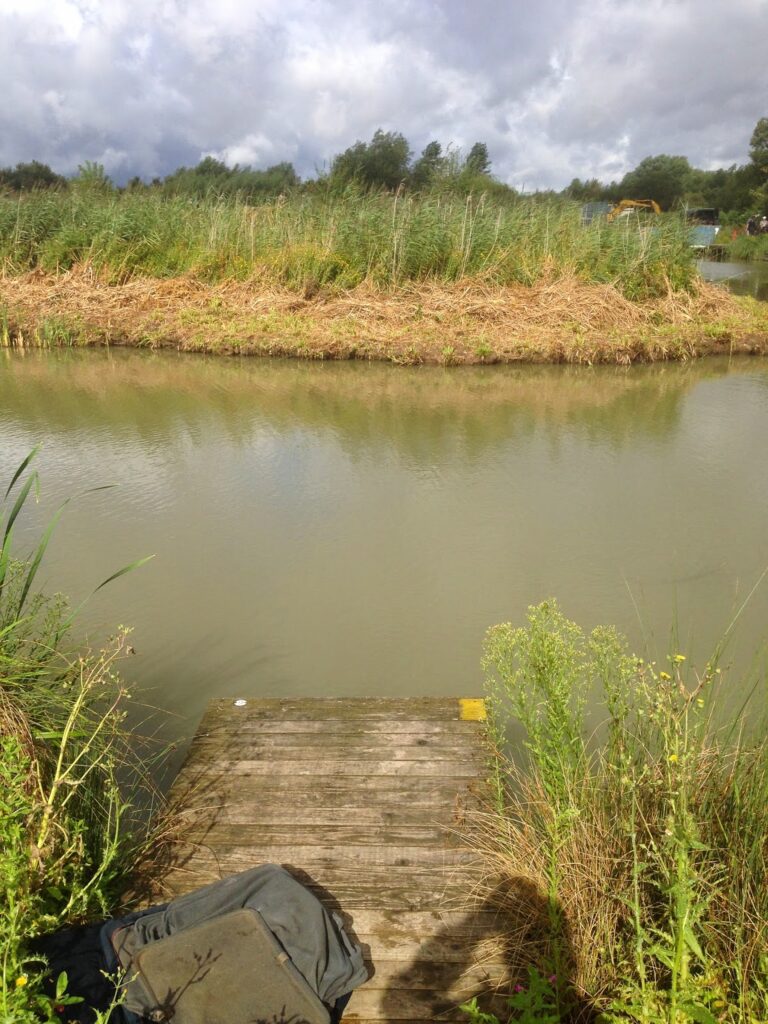 Peg 9, the lull before the storm!
I got to my peg and started setting up and there was still hardly any wind and I hoped it was going to stay like this. On my right I had Rob Birch in peg 7 and on my left was Adie Bishop in peg 11, Heardy was in peg 4 and already having a moan which is very unlike him! I set up two rigs, my normal 14 x 11 MW F1 Slim with a 0.10mm bottom and a size 16 808, my other rig was a 0.3 gram NG Floats XT Mini Gimp with a 0.12mm bottom and the same hook pattern and size. Bait wise was the usual Bait Tech 4mm and 6mm expanders for the hook with some dampened micros and 4mm's as feed. If small fish proved to be a problem I also had some banded 6mm hard pellets.
I plumbed up three lines at 10 metres plus a shorter one at around 5 metres (top two plus two) in case the wind did pick up later. With ten minutes to go, blow me (pun intended) if the wind didn't get up and it started raining! The whistle went and I cupped in micros and 4mm's on all four lines before starting on the left hand line at 10 metres with a 4mm expander on the hook. I missed a few bites on all three lines and with the wind getting stronger by the minute, I was trying the shorter line after about 15 mins, my first fish was a small roach so I switched to a 6mm banded pellet. My first fish on hard pellet was a decent skimmer which was more like it and things got even better when my next fish was a crucian pushing 2lb!
I was getting quite a few indications and some fizzing and it felt like there were quite a few fish there, I lost a good skimmer when it flew out of the water and then bumped one as well, I did add another couple of skimmers and was on about 5lb after the first hour which I was more than happy with. Rob was getting the odd carp and Heardy was trying to catch silvers but the carp had moved in, Adie was fishing the method feeder as the pole at any length over 4-5 metres in this wind was a non-starter.
My second hour started quite well with another crucian about 8oz plus a couple more skimbobs although I lost another 'flier' and bumped one as well before catching my first carp from this line which killed it for a while. I tried the long lines briefly but apart from a lost foulhooked carp, I just couldn't present properly. Back on the short line I had a nice little tench but then all I could catch were roach or carp! where had the skimmers gone? In a bid to try and make something happen I cupped in a potful of micros before going out long again, a skimmer from the left hand line gave me hope but it seemed to be a loner and I was soon back on the shorter line.
Rob was now catching well by the lilies to his left, Heardy was now on the method feeder but seemed to be struggling if all the moaning was anything to go by! Adie was getting carp and even the odd skimmer on the feeder and asked if I wanted to swap as all I could now seem to catch was carp and I already had 5 or 6. The wind was now hideous and had blown my hat off and everybody was either fishing the method feeder or very short on the pole. I was still getting lots of bites on the pole but missing a lot of them which I put down to roach as when I did hit a bite they were the culprit or a pesky carp.
Twice the wind blew my line round my pole tip and I've hooked decent fish, only to snap off which did nothing to help my catch rate. By now it was obvious Rob would be there or thereabouts come the final whistle, what was also obvious was that I wouldn't be challenging for the silvers prizes today unless I had a fantastic last hour and a half and that seemed unlikely. I kept putting the odd roach and carp in the net and did even manage a couple more skimmers but to be honest I seem to have lost my way here in recent matches and I wasn't too sorry to hear the final whistle. I ended up with 26 silvers and around 11 carp which I knew wouldn't do any good today.
I packed up and took my kit back to the car just as the scales reached Bruce in peg 40, he weighed 51lb 7oz and said he'd found the fish late, more worryingly he said Glynn had caught silvers well in peg 37. Heardy had managed to moan 39lb 14oz onto his hook before it was Rob's turn, after two weighs his total was called out as 74lb 10oz, a really good weight on the day. Then it was my turn and my carp went 25lb 4oz and my silvers went 11lb 13oz for a total of 37lb 1oz. Adie had a level 53lb next door before Nick Harvey in peg 13 went into the lead with 78lb 12oz, Nick caught most of his fish down the edge.
I packed the rest of my kit up and Glynn wandered down to see how I got on, he said he had 20lb plus of silvers and it would be close between him and Ray so that would be the top two silvers spots filled and it meant he'd take yet another pound off me. After taking my nets back I was just in time to see Glynn weigh in 21lb 14oz of silvers, just pipping his dad who had 20lb 3oz. At the results it was confirmed Nick had won with Rob second and Bill 'The Paste' Hopping third with 58lb 9oz, Ray was actually fourth with a total weight of 55lb 12oz but picked up second in the silvers as it was worth more which meant Adie took fourth place beating young Reece by an ounce!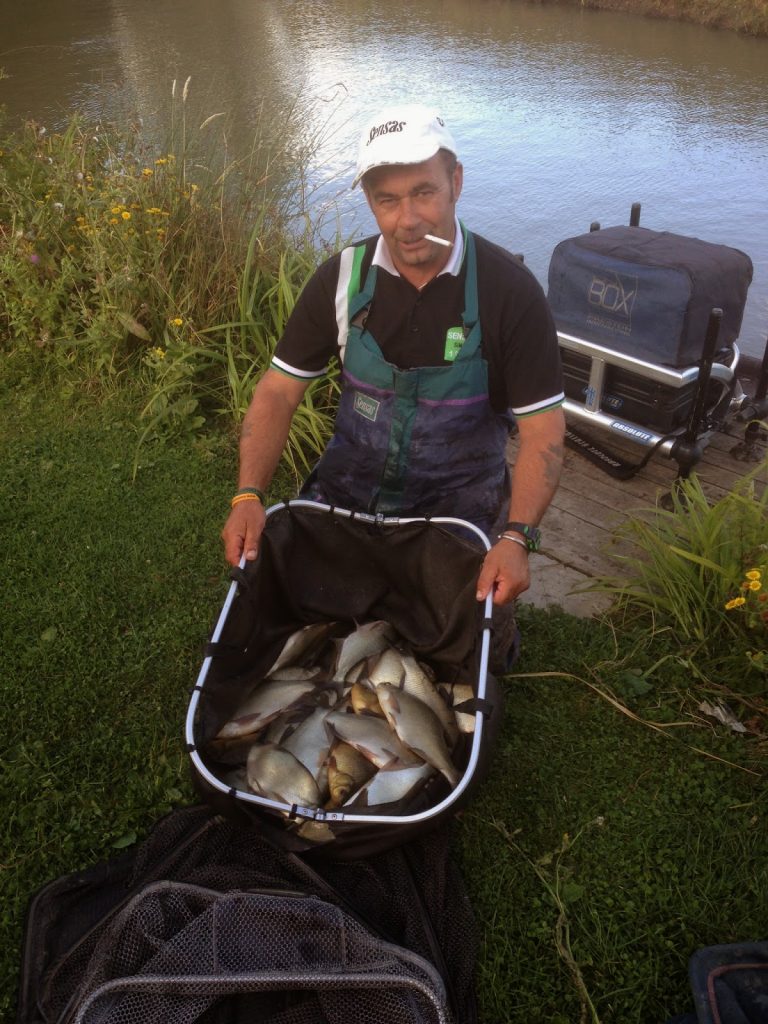 Glynn won the silvers with 21lb 14oz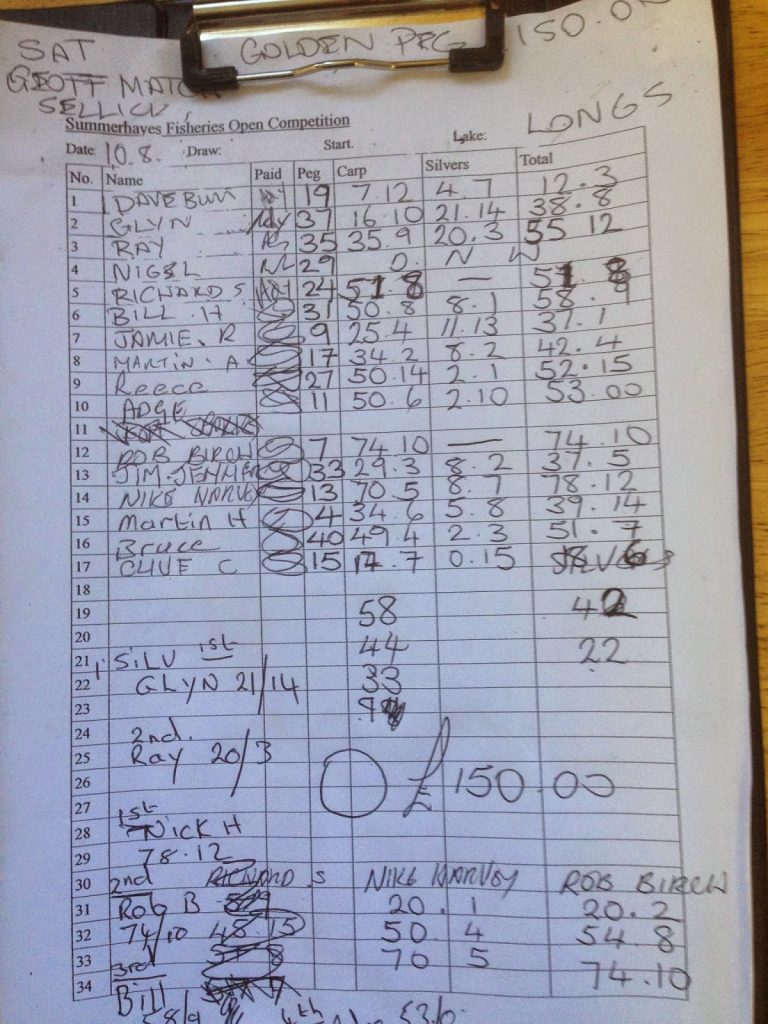 Some good weights despite the wind
So a disappointing day after a good start, I did take a pound off Martin Addicot who had 8lb 2oz of silvers but I only had it in my possession for seconds before Glynn claimed ownership of it!
1 – Nick Harvey (Summerhayes) – 78lb 12oz
2 – Rob Birch (Summerhayes) – 74lb 10oz
3 – Bill Hopping (Summerhayes) – 58lb 9oz
4 – Adie Bishop (Summerhayes) – 53lb
Silvers
1 – Glynn Wickham (Summerhayes) – 21lb 14oz
2 – Ray Wickham (Summerhayes) – 20lb 3oz
Next up – Dillington
What's new – Lots of page updates
Coming soon – More great reviews!