Recently I was lucky enough to win one of the Nick Gilbert giveaways on the excellent Match Fishing Scene forum, it really is one of the better forums which has loads of giveaways and offers and they seem like a friendly bunch that hold quite a few matches (although I haven't managed to get to one yet) as well as loads of interesting discussions and much more. Check it out here –
Match Fishing Scene
. I messaged Nick on the site and he replied saying he would send them out the following day, great service. If you're fortunate enough to win a prize, all the site asks is that you write a review and post it on the forum (not too much to ask as a thank you for their continued support every month).
They arrived, packaged securely and my initial thoughts were how professional they looked, with a striking finish, better than many shop bought floats. The prize was the full range of eight floats (one of each size, 0.1g, 0.2g, 0.3g and 0.4g and each colour tip, yellow and red). According to the online NG Float Store, this range has a '1.5mm fully hollow tip and a 0.6mm wire stem running halfway into the body for good balance and stability'. They are priced at £1.70 plus postage on the website although I believe MFS members can order them for £1.50 which compares very favourably with other handmade floats, certainly the majority I've looked at all break the £2 barrier.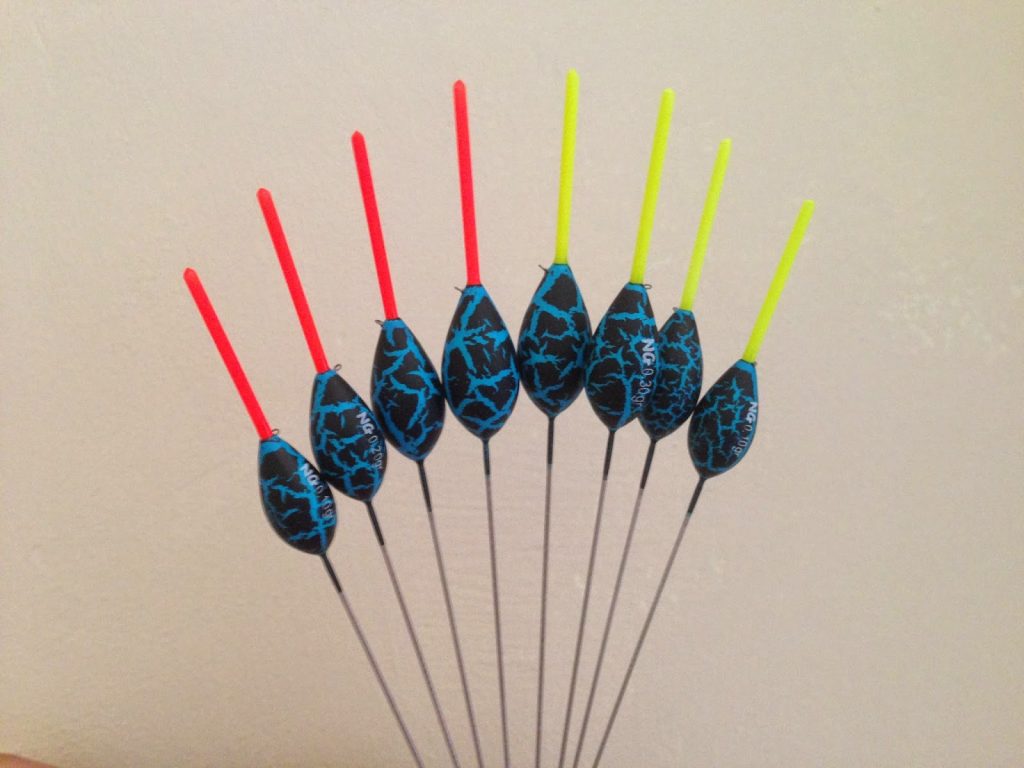 My first impressions were that they looked very professionally made with a fantastic finish
Regular readers of my blog will know I'm a big fan of MW and Malman floats and use them nearly exclusively at Summerhayes, the MW F1 Slim in particular is a lovely little float which I think is just perfect for Longs. The trouble with Longs is that it's badly affected by the wind and that's where the Mini Gimps come in, with a short wire stem and pear shaped body, they look perfect for those days when it's windy (every time I go there!) and there's a tow on it.
With a match coming up at the weekend, I made up rigs with the three lighter versions in readiness, there was a good chance I'd get to use them too as it was forecast we'd get hit by the remnants of hurricane Bertha! Match day arrived and I drew a half decent silvers peg and as we were setting up, conditions were calm and there was no sign of Bertha yet and I started to think I might not get to use my new floats today. With ten minutes to go before the start the wind got up and it started raining so it looked like the forecasters might have got it right after all!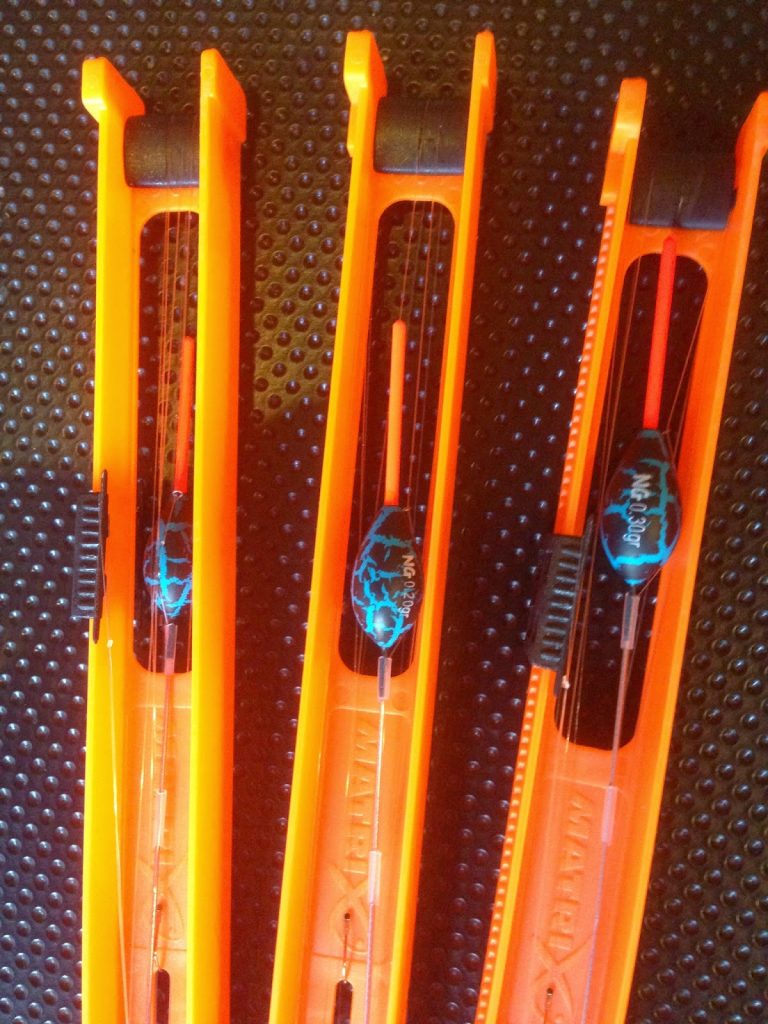 Ready for action!
I started with a MW F1 Slim and was catching quite well but the wind was getting steadily worse throughout the day. My bites started to tail off after a couple of hours so I reached for one of my new floats but to be honest the wind was now so blustery it wouldn't have mattered what pattern or size of float I'd have used, it would have been blown all over the place. In between gusts, the float looked really stable and sat well, I just wish it would have gone under a few more times! I must admit I struggle a bit with pellet fishing in these types of conditions as with expanders you have to really fish dead depth but when it's windy it's a job to keep the bait still, so is it okay to fish overdepth with expanders or hard pellets? I should have tried it I suppose. Any advice or tips most welcome.
At the end of a very windswept day, I had 25lb odd of carp and just shy of 12lb of skimmers which put me third in the silvers but they only paid the top two on the day. I must say I love the floats and can't wait to try them in more favourable conditions, I also think the lighter floats will be ideal for Ilminster Canal (if we ever fish it again!). I will definitely be checking out more floats in the NG range and when I do I will review them on here.
So a massive thanks to MFS and Nick Gilbert, check out his web site here NG Float Store