The world has gone handmade float mad! Although I was probably late to the party (just for a change!), I first became aware of the handmade float revolution through reading articles featuring Steve Ringer in the many fishing mags where he was using MW Diamonds and F1 Slims made to his own specifications. The first handmade floats I actually bought were some Malman Pencils which I'd seen used by an angler in a magazine (sorry I can't remember who) for skimmers and carp using soft pellets. It was around the time I'd started fishing Summerhayes and using Bait Tech expanders for the first time so I took the plunge and ordered some.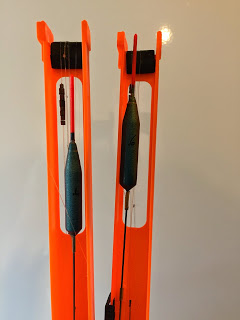 Two of my Malman Pencils, I love 'em
Regular readers will know the floats I'm talking about because I mention them every time I fish Sellicks, I bought two each of the 0.4 and 0.6 gram versions and although I can't remember what I paid for them, I've certainly got my money's worth as they are still going strong after several years even though the wire stems are a little bent and they've started to sit lower in the water towards the end of each match. It'll be a sad day when they eventually give up the ghost as looking at the website, he doesn't seem to make them anymore. Gaz Malman produces the pole float bodies on a custom made lathe he built himself and even the eyes are made in house, check out his excellent website at Malman Floats
The next floats I decided to try were the MW F1 Slims which Steve Ringer was praising very highly and using for a lot of his fishing and I thought they would be perfect for the shallower Longs pond at Summerhayes. Getting hold of some was a feat in itself as every time I visited the website, they were out of stock (which was probably down to the Ringer factor!). I eventually managed to get hold of a couple of the 10 x 11 and 14 x 11 sizes that Steve loved so much and I have to say I wasn't disappointed. I use them nearly exclusively on Longs and again, like the Malmans, I have certainly had some use out of them and after several years worth of wear and tear I've yet to have one break.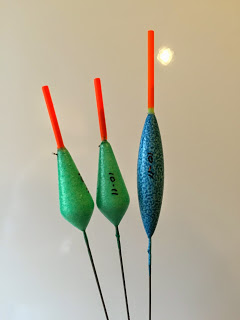 Two F1 Pears and a F1 Slim – awesome floats
They are a lovely sensitive float but obviously not ideal for when it's windy or the venue is tow affected (like Longs very often is) so Mick brought out the 'F1 Pear' which is ideal for those kind of days, so of course I had to have some of those as well! At the request of some of the top F1 anglers in the country there is now a carbon stemmed version of the F1 Slim in the range although I haven't been able to get hold of any of these yet! They may seem a little pricey at £2.35 apiece but after all the years service I've had out of them, I think it represents great value. All the float bodies are machined from the raw materials in house. The website can be found here MW Floats and if the F1 Carbons are in stock, get me a couple!
I'm also a member of several angling forums and it some became apparent that there were several other float brands with almost cult status, like NG Floats, Hillbilly Floats and SconeZone Floats and although floats by these makers are often described as 'Float porn' and certainly looked the business, I could see no reason to switch from the tried and tested patterns I was already using. Then one day I was lucky enough to win a competition on the Match Fishing Scene site and the prize was the new range from Nick Gilbert, the NG XT Mini Gimp Wire Stem, one condition of winning is that the lucky winners must write a review and post it on the site. My review can be found here NG Floats Review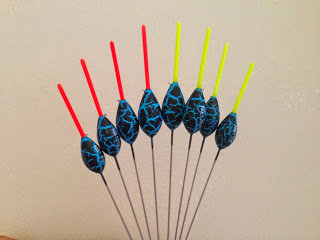 NG XT Mini Gimps
Looking at the NG Floats website I was a little confused as it seems Nick has a handmade float range which are produced in his UK workshop but the XT ranges are 'hand assembled floats built to my spec' which I guess means they are assembled somewhere else and sold under the NG banner, they are still cracking floats and if anything have a more professional finish than many of the handmade floats on the market. The other advantage is that the are ready to ship within 24 hours whereas there is a waiting list for the handmade floats. The XT range are priced from £1.50, I couldn't see prices for the handmade range on the website. A very comprehensive range of floats and I will definitely be trying out some more patterns.
At the recent Gary Bull fundraiser there were some fantastic raffle prizes and although I wasn't lucky enough to win, my mate Janders did and he picked up a lovely array of tackle which included some lovely floats made by Commercial Indications and being the lovely man he is, he let me have some to try, thanks mate. Again they look very well made and were professionally packaged, the three floats he let me have look perfect for margin fishing and I will be trying them out at Perry St over the coming weeks. I couldn't find a website but there is a Facebook page with plenty of photos. Website – Commercial Indications If I had one tiny criticism it's that I'm not crazy on the brown paint jobs.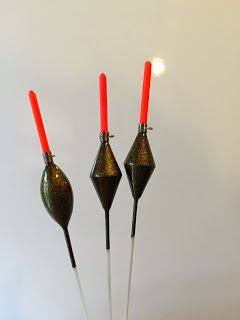 Floats from Commercial Indications
Mark Cox also let me have me have some made by Swede Floats and again, they are fantastic quality and look indestructible, the two patterns I've got are a margin type float and another which looks like it will be ideal for fishing down the middle on Sellicks or in open water at Perry St. They are £1.70 each and made to order, check out the Swede's Facebook page – Swede Floats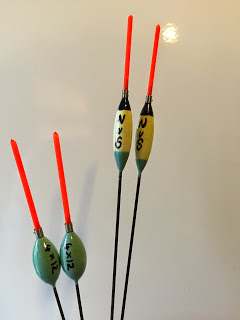 Swede Floats
Everybody seems to be having a go at making their own floats and I think it's great that there's such a range and variety available and many at a great price too!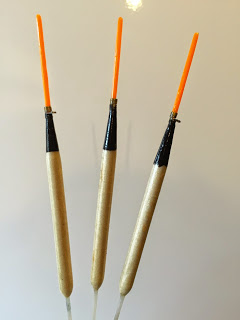 Check out these delicate little pencils made by Adie Bishop at Summerhayes….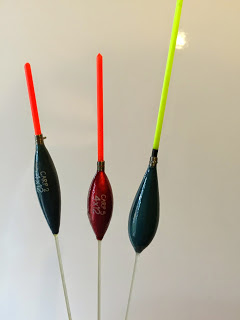 or these beauties made by Andy Downton
I've never had so many floats, best I start making some rigs up and as and when I start using them I'll update the reviews on here.
I do find it interesting that there is such a huge appetite for handmade floats and there is a massive choice out there to suit all styles of angling and a price range for all pockets. It's certainly not 'a flash in the pan' as several of these float makers have been around for years and demand seems as strong as ever. Go on, have a look at a few, I bet you end up buying some!
Update – Since the post went live, it generated quite a bit of interest/discussion which is great and some points were raised that I hadn't really even considered. There are several levels of float making/assembling ranging from the bodies being made in house (and in some cases even the wire eyes) to the various components being bought separately and then glued together to even buying the floats already assembled from abroad and then applying your own paint job. Basically most of the websites (not all) have an 'about us' section which will tell you about the process involved in making the floats and whether they are handmade or assembled. A big clue is also in the price and it depends what you are after and your budget, as the bespoke patterns will be that bit more expensive and then you have the assembled floats which represent fantastic value for money, the choice (as they say), is yours. The aim of this post was purely to showcase what floats were available out there other than the big firms. I suppose I could have called the post 'The handmade/assembled/not shop bought float revolution' but it's not a very catchy title! Joking aside I've enjoyed doing a bit more research and learnt a lot along the way!