Round four arrived and it looked like we were in for a glorious day weather wise, the only downside was that the Torquay Tart was standing in for somebody today! I was actually a little early for a change and paid my pools before having a chat with Janders and the Tart. The rest started turning up, fresh from having their breakfasts, well I say fresh but Jamie P and Paul H didn't look too healthy as they'd had a bit of a session yesterday! Les let Jamie pick the envelope for todays draw sequence which put me on peg 6, which I was quite happy with as the middle pegs can be good for my favoured shallow approach.
Although my peg looked nice, there were quite a few lilies and I knew I'd have a job stopping any carp from finding sanctuary in them. I set up rigs for fishing shallow, down the edge and for fishing the meat at five metres although I'm yet to have a bite from this line! Bait was the normal 6mm and 8mm pellets for fishing shallow and 6mm meat for the other two lines, the only difference today was that I added an extra kick to the meat with a few squirts of the new Bait Tech Krill and Tuna liquid and it certainly smelled pretty fishy!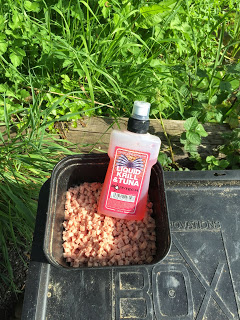 Bait Tech Krill and Tuna
Loads of carp could be seen cruising about although it was flat calm which wasn't ideal for fishing up in the water and there was also the possibility that they might be getting ready to spawn and if that was the case they wouldn't be interested in feeding. Les blew for the start and I feed some meat at five metres and down the left hand edge by hand before starting shallow at 11.5 metres. Unlike last week I didn't manage to get one straight away but then after five minutes I saw a group of fish heading my way so dropped the rig in their path and one of them grabbed the pellet and I was in! With all the lilies on the inside I decided to try and play the fish in open water before shipping back and breaking the pole down. It was a decent fish around 4-5lb and I was in control until I got down to the top kit and it made a beeline for the lilies and snagged me! I managed to get it out and added a couple of sections but it then headed to the pads on my right and snagged me there, I eventually got it moving only for the hook to pull out – not a great start!
I landed the next one, a smaller common around 2lb to get off the mark and then had an 8oz rudd, Jamie P hooked a good fish shallow and was trying to stop it getting in the lilies when his number four section snapped, luckily Chris Haines managed to snare it with his pole and gave it back to Jamie with the fish still attached. Jamie landed the fish, a good 8lb carp and then put it back so the fair play award goes to him, well done mate. It does raise an interesting question though, if Chris had landed the fish would he be entitled to put it in his net? or was it Jamie's fish? did he do the right thing by putting it back? I would like to hear your views and what you think so feel free to comment on the blog or message me using the contact box in the right hand column.
I had another carp to finish the first hour with two and nobody was bagging at this early stage, Picky next door had a couple and Blaker, Exeter Mike and Paul H in pegs 12, 13 and 14 on the opposite bank were getting the odd carp although Bushy and Janders in 15 and 16 were struggling. After two and a half hours I was up to four carp but it wasn't really happening, it looked like Picky was now catching regularly and Bushy said the Tart was bagging in peg 9 and I could see Blaker and Mike catching from their inside lines but I wanted to leave mine as long as possible before trying it.
Jamie P on my right and Hainsey and the Hoff next to him had a few fish but it was hard going for a lot of people (me included). As we approached the half way point, I couldn't wait any longer and it was time to try the inside line, after five minutes the float buried, the Preston Green Hollow did it's job and I landed a three pounder. I added another three over the next hour or so and although I wasn't bagging I was doing okay. Then the bites tailed off and I went back on the shallow line to rest the inside for half an hour but this just resulted in a foulhooked fish which came off nearly straight away. Bushy had a couple of fish shallow but Janders only had a small roach and shouted across asking what other activities he could do on a Sunday, we gave him lots of options from bowls to dogging!
Despite there being loads of carp moving about, they just weren't interested and I suspect they had other things on their minds! Blaker and Exeter Mike were still catching quite well and Paul was now putting a few fish together as well. Jamie P then had several fish in quick succession from his meat line before he hooked a lump that snapped his top kit and he lost the rig, elastic and everything. He reckoned it was a ten pounder and his day was going from bad to worse. I was still stuck on eight fish with an hour to go and a low points score looked to be on the cards along with losing most of the side bets.
I had a brief go on the five metre line which resulted in no bites yet again so I decided to spend the remainder of the match down the edge as Blaker, Mike and Paul were all catching on their inside lines. I had my ninth carp but then Jamie had two in as many chucks to put him on eight and I was sure he'd beaten me as he had a couple of lumps. As Les blew the whistle Exeter Mike was playing another carp and looking good for a place on the podium. I packed up and took my kit back to the car, asking people how they'd done on my way, Hainsey in peg 4 had six, Hoff in 3 had seven, Rich Collins in 2 had six and Bish in peg 1 had ten so it was all pretty tight. I loaded the car and checked I had enough pound coins to pay out as it was looking like I'd lost four out of five!
As we all gathered around Bish's peg waiting for the scales, the Tart said he'd only had six carp and a skimmer so either he was lying or some winding up had been going on but you can never tell with him, then Picky said he'd only had six but had lost several and all of a sudden it wasn't sounding like I'd done as bad as I'd first thought. Bish weighed 36lb 10oz which would be a good weight on the day, of course then the normal guess the weight shenanigans started and when asked I said I probably had 27lb (nine carp averaging 3lb apiece) as I certainly didn't have any lumps like last week. Rich had 12lb 2oz before the Hoff had 30lb 2oz and Hainsey had 22lb 6oz. Jamie plonked his fish on the scales and his weight was called at 28lb 5oz and this would be incredibly close. My nine carp and a single rudd went in the weigh sling and my weight was called at 29lb 12oz – phew, that was close and for once my guesstimate wasn't too far off.
Picky then had 16lb 12oz and handed over a nugget, Chilly had struggled for 6lb and then things got even better when Brandon had 20lb 14oz and would be stopping at the chip shop for tea on the way home! Les had finally christened his new Drennan Acolyte Carp Pole in peg 10 with 52lb and went into the lead. Dave Lawrence was fishing for Rocking and had 23lb 14oz in peg 11 before Blaker came close with 50lb 10oz, Exeter Mike then went to the top of the leader board with 57lb from peg 13. Paul H had around twelve carp for 40lb 10oz and took a nugget off me and then Bushy had six carp for 25lb 8oz before the weights took a nosedive.
Janders didn't weigh so I finished 4-1 up on the side bet front, Mike Collins had 7lb, Andy Bayley had 8lb 10oz, Dunner didn't weigh and then Butch had 10lb 4oz from peg 20 and those last five pegs had been really hard going. If you look at the weigh board (below) you'll see the top four came from pegs 10 to 14 so that was the end to be! So Mike won with Les second, Blaker third and Paul fourth, I won my section by default and picked up £30 which was a bonus.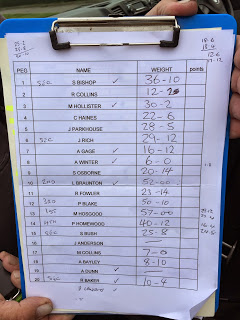 Today's board
1 – Mike Hosgood (Nr Exeter) – 57lb
2 – Les Braunton (Chard) – 52lb
3 – Paul Blake (Chard) – 50lb 10oz
4 – Paul Homewood (Taunton) – 40lb 12oz
Sections
A – Steve Bishop (Chard) – 36lb 10oz
B – Jamie Rich (Against Men and Fish) – 29lb 12oz
C – Steve Bush (Chard) – 25lb 8oz
D – Butch Baker (Chard) – 10lb 4oz
So after four rounds, this is how the league table looks,
1 – Steve Bishop – 13 pts
2 – Jamie Rich – 15 pts
3 – Paul Blake – 17 pts
4 – Mark Hollister – 26 pts
The next match is in three weeks time so hopefully the carp will have finished spawning by then, I'm at Summerhayes next weekend for a two day pairs festival with Ray Wickham so make sure you come back to see how we get on.
Next up – Summerhayes
What's new – Lots of page updates
Check Out – My latest review (below)