Round three arrived after I'd had a really crappy week where my Mum was taken ill on Wednesday and rushed to Musgrove hospital and then it was my birthday on Saturday (39 again!) but obviously I didn't really feel like celebrating much and I also wasn't really up for this today. I got to the pond and we were a few short for this match meaning Les would only pay the top three and three sections today. He opened the draw sequence envelope which put me on peg 16 with Picky in peg 17 and Jamie P on my right in peg 15, he had an empty peg next door which is always a bonus.
I set up an in-line dibber for up in the water, a 0.4 gram Drennan Carp for the 5 metre meat line and a little Trabucco dibber for the inside to my left. All rigs had 0.14mm bottoms with size 16 B911 hooks. All the usual side bets were placed with Picky, Jamie P, Paul H and Janders with the latter two both opposite so I could keep an eye on them. I had all the usual grief about my favoured shallow approach with Blaker asking if I actually had any rigs that were deeper than 18 inches!
Les blew to start the match and I started on the shallow rig of course and fed some meat by hand on my other two lines before picking up the catapult to fire out some 6mm's, I didn't get chance as the float buried and carp number one was on! I got off to a great start landing four carp in the first hour, Jamie P also got off to a flying start although I was just ahead at this early stage. The second hour started in a similar vein with another two carp and I was bagging, Jamie was still catching as well but from what I could see the early pegs were really struggling.
A grass snake swam across the lake as I was playing carp number seven which was nice to see and then just as the fish was nearly ready for netting, the hook pulled out, much to the delight of Bushy! Still I wasn't too concerned as there were plenty more out there, a few minutes later I've hooked another which I'm sure was foulhooked as it just kept going, snapping the hooklength in the process. Then I couldn't get a bite on the shallow rig and to make matters worse Jamie P started catching on his depth rig and quickly overtook me. Janders also said that the Hoff up on peg 13 (with an empty peg either side) was now in front of me as well and from a fantastic start, things had rapidly gone pear shaped. Also Bish was in corner peg 11 and apparently getting a few as well.
Not wanting to fall too far behind Jamie, I tried the 5 metre line with a 6mm cube of meat but never had a bite there so tried at 11.5 metres on the deck but no indications there either and Paul H wanted to know who I'd borrowed the rig off of! Jamie P was now about five or six fish ahead of me and Paul H, Bushy and Janders were starting to get odd fish now as well. So as we approached the half way point I tried up the edge to my left and despite a few knocks I was about to go back out shallow (which I'd continued to feed) when the float sailed away and I've netted a decent 5lb mirror, three more decent fish followed quite quickly and I was at least staying in touch with Jamie P, although according to him I was now in front!
Bites dried up here so it was back out long with the shallow rig as Jamie was still getting the odd carp, I missed a bite and then foulhooked what was obviously a big fish, I didn't think I had a prayer of landing it but slowly and surely I started to get the upper hand and eventually netted a cracking 8lb+ fish hooked in the wing, a nice bonus and worth the 20-30 mins I took faffing around with it. Jamie was still way ahead on numbers of fish but he only had small fish according to him (they didn't look that small to me!).
Butch's boy turned up to watch for a bit and while he was with me, I've landed carp number twelve and then lost another that didn't want to stop and the hook pulled out. We were now into the final hour and Jamie P had around twenty carp and I couldn't see anybody catching him. I've gone back on the inside line hoping they might be queued up when Picky walked up and conceded his pound, he said it had been really tough and in the four pegs to my left, only two carp had been caught! Just as he went to walk away, my float shot under and another lump was on, it was plodding about and I was in control when the hook pulled out – bugger. No more bites there so with only quarter of an hour left I've gone back on the shallow rig.
With only five minutes left the float disappeared and I was attached to another decent fish, I took my time and eventually slipped the net under another lump of 6-7lb about five minutes after the final whistle had gone. I finished with thirteen carp and despite Jamie having twenty one, he was adamant that I'd beaten him as he reckoned all his fish were 2lb apiece! I packed up and took my kit back to the car and all the pegs to my left had really struggled, Blaker and Paul H in the section opposite had five or six carp each so it had been really tough going at that end of the pond.
Apparently Bish in peg 11 and the Hoff in 13 both had fourteen carp so this could be pretty tight. Rocking didn't weigh in peg 1 before Blaker set the early pace with 29lb from peg 2, Paul H ran him close with 25lb 6oz and had lost a fish late on which would have won him the section. Janders had 20lb 10oz and had lost several fish as well. Then there were two empty pegs before Pup had struggled for 11lb 12oz and Butch had 18lb 8oz in peg 10 but had lost six carp. Then we got to Bish in peg 11 who plonked some lumps on the scales to go into the lead with 52lb 14oz, peg 12 was vacant and then it was Hoff's turn in 13, after two weighs it was obvious it was going to be really close and his weight was called out at a level 52lb to put him into second place.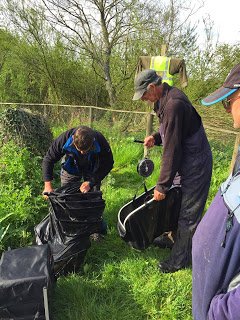 Bish about to weigh in with Butch on the scales and Jamie P watching
With nobody in 14, next up was Jamie P and after his three nets were weighed, his total was 67lb 6oz and I knew I had nowhere near that but hoped I might have enough for second, in fact it was a lot closer than I thought as my first net went 29lb 8oz and the second one weighed 31lb 10oz to give me a total of 61lb 2oz to go into second place. The remaining four pegs had been dire and Chilly just needed 6lb 8oz to win the section.
Les announced the results and Jamie P won (and took a nugget off me in the process), I finished second and picked up a very nice £80 (and ended 3-1 up in the side bets) and Bish was third. So a good end to what had been a pretty horrible week for me. Although the leading weights had been good a lot of anglers struggled today and it was very noticeable that most of the anglers with a spare peg did well as you would expect.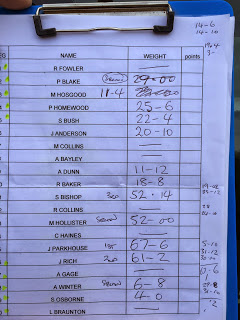 Todays board
1 – Jamie Parkhouse (Burt Baits) – 67lb 6oz
2 – Jamie Rich (Against Men and Fish/Burt Baits) – 61lb 2oz
3 – Steve Bishop (Chard) – 52lb 14oz
Sections
A – Paul Blake (Chard) – 29lb
B – Mark Hollister (Chard) – 52lb
C – Andy Winters (Chard) – 6lb 8oz
So after three rounds, the league looks like this,
1 – Steve Bishop – 8 pts
1 – Jamie Rich – 8 pts
3 – Paul Blake – 14 pts
4 – Mark Hollister – 20 pts
Next up – Perry St (round four)
What's new – Lots of page updates
Check Out – My last match (below)