In the last match Tackleuk's Ashley Tomkins battered us all with nearly 22lb of quality roach and rudd caught shallow but I wasn't too upset as it proved the whip is beatable. To be honest I tried fishing shallow that match and got it all wrong so was determined to do a better job today. I got to the draw with five minutes to spare and it was great to see a few more fishing today, Stuart Alford was back again and it was lovely to see Terry Morgan for the first time in ages. I had a quick coffee and paid Rob the pools (still £15 I noticed!) and also paid Steve for the bait (cheers for getting it mate) and then it was time to draw. I quite fancied being on the road side as I seem to have been on the field side a lot lately, I stuck my hand in the hand and pulled out peg 7, yep, far side again.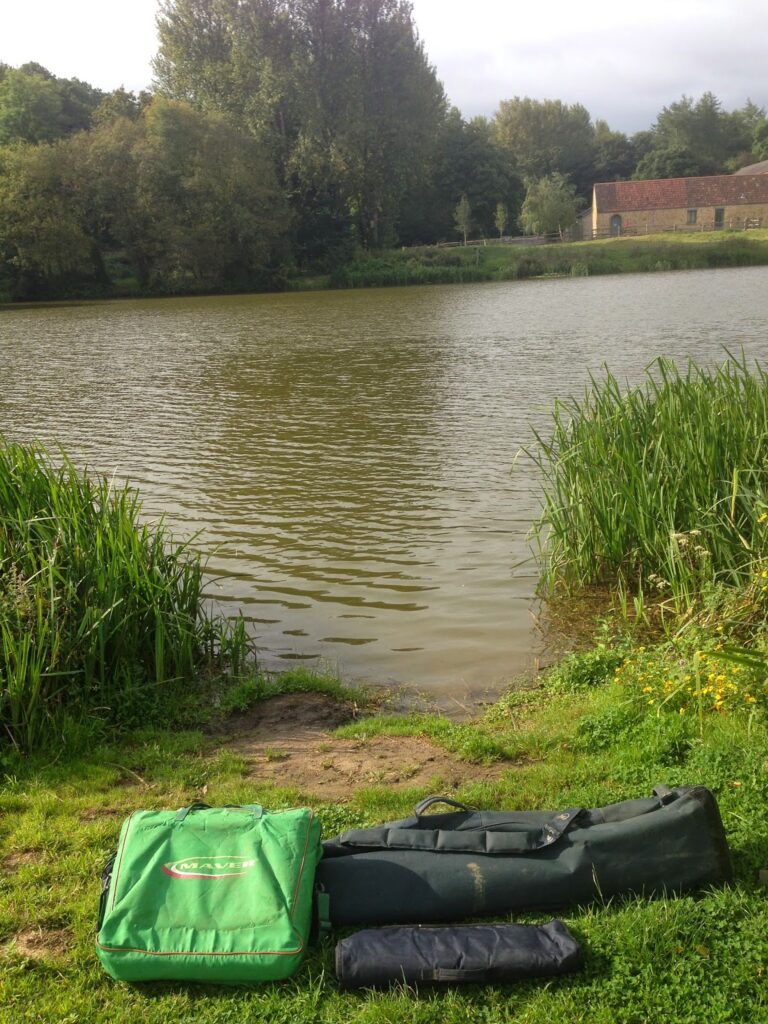 Peg 7 on the field side
As I arrived at the pond I could see Fieldy wasn't looking very happy and there were three! pleasure anglers fishing his peg, he told them there was a match on and they left but it does make you wonder if they had a licence? (surely you would check the match dates!). He tried to get hold of Rob with a view to fishing another peg but eventually decided to give it a go. I think he made the right choice as peg 1 has a big feature in the shape of a bush and a lot of the ponds chub live under it. Bruce was in peg 3 with Stuart Alford in peg 5 and he agreed to have a side bet with me. Terry was the next angler on my right in peg 13 so I had loads of room.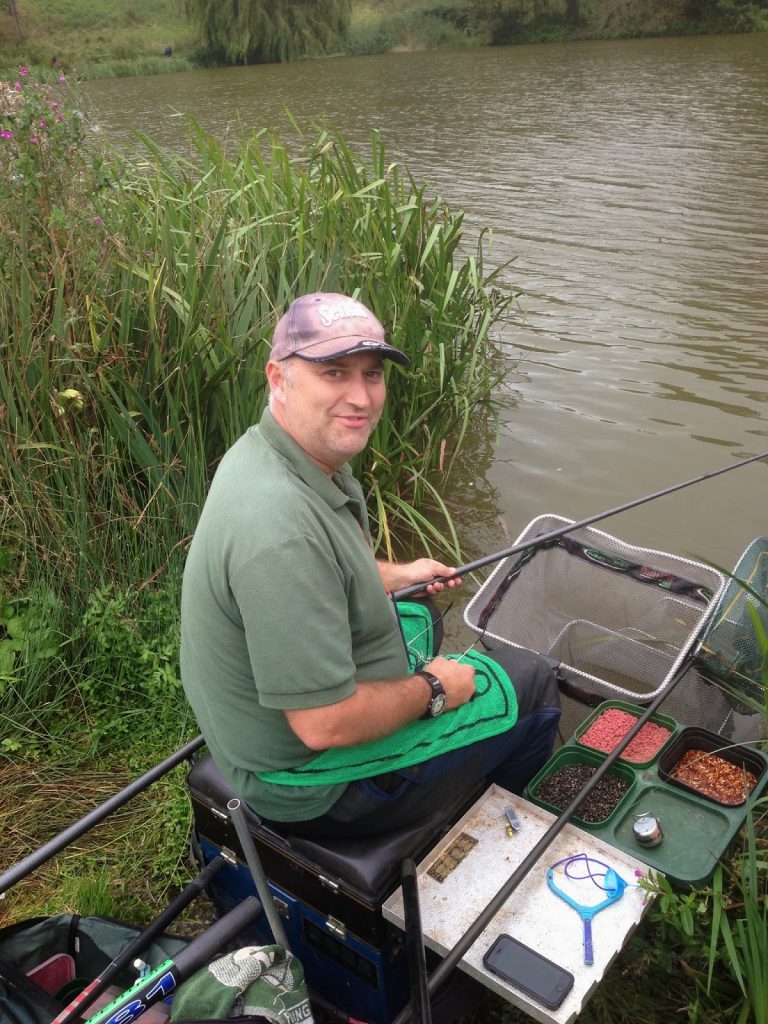 Stu fancied a side bet
I mixed up some Bait Tech Pro Natural before setting my rigs up, I set up the usual 0.5 gram Drennan Roach with 0.12mm hooklength and a size 18 B611, the shallow rig was a Preston Chianti with the same hook and hooklength as the deep rig and taking Scott's advice from the other week, I shortened the rig and shallowed it up a bit. I was just about ready for the 10:15 start and cupped in two balls of groundbait at 10 metres before starting on the depth rig with a single caster and had five roach in as many chucks but they were on the small side. Once again it was pretty windy and when it started raining I had to stop to put my coat on – lovely!
I was feeding hemp and caster and fishing caster on the hook but I was a little concerned that I wasn't getting any quality roach or rudd. Steve Hurford turned up and had a chat about his recent trip to Gillhams and said he is already planning to go back and it sounds like he loved it as much as I do, he also said as a thank you for all my help he would take me barbel fishing on the Dorset Stour, what a nice gesture and I will of course blog about it when we go.
I hooked a good roach only for it to come off at the net and then bumped a good fish as well, this wasn't going to plan. There were a few fish swirling so I reached for the shallow rig and caught a nice rudd straight away and then lost one next chuck and then couldn't get a bite shallow but I think the wind wasn't doing me any favours. I went back to the deeper rig and this was hard work as well, with an hour and a half gone I only had around 33 fish, a quick shout up to Stu revealed he already had over 60 fish and Bruce had more than him so I was a long way behind already.
Big Frank was the next person to come for a wander and after having a chat he set off round the pond to see how the others were getting on. I was still getting odd roach on the deep rig but wasn't catching very well at all but from what I could see nobody was bagging so I stuck at it. Frank came back and reported that everybody seemed to be struggling with Justin in peg 18 probably doing better than most. With about an hour and a bit left I was only on 80 fish although Stu was admitting to 91 so I had closed the gap on him a bit. Bites were now coming in spells on the deep rig so I tried the shallow rig again and had a nice roach straight away and was getting quite a few bites.
I had a couple of 2oz hybrids and then had a decent skimmer of 6oz or so, I was missing lots of bites but catching well and netted a couple of clonking roach plus lots of chunky 2oz fish. I ended up with 126 fish which I was sure would give me around 12lb if they averaged 1.5oz apiece and hoped I might even have a little more. I packed up and asked Stu how he'd finished up and he said he'd bagged and had 100 fish in the last hour to give him over 200 fish! With Bruce admitting to around 300 fish, any chance of framing was starting to disappear. Fieldy said he'd struggled for 7lb or so but we'd heard that before!
Rob arrived with the scales and for once Fieldy was close to his estimate with 8lb 10oz, Bruce then had 14lb 2oz and I thought Stu would be close to that but actually weighed 10lb 7oz and then it was my turn, the splashing sounded impressive but the needle hovered very close to Stu's weight and 10lb 8oz was finally called!, I almost (but not quite) felt guilty taking his pound. Terry had struggled for 2lb 15oz but had the wind in his face all day. Leighton had 6lb 2oz and then Justin pushed me down into third place when he weighed 11lb 1oz and the weights were very close again. Steve Parker had 6lb 13oz and paid me a nugget and Rob had 8lb 14oz from peg 21.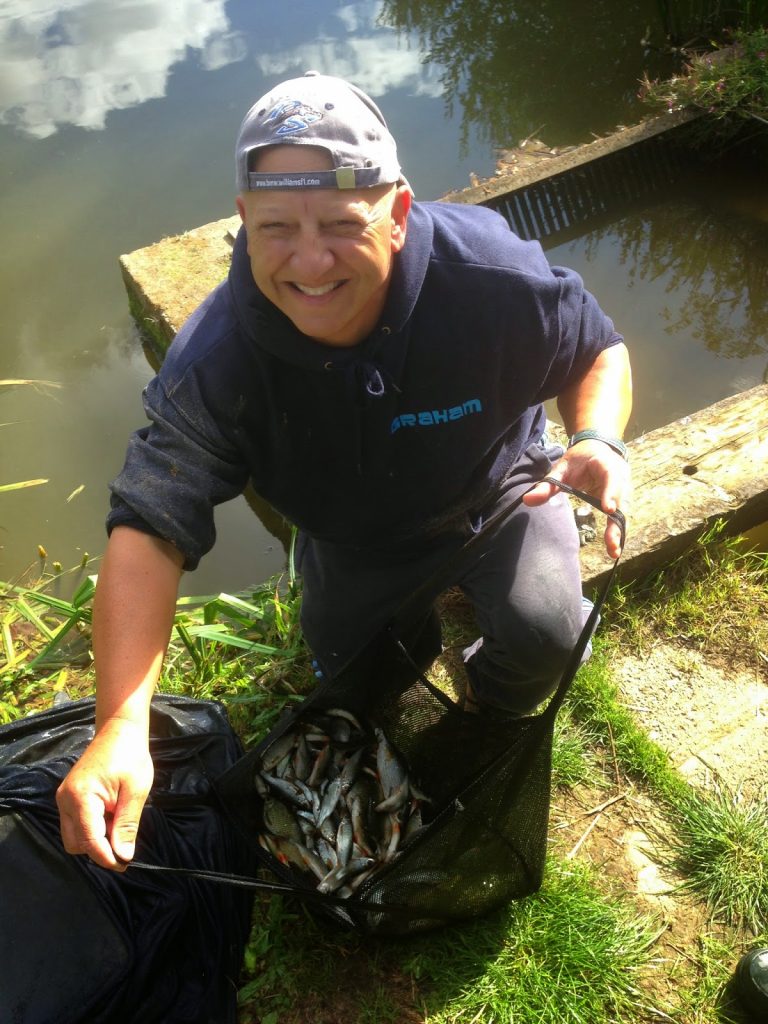 Fieldy only had 8lb 10oz this week but won the 'gurning' competition!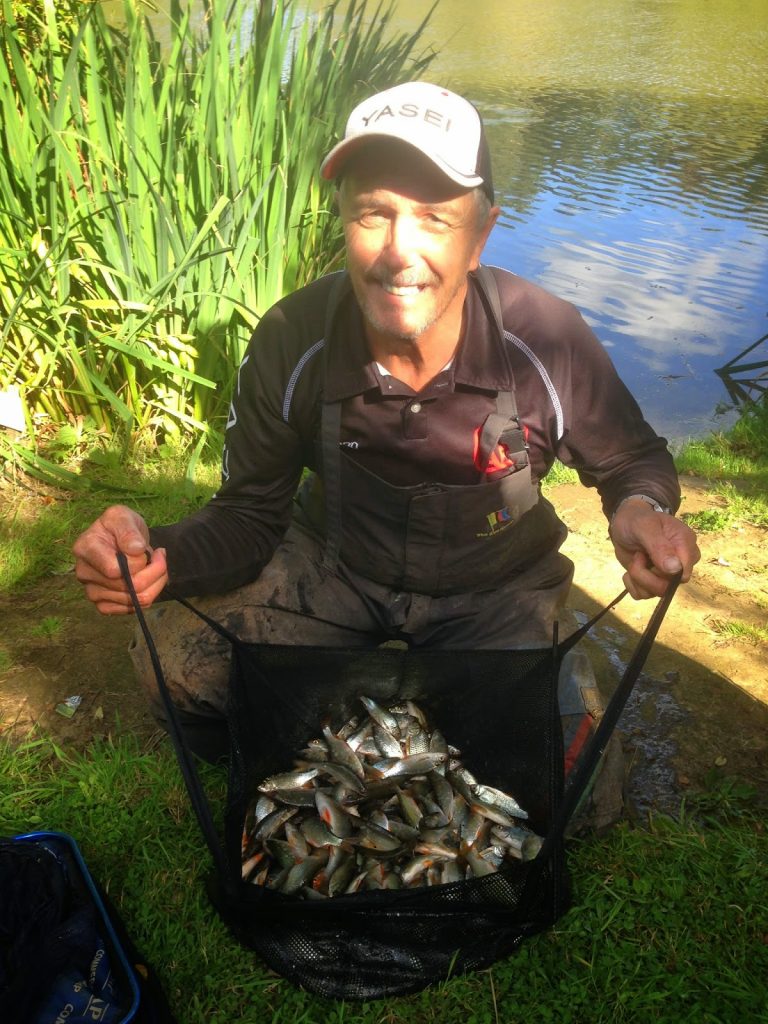 Bruce had a lot of fish for his 14lb 2oz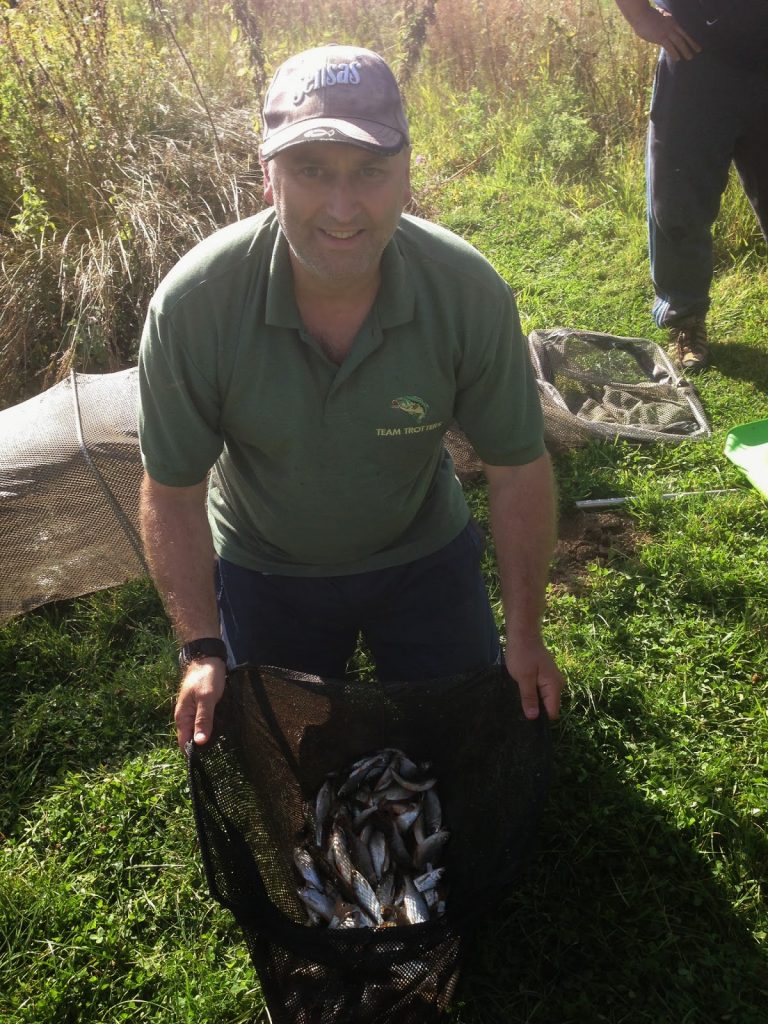 Stuart had 10lb 7oz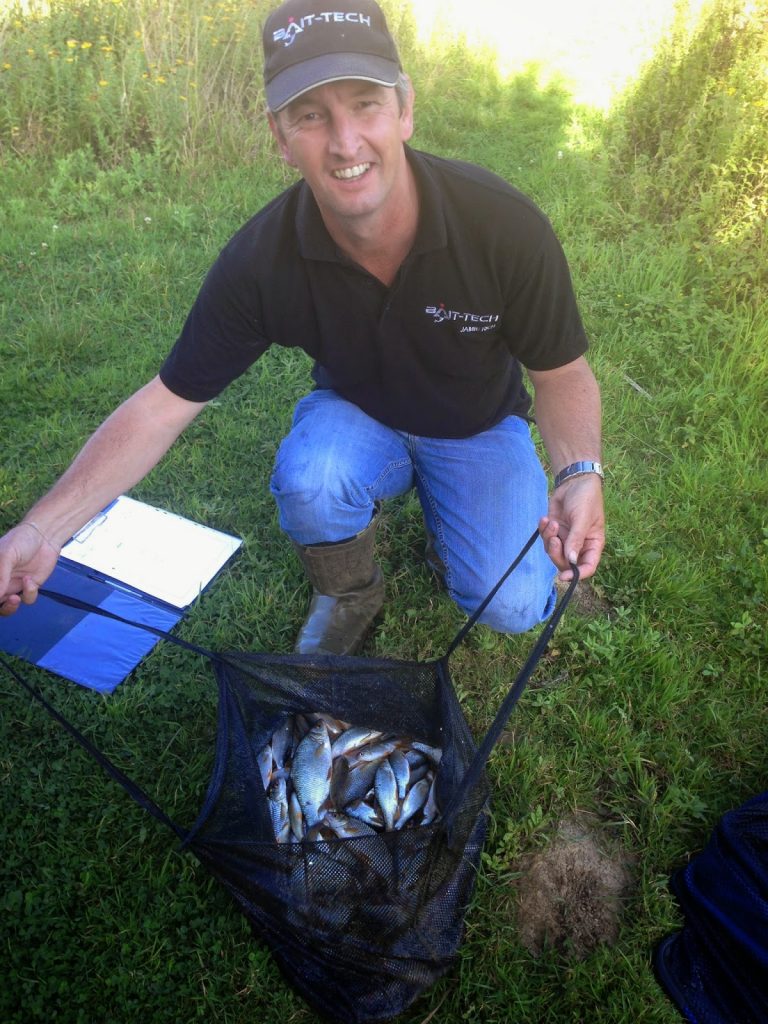 But I pipped him by an ounce!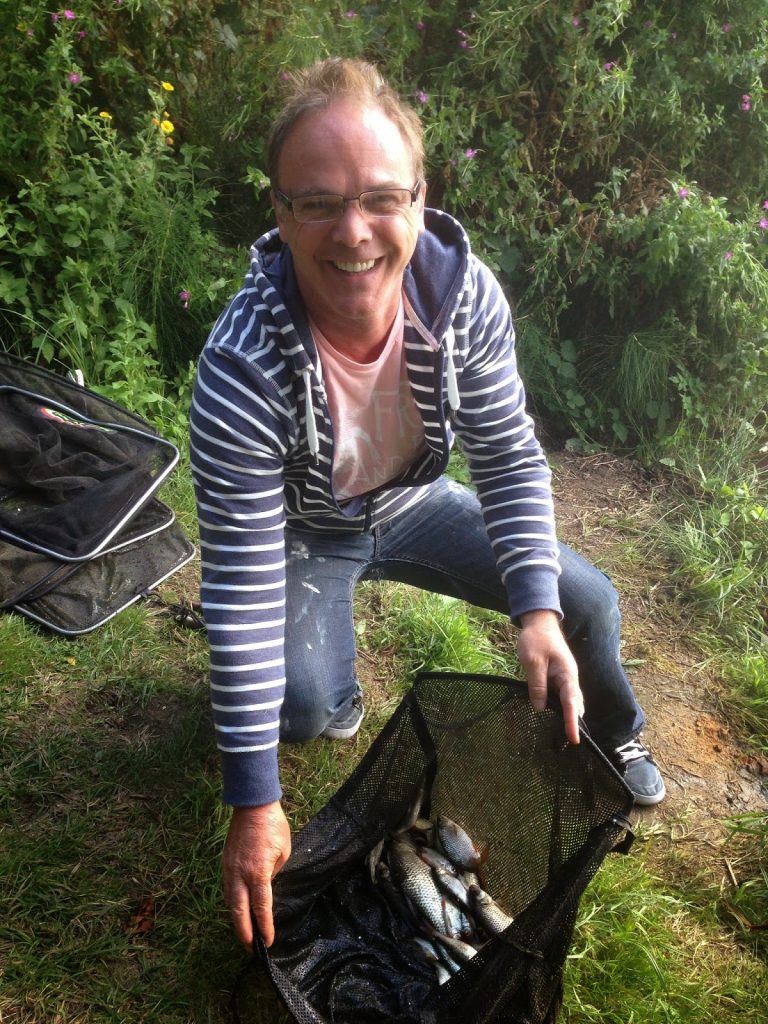 Terry had 2lb 15oz from peg 13
So once again in pretty rubbish conditions the pond had fished really well with the top four all catching double figures and it's got to be one of the fairest venues around with plenty of bites to be had all round the pond. Some lovely quality roach and rudd are being caught along with odd skimmers, tench and perch and although the whip does well, the pole can compete (as Ash proved) and Justin fished chopped worm today so several different methods are working which is nice to see.
At the results, Bruce was on the winners podium once again with Justin second and I was third and picked up £22. Poor Stu finished out of the money by an ounce but I'm sure he will return the favour next match and win his pound back too! In the league, Fieldy leads by a country mile with 8 points followed by Rob on 20 and Stu on 24 with two matches to go.
1 – Bruce Hunt (Tiverton) – 14lb 2oz
2 – Justin Charles (Ilminster) – 11lb 1oz
3 – Jamie Rich (Against Men and Fish/Burt Baits) – 10lb 8oz
Next up – Summerhayes
What's new – Lots of new reviews
Check Out – My interview with Andy Neal (below)