I normally fish a few of Pete's two day events but this year I've had fixture clashes on most of the Bank Holidays and I wasn't sure I'd be able to fish this one unless I could find a partner. Glynn Wickham said his dad, Ray, was looking for someone and as he likes to fish for silvers as well, we paired up. I got to the venue nice and early and sorted out some nets and paid my pools, there was a good turnout of 28 anglers which would be split between Sellicks and Longs with two sections of seven on each lake with the anglers swapping lakes for the second day. After the two days, Pete is paying out the top four pairs in carp and silvers so the money is well spread out.
Pete announced the draw which turned out to be a rather complicated affair, there was an initial draw which decided who was on which lake and my destination for today was Sellicks. Pete then started calling names out and when my name was shouted I delved into the bucket and pulled out peg 3, spot on, a great silvers peg. Things got better when Glynn drew one of the better carp pegs which wasn't ideal as he would be fishing for silvers. People started heading to their pegs when Pete said that this wasn't the draw for where we would be fishing but for which section we would be in! All the balls went back in the bucket and then we had to draw again, this time I pulled out peg 19, a good silvers peg but not as good as peg 3. Still at least I had avoided the carp pegs up the top end, unlike Glynn who drew another great carp peg, number 14!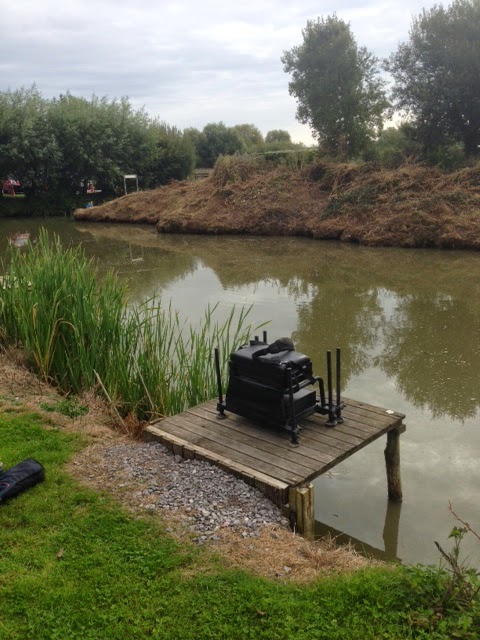 Peg 19 on Sellicks
Looking at the section sheet, I was in with pegs 3, 5, 6, 12, 15 and 21 while the other section consisted of pegs 1, 8, 10, 13, 14, 17 and 23 and quite a few people looked as confused as me (not hard I know!), it all seemed to make sense to Pete though so if a new Enigma machine is ever needed I think he is the man for the job! The trouble was I would only actually be able to see two of the people I was up against (peg 15 and 21) so would have no clue how I was doing. The other problem was that in the other section there were only a couple of anglers who would be fishing for silvers so even though Glynn was on a carp peg he would end up with good points for silvers, as long as he caught at least one silver fish that is! I was up against silvers anglers in good skimmer pegs, Adie R in peg 3, Charlie Barnes in peg 5 and Pete in peg 6.
I got to my peg and started setting my kit up and I had Martin Addicot on my right in peg 17, fresh from setting another match record in the week, this time with over 160lb from Sellicks, he would be fishing for carp today and fellow blogger Dominic Sullivan on my left in peg 21. Young Reece was in peg 23 and shouted up he wanted a pound side bet on silvers and I accepted. I assembled two rigs, both 0.6 gram Malman Pencils, one for 10 metres and another for five metres where it was very slightly deeper. Both had 0.12mm hooklengths with size 16 Tubertini 808's at the business end. On the bait tray were some wetted micros and 4mm pellets with 4mm Bait Tech expanders for the hook. I also had some dead red maggots in case I was really struggling.
On the whistle I cupped in half a pot of micros plus a few 4mm's on two lines at 10 metres plus the same at 5 metres before starting on the right hand 10 metre line with an expander on the hook. The bait never reached the bottom as a 4oz roach snaffled the pellet on the drop and I was up and running. My next fish was a carp so I moved to the other long line but this proved to be very slow and I was soon back on the other line and had a couple of 6oz skimmers but the trouble was the carp kept pushing in and after an hour I had those three silvers plus four carp! From what I could see, most people were catching carp, Dom even had a nice tench from by the island and offered to sell it to me for £20!
The second hour started well when I had another skimmer but the next chuck I hooked another only for it to come off as I was shipping back. I was still getting carp and had a lump of around 8lb that gave me the run around on blue hydro. I was dripping some micros in on the 5 metre line but wanted to leave it for as long as possible before fishing it. I was still getting odd skimmers (and carp of course) from the right hand 10 metre line but the other line was a bit of a flop and I only managed one skimmer from it all match. Dom was catching carp well, Martin was hooking lots but lost quite a few and having a bit of a moan which is unlike him! From what I could see Glynn was really struggling but it didn't really affect me as he was in the other section.
After a couple of hours I tried the short line for the first time and had a small skimmer before catching the inevitable carp, it wasn't fast and furious and I was just going to go back out long when the float slid away and I had my first proper skimbob of a pound or so. I stayed on this line a bit too long really as I was getting bites but just couldn't hit them (liners perhaps?). I went back out and had two more 6oz skims quite quickly before it was back to the carp. Dom was now fishing up towards the empty pallet between us and was still getting his fair share of carp, he did well to land one which tore off through the legs of the pallet but after a bit of knit one, pearl one, he safely netted it.
With an hour and a quarter to go I was back on the 5 metre line and still missing bites, I eventually hooked another skimmer which turned out to be a proper one of 3lb and then I've hooked another next chuck which also felt like a big skimmer only for the hook to pull out and I came back with a bream scale on the hook – bugger! I had another 6oz sample and then another better one of a pound or so but missed several more bites including one just before the whistle went to end the match. My final tally was 15 skimmers, 2 roach and around 11 or 12 carp.
After packing my kit up I caught up with the scales about half way around Longs and judging by the weigh board, it had fished quite well for carp but relatively hard for silvers and Ray said he'd struggled, he actually weighed 8lb 13oz to go into the silvers lead in his section but his son Nigel pushed him down into second with 10lb 10oz. The other silvers section on Longs was won by Dom's partner Gabriel with 11lb 13oz, he also topped the carp with 68lb 2oz. The scales moved onto Sellicks and the early leader was Adie R with 11lb 5oz of skimmers from peg 3, Charlie Barnes had suffered with carp trouble and weighed 5lb 8oz and Pete had 4lb 4oz. Glynn was admitting to a couple of pounds of silvers but that would still get him good points today, he weighed 2lb 15oz and was leading his section with just Reece in peg 23 to weigh.
My carp went 32lb 10oz and then my silvers weighed 8lb 13oz to put me second in my section behind Adie. Reece only weighed 13oz of silvers (and never paid up once again), meaning Glynn won the other section.
So after day one, the section winners were as follows,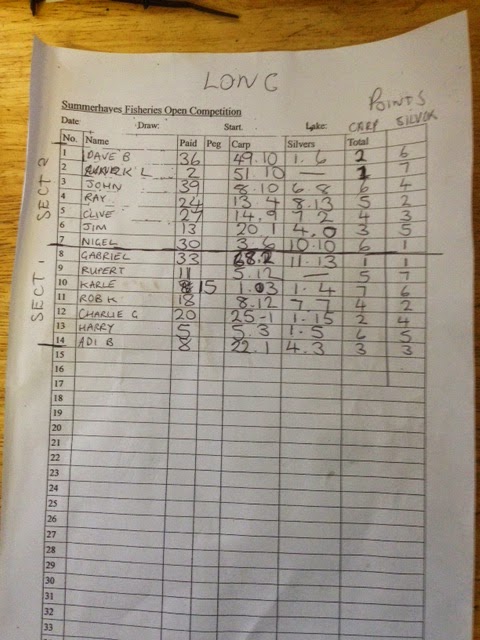 The sections on Longs
Longs
Carp
Mark Leahy – 51lb 10oz
Gabriel – 68lb 2oz
Silvers
Nigel Wickham – 10lb 10oz
Gabriel – 11lb 13oz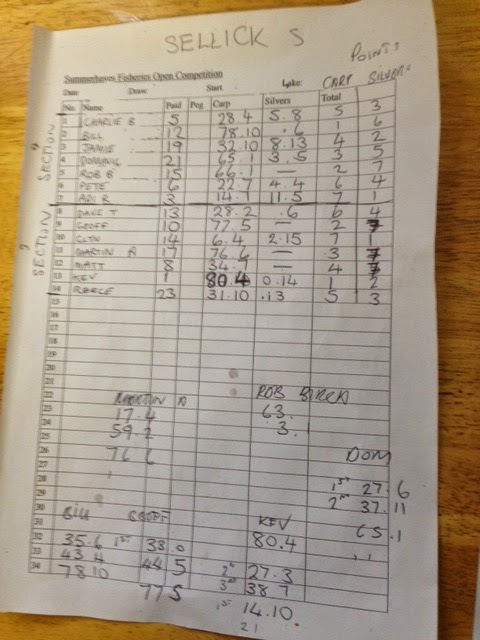 Sections on Sellicks
Sellicks
Carp
Bill Hopping – 78lb 10oz
Kev – 80lb 4oz
Silvers
Glynn Wickham – 2lb 15oz
Adie R – 11lb 5oz
Glynn and Nigel are leading the silvers with a perfect two point score, Ray and me have four points, but the draw will play a big part again tomorrow and the weather is going to be awful according to the forecast so come back tomorrow to see how it goes.
Next up – Summerhayes Day Two
What's new – Lots of new reviews
Check Out – My last match at Dillington (below)