On waking up, the forecasters had got it right for once as it was raining, I got to the draw and although it was wet, it wasn't too windy for a change. I said hello to everyone and had a coffee, Rob Kingston paid me his pound from yesterday but Reece wanted double or quits which I agreed to as you're more likely to see rocking horse poo than a nugget come out of his pocket! I said in yesterdays blog that the draw would be all important today and the anglers on Sellicks were first to go in the bucket, my partner Ray drew peg 15 which is one of the best carp pegs on the lake, not good and he wasn't happy. Some of the anglers who did well yesterday drew really good silvers pegs, Nigel Wickham had 23, Rob K had my peg from yesterday and Karl had peg 3.
Then it was the draw for Longs and by the time I stuck my hand in the bucket, several of the good silvers pegs had gone, peg 39 was still in there and I hate that peg with a passion and of course I drew it. It had done 6lb 8oz of silvers for 4 points yesterday although he had lost a couple of good skimmers too. Again, several anglers who had done well yesterday drew the better silvers pegs and Ray and me were right up against it. It was still raining and we were in for a wet day, Reece was in peg 2 although not in my section (we were up against the same anglers as yesterday) and Dom was down in peg 5. In my peg there were already carp slurping by the walkway and I would be avoiding that area of the swim. I set up two MW F1 Slims with 0.10mm hooklengths and size 16 808's for fishing soft and banded pellets and also a 0.3 gram NG Mini Gimp set up to fish dead maggots a few inches over depth.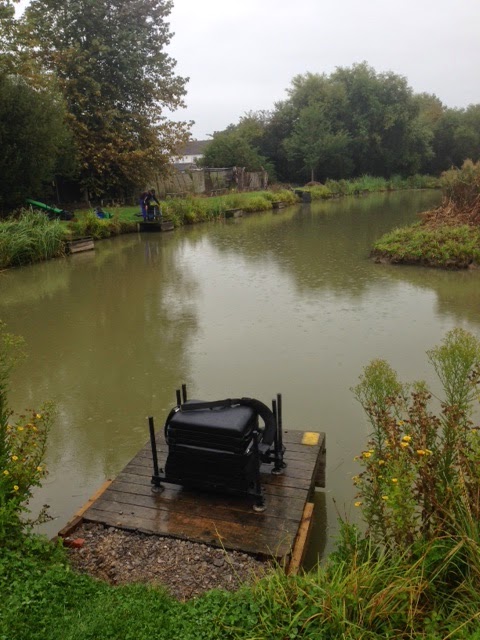 Peg 39 on Longs (not my favourite peg!)
I was ready with ten minutes to go, so went and got a coffee and sat in my car out of the rain while I waited for the start. On the whistle I fed three longer lines with micros and a few 4mm's, two at 10 metres to the left and right and the other at 8.5 metres straight out in front, I also fed a 5 metre line angled slightly to the left. Reece had a small tench on worm while I was still feeding my swims, I started out in front but it was slow going and I missed a bite before trying the other two lines and my first fish was a 2oz skimmer from the right hand line, my next fish was a carp and I hoped it wasn't a sign of things to come. Reece had a couple of nice skimmers which gave me hope that there were a few about. I had another little skimmer and a lovely little crucian from the 8.5 metre swim plus a couple more carp and although I wasn't bagging, it was a steady start.
Dom looked to be catching carp and also quite a few silvers which was a tad worrying, I was still rotating all three longer lines but the middle one was the most productive and when I had two 8oz skimmers in quick succession I thought a decent weight might be possible. Reece then had a couple more skimmers to pull away again and all I could catch were carp. After two hours, it was still raining pretty hard and I was quite wet and my pellets were in danger of turning to mush. I tried the five metre line and had lots of indications on soft pellet but only added another small skimmer, banded pellet resulted in another carp and I didn't know what to do next. I had a small skimmer and a 3oz tench from the 8.5 metre line but then it was back to carp.
Double dead red maggot was a flop as well, Reece was catching good skimmers fairly regularly and Dom was bagging with carp and silvers. With half the match gone I only had about 1.5lb of silvers and I was in trouble, another brief look on the shorter line saw me hook a decent fish which didn't feel like a carp and I was mightily relieved when I slipped the net under a 2lb skimmer, I needed a few more though. That fish proved to be a false dawn and I only managed one more decent skimmer from the longer line out in front and a couple of tiny roach which I suspect were the cause of a lot of the missed bites.
The whistle went for the end of the match and I only had 17 silvers for an estimated 4.5lb plus about ten carp, Ray came up and said he'd had a bad day too, hooking and losing loads of carp and trashing five rigs in the process, he said both Glynn and Nigel had done well so that was first place in the silvers wrapped up. The scales were soon with me and my carp went 19lb 1oz and my meagre silvers weighed 5lb 6oz and I knew I'd finish well down with that. Reece did well with 13lb 15oz of silvers and then Dom had over 60lb of carp and his 7lb 1oz of silvers meant I'd lost a point already.
I finished loading up the car and caught up with the scales as they weighed the road side pegs, a quick look at the weigh board made depressing reading for me as Pete had beat me by 5oz, Adie R had 8lb 4oz and Charlie Barnes had won the section with 13lb 15oz and I only beat two in the section giving me 5 points and I'd blown right out. Special mention must go to Martin Addicot who drew peg 33 which won the lake for carp and silvers yesterday and he still moaned and didn't fancy it all, so he must have been a little embarrassed to weigh in 110lb 7oz!
Sellicks had also fished well and there were numerous good carp weights with the best going to Charlie G with over 86lb from peg 12. I felt for Dom's partner Gabriel as when we got to his peg to weigh in, one of his keepnets had slipped in the pond and he lost all his fish! The silvers weights were better today with Karl in peg 3 having 10lb 15oz and Charlie's partner John also having double figures from peg 13. Rob K had his pound back and won his section with 13lb 4oz of skimmers and Nigel had 13lb 8oz which meant him and Glynn had a perfect 4 point score. Ray had 6lb 6oz which put him third in his section and we both thought we might still sneak into the frame but back at the results it soon became obvious that it was going to be close between several pairs.
After Glynn and Nigel, Reece and Rob were second with 8 points followed by Charlie and John with 10 and then Adie and Karl with 11 points, Ray and me ended up with 12 points and to be honest we hadn't drawn well for silvers today. The carp side of things was tight as well with Adie Bishop and Bill 'The Paste Has Landed' Hopping taking the verdict over Rob Birch and Mark Leahy on weight.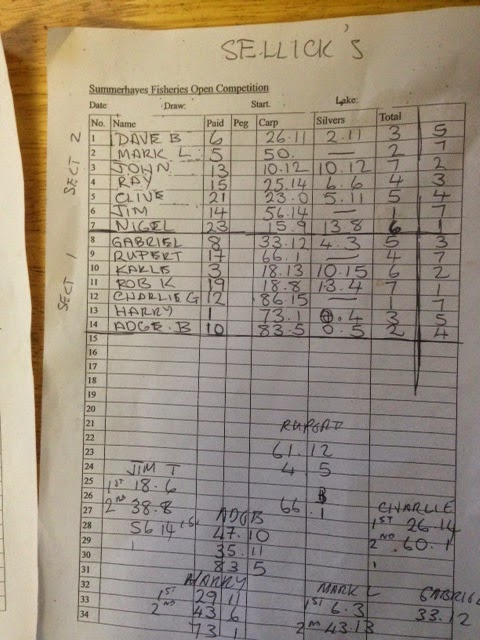 Sellicks fished better today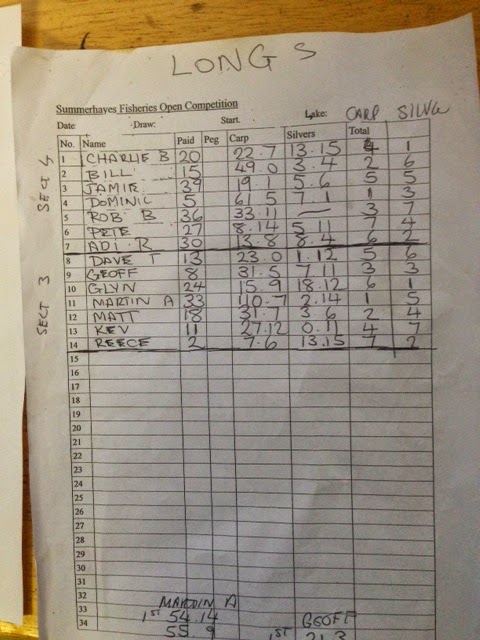 And so did Longs (apart from peg 39)
Overall Silvers
1 – Glynn and Nigel Wickham – 4 pts
2 – Reece and Rob Kingston – 8 pts
3 – Charlie Barnes and John – 10 pts
4 – Adie R and Karl – 11 pts
Overall Carp
1 – Adie Bishop and Bill Hopping – 8 pts (on weight)
2 – Rob Birch and Mark Leahy – 8 pts
3 – Dave B and Martin Addicot – 9 pts (on weight)
4 – Matt and Charlie G – 9 pts
I can't go without mentioning that Glynn took yet another £1 off me today (or he will give me stick the next time I see him) although as I beat him yesterday I'm claiming a draw!
Next up – Dillington
What's new – Lots of new reviews
Check Out – Day one yesterday