After getting a soaking on Monday, I was relieved to wake up and see the sun shining through the window this morning. I loaded the car and was quite looking forward to a nice days roach fishing and on arriving at the pub for the draw, it was actually quite busy as a few more new faces had turned up. Big Frank and his boy Jake were fishing today along with Bob Hammond and a lad called Jason Roseveare who had recently moved to the area and had been catching some nice bags of skimmers on the feeder while pleasure fishing.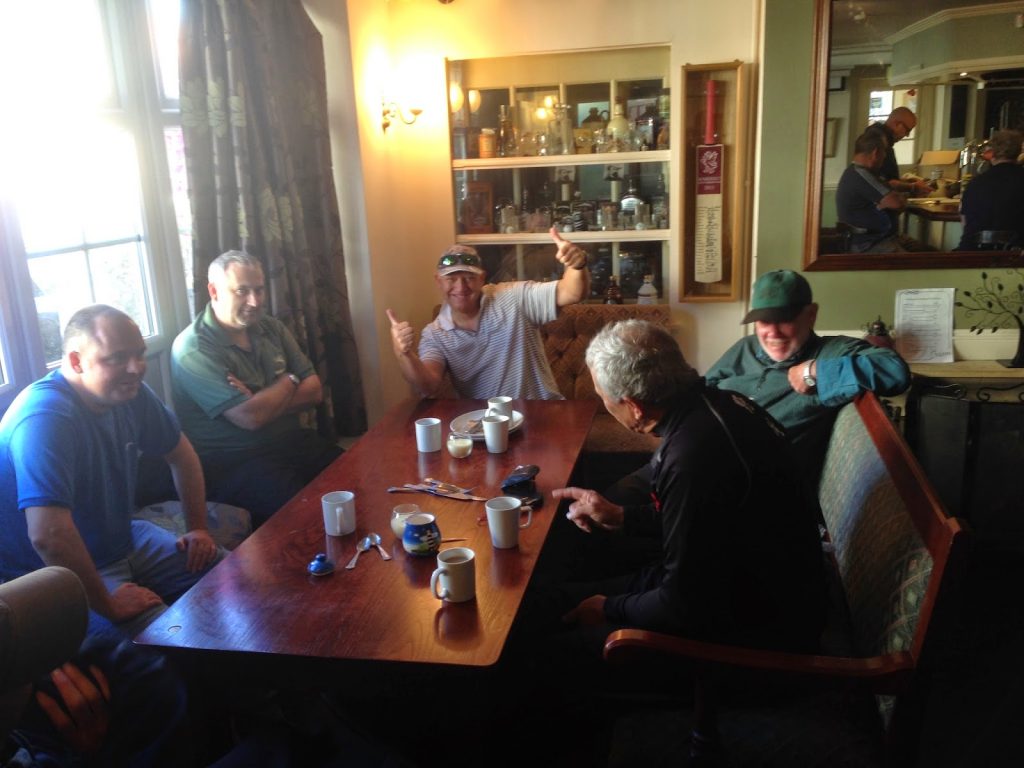 A busy breakfast table this morning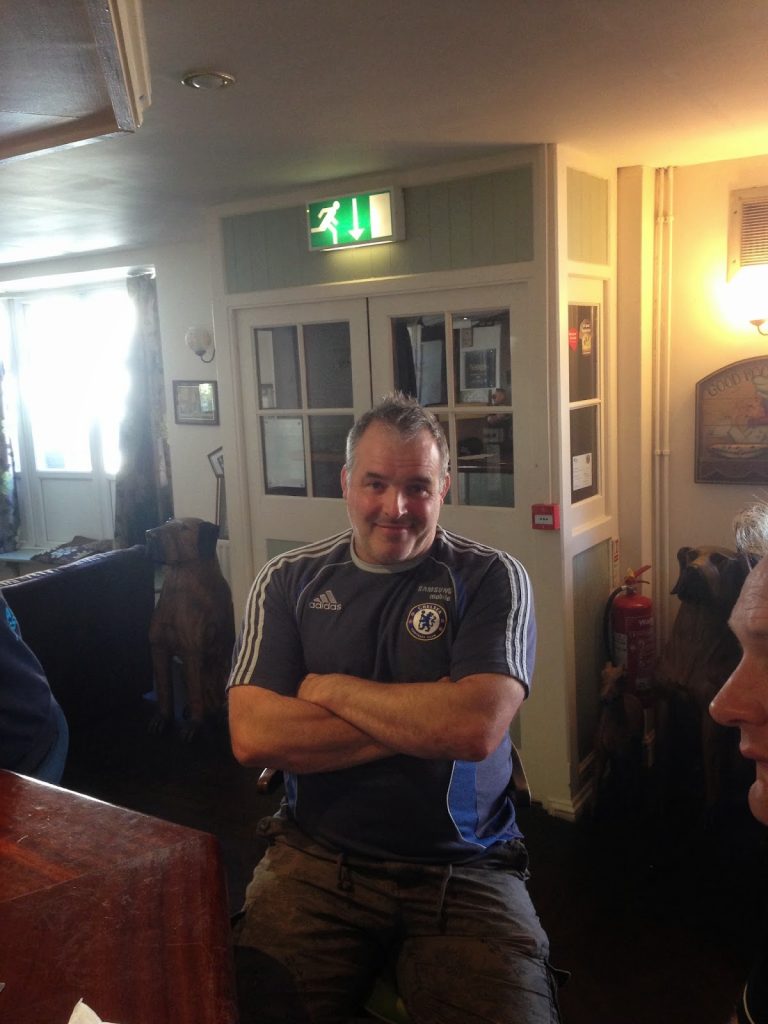 Big Frank was fishing today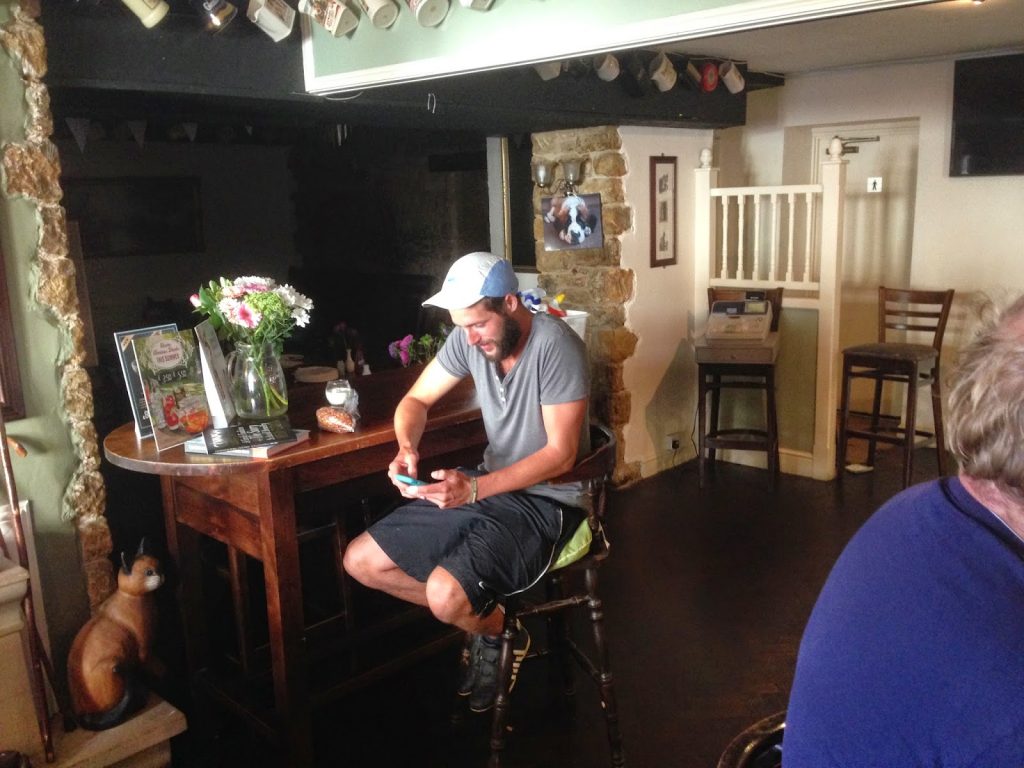 And so was his boy, Jake
Rob announced the draw and I managed to avoid the field side this week, drawing peg 15 again, I did okay off it last time but it's quite high off the water and the fence is right behind you making shipping the pole back very awkward. I think peg 16 is the better option as you are low to the water with plenty of room to ship back. I mixed up a little bit of groundbait before assembling my usual two rigs, a 0.5 gram Drennan Roach float for fishing at full depth plus a Preston Chianti for fishing shallow, both rigs had 0.12mm bottoms and size 18 B611 barbless hooks.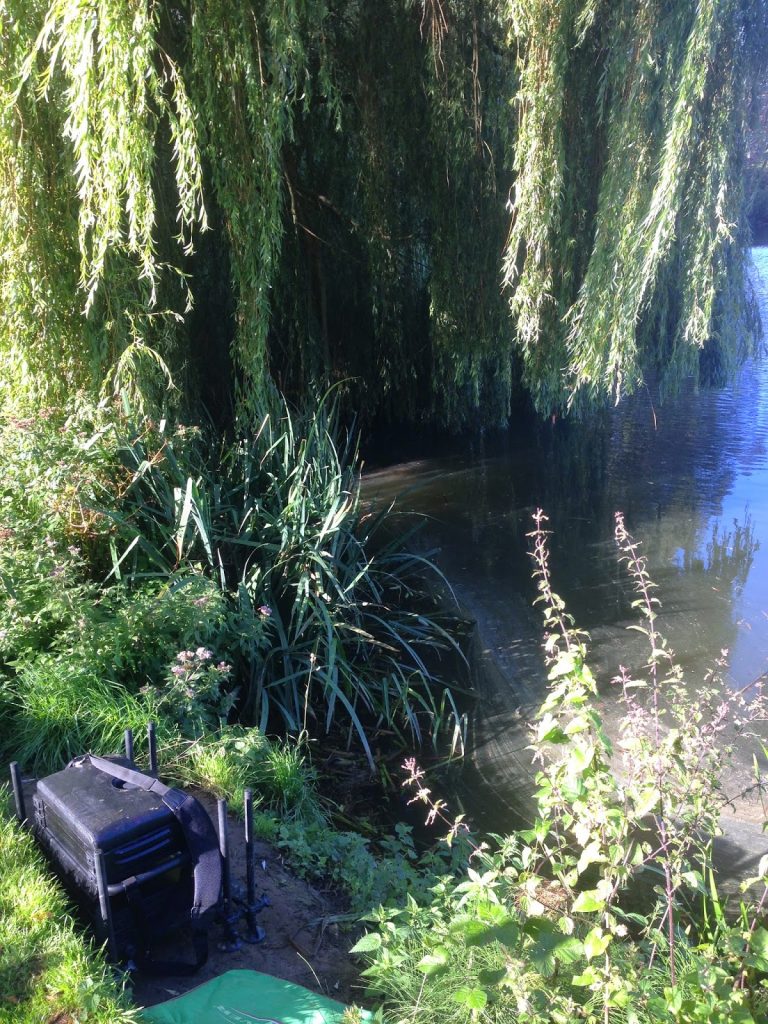 Peg 15
I had Jason on peg 14 and it would be interesting to see how his feeder approach worked in a match, Steve Parker was in peg 18 but I couldn't really see how our side bet was doing due to the big willow tree on my left. Rob started the match with a single toot of his whistle and we were off, I cupped in two balls of groundbait at 10 metres before slipping on a caster and shipping out. I had a small roach first chuck and then hooked a good sized one next put in only for it to come off as I shipped back. I was still cursing that lost fish when I hooked another and safely netted a beautiful redfin of 8-10oz and really thought I'd be in for a cracking day.
Jason had caught some roach and then latched into his first decent skimmer and I was hoping he wouldn't get too many of them. My first hour was really good and I ended up with 34 fish, mainly roach and I thought I must have around 3lb although I was a little worried that I hadn't had anymore net roach. I was loose feeding casters and hemp and going into the second hour I was still catching quite well but after half an hour the sport started to slow. Jason was still getting the odd quality roach and had added a couple more skimmers as well, I couldn't see many of the other anglers but Justin looked to be struggling and from comments I could hear it sounded like Bruce and Steve were only getting odd fish as well.
I was waiting longer and longer for bites so picked up the shallow rig but this didn't help my catch rate much and as the second hour ended I'd only added another 20 fish. I kept swapping between the two but was going nowhere fast, I could get lots of bites on the shallow rig but was missing most of them and I also had a couple of better roach come off as well! We had several bank walkers during the day including Mike Board and Ilminster's answer to Morecambe and Wise, Scott Jackson and Dave Sydenham who said most people were struggling although Jason was getting some nice skimmers up to 2lb and already had 6 or 7!
I think I spent too long trying to catch shallow but those missed bites were doing my head in! I started feeding a line under the willow and had a couple of clonking roach but also had a couple more decent ones come off on the way in. I ended up with 112 fish, mostly roach with a few perch and thought at an ounce and a half apiece they would give me around 10lb, possibly a little more. As I was packing up Jason wandered up and said he'd been catching well but slowed up when it got hot (I didn't really notice in the shade of the willow) but I still fancied he was in with a chance as along with the skimmers, he'd caught some little tench and quality roach and rudd. Steve Parker said he'd also had 112 fish so the pound could go either way although he had a 1.5lb skimmer which I thought might swing it for him.
Rob must have packed up in record time as by the time I'd put my kit in the car, he had already weighed in most of the far side, a quick look at the board revealed Jake had done well catching 8lb 14oz from peg 4 and given his Dad a spanking in the process as Frank weighed 5lb 2oz. Justin had struggled for 4lb 6oz and Bob didn't weigh but then Fieldy went into the lead by a country mile with over 300 fish for 17lb 11oz and people said he was struggling! Stuart Alford fished the feeder today but struggled for 3lb 2oz. I thought Jason would do double figures and he had some lovely fish but the needle stopped on 9lb which surprised everybody, we even weighed them again to make sure. I started to think I might even frame with my 10lb but it turned out to only be 8lb 10oz and my guesstimating goes from bad to worse.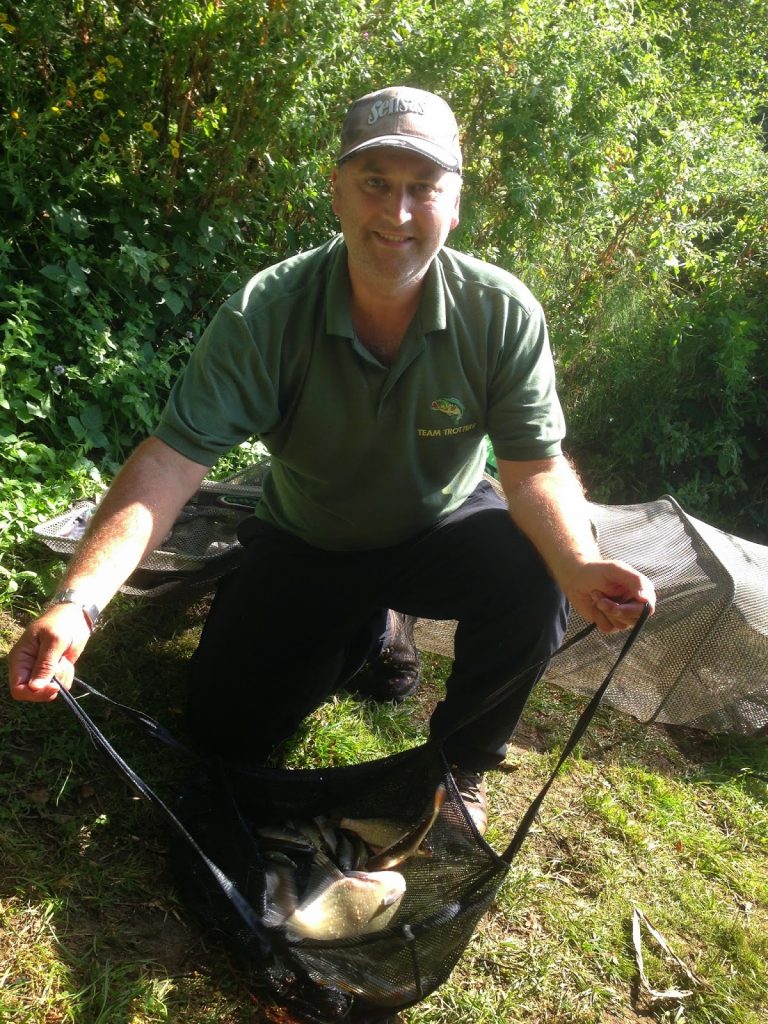 Stuart had a nice skimmer in his 3lb 2oz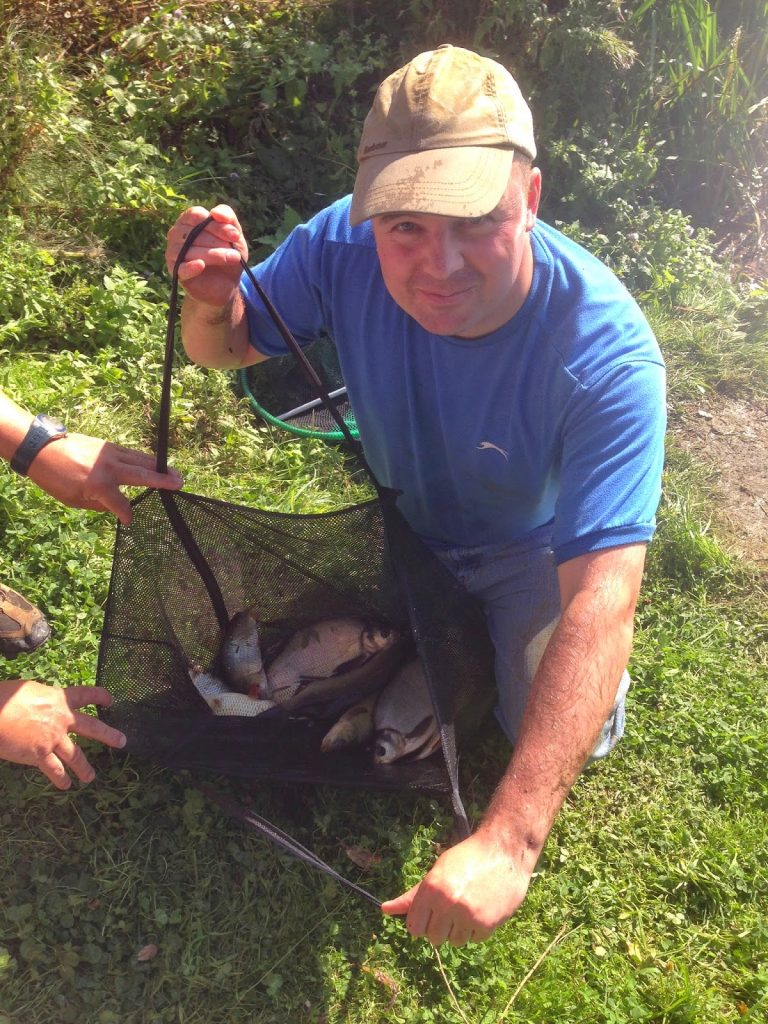 Jason did well in first match catching skimmers, roach and tench on the groundbait feeder
Steve had 7lb 7oz so at least I had a pound off him, Bruce had lots of fish and just pipped Jason when he weighed 9lb 4oz, last to weigh was Rob by the pumphouse and he'd struggled for 4lb 13oz but he did catch the sun and his legs matched his t-shirt by the end of the match!. So after Fieldy's weight it hadn't fished as well as in recent weeks but it was really close with just 10oz separating four places, I'd easily lost enough for second place today but then again I'm sure the others lost fish as well.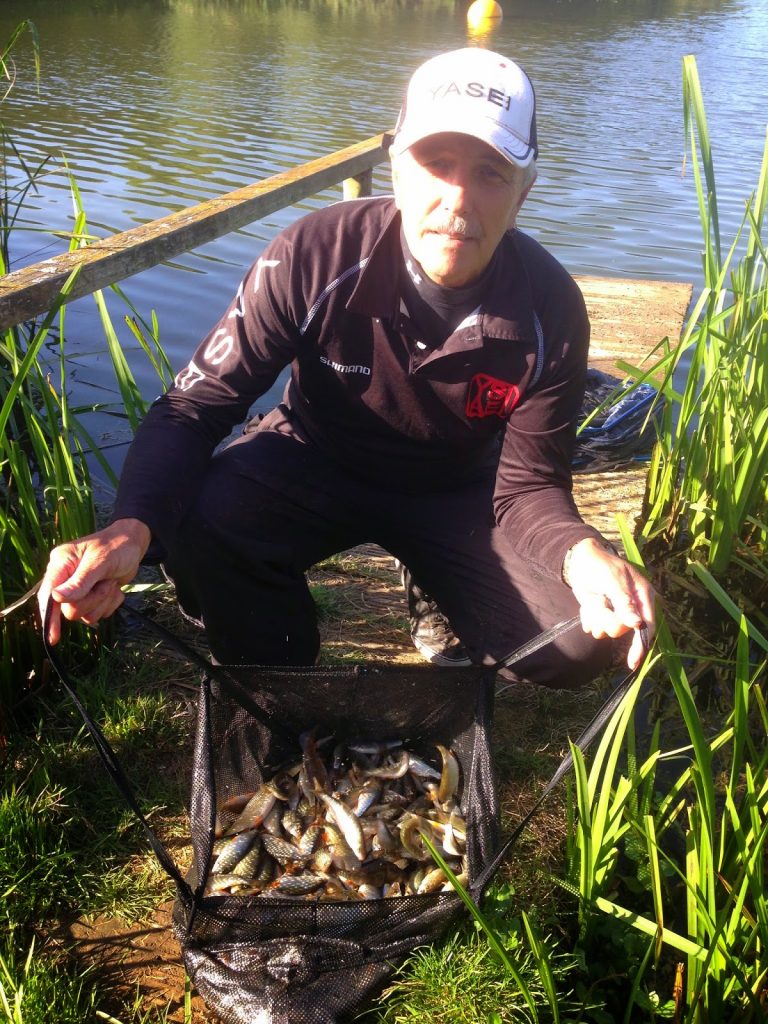 Bruce had a lot of small fish for his 9lb 4oz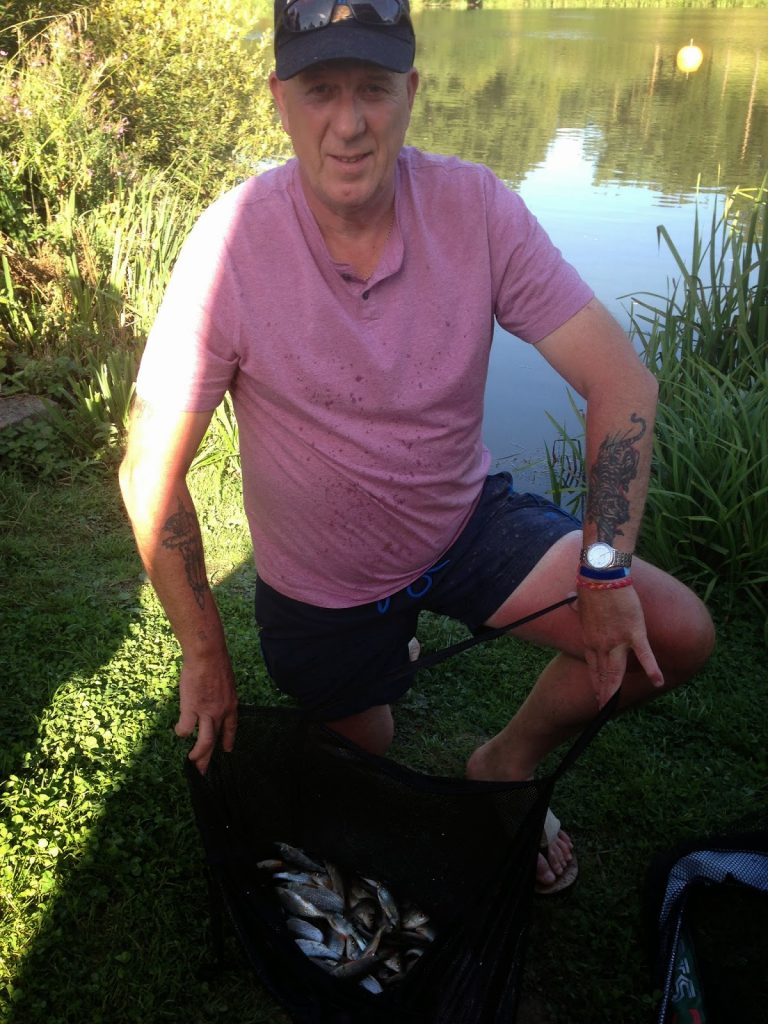 Rob had 4lb 13oz and also caught the sun!
Rob did the results and Fieldy's latest win means nobody can catch him in the league, Bruce was second and Jason was third and it was great to see somebody do well in their first match, especially as he did it on the feeder (or shopping trolley as he calls it!). Hopefully we'll see him again, Rob then called out Jake as the winner of the first section and I won the other section (by double default) and picked up £15 which helped pay for the day.
1 – Graham Field (Taunton) – 17lb 11oz
2 – Bruce Hunt (Tiverton) – 9lb 4oz
3 – Jason Roseveare (Ilminster) – 9lb
Sections
A – Jake Woodard (Ilminster) – 8lb 14oz
B – Jamie Rich (Against Men and Fish/Burt Baits) – 8lb 10oz
As I said earlier Fieldy has already won the league with just 9 points but the race for second is really tight with Rob on 25 and Bruce on 26 so it will all go down to the last match.
I'm at Summerhayes next week and I seem to have lost my way there recently and with me struggling a bit at Dillington as well, I'm looking forward to getting back on the river in a few weeks.
Next up – Summerhayes
What's new – Lots of page updates
Check Out – My last match at Summerhayes (below)