It was back to Summerhayes today and I've been struggling here a bit of late, when I phoned Pete to put my name down he said it would be on Sellicks and possibly Lily (oh no!) depending on numbers. On arriving there were quite a few cars there already and I knew there would be some pegs on my least favourite pond. Just to show how popular this lovely little venue is becoming, there were 22 booked in for today including Giles Cochrane and Lee Pesticcio who had made the trip over the Severn Bridge from Wales.
When Pete announced the draw I was outside yapping (just for a change!) and was near the end of the queue, as always people started to come out of the hut with either a spring in their step or moaning about their bad luck. Glynn had drawn peg 3 which is one of the most consistent silvers pegs on Sellicks (no change there then!) and his brother Nigel had drawn peg 23 where he won the lake on day two of the pairs festival with over 14lb of skimmers. Their Dad Ray wasn't so lucky and was on one of the carp pegs up the end. By the time I got to the draw bucket, there weren't many balls left and I pulled out peg 21 on Sellicks which is in a decent silvers area but more importantly I had managed to avoid Lily for once!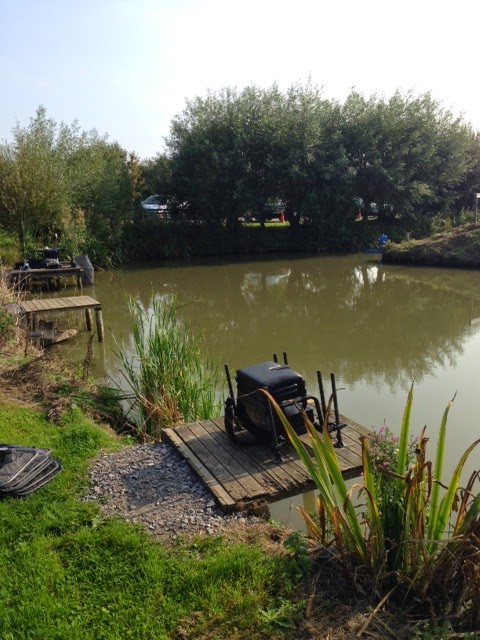 Peg 21 on Sellicks
It was a lovely sunny day and for once there wasn't any wind but bright and still might be nice for the anglers, it's not so good for the fishing! The pond had a nice colour to it and the way Pete had pegged it, most anglers had empty pallets either side. I set up two Malman Pencils, a 0.6 gram and a 0.4 gram version (which I never picked up all day), both rigs had 0.10mm bottoms and size 16 808's. My side tray just had some micros and 4mm's on it which I had soaked last night and some Bait Tech 4mm expanders for the hook, I also had some banded 6mm hard pellets in case small fish became a problem.
I was ready with 15 mins to go so had a quick walk and managed to persuade Martin Addicot to have a £1 sidebet on silvers even though he'd drawn a good carp peg! Back on my box and the all in was shouted which saw me feed half a pot of micros plus a few 4mm's on two lines at 10 metres (right and left) and also at 5 metres. I started on the right hand line and had to wait a little while for the first bite which I missed of course! Nigel in peg 23 was soon off the mark with a decent skimmer that leapt out of the water. My next bite resulted in a 2.5lb carp which wasn't a great start so I moved to the left hand line. I had a decent leaping skimmer and then Nigel had another and we were both getting regular bites.
By the end of the first hour I think we both had seven skimmers although I had some smaller ones, I'd also lost a carp at the net which I wasn't too bothered about. The second hour was a bit slower but I was still getting enough bites to keep me interested and added another four skimmers by swapping between the two longer lines. Every time I shipped out I dripped in a few micros on the five metre line but wanted to leave it as long as possible before trying it. The third hour saw bites slow further and I only added two more skimmers (plus the inevitable carp), although I did prick one fish on the strike which saw a good skimmer come flying out of the water!
It was time to try the shorter line and my first fish off it was another carp before I had a really good spell where I added six skimmers from 4oz to 1.5lb and a lovely crucian around the pound mark. I also missed a bite that saw yet another skimmer fly out of the water! There was still nothing between Nigel and me but I felt I was just about in front. The penultimate hour arrived and I tried the longer lines again but it was painfully slow so was soon back on the five metre line. I only had three more skimmers from this line including a couple of better ones around the 1.5lb mark (plus pond pigs of course) and I thought I had around 10-11lb with an hour to go.
The last hour was an anti-climax for me and I only added another couple of carp and I should have gone back on the longer lines. Nigel had a tench and a decent skimmer in the last period of the match and it really was close between us but he thought I had more than him. Glynn shouted over that he had 15-16lb and we both knew we didn't have that so it was looking like he'd be taking yet another squid off me. I packed up and was soon waiting by peg 1 for the weigh in to start, somehow I ended up with the weigh board and with some good catches being made there was a danger I might have to take my shoes and socks off!
Martin Addicot had done well in peg 1, weighing 81lb 5oz but crucially only had a couple of pounds of silvers so at least I had a nugget to pay Glynn in peg 3 who 17lb 8oz of skimmers. Geoff Sparks had 69lb 9oz of carp in peg 5 and Alan Jenkins had 8lb 11oz of silvers in peg 6 before the scales turned left onto Lily. Lee Pesticcio was on Lily peg 2 and went into the lead with 84lb 9oz of mainly carp, Bruce Hunt had 10lb 7oz of skimmers to go into second place in the silvers from peg 5, a few anglers didn't weigh in on Lily and the last peg was Giles Cochrane in peg 14 who had 65lb 7oz which put him in fourth place with the rest of Sellicks left to weigh.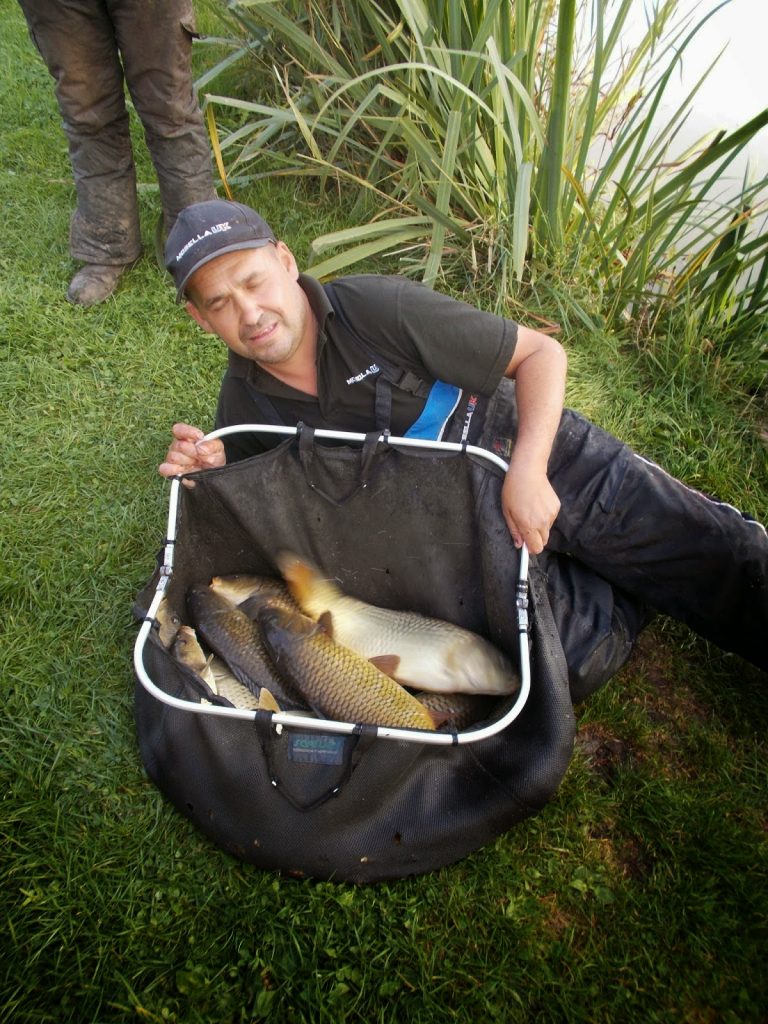 Lee Pesticcio with part of his catch (thanks to Dom Sullivan for the photo)
Jim Jenner had 69lb 4oz from peg 12 which meant the golden peg was safe until the next time, Ray Wickham had 9lb 7oz of silvers from peg 13 before fellow blogger Dom Sullivan had 81lb 15oz to go into second place from peg 14 (see his account of the match here – Dom's Blog). There were then a few 30lb plus weights before it was my turn, my 8 or 9 carp went 23lb 9oz before my silvers went 13lb 2oz to put me into second with just Nigel to weigh. His carp went just under 30lb and when he pulled his silvers net out I could see it was going to be tight, the digital scales read 12lb 6oz which meant he would be third.
Back at the results all the anglers enjoyed coffee, crisps and chocolate while Pete worked the results out. Lee won with Dom second and Martin third and Geoff Sparks and Jim Jenner filled the remaining main frame places. Glynn won the silvers yet again, I was second and collected my first Summerhayes envelope in ages and Nigel was third. I really enjoyed today and that poor last hour probably cost me when I should have gone back on the 10 metre lines.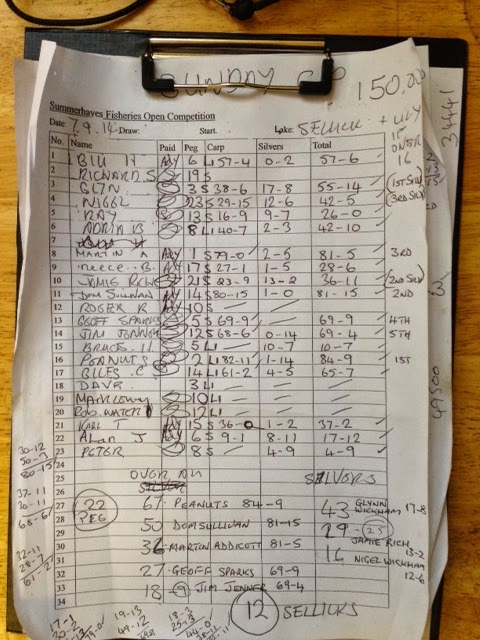 Today's weigh board
1 – Lee Pesticcio (Mosella) – 84lb 9oz
2 – Dom Sullivan (Maver/Cadbury Angling) – 81lb 15oz
3 – Martin Addicot (Summerhayes) – 81lb 5oz
4 – Geoff Sparks (Summerhayes) – 69lb 9oz
5 – Jim Jenner (Sedges) – 69lb 4oz
Silvers
1 – Glynn Wickham (Summerhayes) – 17lb 8oz
2 – Jamie Rich (Against Men and Fish/Burt Baits) – 13lb 2oz
3 – Nigel Wickham (Summerhayes) – 12lb 6oz
Next up
– Dillington
What's new – Lots of page updates
Check Out – My last match (below)