It was the last match of the Summer League today and another lovely day, I got to the Oak and it was nice to see Mike Board fishing today although we were down a few who had fished the last match. In the league Fieldy had the title sown up already although Rob and Bruce would fight it out today for second place. Rob said there was a lot of scum on the surface of the pond and he'd left out the bottom bank as that was where most of it had accumulated. He announced the draw and I was hoping for a peg on the near side but pulled out peg 24 by the pump house which is a good peg but for me it's one of those hero or zero pegs. I did win off it in the first match by just fishing in open water and ignoring the bush and that's what I intended to do today. I just feel that fishing for the chub is too much of a gamble and since I had two in that first match, I don't think one has been caught from the peg since!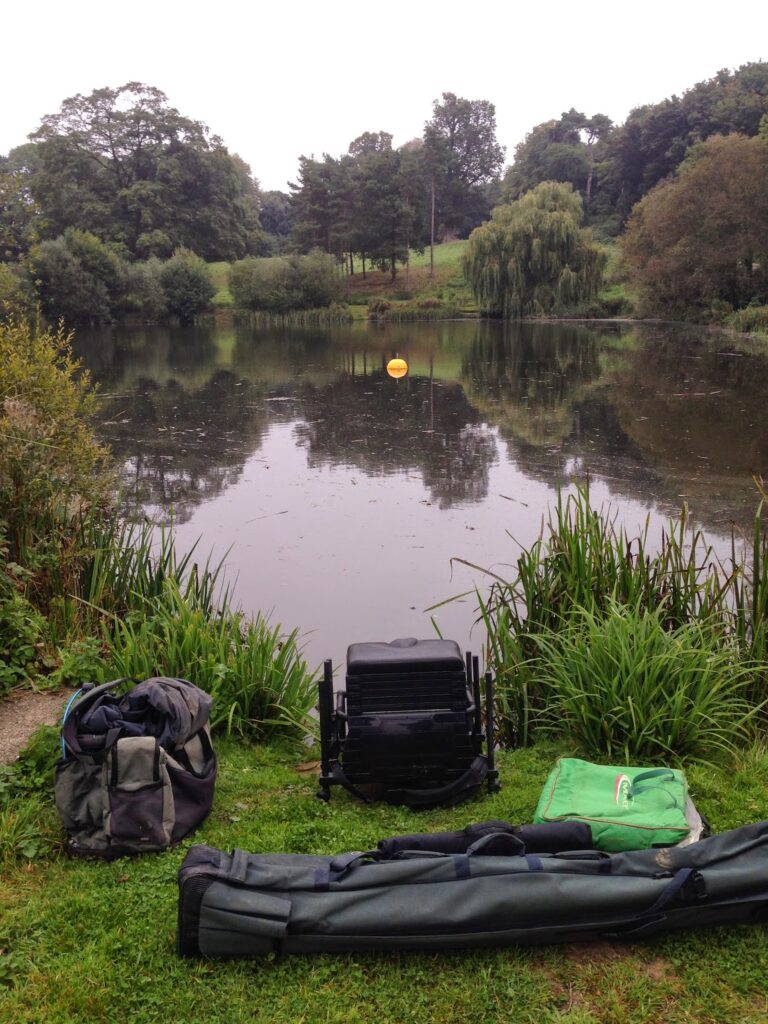 Peg 24 and no, that's not my float in the distance
I popped over to Tackleuk yesterday and picked up two winder trays for my box so it's now the right height and hopefully I won't get chronic backache anymore! I had intended to pick up some of the new Bait Tech Pro Natural Bream to try but they didn't have any in stock or the Pro Nat Dark so a bag of the regular Pro Nat would have to suffice. I got to my peg and the first thing I noticed was that all that scum had blown up my end of the pond – great! I got my box level and mixed up some groundbait before starting to get the rest of my gear ready. Stuart Alford had drawn peg 21 (the pontoon) but he's said from the start that he wouldn't fish it if he drew it as there's a handrail and it's on the wrong side with him being left handed. With mine and Fieldy's agreement he moved to the next peg up but that didn't stop me from calling him 'Pick a Peg' Alford for the rest of the match!
Then my day took a turn for the worse when I got my pole out of the holdall and the section that I broke (remember PoleAid?) and had repaired was wedged solid inside the next section and I just couldn't get it out, Bruce and Pick a Peg tried to help but nothing was shifting it, with time running out Bruce let me borrow one of his Garbolino poles and my top two's fitted perfectly and I quickly set up a Drennan Tipo to fish at 8.5 metres and a little Preston Chianti to fish shallow and finally started a few minutes late. I fed a couple of balls of groundbait and started with the deep rig with caster on the hook. Poor Stu was also late starting and by the time he got fishing, Bruce in peg 2 already had four fish on the whip!
I had a bite first chuck and started catching roach and rudd including some nice ones and had 25 fish after an hour, I was a few ahead of Stu but a long behind Bruce although he was catching a lot of small fish. Going into the second hour I was still catching but it was slowing up, I also had my first visitor when Steve Hurford turned up to discuss our barbel trip to the Stour next week. I was now getting odd fish but starting to miss quite a few bites. Courtney Pas turned up fresh from winning the junior league yesterday although she didn't stay long and soon got bored watching me catching not a lot.
Next to arrive was Scott Jackson, he had a look at my pole and said he'd take it home with him to see if he could loosen it. While he was there I tried fishing shallow and had a couple of fish quite quickly before I started missing more bites than I was hitting and it's really starting to do my head in. Then Big Frank turned up and was taking the piss at the number of bites I was missing although I did net a couple of clonking roach while he was there. He went for a wander and Scott went off home to see if he could sort my pole out. After they'd gone I actually started to catch quite well in spells and there wasn't a lot between me and Stu in numbers of fish. Frank came back from his wander and said it looked like a bit of a struggle for most although Bruce was still catching lots of small fish.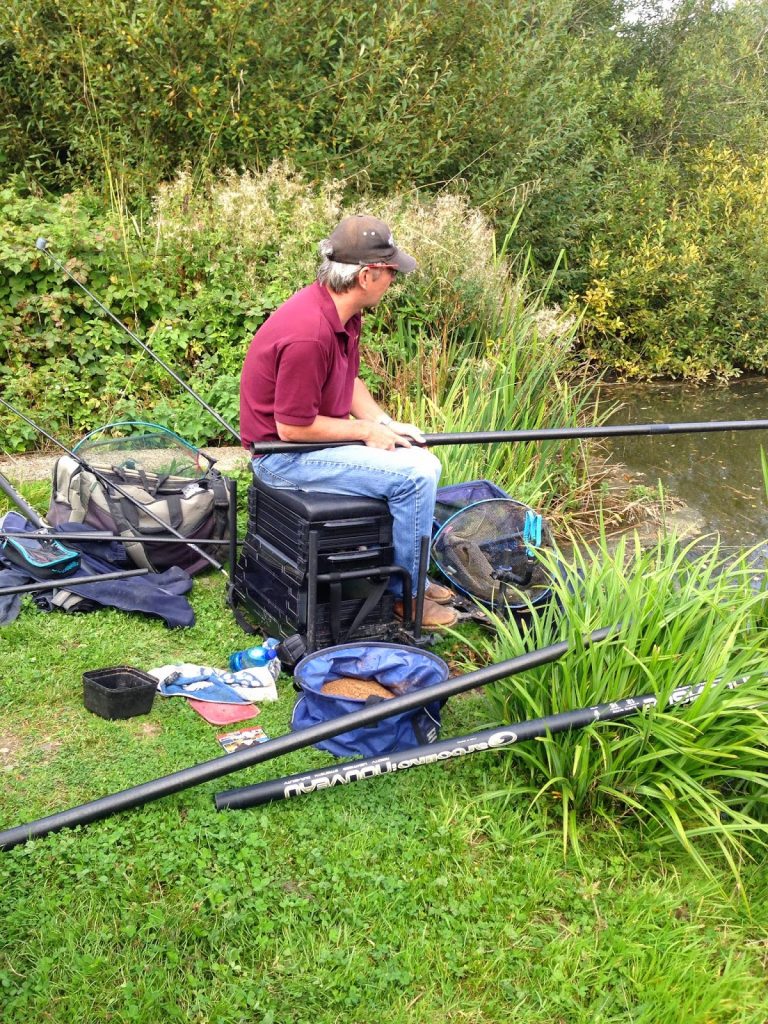 I've finally got my box sorted but now I've buggered my pole! (thanks to Scott Jackson for the photo)
Scott returned and despite his best efforts he hadn't managed to get the sections apart and I was starting to worry I'd never get them apart. While he was with me I was still missing loads of bites, probably 8 or 9 out of every 10! Occasionally I'd hit one and it would be a clonking big roach of 8-10oz. I tried going deeper and also shortening the line between pole tip and float and then hit three out of the next four bites, cracked it I thought but nope and I went back to missing bites. I also bumped several good roach and I just can't get my head round it. Rob blew for the finish and I ended up with 88 fish, all roach and rudd and guessed I probably had 7-8lb. Old Pick a Peg had over 100 fish and had a nice skimmer and I thought he'd done me and I said he should have taken up my offer of a side bet before the start of the match.
I packed my kit away and let Bruce have his pole back, cheers mate you are a star and thanks also to Stu and Scott Jackson for trying to help, it does make you realise what a nice bunch anglers are on the whole. Rob soon arrived with the scales and said Bruce was leading with nearly 300 fish for 16lb 4oz followed by Justin with 9lb 6oz, I knew Fieldy had beaten me and thought Stu had as well so there would be no pick up for me today, so I was amazed when Rob called out 9lb 10oz to put me into second place with three left to weigh. Stu weighed 6lb 10oz which surprised me as I thought he had more than that but at least he managed to stay on that peg for the rest of the match! Fieldy pushed me into third place when he weighed 11lb 13oz and then Mike Board had 6lb 13oz and had some cracking roach with one getting on for a pound.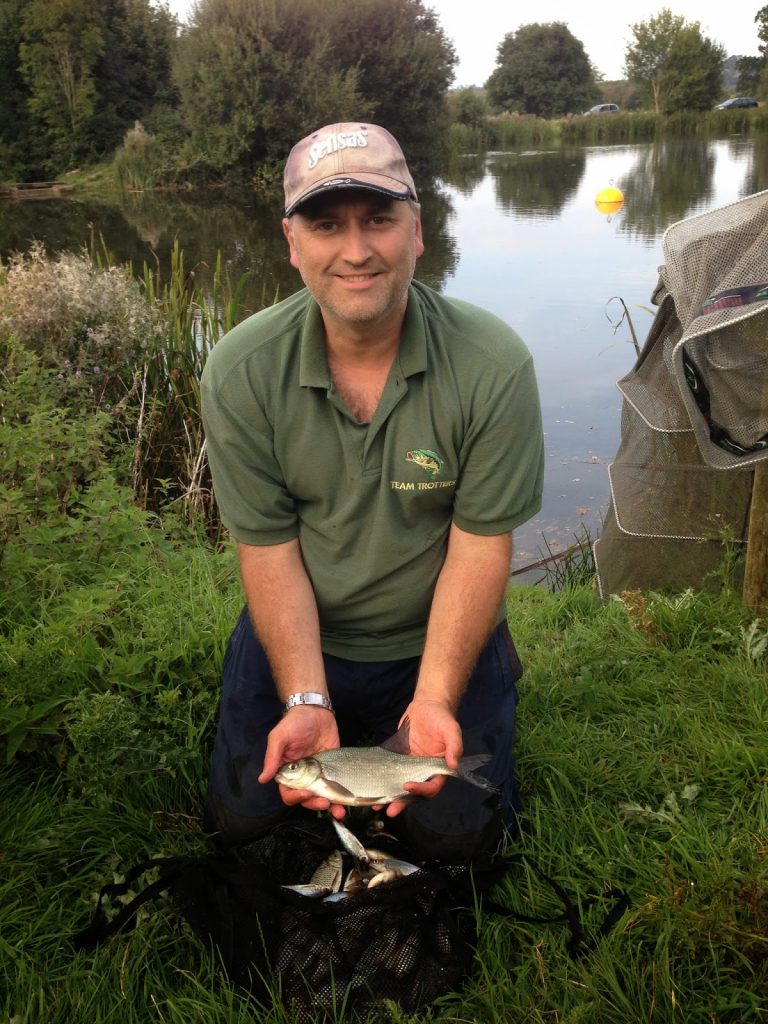 Stu 'Pick a Peg' Alford had 6lb 10oz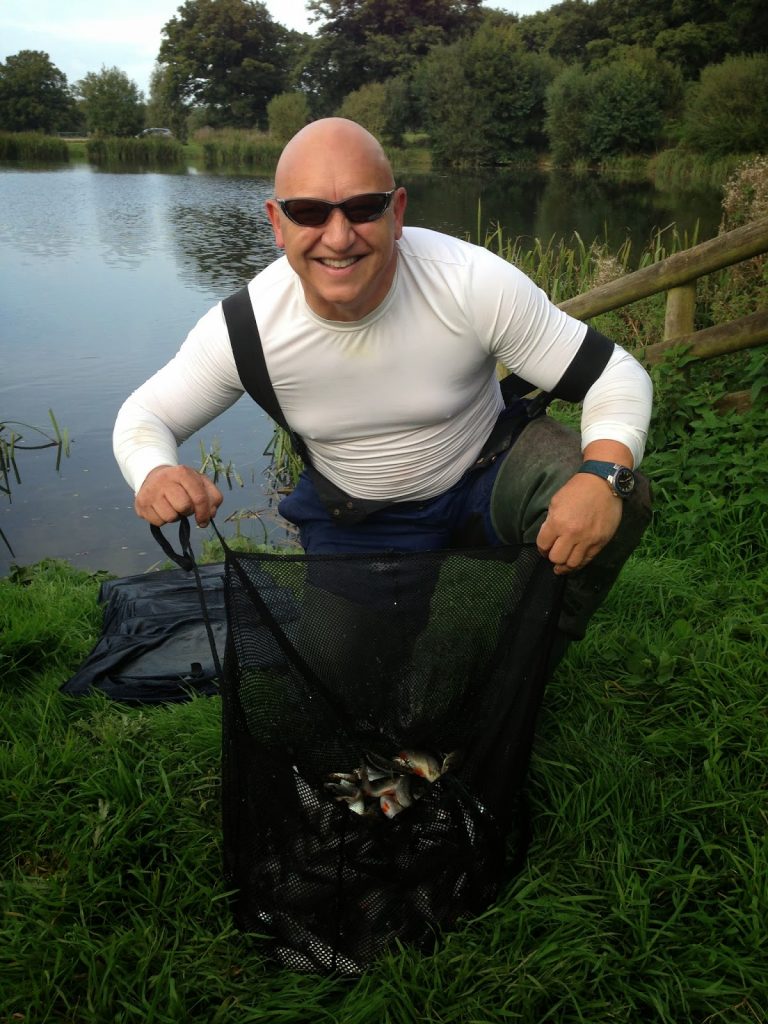 Fieldy weighed 11lb 13oz and had a very tight, very white top on!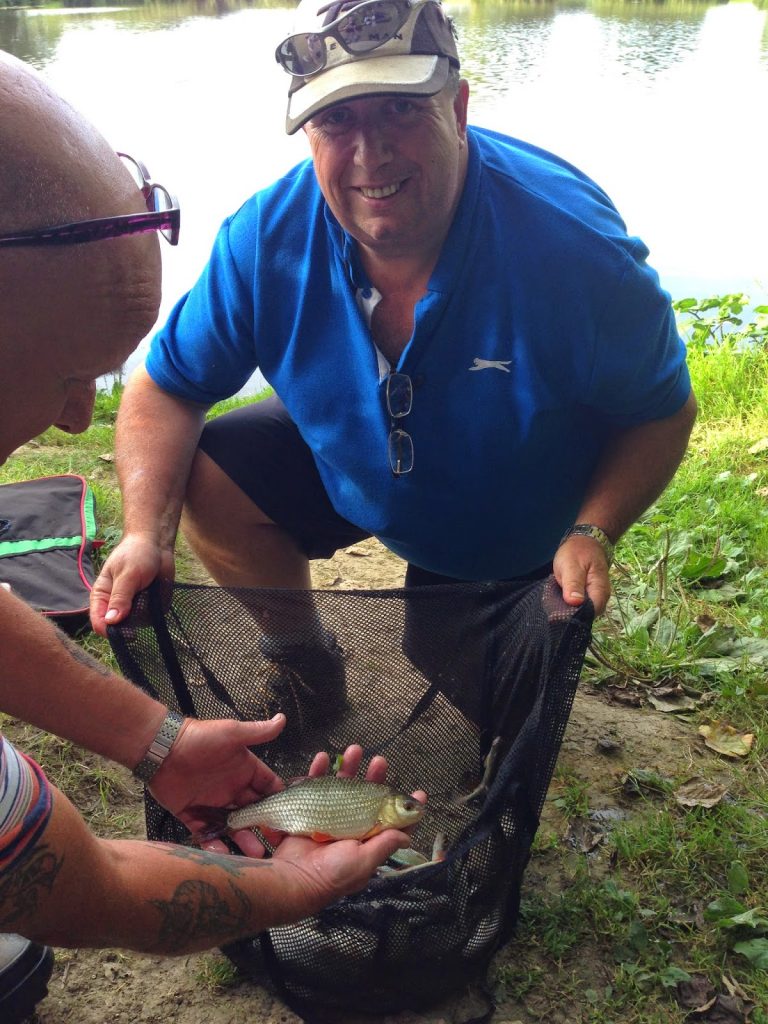 Mike Board had some cracking roach in his 6lb 13oz
So I actually sneaked into third place and picked up £22 (plus a pound off Steve) but I was still a little frustrated as all those missed bites and bumped fish had cost me again today. If I could convert even half of those bites into fish I'd be a lot closer to the winning weights.
In the league Fieldy won with 10 points and the battle for second was won by Bruce who pipped Rob by a single point. Bruce and Graham demonstrated the dominance of the whip as between them they won eight out of the ten matches, I still think quality caster roach on the pole will beat the whip (as Ash proved a few matches back) but I'm not getting it right at the moment. It's a cracking venue and one of the fairest around with different pegs winning every week, looking through the results we've had 17 different anglers fish the matches, it's just a shame they don't fish them all as we could have some really good matches.
1 – Bruce Hunt (Tiverton) – 16lb 4oz
2 – Graham Field (Taunton) – 11lb 13oz
3 – Jamie Rich (Against Men and Fish/Burt Baits) – 9lb 10oz
Final League Positions
1 – Graham Field – 10 points
2 – Bruce Hunt – 27 points
3 – Robin Cox – 28 points
The club would like to say a massive thanks to Robin for organising another great little league and Steve and Cindy at the Royal Oak for their continued support and sponsorship, it really is appreciated.
Pole Aid update – I got home and tried everything I could think of and have now succeeded in splintering and snapping the end of the section and it's still stuck up the other section! Any ideas welcome or if someone wants to donate a Daiwa Air or Airity to a good cause it will be much appreciated!
Next up – The Dorset Stour next Saturday
What's new – Latest Ilminster AA Juniors result on news page
Check Out – My last match (below)