My mate Steve Hurford offered to take me barbel fishing at Throop on the Dorset Stour as a thank you for giving his wife Sally all the info I could to help her arrange a surprise trip to Gillhams in Thailand for his 50th birthday earlier this year. Steve arranged all the day tickets etc and Scott Russell very kindly leant us a couple of barbel rods and a suitable landing net. I had quite a few packets and tubs of various pellets and boilies lying around at home so that would save us having to buy loads of bait.
I set my alarm for 4:30 which is pretty much uncharted territory for me and Steve picked me up at 5:00. We found the car park fairly easily (after a brief trip up an industrial estate thanks to the sat nav!) and had a walk to look at the river which looked really nice. There was an angler setting up just below a bridge and he said there were quite a few swims on the other side and that beat one was upstream and beat two was downstream of the bridge and if we were after barbel, beat two was the place to go. We went and got our kit and crossed the bridge before heading downstream, the river was still quite weedy but after walking for a little while we went through a gate and came across a very fishy looking swim which had room for the both of us.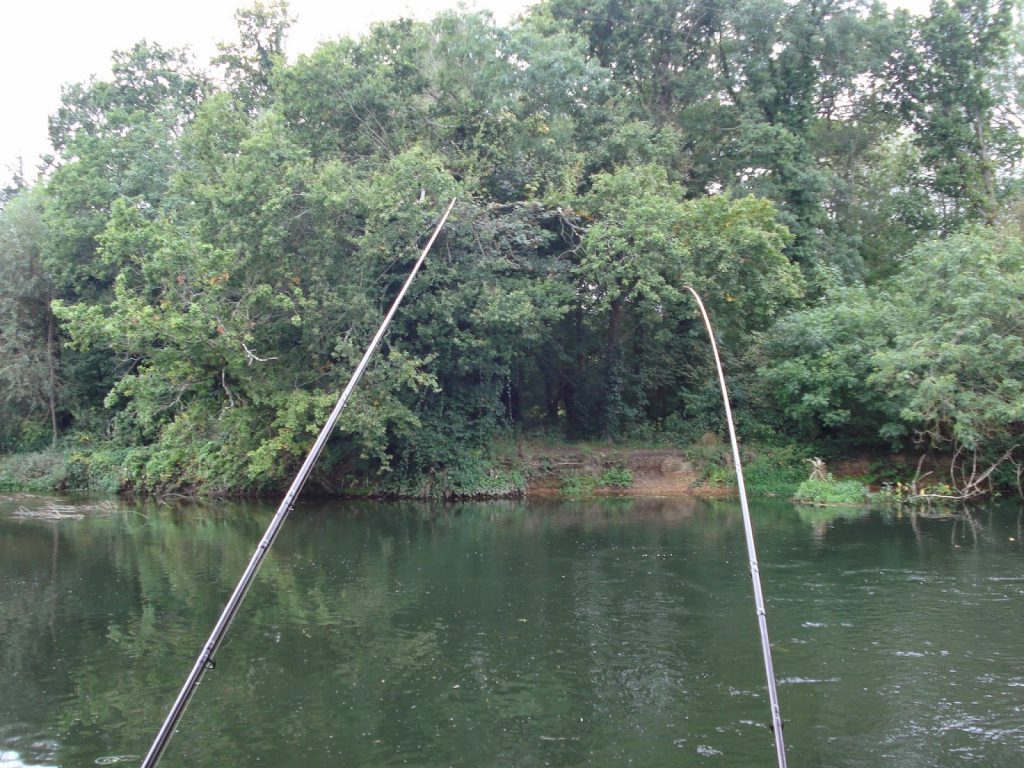 The swim certainly looked fishy!
We set the rods up and I was going to fish a conventional cage feeder and Steve was going to fish the method to give us two different approaches, both had hair rigs tied with the knotless knot. Steve had also brought a float rod with him to try later on. I'd brought some Bait Tech Method Mix with me which Steve mixed up while I opened some pellets. Scott had also let us have some small Robin Red boilies which him and Ash had caught on when they fished the Wye and I started off with two of these on the hair. I cast the feeder just short of the main flow in the middle and Steve put his close to the gravel in the tail of the swim. I fed some pellets by catapult and we sat back to await the action.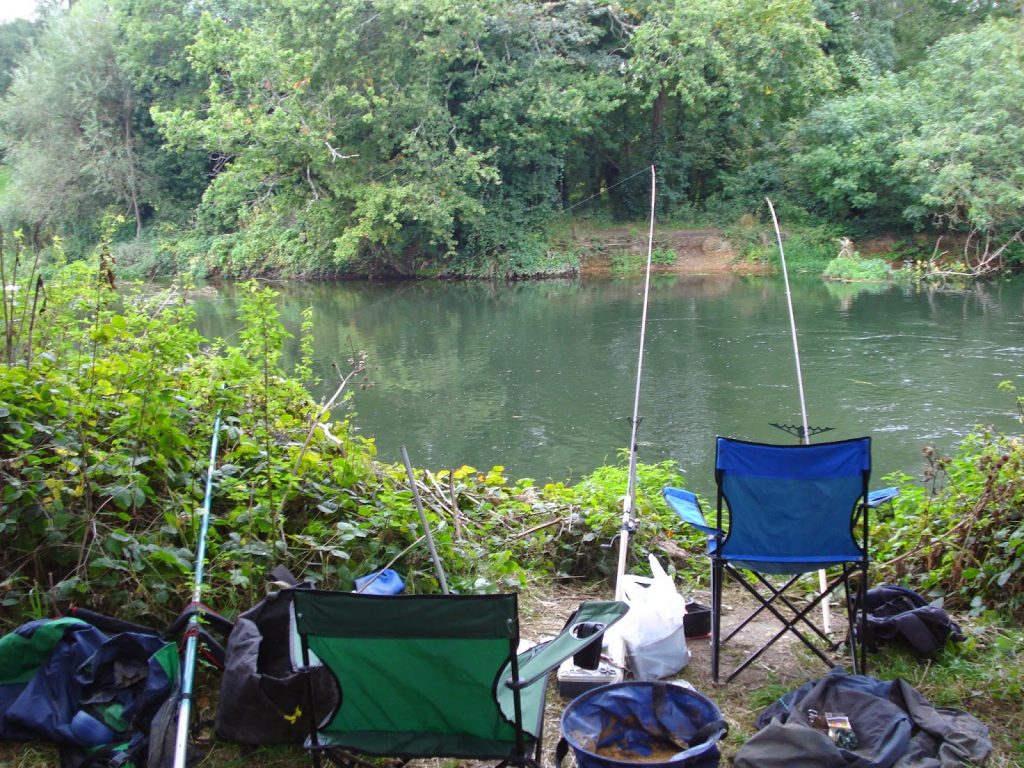 Base camp
I had a bit of a headbanger on my rod but didn't connect on the strike but we felt quite encouraged with an early indication, we also saw a barbel roll near the bottom of the swim so there were definitely some around. After 15 minutes or so, Steve reeled in and he'd managed to foulhook a gudgeon in the head and was trying to claim he was the first to catch! We kept the feed going in and swapping hookbaits but apart from a few knocks we didn't have a really positive bite that you'd associate with a barbel.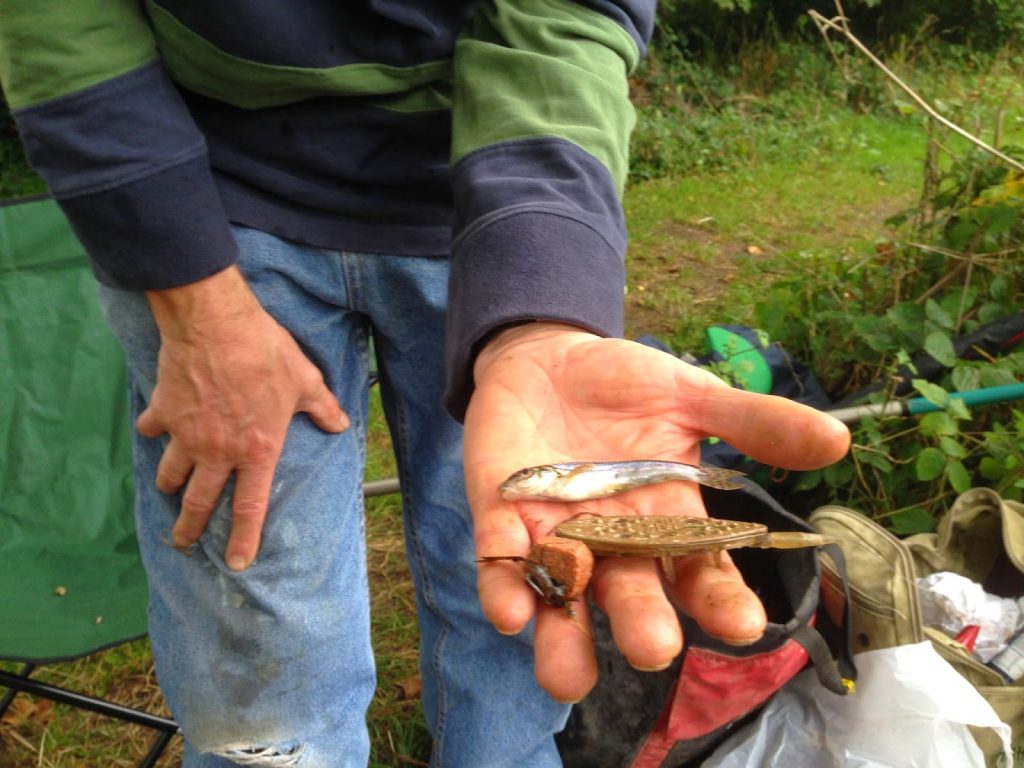 Steve's gudgeon! (or was it a mini barbel!)
Still, it was a nice day and we had a good old natter and it was just nice to be sat in such lovely surroundings, a couple of kingfishers kept flying past in a flash of blue and there were some swans that kept quarreling to keep us entertained. Steve's wife had packed us a load of food which was just fantastic of her and we certainly didn't go hungry during the day. In the shallows above us, upstream of a tree we could see several chub and we both tried for them throughout the day with no success and they were quite easily spooked in the shallow water.
Steve set up his float rod but the only action he had was from a minnow but at least he hadn't blanked! I had fished the Stour many years ago and blanked then too! We kept piling the pellets in (and got through nearly four kilos in total plus two kilos of groundbait) but still no rod wrenching bites. We saw quite a few good fish roll and both felt that if we were going to get a bite it would be as the light started to fail.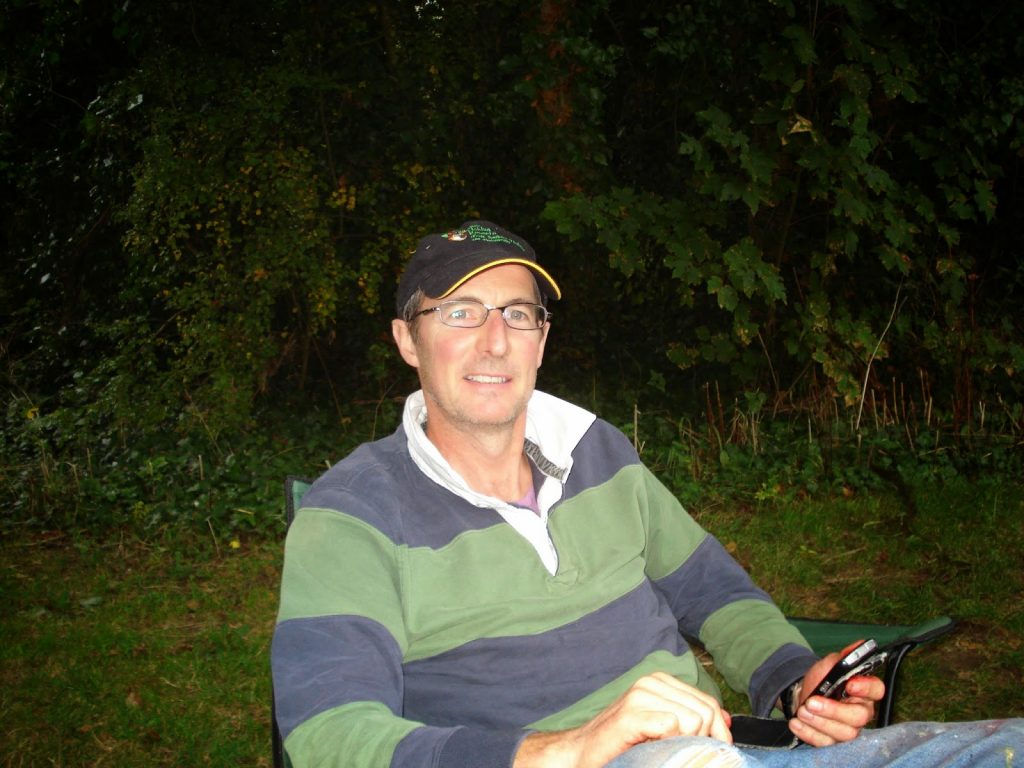 Steve was like a viper ready to strike as it got dumpsy!
As the light started to go, the fish activity increased and we were getting quite a few knocks, at about 19:00 as it started to get dumpsy (Steve's favourite word), I had a better indication and left it hoping it would develop further and when it started to go again I struck only to met by thin air! I reeled in and the hooklength had gone! I'd missed my chance and with the light fading fast we decided to call it a day. As we walked back to the car Steve tried to claim a pound off me as he said he beat me 2-0!
We loaded the van and made the long trip back and Steve dropped me off around 21:30 and I then had to get my kit ready for Summerhayes the next day. I'd really enjoyed the day despite blanking and I do enjoy doing something completely different from match fishing. I think we'll be back for another try as it's a lovely venue. So a big thanks to Steve for sorting it all out and to Sally for looking after us so well with all the grub.
Next up – Summerhayes
What's new – Lots of page updates
Check Out – My last match (below)