After a long but very enjoyable day yesterday, I was off to Summerhayes with Janders today. I've only just finished the blog for the Dorset Stour and as I've got to be up early again tomorrow and it's now 22;27, this will be a fairly short blog (thank God I hear you cry!). There was another good turnout today with 18 fishing including Nicky Ewers and Nick Chedzoy who I hadn't seen here before so the venues popularity continues to grow and deservedly so.
It was another lovely day with hardly a cloud in the sky and no wind which meant Longs was flat calm for today and that doesn't happen very often! When Pete announced the draw Janders and me got in the bucket quite late, I pulled out peg 12 which I was very pleased with as it's a good silvers peg, not as good as peg 32 mind and guess who drew that? Glynn Wickham of course! Janders had peg 17 which is in a decent area as well. I helped him down to his peg with his kit before getting mine, I had Richard S on my left and Ray Wickham on peg 11 on my right with Nigel Wickham along from him in peg 9.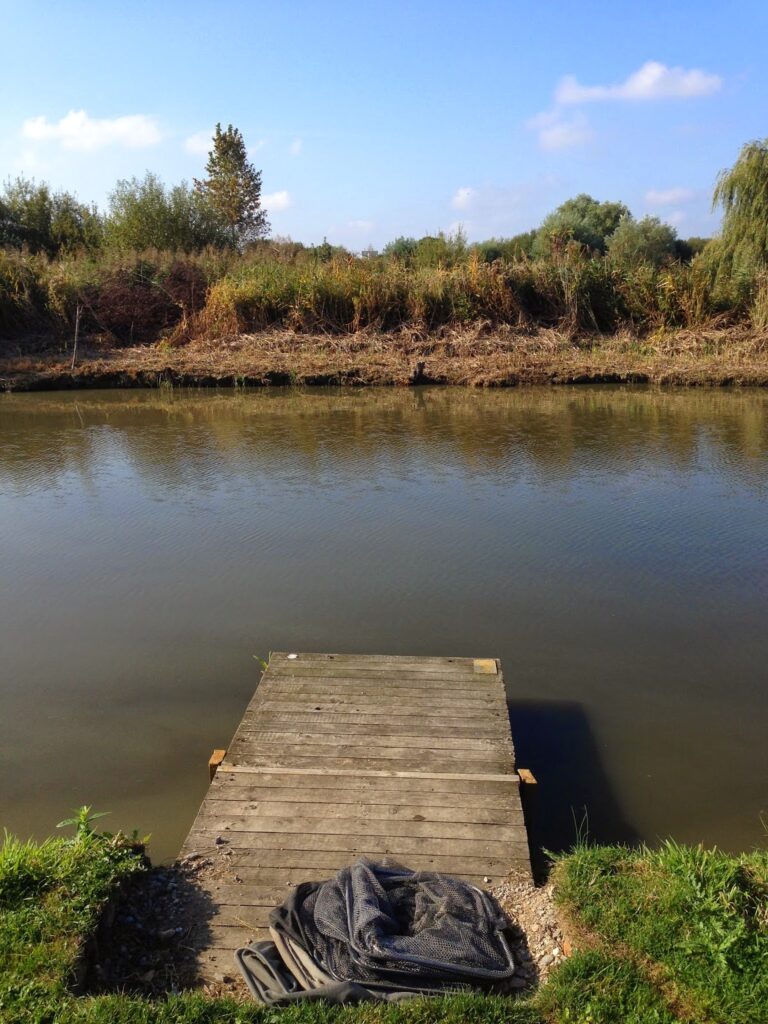 Peg 12 on Longs
With my pole still out of action I had to bring the old Trabucco out of retirement, I only had chance to have a quick look at it last night and saw that there were some light-ish elastics in two of the tops which would have to do for today. I set up two MW F1 Slims, a 14 x 11 for ten metres and a 10 x 11 for 5 metres, bait was the usual micros that I had wetted down last night and Bait Tech 4mm expanders for the hook. On the whistle I fed half a pot of micros on all three lines before starting at 10 metres straight out in front of me. Ray got off to a flying start landing two or three big skimmers and Richard was into a carp on the method feeder. I missed several bites and even at this early stage I knew my elastic was too 'pingy' and compared to my Garbolino the Trabucco was a lot sloppier.
I eventually hit a bite and landed a decent skimmer from the right hand ten metre line and another shortly afterwards, when I hit a third from the other longer line I had caught Ray up, that was until it came off as I was shipping back! I had a couple of carp and lost a foulhooker before catching another decent skimbob as the first hour came to a close. I had three skimmers for probably 2.5lb and it was neck and neck with Ray. The second hour was similar and I had another four skimmers to put me on 4.5lb and was getting lots of indications but missing loads as it was taking me a while to get used to my old pole again.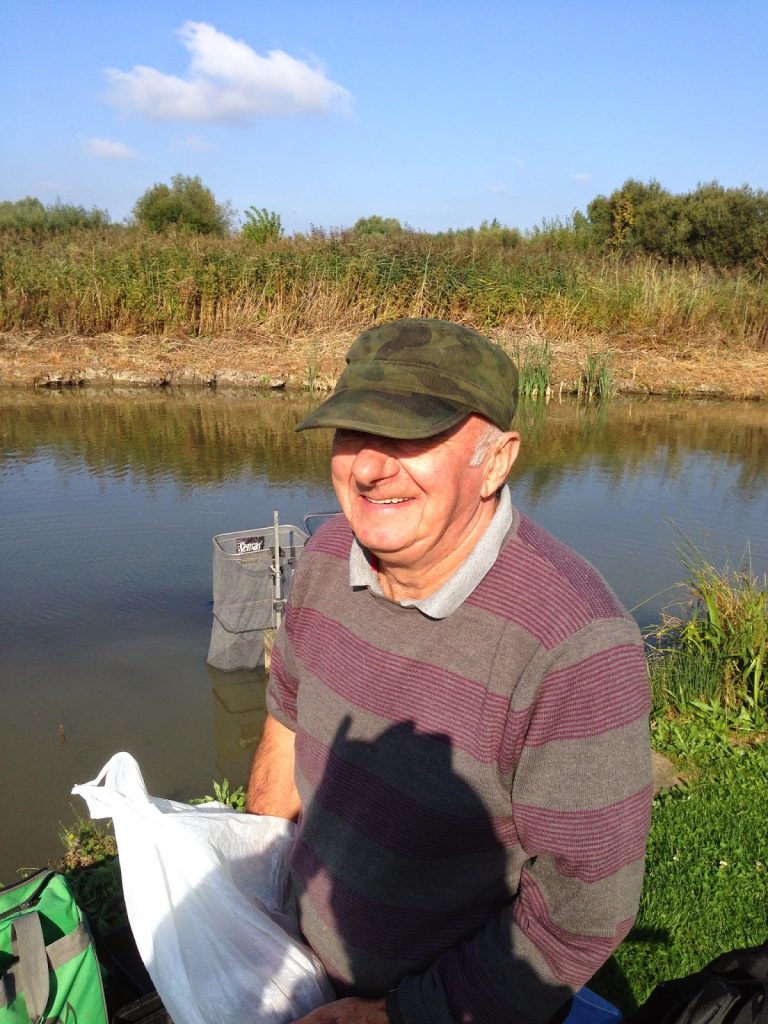 Ray and me were neck and neck
I'd been dripping some micros in on the five metre line every time I shipped out and after hooking another carp from one of the longer lines, it was time to try it. I had to wait a while for the first bite but then started getting skimmers and had eight from 4oz to 1.5lb plus a nice a little crucian in the third hour and there was now nothing between me and Ray. Richard was still catching carp on the feeder and was looking good for a frame place, I could see Janders over on peg 17 and he was getting a few too.
The fourth hour saw my shorter line slow up but every time I thought about going back on the longer lines I'd catch another skimmer and had two more pound fish and a smaller one. I did go back out but another carp was the result and I decided to stick with the shorter line for the remainder of the match. I bumped a few fish and missed loads of bites but hadn't had a carp from the five metre line yet which I was glad about as I didn't have a pulla bung in the top kit.
I had four more fish in the penultimate hour but then Ray would get a couple and it really was too close to call. Going into the last hour my bites slowed right up and I only added a couple of small skimbobs before catching my first carp which took ages to get in and I was really missing my pulla bungs! I also had one go under the pallet but luckily the hook pulled. My next fish was a good skimmer of over 1.5lb which jumped straight out of the water. I thought I now had about 15lb and there was still half an hour to go.
Then Ray had a good skimmer of a similar size and shortly after another and I thought he must have edged in front, I hooked a carp which came off and missed a few bites and then the all out was called and although I'd really enjoyed the day I thought I'd miss out today as apparently Glynn had done well and I thought those two late fish would swing the verdict Ray's way in our head to head battle. I'd bumped/missed/lost too many silvers today and I really thought it was going to cost me. I ended with 24 skimmers, 2 crucians, 4 roach and 6 or 7 carp.
As I loaded my car up the scales were already at Charlie Barnes in peg 1, it was the golden peg today too, he weighed 9lb 10oz of silvers and it wouldn't be enough to take half the pot. The scales reached Ray and as he pulled his net out, he had a nice bag of silvers, the digital scales read 15lb 12oz and it was going to be tight between us. My carp weighed 11lb 10oz and then when I pulled my silvers net out it looked very similar to Rays catch and I was relieved when my weight was called at 16lb 10oz and I'd gone into the silvers lead by 14oz! Richard had done well and weighed 52lb 5oz and wouldn't be too far off with that today.
Janders had also enjoyed a nice days fishing with 10lb 11oz of silvers and a few carp but he still had to pay me a pound. I didn't watch the rest of weigh but I'd hoped I might be second behind Glynn who said he thought he had 20lb of skimmers. Back at the results and Glynn had won the silvers but only just as he weighed 17lb 3oz and it had been really close. Still I'd finished second and picked up £26 although I had to pay Glynn a pound yet again and I'm thinking of setting up a direct debit! Nicky Ewers won overall with an excellent 93lb 5oz and Richard was second.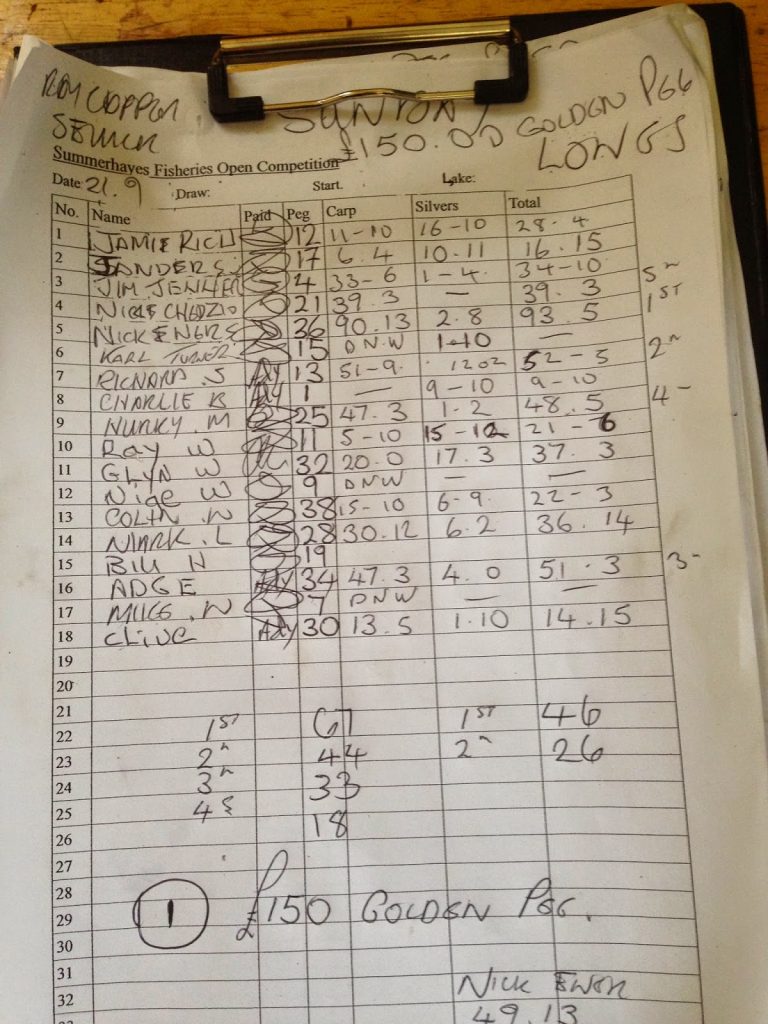 Today's board
1 – Nicky Ewers (Thatchers) – 93lb 5oz
2 – Richard S (Summerhayes) – 52lb 5oz
3 – Adie Bishop (Summerhayes) – 51lb 3oz
4 – Harry Muir (Acorn) – 48lb 5oz
Silvers
1 – Glynn Wickham (Summerhayes) – 17lb 3oz
2 – Jamie Rich (Against Men and Fish/Burt Baits) – 16lb 10oz
Next up – River Isle
What's new – Lots of page updates
Check Out – My trip to the Dorset Stour with Steve Hurford (below)