I really look forward to my annual trip to Farnborough, it's a chance to see some of the new gear the big firms have got coming out, there are bargains to be had and you can get up close and personal with some of the biggest stars in angling. This year Steve Hurford came along to keep me company and it was his first time. Also it's always great to visit my friends on the Gillhams stand and its the first one I head to for a catch up with Stuart and Sean. Their stand was busy all day with customers old and new, I bought my draw tickets for a free holiday and this year the funds are being raised by Help For Heroes to take twenty five wounded, injured and sick military personnel to Gillhams to catch some monster fish which is a fantastic gesture from Stuart. If you would like to donate to help make this possible please visit
www.bmycharity.com/ThailandMonsterFishingAdventure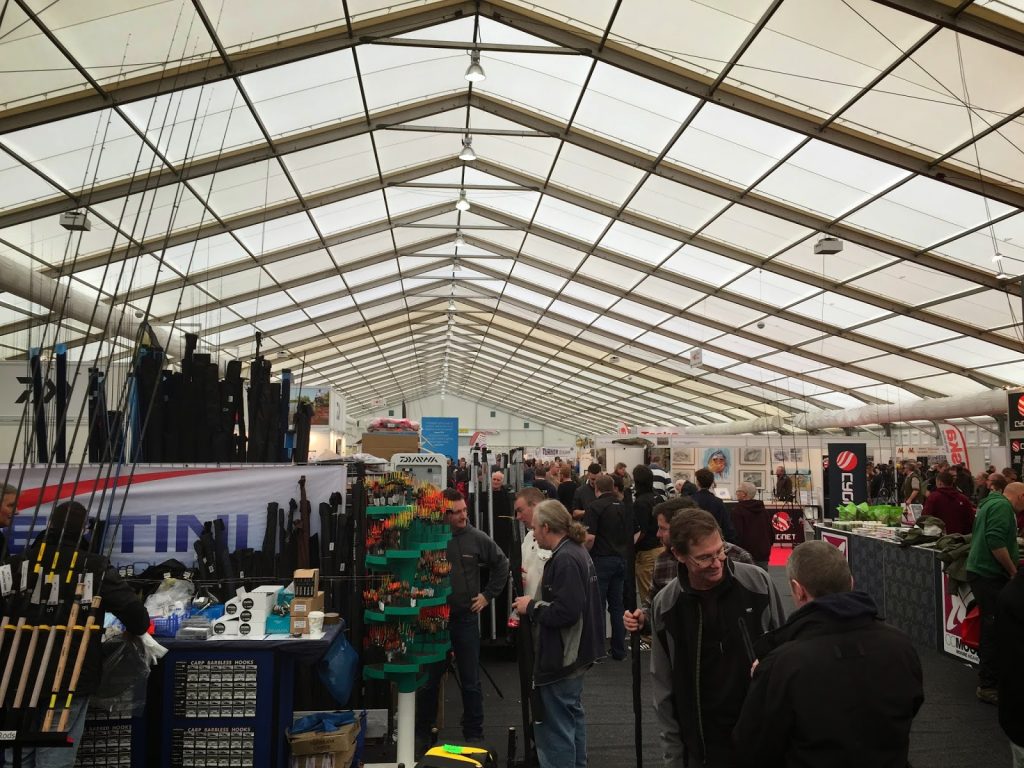 The show was well attended
I'd also arranged to meet the lovely Hayley from Bait Tech who said she'd bring on my goody bag that I'd won from the Angling Times recently. She did me proud and packed in some of my favourite Pro Natural Dark and Bream plus a few of their exciting new products for 2015 including the new F1 Groundbait Mix which contains ground Xpand pellets and pure fishmeals with an added sweet edge to make it ideal for commercials and I can't wait to try it out. Website – http://www.bait-tech.com/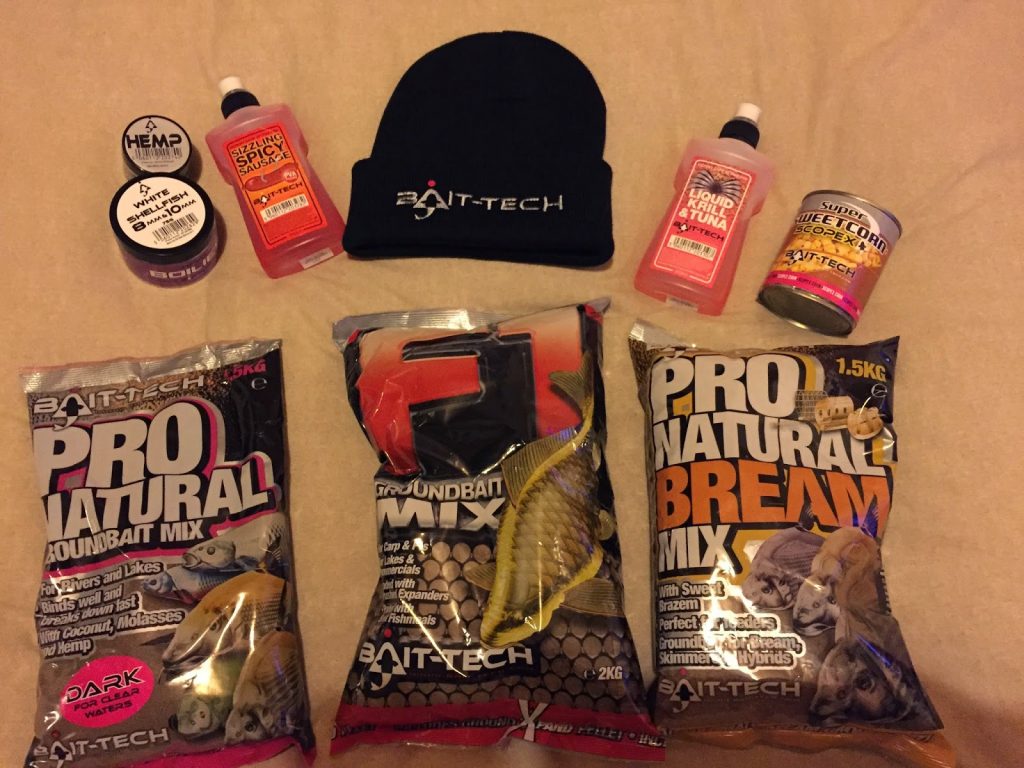 Some fantastic new products from Bait Tech
I also made sure I found the Buff stand and I am really impressed with their range of products although if I'm honest it's so big I find it a bit bewildering, I particularly liked the look of their anglers gloves and the High UV Buff with Insect Shield looks ideal for when I next go to Thailand. Website – http://www.buffwear.co.uk/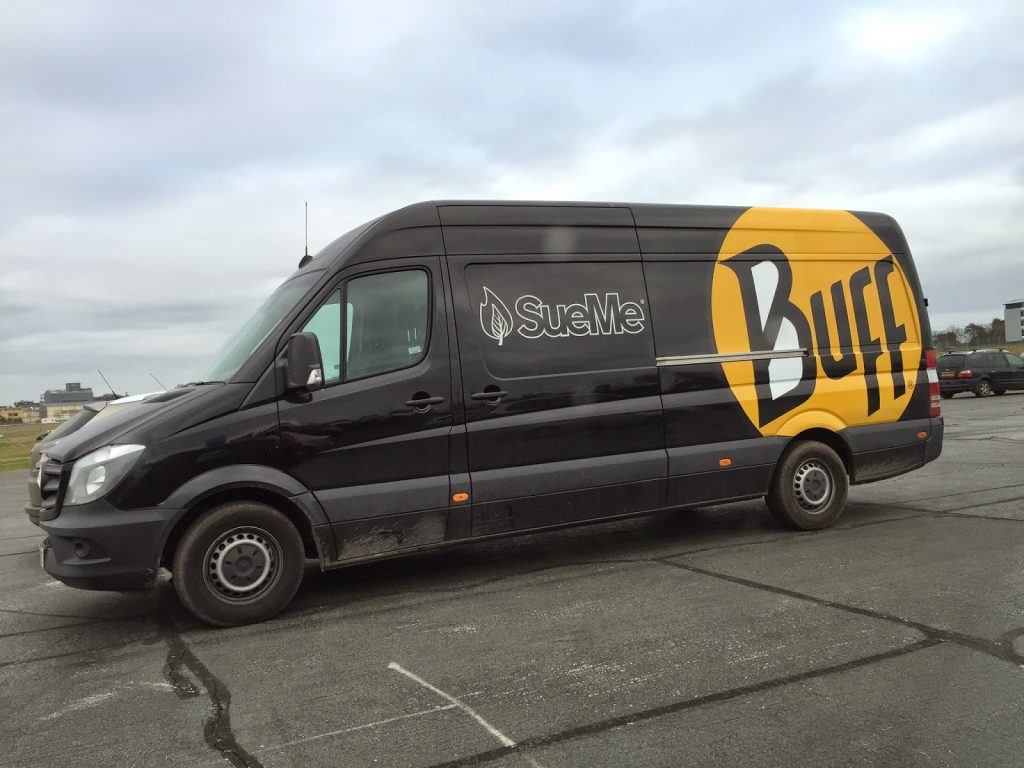 I didn't manage to get a photo of the Buff stand but we saw their van on our way out!
Most of the big tackle firms were there and we stopped by the Frenzee, Matrix, Guru, Garbolino, Maver and Preston stands and it was nice to see Daiwa there who we exhibiting at the show for the first time. We kept going back to the Preston and Guru stands to see if we could have a chat with Des Shipp or Dean Macey but we couldn't get near them as they were so busy all the time we were there. We did manage to get our photos taken with a certain Sir Bob Nudd, what a gentleman and a fantastic ambassador for our sport.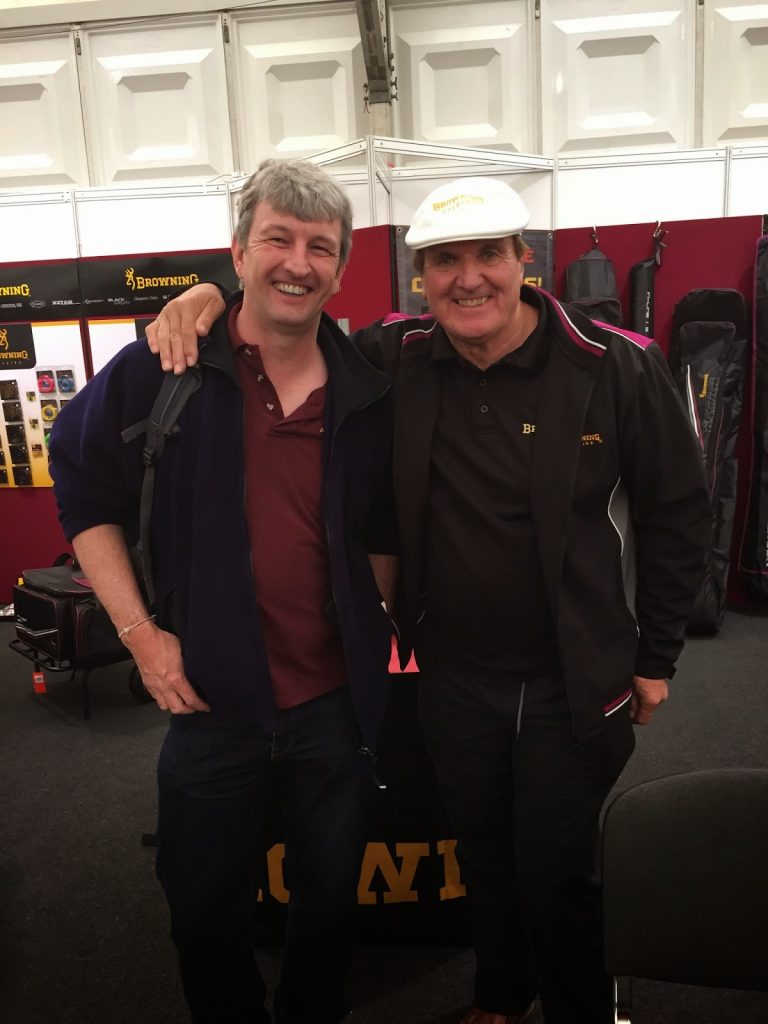 Me with Sir Bob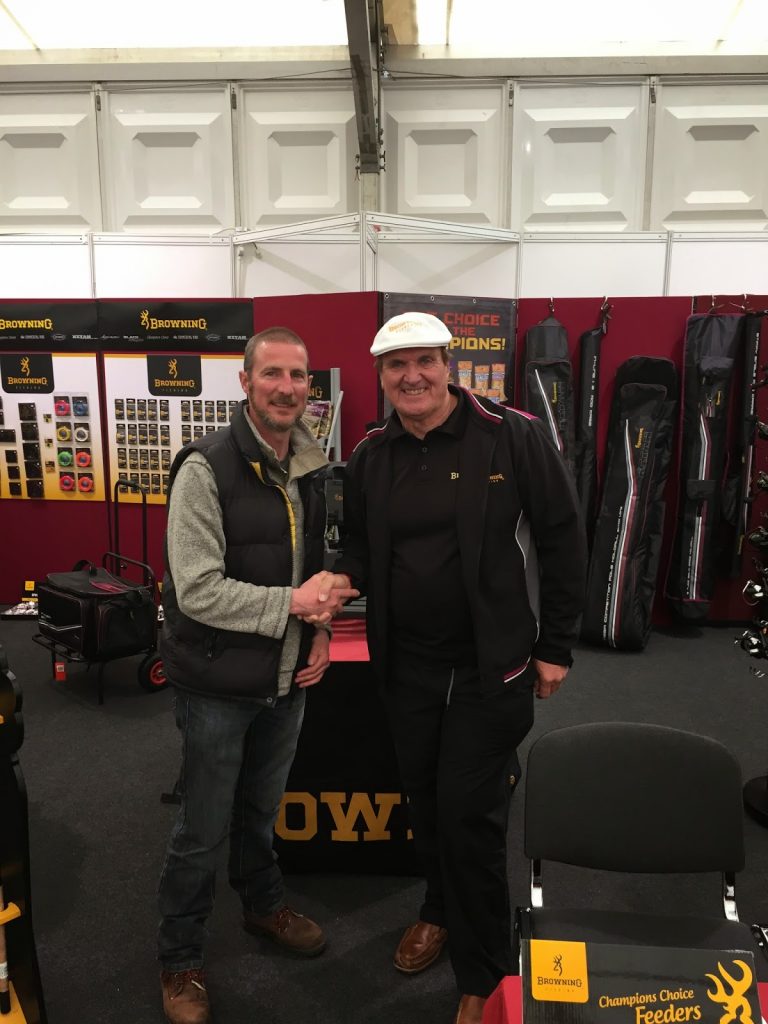 What a lovely man (and Bob was nice too!)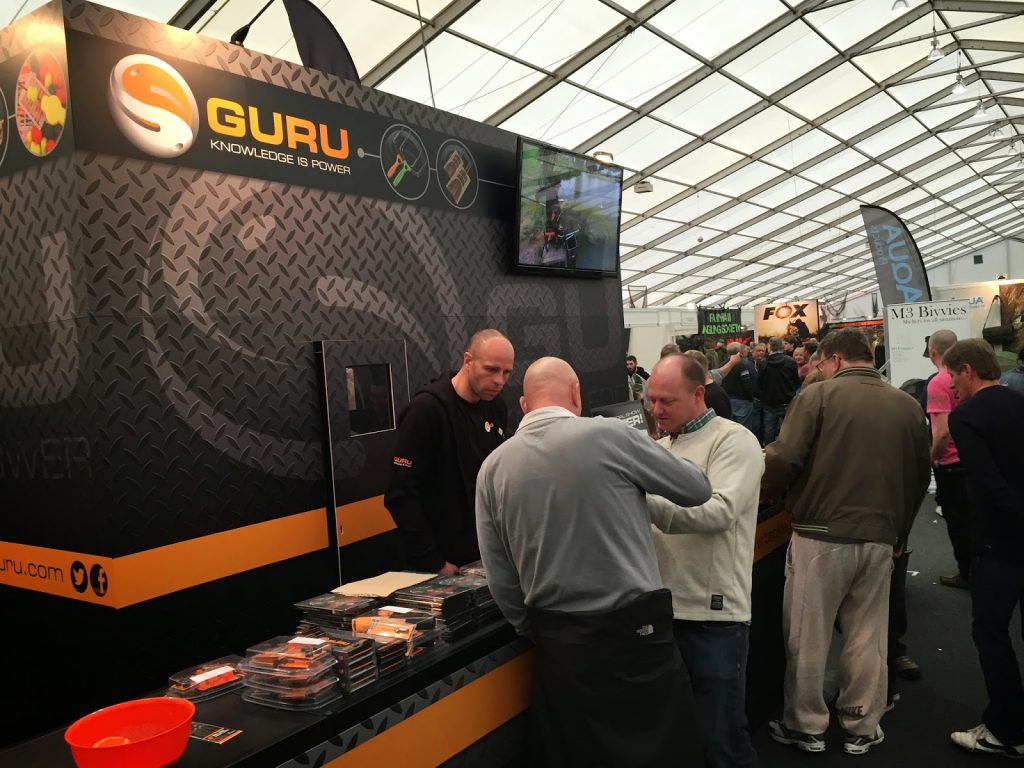 Dean Macey was very popular on the Guru stand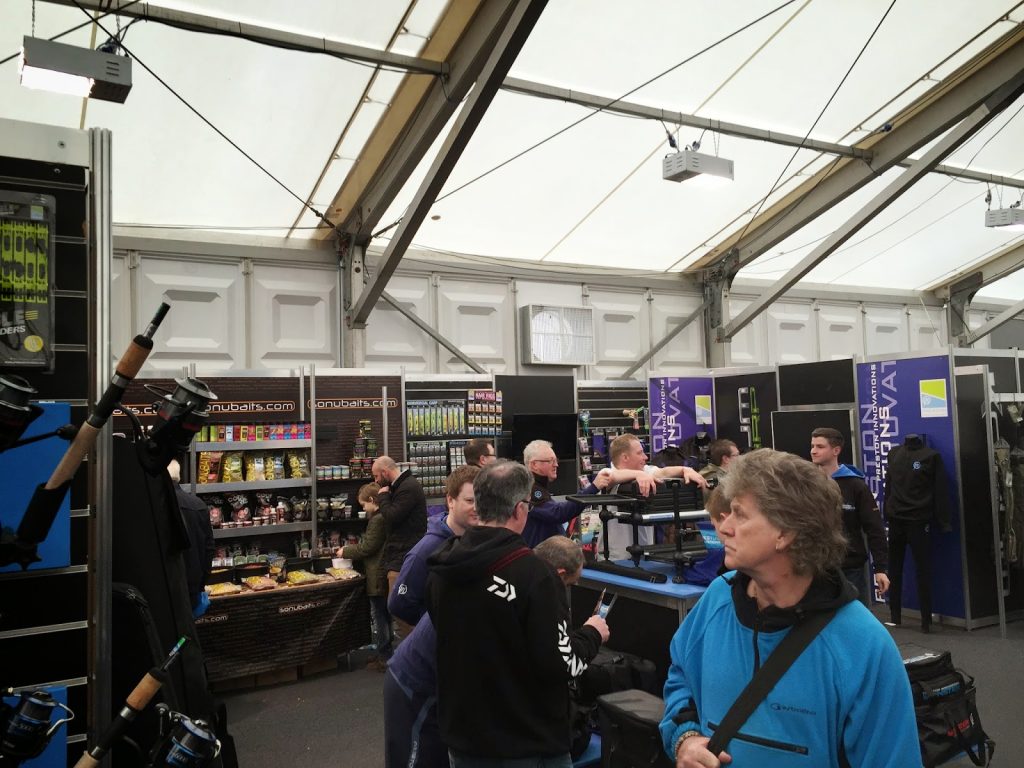 And so was Des Shipp on the Preston display
Besides the big boys, some of the smaller stands really impressed with the quality products on display. Dino Floats are one of the best float brands from Hungary and along with a vast array of some lovely looking floats, they had some cracking looking hooklength boxes on their stand. Have a look at their website – http://www.thebestfloats.co.uk/
I also stopped by the NG Floats stand and picked up some of the very reasonably priced NG Micro Bore Hollow Elastic and as soon as I've tried it out I will let you know what I think of it. I've reviewed some NG floats on here and was well impressed with them. Check out the website – http://float-store.co.uk/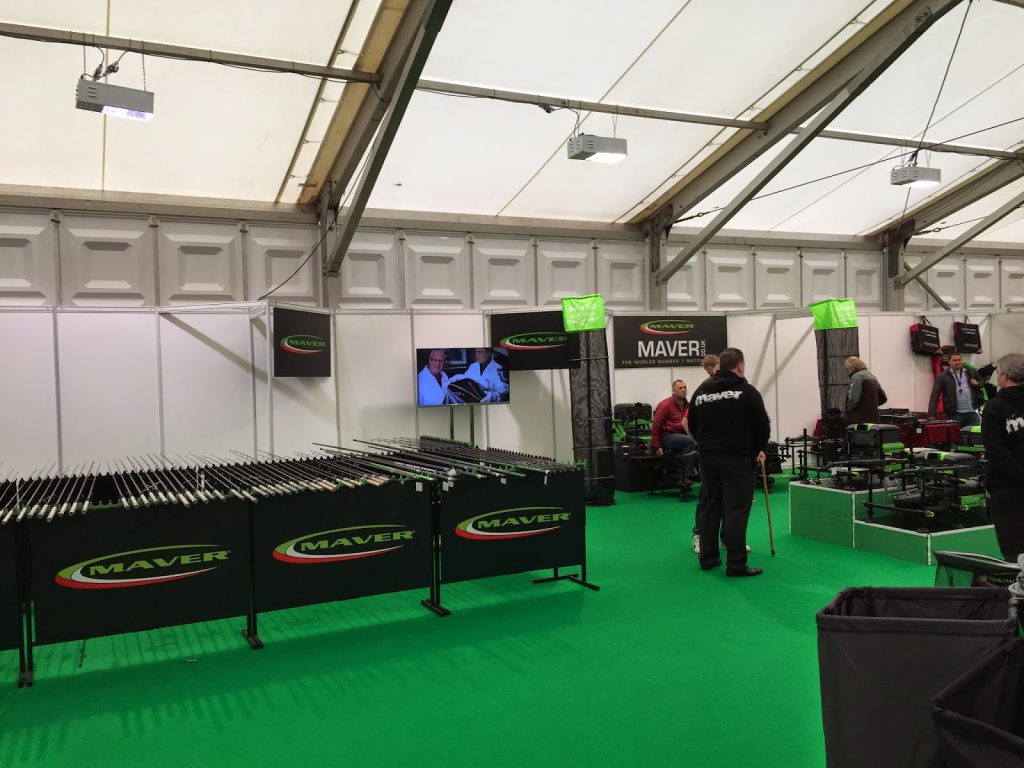 Maver had rods galore on display
One thing we weren't so impressed with was the price of the food, the choice was really good but a pork roll and a drink was £8 and Steve bought some noodles and a drink which came to an eye watering £9!
One thing that was evident as we walked round the show was how popular drop shotting and lure fishing has become and most of the big tackle firms now have rod and reel set ups ranging from £99 to some gorgeous rods from Japan that will set you back a jaw dropping £499! I really want to give it a go and it's on my to do list for this year.
If you've never been, get yourself to Farnborough next year, it is a really good day out.