I was looking forward to fishing my first match of the year on Longs, especially as there's been a recent influx of good sized bream. These new fish have been feeding well and anglers have been catching bags to 50lb meaning people can target silvers and have a realistic chance of winning the match. Janders was keeping me company today and on arriving, the car park was pretty full as there was a match on Sellicks as well, our match had a decent turnout of 19 anglers.
After paying our pools and having a coffee it was time to draw, I hung back per usual and when I stuck my hand in the bucket there were only two balls left, I grabbed one and then Scotty Russell had the last peg in the bucket and only pulled out peg 11, a great silvers peg and one I would have loved! I called him a jammy git and then looked at my peg only to see the number 12 staring back at me, another great silvers peg! The last time we'd been next to each other on these pegs in the silvers festival, I'd taken the verdict 23lb to 20lb so could I do it again or would Scott get his revenge?
As I took my kit to the peg, a few people said our pegs hadn't been great for silvers in recent weeks and the bigger bream had been concentrated on the road bank (which dampened my enthusiasm somewhat!). It was also really cold but on the plus side at least rain wasn't forecast for today. I set up a 10 x 11 MW F1 Slim with 0.10mm hooklength and size 16 Tubertini 808 to fish three lines at 10 metres and a 0.4 gram Malman Pencil to fish at 5 metres where I've caught a lot of fish in previous matches but I did think it might still be a bit early for the fish to come that close.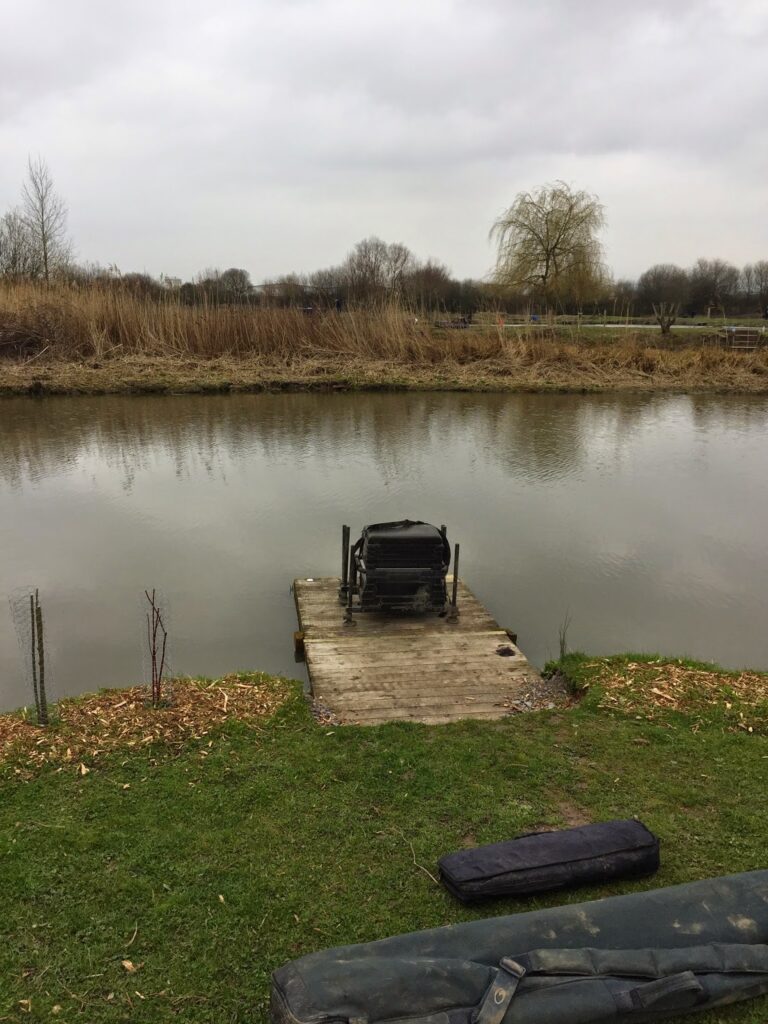 Peg 12 on Longs
I was just about ready in time and when Pete shouted the all in, I cupped in a third of pole cup of micros on all four lines. I had Frenzee soft pots on both of my top kits and as I shipped out I would tap a few in on the shorter line before depositing the rest on my longer line. Bait Tech 4mm expanders were the hookbait as always. It was slow going and despite trying all three of my longer lines I hadn't had any indications after half an hour. Nobody around me had caught from what I could see apart from Ray Wickham who had caught a couple of nice skimmers in peg 5.
My first bite came from the right hand line and of course I missed it, I then got off the mark with a 6oz skimmer before losing what felt like a good fish next chuck. I tried the other two longer lines but never had a sniff off either of them, back on the right hand line and my next fish was a 3-4lb bream and it felt like there were a few fish there. Scott then had one and then Charlie Barnes next to him so had those bigger bream just been passing through? No more bites seemed to back this up. I cupped in some more feed on all three lines before trying the shorter line for the first time but never had a touch.
Charlie was struggling and Scott was getting odd fish but there was nothing between us at this early stage. Back on the right hand 10 metre line, I had another skimmer, a small carp and then a 2lb skimbob and was getting odd fish, by the halfway mark I had seven skimmers for about 8lb plus a couple of small carp and was ahead of those around me, I could see Steve Jackson bagging up over on peg 32 but couldn't really see how Janders was doing on peg 36. I had a couple more carp before hooking a right lump which gave me the run around before I slipped the net under a 7-8lb fish. I started to think I could be in with a shout when I had a couple more carp quite quickly but then it died. I should have realised that after putting some feed in and leaving it for a bit, I'd get a couple of quick fish, but it threw me a bit when I couldn't get a bite from any other line apart from the right hand one.
The bankside grapevine was saying that the lad on peg 3 had caught 8 or 9 good bream and Ray was hooking them but had lost several, Jacko was still catching carp and bream and was now looking good for the victory. With an hour to go I had seven skimmers and eight carp and thought if I could get two or three more I would be in with a chance of framing. I had carp number nine but then couldn't buy a bite and in hindsight I should have put some feed in at 11 metres and gone a section further over for that last period. Scott had a really good last ten minutes and by fishing right across he had two carp and a decent bream whereas I never had another fish. I thought it would be close between us but I thought I might just sneak it due to that lump.
As Pete hadn't fished today he started the weigh in as we were packing up, when the scales reached Heardy in peg 8, I had a quick look at the weighboard and there were already 37lb and 42lb weights and I knew I didn't have that. Heardy had 12lb odd and Charlie didn't weigh and then it was Scott's turn, his carp went 18lb 15oz before his four good bream plus some skimmers went 21lb 15oz to give him a 40lb 14oz total and he went into second place and I knew he'd got his revenge on me. My carp went 26lb 6oz and my skimmers 9lb 1oz for a total of 35lb 5oz which put me fourth with half the pegs still left to weigh. Pete was paying the top four today and I knew Jacko had beaten me so my only hope of a pick up would be by default.
Mark Leahy next to me didn't weigh and then Glynn Wickham had struggled for 16lb of carp and a few silvers so I'd actually taken a pound off him for the first time in ages (or I would have done if he hadn't shot off without paying!). Janders said he'd had a couple of nice bream and that it might be close for our side bet. I didn't see the rest of the weigh in as I took my kit back to the car and began loading it up. I just about finished when he turned up and said his silvers went 8lb 11oz so I was another pound better off – just! Back at the results and Jacko had won as expected with a lovely net of skimmers and bream weighing 35lb 5oz and 22lb 15oz of carp, Chris B was second from peg 3 with 30lb of bream and 12lb of carp, Scotty was third and I sneaked fourth and picked up £18 thanks to Casey winning the silvers by double default with 24lb 7oz.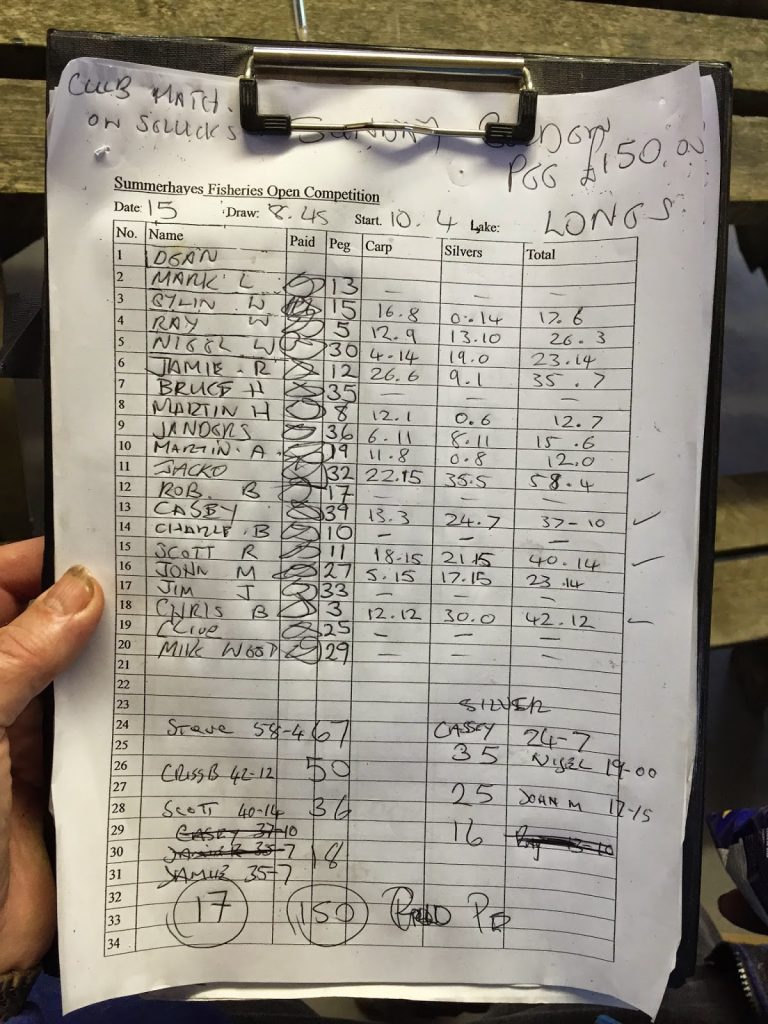 Some great silvers weights today
1 – Steve Jackson (Garbolino) – 58lb 4oz
2 – Chris B (Summerhayes) – 42lb 12oz
3 – Scott Russell (Tackleuk) – 40lb 14oz
4 – Jamie Rich (Against Men and Fish/Burt Baits) – 35lb 7oz
Silvers
1 – Casey (Summerhayes) – 24lb 7oz
2 – Nigel Wickham (Summerhayes) – 19lb
3 – Jon Martin (Taunton) – 17lb 15oz
Those bream have made a huge difference to the silvers weights and when the weather warms up it should get even better. We're back next week and the match is on Sellicks which fished quite hard today but hopefully the weather will change a bit before Sunday.
Next up – I'm off to the Big One with Hurf on Saturday and then me and Janders are back at Summerhayes on Sunday
What's new – Loads of page updates
Check Out – My last match below