I always look forward to the start of the Perry St league and catching up with everyone and on arriving at the pond I could already see quite a few familiar faces like Les, Bish, Butch, Bushy and Rocking Roy, unfortunately I could also see the Torquay Tart but fortunately he was standing in for someone so I won't have to see him every match! Les relieved me of all my money when I had to pay £20 pools, £10 league entry and £25 for a new club licence. He announced the draw and I pulled out peg 12 which is a decent peg and it also meant I would be on even numbers for the rest of the series. Along with my usual side bets (Picky, Janders and the Tart), Jamie P and Paul H also wanted in on the action and with them both on corner pegs, this could be an expensive day!
I had hoped it was going to be another nice sunny day and I would be able to have a nice day fishing shallow but it was overcast and actually pretty cold. With Jamie P in peg 11 and Picky on 13 I would at least be able to keep and eye on two of my side bets. Hainsey was in peg 10 with the Hoff next door on peg 9. I set up a little J-Range in-line dibber with a size 16 Kamasan B911 hook to 0.14mm with a hair rigged band for fishing shallow, a Drennan 0.4 gram Carp float to fish meat at 5 metres but I never picked it up all day and finally a little Trabucco dibber style float to fish the margins. My bait tray was pretty simple today, 6mm meat and 6mm and 8mm Bait Tech pellets.
Les blew for the start and I decided to not cup in any feed and just feed the margins and 5 metres by hand, I shipped out my shallow rig to 11.5 metres and started feeding a few 6mm pellets while lifting and dropping the rig, I'd only fed three times when the float buried and carp number one was on. The grey hydro did it's job and I was soon netting a nice 5lb fish and was off to a great start. I had a few more indications and did lose a carp which was possibly foulhooked but the rest of the first hour was a bit of an anti-climax. Apart from Bish in peg 7 who had netted two or three carp it was really hard going with just odd fish caught.
I was regularly feeding the 5 metre line with a few cubes of meat but wanted to leave it as long as possible before trying it and would start to feed the margins with a couple of hours to go. The sun actually put in an appearance but it didn't affect the majority of us as we were underneath trees and shaded whereas Jamie P's peg on the other hand was bathed in glorious sunshine and while Hainsey and me were putting extra clothes on, he was taking them off! I added two more carp in the second hour and was happy enough with my catch rate as nobody I could see was bagging, Jamie and Chris were both getting odd fish but the Hoff was really struggling.
Groups of carp could be seen swimming about up in the water and I managed to mug two in the third hour but Jamie had gone a fish or two ahead of me, I'd seen Picky net a couple of fish and it looked like Chilly was catching shallow up on peg 14. Bish was still doing well but had a pole section break which cost him quite a bit of time sorting it out. Without it ever being fast and furious I got up to seven carp but both Hainsey and Jamie had a couple more although I did have some lumps. I had started feeding my inside lines and with two hours to go I could see fish in the right hand margin so switched rigs and went in there with a 6mm cube of meat on the hook. After a few minutes the float shot under and the result was…. a 2oz perch!
I went back in and the float went again and this wasn't a small perch and I was soon netting carp number eight but Jamie had another and he always seemed to stay at least two fish ahead. After the commotion of that last fish I tried the other margin but never had a bite there so went back in the right hand side, the float buried again and this was a lumpy fish but it tore off through the lilies and snagged me before snapping me – bugger! I tied on another hook and had another go but no more bites and I didn't want to waste too much time, especially as the Hoff had started fishing shallow and had four fish quite quickly.
I went back out but couldn't buy a bite there either now and the pond seemed to have switched off, Hainsey had a decent perch and I felt I needed another couple of fish to do any good but time was running out. I could see fish in the margins again and had another go but they didn't want to know so with 15 mins to go I felt my best chance was to go back out shallow. The float shot under and carp number nine was hooked but by the way it was going berserk, it just had to be foulhooked and eventually I managed to net it and it was hooked in the wing but at about 6lb it was very welcome and that was the end of the action.
As we were packing up, Jamie said he'd had ten carp plus a small one and Hainsey had ten plus that perch and when Chilly and Bish both said they'd had nine carp as well it was all going to be a bit tight. As I walked back I stopped and asked how people had got on, Picky only had two carp but had lost a few and the Torquay Tool had the same number so hopefully that was two side bets safe although I felt sure Jamie had beaten me. Les and Rocking had struggled and then Blaker said he'd had twelve carp so he would be there or thereabouts and then Paul H in peg 20 said he'd had a dozen as well although he said he had some smaller fish.
The scales soon arrived at Bushy in peg 1 and he recorded 18lb 12oz before Janders came close with 16lb 4oz, the next decent weight was Bish in peg 7 and his nine carp weighed a level 39lb and I didn't think I had anywhere near that. Paul H asked what I had and I said I really didn't know but possibly 27lb if they averaged 3lb apiece, he said he thought his fish would go 26-28lb so it would be really close for our pound. Chris weighed 38lb 12oz in peg 10 and Jamie P had 36lb 14oz so it was really close with only one fish in it. Then it was my turn and my first weigh was 18lb 14oz and then my second net with five carp went 22lb 12oz to give me 41lb 10oz to go into the lead and Paul H gave me some stick for being so far out with my estimate.
Picky had 10lb 8oz and paid me a nugget and then Chilly had 30lb 12oz, the Tart had the same weight as Picky so I had a pound off him and hopefully earned a bit of peace and quiet for a couple of weeks. Blaker had a massive eel of 2lb 6oz and then his two nets of carp went 41lb 10oz to give him a 44lb total to push me down into second with two left to weigh. Exeter Mike had 9lb 12oz and last to weigh was Paul H, his first weigh went 18lb 11oz and when he pulled his other net out it was obvious it was going to be really close and it was called at 22lb 12oz to give him a total of 41lb 7oz and I'd just about held onto second place and we were both as rubbish as each other with our guesstimates.
Although it had been a struggle for some, the leading weights were really close with just one fish separating the top six places. I picked up £80 for second place plus a clean sweep of all five side bets so a nice day and a great start to the league.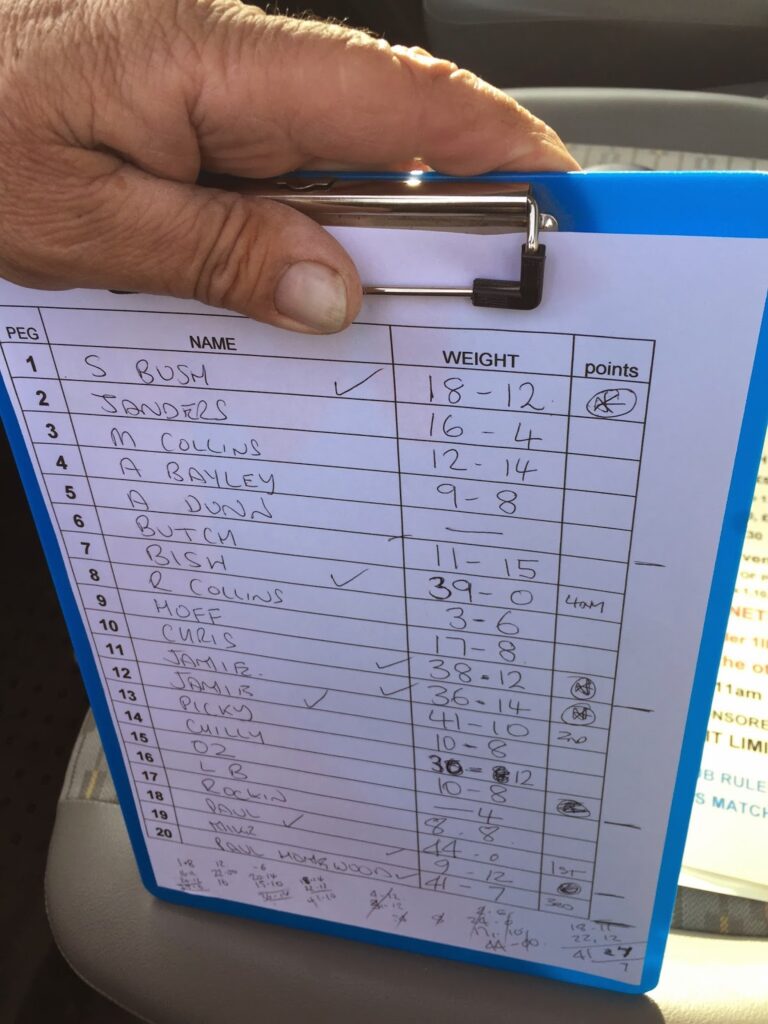 Close weights today
1 – Paul Blake (Chard) – 44lb
2 – Jamie Rich (Against Men and Fish) – 41lb 10oz
3 – Paul Homewood (Taunton) – 41lb 7oz
4 – Steve Bishop (Chard) – 39lb
Sections
A – Steve Bush (Chard) – 18lb 12oz
B – Chris Haines (Haines Angling) – 38lb 12oz
C – Jamie Parkhouse (Burt Baits) – 36lb 14oz
D – Mike Hosgood (Nr Exeter) – 9lb 12oz
Next up – Mullet fishing at Seaton
What's new – Lots of page updates and keep an eye out for my next interview
Check Out – My last match (below)