It was back to Summerhayes today for match number five in eight days, the scores on the doors so far weren't too bad, Ray and me won the two day silvers pairs festival, I missed out on a silvers pick up by 2oz on the Wednesday and then I was second in the silvers yesterday, so what would today bring? Depending on numbers, the match could be split over Sellicks and Lily and if you read this blog regularly you will know I'm not a big fan of the latter and just can't seem to get on with it.
I picked Janders up and let him have the raffle prize he won yesterday (so it didn't go straight on e-bay as some suggested yesterday!) and as soon as we got to the fishery I knew Lily would be in by the number of vehicles in the car park. There were twenty five anglers fishing today which meant seventeen would be on Sellicks with the remaining eight on Lily. My drawing strategy is to go in late by which time all the pegs on that lake have been taken – simples! The Tool from Torquay went in early and pulled out peg 10 on Lily, so that was one gone and how I laughed! Today's pound pot saw the Tart, Glynn and me all stick a nugget in and the best silvers weight collects £3. Glynn pulled out peg 20 on Sellicks and it's a great skimmer peg, his drawing arm is on fire at the moment.
I was still hanging back and Janders pulled out Sellicks peg 2 which can be another good silvers peg, a quick look at the board showed that seven of the eight pegs on Lily had gone with only a few anglers still left to draw, the trouble was that the people in front of me that had just drawn all had balls with the letter S on them! Bill Hopping and me were the last two to go in the bucket, Bill pulled out peg 19 on Sellicks which is another peg with good silvers form and that just left me and you know what's coming next don't you? Yep poxy peg 7 on Lily, how Brendon laughed and I suppose I got what I deserved really. We might as well have handed over the pound pot to Glynn there and then!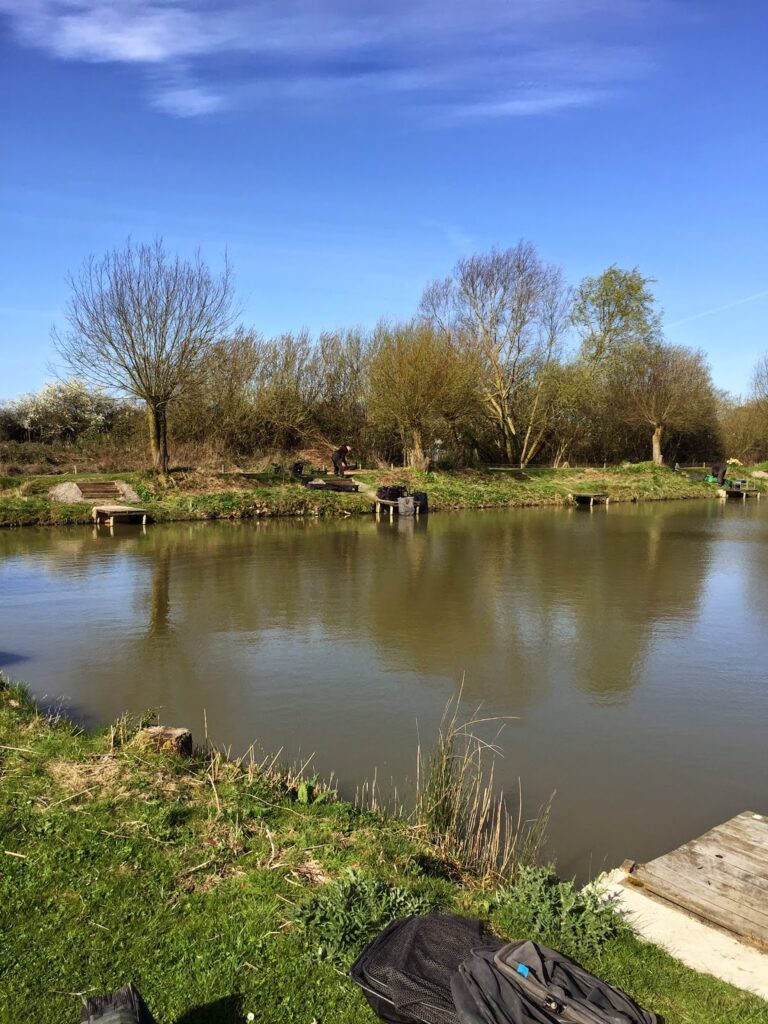 Peg 7 on Lily (you can see the Tart over on peg 10 and he's still laughing!)
Still I was determined to give it a good go as some good sized bream had been stocked recently and the top silvers weight on Lily yesterday had been 12lb and although 18lb was top on Sellicks, only just under 11lb was needed for second. My peg was on the bottom bank and I had Jacko on my right and fellow blogger, Ivan Currie, was over on peg 5 with nobody in peg 6.
There was a blustery wind which would make presentation difficult once again, I set up a 10 x 11 MW F1 Slim to fish two lines at 10 metres, one fed with micros and the other with groundbait and a Drennan 0.6 gram G-tip for the 5 metre line which I would feed with micros and a few soaked 4mm's. On the whistle I fed all three lines before starting with a 4mm expander over the micros on the right hand line, it took an age to get a bite and the result was a 2oz blade and the next chuck I had another and I already knew this would be a frustrating day. The next bite saw a decent amount of elastic come out but it was a 10oz carp so I switched to the groundbait line but more blades and small roach followed. At this early stage the pond was fishing really hard and I hadn't seen anybody else catch a carp yet.
Then Brandon's caught a decent skimmer and wanted me to know about it, he even coughed rather loudly to attract my attention as he slipped it into his keepnet! I was still getting small fish and had another carp but was going nowhere fast, I came in on the five metre line and the rig had barely settled when it buried and the strike resulted in blue hydro streaming out as another small carp shot off, the Tart was grinning smugly at my misfortune so I told him it was a tench and then a 4lb bream popped up! I safely netted it and the Tart had gone strangely quiet!
After an hour, hardly any carp had been caught yet and the pond wasn't fishing well at all. Going into the second hour, odd carp started to show but it was hardly fast and furious. Martin Addicott on peg 4 had a couple on the waggler and Paul Homewood was starting to catch on peg 2. Ivan then landed a decent bream and not long after added a second and I didn't know what to do next, I was still getting blades and roach but just couldn't catch any decent skimmers. After two hours Jacko still hadn't caught, Brandon was struggling, I could only catch bits and bobs and I don't think any of us were enjoying ourselves very much.
Kev Perry on peg 12 had caught a few carp and added a bream but nobody was bagging and I couldn't see anybody challenging the weights on Sellicks today. Jacko finally got off the mark and started catching a few carp and he lost two bream as well. The Tart added another skimmer but I could still couldn't catch any quality, I did hook into a fish on the five metre line that I was convinced was a bream but it woke up when I got down to the top two and turned into a carp! I tried 6mm meat as a change bait but the small fish were hitting that as well. Adie came round and said Roger had two big bream on Sellicks and that Glynn had three plus some big skimbobs so I needed to find another big bream from somewhere to stand any chance and I just couldn't see it happening.
With two hours to go I was going through the motions again and just adding the odd small fish to the net from the shorter line when the float sailed away and as soon as I hit it I knew it was a big bream as it plodded around. It surfaced and looked to be bigger than the first at around 4-5lb and I was back in the hunt. Jacko was now catching quite well and Martin and Paul were both netting fish regularly as well. Kev Perry had a second bream so there were three of us with two now but I hoped my few pounds of bits might swing it my way. The Tart was really struggling and had only caught one carp to go with his meagre silverfish haul so I'm guessing there won't be any gloating texts this week!
I tried a banded 6mm pellet to see if I could sort out some better skimmers but only added a few more blades and if I'm honest I'm at a bit of a loss as to how to target the better silvers on this lake, I think you just have to fish for carp and hope some bream turn up, not really my kind of fishing. The all out was called and I hadn't enjoyed today one bit, I ended up with 2 bream, 33 bits and 5 carp and to stand any chance I needed to beat Kev Perry, Ivan and hope that Roger hadn't found any more slabs.
As I took my kit back to the car, the weigh in had already started on Sellicks, Janders hadn't had a great day either, he had 5lb of carp and 5lb 11oz of silvers, I said I thought I had 8-10lb and he handed over my pound from yesterday but I knew Glynn would taking it off me anyway. As the scales continued along Sellicks there were quite a few DNW's before Adie Bishop set the pace with 45lb 12oz from peg 7. Roger was on peg 11 and had done well to catch two bream and a few skimmers for 12lb 10oz and I didn't think I had that.
First to way on Lily was Paul Homewood who did well to weigh 33lb 12oz from peg 2, Martin Addicott had 29lb 6oz and then Ivan had 12lb 12oz of carp and his two bream went 7lb 6oz. I was next and my five carp weighed 10lb 12oz and my silvers went 11lb 8oz and I knew it wouldn't be enough today. Jacko had 21lb and Brendon didn't trouble the scales, Kev Perry had actually caught three bream and weighed 12lb 10oz to go into joint first for the silvers, he added 20lb of carp as well and then peg 14 didn't weigh before the scales headed back to Sellicks.
Alvin Jones had 44lb 3oz on peg 12 to go into second place overall and then Nigel Wickham had 12lb 1oz of silvers on peg 14 to polish off any vague hopes I had of sneaking in the silvers frame. Dom Sullivan had done well again and his 67lb 5oz from peg 17 put him in the lead although the bankside rumours were saying Jon Martin might have more on peg 23 and it was a golden peg too! Jon, however, was saying he didn't have 40lb and must have gone to the same school of weight estimation as me! Glynn had 18lb 13oz of silvers but he also had 27lb of carp and would probably frame.
Luke G on peg 22 had over 40lb before it was Jon's turn, his final weight was 70lb 4oz which was enough to win on the day and earn him a bumper payday – well done mate.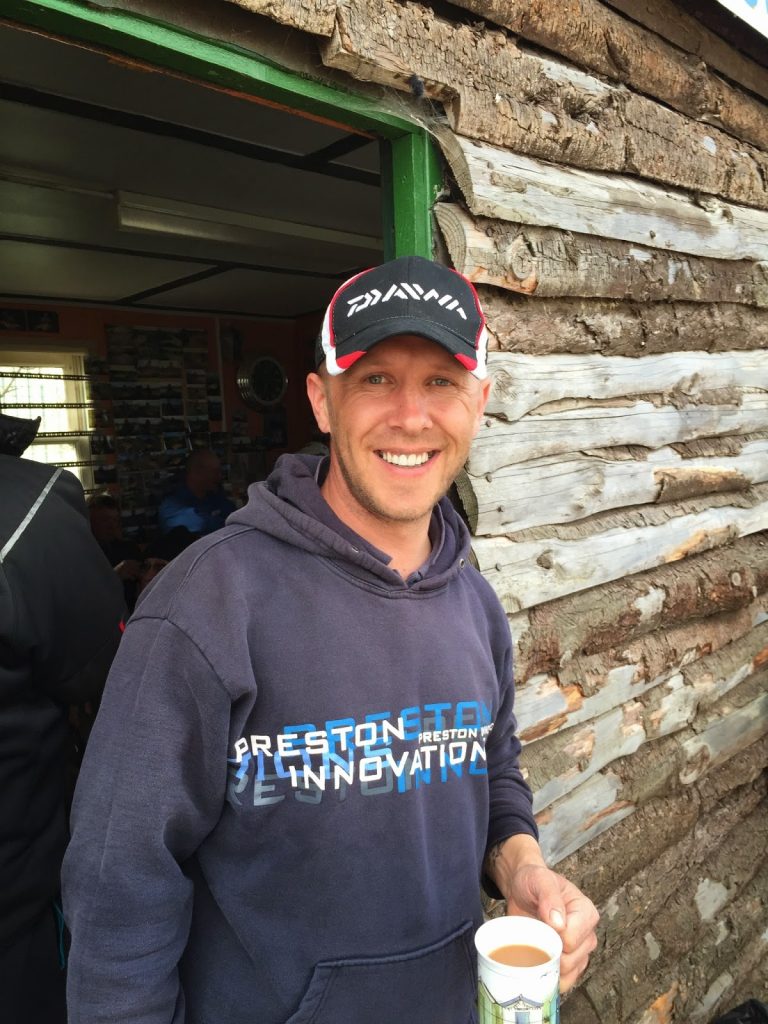 Jon Martin won the match and the golden peg
1 – Jon Martin (Taunton) – 70lb 4oz
2 – Dom Sullivan (Maver) – 67lb 5oz
3 – Glynn Wickham (Summerhayes)) – 46lb 1oz
4 – Adie Bishop (Summerhayes) – 45lb 12oz
5 – Alvin Jones (Car Care) – 44lb 3oz
Silvers
1 – Roger Russell (Tackleuk) and Kev Perry (Thyers) – 12lb 10oz
3 – Nigel Wickham (Summerhayes) – 12lb 1oz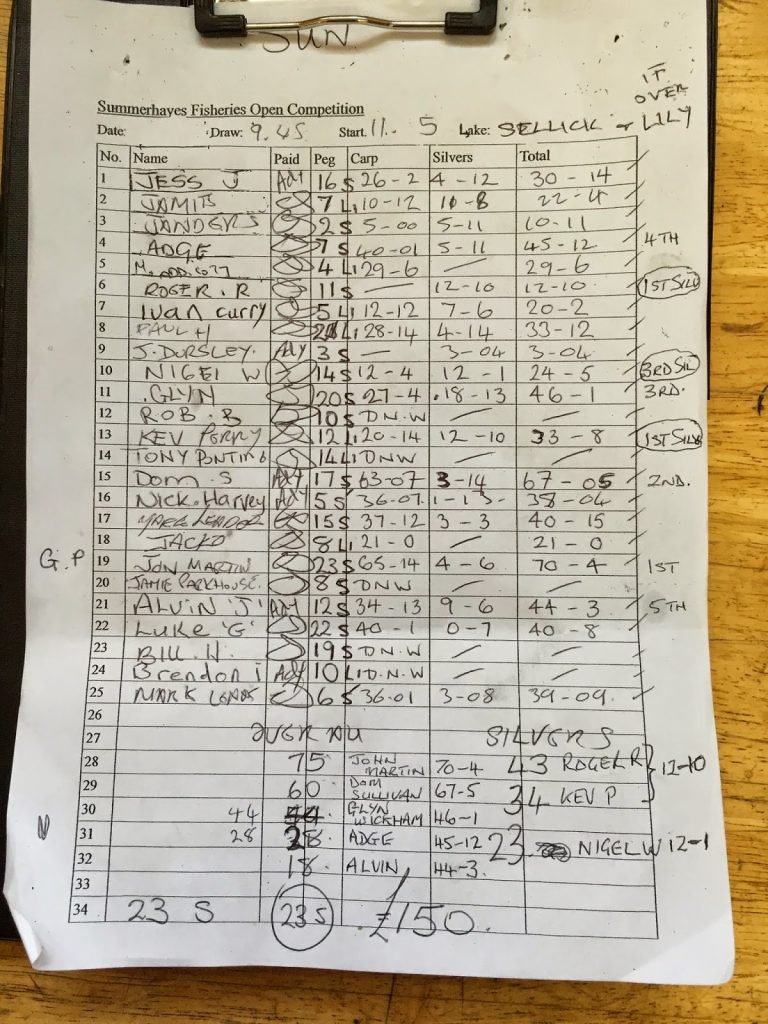 Todays weighboard
So my mini fishing marathon ended with a bit of a whimper and that's twice in a week that I've missed out on an envelope by a few ounces and the Lily jinx continues. I know Lily will sometimes compete with Sellicks and it jointly did the top silvers weight today (by default) but the top five all came from Sellicks. Personally I would rather we were all on the same lake, I know it might make the fishing a bit harder but at least everybody is in the same boat. If one lake switches off like Lily did today, you can't compete with the other lake. I realise there were 25 fishing today with only 23 pegs on Sellicks, in that scenario I think it would make more sense to have two separate matches (like we did the other week with Longs and Sellicks) so at least you have a chance.
Next up – The first match of the Perry St league
Coming soon – My next interview
Check Out – My report from the Gary Bull fundraiser on Saturday