This match was supposed to be on Sellicks but after losing some skimmers a few weeks back it hasn't been fishing very well for silvers so I was relieved when I got there and Pete said he'd moved us onto Longs today. With only eight of us fishing it was also to be a rover style match so I was hoping for a ping pong ball with a nice low number on it but ended up with fifth choice. One of Pete's rules is that you have to leave the next peg empty to give people some space and most of the areas I fancied went early on, so when it was my turn to choose I went for peg 2 which raised a few eyebrows! I knew Roger had done a decent weight off it recently and I'd have plenty of room which I hoped might help.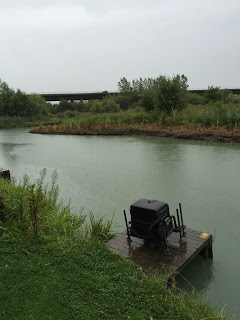 Peg 2 on Longs
It was lashing it down and looking like we'd be in for a rather moist day but at least it wasn't too windy. I set up a 10 x 11 MW F1 Slim to fish at ten metres angled to my right and this rig would also do for the five metre line where it was the same depth, my other rig was a 0.4 gram Malman Pencil to fish at ten metres angled to the left where it was a bit shallower. Hooklengths were 0.12mm tied to size 16 Tubertini 808's. For bait I had some damp micros for feed (and they were getting damper by the minute!) and Bait-Tech 4mm expanders for the hook with some 6mm hard pellets if small fish became a problem.
Adie blew (or rather shouted) the all in and we were off, I cupped in half a pot of micros on all three lines before starting with an expander on the right hand line. I had a bite quite quickly and swung in a 2oz skimbob, next chuck I've had a better one, more blades followed and I was getting plenty of indications. Alvin Jones over on peg 37 got off to a flying start and had already landed quite a few carp. After my decent start I was now missing loads of bites as blades and small roach ragged the soft pellet. I switched to 6mm banded pellet and had a decent skimmer first chuck from the right hand line to put me on around 2.5lb after the first hour which was bang on target as I thought 15-18lb would there or thereabouts today. Any thoughts that I'd cracked it soon disappeared as I went back to missing loads of bites and only adding the odd small skimmer to my net.
I was missing or bumping loads of fish and I don't think banded pellet was right so switched to a hair rigged band but it didn't seem to make that much of a difference. I kept trying all three lines but the left hand swim was a bit of a flop with the only action being a lost carp. The shorter line was more productive and I was catching quite a few small skimmers between 2-4oz which bodes well for the future but I was starting to get frustrated that I couldn't catch any quality. Alvin was still bagging on carp and had even added some nice crucians and skimmers which he took great delight in showing me! As the halfway point approached I was really struggling and as it was still raining hard, I was even contemplating sitting in my car and listening to the footy for a bit!
Then the float sailed away on the five metre line and I hooked a better fish which turned out to be a gorgeous little crucian around 8oz or so, I then had a good skimmer that leapt straight out the water and the next chuck I hooked another that did the same but this one threw the hook! I started to connect with a few more fish and added two more crucians, three little carp (which count as silvers if under 8oz) plus some more smaller skimmers and roach and to make things even better, the rain eased off as well. Alvin looked to be on for a big weight and had put another keepnet in, I couldn't really see how anybody else was getting on apart from Matt C in peg 8 who was getting the odd carp.
Going into the last two hours, I went back on the longer right hand line and had a real purple patch where I had a lovely golden tench followed by three decent skimmers and all of a sudden, a decent weight seemed on the cards again. Up until now I hadn't had too much trouble with carp, landing three and losing a couple so I should have guessed what was coming next! I've hooked a decent carp around 5lb which gave me the run around and I tried giving it too much stick when the hooklength gave way and of course I didn't have anymore hair rigged bands tied up to 0.12mm. I tried the other rig with just a banded pellet and did manage a slightly better skimmer but I just had this nagging doubt that a hair rig was better so stopped for five minutes to tie another one.
I was back on the five metre line with half an hour to go, I had another good skimbob and with just a few minutes left on the clock I had another and still had time to go back out but that was the last of the action. I ended up with 44 fish which I thought might give me 10-12lb but I didn't think it would be enough although Ray Wickham had come for a wander just before the end and said that Glynn on peg 18 was struggling and that Adie on 31 was admitting to 5lb and he reckoned 7lb would be a decent weight.
I packed my kit away and caught up with the scales as they weighed Adie in, he had a nice net of silvers weighing 11lb 1oz, then we got to Bill 'The Paste' Hopping on peg 24 who was sporting a rather fetching camouflage poncho and just needed to spark a cigar up to complete the Clint Eastwood look. He'd bagged right up and after all three nets had been weighed, his total was called out at 190lb 5oz, a new lake match record, well done Bill!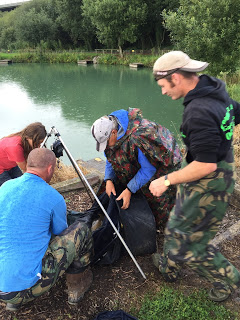 'The Good, the Bad and the Ugly' weighing in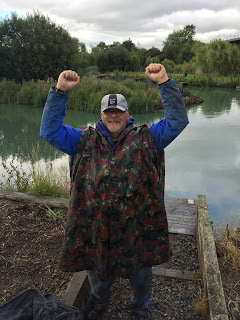 Bill 'Eastwood' sets a new match record
Then we got to Glynn who had 'struggled' his way to 12lb 15oz of silvers from peg 18 before the good weights of carp continued with John Pear weighing 70lb 4oz from peg 14, Martin Addicot had 72lb 11oz from peg 11 and Matt C had 36lb 5oz from peg 8. Then it was my turn and my accidental carp weighed a level 12lb before I pulled my silvers net out and it looked like it was going to be really close but Adie called my weight at 14lb 13oz and I'd gone into the silvers lead with just Alvin to go. He had 87lb 9oz of carp and 13lb 6oz of silvers to give him a total of 100lb 15oz and second place overall.
1 – Bill Hopping (Summerhayes) – 190lb 5oz – New Lake Match Record
2 – Alvin Jones (County Gardening) – 100lb 15oz
Silvers
1 – Jamie Rich (Against Men and Fish) – 14lb 15oz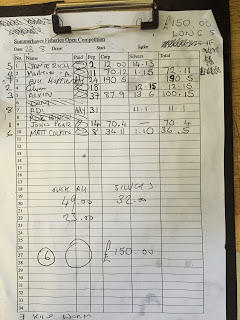 Todays board
So a nice days fishing (apart from the weather) and my first silvers win for a while, I picked up £32 and was relieved lost fish and faffing about hadn't cost me today.
Next up – Dillington
What's new – Lots of page updates
Check Out – My last match (below)