The last time I fished Summerhayes the match was switched to Longs so I knew it was supposed to be on Sellicks today and when I phoned Pete to put my name down, he confirmed it. That didn't stop me from hoping he might have a change of heart again but on arriving there would be no such luck this time and Sellicks it would be. There were only nine of us today so at least we should all have plenty of room. The golden ball was drawn and peg number 16 was pulled out before it was time for us to draw, Bill Hopping is the man to beat at the moment and when he drew 16 there was a good chance the golden ball fund would go today. I ended up on peg 23 which is on one of the ends and a peg I seem to draw quite a bit. I've had some good silvers weights off it but that was before the skimmer fatalities.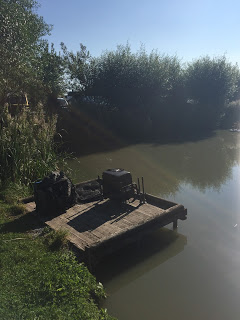 Peg 23 in the sunshine
I set up a 0.4 gram Malman Pencil to fish at 10 metres and 5 metres angled to my right, both lines would be fed with some micros and a 0.6 gram Drennan G-Tip for 10 metres straight out over groundbait. I normally go all out for skimmers and ignore the carp but today I thought I'd set up a carp rig in case I couldn't catch silvers of any description so my third rig was a little in-line dibber to fish up in the water with hair rigged banded pellet.
Pete shouted the all in and I cupped in half a pot of micros on my two right hand lines and two balls of groundbait on the other line (now don't ask me why but I never tried it all day!). I also started feeding some 6mm hard pellets by catapult to the end bank at 11.5 metres. I started on the longer right hand line with a 4mm Bait-Tech expander on the hook and after a few minutes the float sailed away and of course I missed it, and the next two as well before I finally hit the next bite. Initially I'd have sworn blind it was a skimmer but it turned out to be a little 4oz carp which also count as silvers and I have to say I'm not a big fan, to me a carp is a carp!
I had a couple more but was missing more bites than I was hitting, I tried the 5 metre line and had a little carp straight away but I after an hour I hadn't put much in the net and my attention was getting drawn to carp slurping where I'd been feeding pellets by the end bank. Now this is pretty much where my match went pear-shaped, there were obviously quite a few carp there but apart from a couple of tiny ones and a lost foul hooker, it was a waste of time. I tried altering depths and became rather preoccupied with trying to catch bigger carp when I should have concentrated on building a silvers! weight with the smaller ones.
There were odd carp coming up taking stuff off the surface to my left so I started feeding some 6mm's here as well and eventually hooked one which did me in the reeds. With Craig S in peg 20 getting odd carp, Rene on 18 catching well on the method feeder and Bill and Ray both hooking fish in 16 and 14, I should have tied a new hooklength on and chucked that top kit up the bank. What I actually did was faff around some more trying to catch carp – doh! Pete walked round and said Steve on peg 2 was getting small carp regularly and Glynn on 4 had caught a couple of better skimmers, which although bad news for me and my pound was good news because it meant there were still some left.
Finally, after two and a half hours, I went back to trying to catch small carp and silvers at 5 metres (and I still don't know why I didn't try the 10 metre groundbait line!). I was getting the odd small carp and even added my first proper silver in the shape of a 1oz roach! but I was still missing bites and foulhooked a couple of bigger carp including a five pounder hooked in the tail which gave me the run around before I netted it. Despite it being a gorgeous sunny day, I must admit I wasn't really enjoying it and kept finding myself reminiscing about some of the lovely nets of skimmers I'd caught here in the past.
I just sat on the shorter line catching the very occasional small carp along with the odd better one when I hooked a fish that didn't feel like a carp and a lovely little 3oz tench popped up! It wasn't going to help me much today but it's always nice to catch them. I also hooked a carp that I had on for ages but it decided it wanted to go under my pallet and transfer the hook to one of the posts! Although I wasn't catching much, there was still an outside chance of an envelope as Pete was paying the top two overall and the top two silvers and from what I could see, most people (including Ray who normally fishes for silvers) were targeting the carp. So if Glynn won the silvers, I might still be able to sneak second.
With half an hour to go I hooked a decent fish which again didn't feel like a carp and cracking crucian around 1.5lb slid into the landing net, I added another 6oz carp and with a few minutes to go I struck into a better fish that just plodded around and I was hoping for another crucian but then it woke up and a 3lb carp wasn't the result I wanted, I still had time to go back out but that was the last of the action. My final tally was 9 little carp, a roach, tench and that crucian in the silvers net which I thought might 2-3lb plus five carp.
As I packed up, I still thought I might sneak into second in the silvers, well I did until Ray Wickham walked by, he said he'd caught carp but also had a couple of better skimmers and a couple of nice crucians and thought he had 7-8lb of silvers, so I now needed him to frame for me to stand any chance of an envelope. I loaded the car and walked round to watch the weigh in, Steve in peg 2 had nearly 30lb of carp and then he had 8lb 1oz of silvers (which was made up of little carp!), next up was Glynn in peg 4 and he had 58lb 6oz of carp and then 6lb 13oz of actual silvers (two decent skimmers, roach, rudd and just five small carp). I paid him my pound and knew any chance of a pick up today had gone.
Alan Jenkins on peg 7 had 11lb odd of carp and 1lb 6oz of silvers before we got to Phil 'Digger' Denslow on peg 12, he had 34lb 12oz of carp and 6lb 3oz of silvers. Ray had 51lb 5oz of carp and had lost a fair few as well before he plonked 7lb 8oz of silvers in the weigh sling. Bill 'The Paste' Hopping was next and he showed why he's the man to beat at the moment when he stormed into the lead with 109lb 9oz of carp and was looking good for another golden peg win, he really has got this paste fishing sorted. Rene on peg 18 had 63lb 5oz of carp, all on the method but he fell just short of Glynn's weight. Craig S on peg 20 had 59lb 12oz of carp and the weights were all pretty close (apart from Bill at one end of the spectrum and me at the other!).
Last and least was me, I didn't bother weighing my carp and my crucian assisted silvers weighed 4lb 3oz which was a little more than I thought. In retrospect if I hadn't mucked about trying to catch carp shallow for so long and just kept swapping between five and ten metres (and maybe tried the groundbait line perhaps!), I'm sure I'd have been a lot closer to the 8lb winning silvers weight. To be honest, I hadn't fished a good match and I didn't enjoy myself today as I don't agree with small carp counting as silvers and as sad as it makes me to say it, I can't see me fishing Sellicks again for a while. I think it's on Longs in two weeks time, so I'll probably give that a go.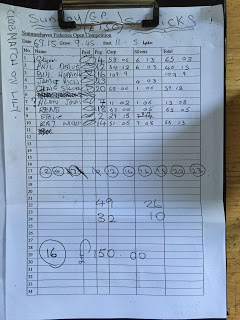 Todays board
1 – Bill 'The Paste' Hopping (Summerhayes) – 109lb 9oz
2 – Glynn Wickham (Summerhayes) – 65lb 3oz
Silvers
1 – Steve (Summerhayes) – 8lb 1oz
2 – Ray Wickham (Summerhayes) – 7lb 8oz
Next up – Dillington
What's new – Lots of page updates
Check Out – My latest talking point below