After blanking last week I was hoping for better things today, I knew Rob was pegging Redbridge and Isle Brewers and from all accounts there were loads of small fish topping when they were down there yesterday sorting out pegs. I got to the pub for the draw and there was a decent turnout of twelve (well eleven actually because Heardy was going to meet us at the river and we had to draw a peg for him!). Looking at the pegs I really fancied 109, 120, 125, 126, 128 and also thought 129 might be in with a shout, so a 50:50 chance of drawing a flier. I really didn't want 122 or 127 as, although they are worth a few fish they're not winning pegs. Rob announced the draw and said Steve Parker would go first and pull out a peg for Martin and 122 was the result!, that was one peg I didn't want out the way.
For a change I went into the hat fairly early and pulled out a peg but didn't look straight away, Hurf had done the same so we both looked at the same time, he was on 127 and I was on 123 and I didn't fancy either very much. My peg has won a few matches and I won off it once with 12lb odd but I've also struggled off it a few times. I got to the river and took my kit to the peg and they'd done a lovely job yesterday cutting out the swims. As per usual I was rushing around a bit to get set up in time, rig number one was the 0.6 gram DH16 float I used last match (hopefully it'll actually go under this week!) and I also set up a 1 gram bodied float. The swim looked quite nice and there were loads of small fish topping in the flow although the river was very low and clear.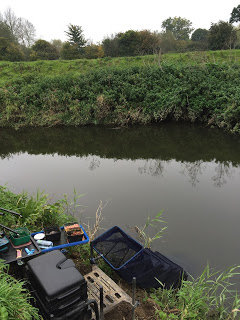 Peg 123
The start time arrived and I baited up with a single caster and started inching the lighter rig through in the flow and started getting bites from tiny dace, chublets, gudgeon and minnows straight away, I also had a couple of slightly better roach. After an hour I'd had 15 fish (although I wasn't counting the gudgeon or minnows). There were obviously loads of tiny fish in the peg and I was getting a bite a chuck but missing quite a few. There were several little clumps of cover on the far bank and I felt sure that was where the chub were hiding even though it was quite shallow across, so I cut a lobworm in half and went over with the heavier rig and after a short wait, the float sailed away and a greedy gudgeon was the result. Rob came up and said he hadn't had a bite yet, while he was with me I missed a few bites and had another gobie but I stayed on it too long really and put very little in the net before I switched back to caster.
I was starting to wish I'd set a little waggler up as I'd get a couple of dace or roach before they'd back away from the pole and I'd have to try somewhere else, I was catching a fair few gudgeon but they were tiny. There were also quite a few stick ups and I got snagged a few times during the day, losing a couple of hooklengths in the process. The gudgeon and minnows were proving to be a bit of a pain in the bum, so I even tried a black Marukyu JPz pellet thinking it might look like a big grain of hemp, I had a few knocks and then the float sailed away and I had my best roach of the day, a 6oz fish. I had another roach and then bumped a fish but I spent too long trying to catch on it, they certainly deterred the gudgeon and minnows but I still wasn't putting much in the net. I think they'll be worth trying out at Dillington for those quality roach so I'll keep you updated with how I get on.
With about two hours to go, it didn't seem to matter where I tried, if the float went under, a gudgeon was the result and a pike also started to make it's presence known, it grabbed two fish but thankfully let go of both (it obviously didn't like the taste of gudgeon!). Along with getting snagged up on the stick ups and cabbages a few more times, it was turning into a frustrating day. Big Frank phoned from Redbridge and said he'd caught some nice roach and dace earlier but had slowed up now and Steve Parker below him was struggling and a big pike was causing him some problems.
I carried on catching gudgeon and the very occasional chublet or small dace and with about 15 minutes left I was up to 40 fish for 2.5lb plus about 50 gudgeon which I thought might give me another pound or so and I knew that wouldn't be any good today. I was trying against the far bank at the top of the swim and had a small roach, then next put in, the float buried and a quick lift of the pole saw me hit solid resistance, another snag I thought but then it started moving! I threw the pole behind to stop it getting under the far bank rubbish and using the pulla bung I slipped the net under a 1.5lb chub which was a nice late bonus. I still had time to go back out but that was the last of the action.
I packed up before grabbing the scales and walking up to weigh Heardy in, he had 120 small fish for 5lb 1oz and I knew it would be close between us, my chub assisted net went 5lb 9oz which I was a little disappointed with. As we walked down to weigh Rob in, he was admitting to 3.5lb but as soon as he pulled his net out, I knew it was more and the needle settled on 6lb 6oz. Fieldy started saying he thought he had a similar weight to mine and Heardy's so we immediately knew he probably had a lot more as he's a worse estimator than me! He also said he had 117 fish but they were all tiny although he'd neglected to mention the quality roach and a decent perch as he weighed 8lb 13oz to go into the lead.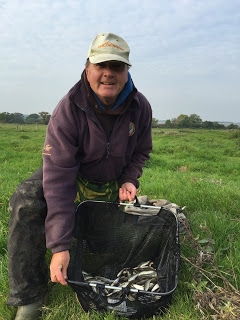 Martin had loads of small fish for 5lb 1oz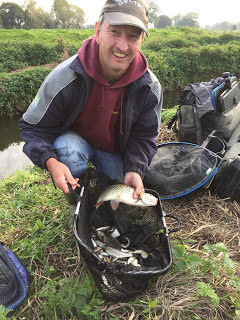 My late chub boosted my catch to 5lb 9oz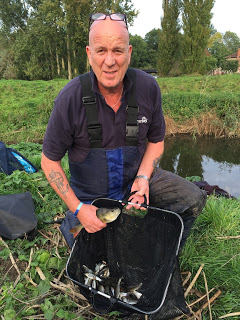 Rob had 6lb 6oz including a nice perch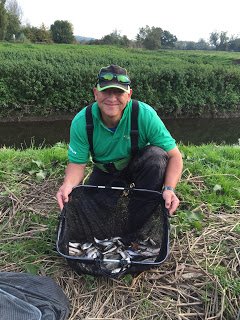 Fieldy had 8lb 13oz from 125
As we got back to the cars the anglers from below the bridge were already there and Justin had the top weight with 11lb 13oz from peg 126, Jake had 6lb 9oz from 128, Gordon weighed 4lb 13oz from 130 and had lost a chub and Hurf had 4lb 1oz. That just left the anglers at Redbridge and I started to think I might have a chance of the section but it wasn't to be as Neil had 12lb 2oz from 120 to win the match and Big Frank had 6lb 2oz to win the section by default, I did take a nugget off Steve Parker who had 2lb 8oz.
So all in all a much better match than last weeks with loads of small fish showing which is a great sign, although they will do a disappearing act when we have the first frost. It was also great to see several nice perch featuring in catches, Rob and Fieldy both had one and Neil had three in the weir pool. The river is still very low and clear though and desperately needs some extra water and a good flush through.
1 – Neil Dring (Ilminster) – 12lb 2oz
2 – Justin Charles (Ilminster) – 11lb 13oz
3 – Graham Field (Taunton) – 8lb 13oz
Sections
A – Frank Woodard (Ilminster) – 6lb 2oz
B – Jake Woodard (Ilminster) – 6lb 9oz
My bad run continues so come back next week to see if I can do any better. In other news I really enjoyed The Big Fish on BBC2 last night, they've tried to do something a little different and I think it worked (obviously it would have been better with me on the show!) and I'm looking forward to next week when they head to Cuba. Also the blog has flown past 300,000 hits so thank you so much to everybody who follows my exploits and I really appreciate every comment and kind word.
Next up – River Isle
What's new – Lots of page updates
Check Out – My first post for Pondip (below)