The weather was horrendous yesterday with really strong winds as Storm Desmond gave the country a battering, so Rob decided to put us all on the pond today rather than have us spread out all over the river if the weather was going to be grim again. I got to the pub for the draw and as always this match was well attended and along with the regulars it was nice to see Jamie Bisgrove, Andy Welch, Tony Newman and Tackleuk baggers Scott and Ashley swelling the numbers to 17, it would have been one more but poor Harry Hebditch had a puncture on the way (hope you got it sorted and see you soon mate).
Rob announced the draw and I pulled out peg 14 which was the same peg I was on the last time we fished the pond. I got battered off the next peg in that match by Ash who had over 24lb which included four big chub for 12lb, Heardy was my neighbour today and I was hoping there wouldn't be a repeat performance! Justin was over in peg 17 and my two side bets today were with Hurf who had drawn peg 1 and Steve P who was on peg 8. Thankfully the wind wasn't too bad today and it was still incredibly mild for December and I thought some bream and skimmers might show again.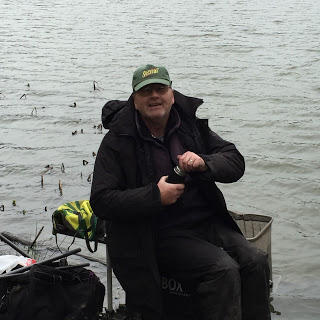 Heardy was on the next peg
I got my box level before mixing up some of the new SSP System-X Dark Silt groundbait, I'm a big fan of dark groundbaits and I was looking forward to trying this one. Rigs were the usual 0.5 gram Drennan Roach for fishing on the deck at 10 metres and a little Preston Chianti for up in the water. I was ready with 10 minutes to go so had a coffee and walked up for a quick chat with Heardy and Scotty who was on peg 11 in the corner.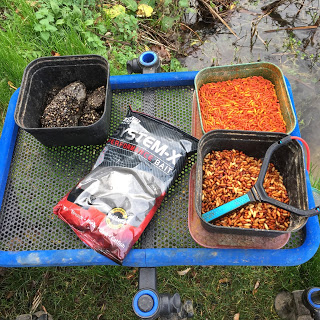 I was looking forward to trying the new SSP groundbait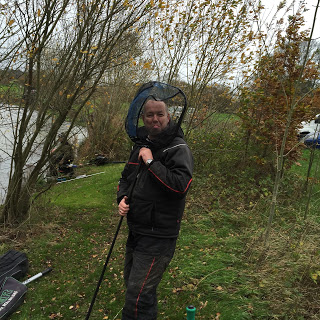 Scotty was doing a bit of networking!
Rob blew to start the match and I cupped in two balls of groundbait at 10 metres and started on the deep rig with single caster on the hook, I had a small roach first chuck and when I had another on the next put in, I thought I'd be in for a busy day but when I shipped out again, the float just sat there! I gave it another five minutes before putting two red maggots on to see if I could get a bite. I missed a couple of indications before my next fish was a gudgeon! A couple more small roach followed but I was soon back on the caster to see if I could catch a better stamp. I started to get some better roach and was doing okay if the bankside banter was to be believed, I could see Ash on peg 6 getting the odd roach shallow but nobody else seemed to be doing much at this early stage.
Then the next bite resulted in a fair bit of my Drennan Aqua elastic coming out and I shipped back gently before netting a decent perch of 10oz or so, things got even better ten minutes later when I hooked another good fish which turned out to be a cracking roach that had to be pushing a pound – lovely! After an hour the clicker was reading 20 fish, not fast and furious but with those two bonus fish I probably had around 2lb in the net and as I thought 10lb would be a decent weight today, it was going to plan so far.
The second hour was similar and I was getting the odd better roach and rudd in amongst the smaller ones but it was starting to slow up and I added another 17 fish. Going into the third hour bites slowed even further so it was time to try the shallow rig. I was also feeding at 10 metres just off the reeds to my left and would swap between the two. I started getting odd fish shallow although once again I was missing loads of bites but as I was catching the odd net roach I stuck at it.
I'd seen Rob net a couple of better fish on peg 19 and Justin was catching odd fish in 17 but as he kept swapping between the pole and feeder, I thought he must be struggling. It sounded like Heardy and Scotty were struggling and as far as I could see, Ash was the only other angler catching regularly but we still had two hours to go. I had another cracking roach about 12oz and not long after had a decent rudd and although my catch rate had slowed up, I was getting some quality fish and thought if I could get to 80 fish it would give me around my target weight of 10lb (if they averaged 2oz apiece).
Then Justin landed a nice skimmer on the feeder and not long after added a second but I was still ahead for now. Going into the last hour, Heardy had cupped in some feed to try and get the chub feeding and then Justin caught his third skimmer and there was now nothing between us. I was still getting the odd fish but then Heardy struck into a big fish which snagged him in the reeds straight away and he lost it which prompted a major bout of cussing and the air was blue with much swearing. Not long after Scotty landed a chub which did nothing to improve Martin's mood!
There were obviously some chub prepared to have a munch in Heardy's peg as he landed two in the space of 20 minutes and when Justin landed his fourth decent skimmer, I knew he'd overtaken me and I didn't think there was much between me and Heardy now. Jake Woodard on peg 7 also hooked a decent fish which I thought was a chub but turned out to be a tench and Jamie Bisgrove landed a big perch and all of a sudden there were bonus fish being hooked everywhere!. As we headed towards the end of the match Justin had two more big skimmers and was looking good to win, I was just hoping that Martin wouldn't get anymore chub but he added a third and I thought he'd overtaken me now as well.
Rob shouted the all out and I finished up with 81 fish which I hoped would give me double figures but I knew it wouldn't be enough today. I packed up and loaded the car before walking round with Justin to start the weigh in at Scotty, his chub boosted his weight to 6lb 12oz, then Martin pulled his net out and along with the chub he had a decent skimmer but he didn't have many roach and weighed 8lb 8oz. Then it was my turn and the needle stopped at 9lb 15oz which was less than I thought, Justin had some lovely skimmers and a nice perch to go into the lead with a level 15lb.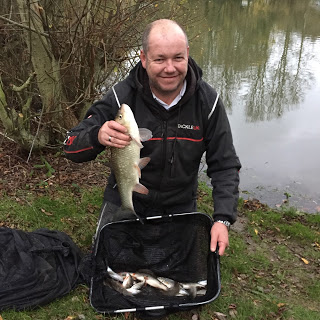 Scotty had 6lb 12oz which included this nice chub
Martin had three chub and a skimmer for 8lb 8oz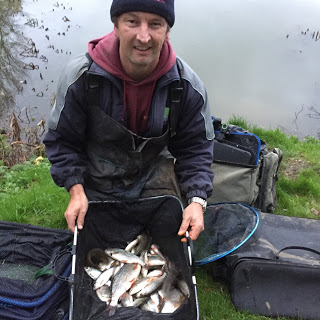 I had some quality roach, rudd and perch for 9lb 15oz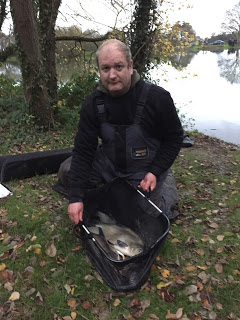 Justin had 15lb of skimmers and perch
Rob had some quality roach and perch for 7lb 8oz from peg 19 and then Karl had 1lb 4oz which included a lovely little tench before Bruce had over 150 small fish for 7lb 4oz from peg 22. I shouted across to Hurf to ask what the weights in the other section were and he said he was top with 9lb 7oz and Ash had weighed 8lb 12oz so I'd ended up in second place overall which I was well pleased with.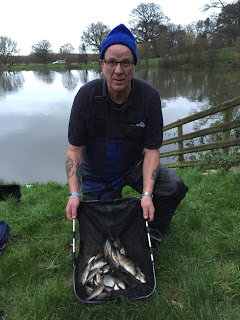 Rob had some quality roach and perch for 7lb 8oz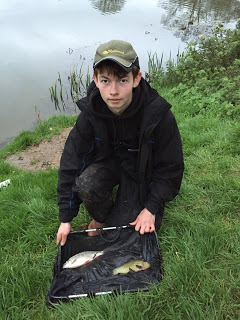 Karl had a lovely little tench from peg 20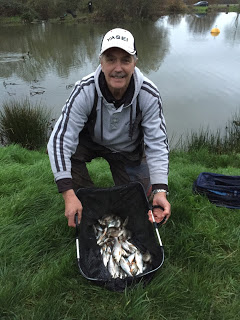 Bruce had over 150 fish for 7lb 4oz
Back at the Oak and all the anglers enjoyed a lovely buffet laid on by Cindy and Steve before it was time for the prize giving and once again Rob had done the anglers proud with some amazing prizes. Justin was called out the winner, well done mate and then it was my turn and I picked up £30 (and £1's off Hurf and Steve P) and a bottle of wine for second place plus four boxes of biscuits and two tins of chocolates, a cracking prize.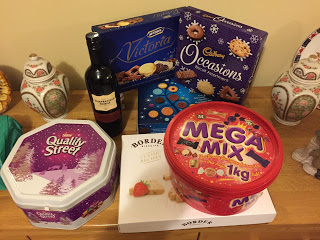 My haul of prizes
After all the anglers had chosen their prizes, Rob announced that the peg fees would be donated to The Brain Tumour Charity which was a fantastic gesture and I was really touched.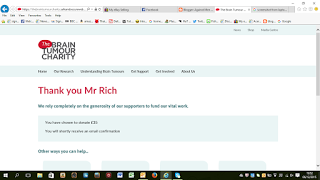 A fantastic gesture from the club
1 – Justin Charles (Ilminster) – 15lb
2 – Jamie Rich (Against Men and Fish) – 9lb 15oz
3 – Steve Hurford (Ilminster) – 9lb 7oz
So a really nice day and the club would like to say a massive thanks to Rob for organising a great match and getting the fantastic prizes and a huge thanks also to Steve and Cindy at the Royal Oak for looking after us so well.
Next up – The River Isle
What's new – Lots of page updates
Check Out – My latest interview with SSP Bait's Mark Hoye (below)