With no real rain to speak of, we would be back on the river today and arriving for the draw it was nice to see the Tackleuk baggers back again although Ashley was looking a bit rough as he was suffering from a serious bout of man flu. Looking at the pegs in today, there were some real crackers like 128, 129 and the pegs below Hambridge but there were also some pegs I didn't really fancy like the pegs above the bridge at Isle Brewers, particularly peg 123.
Rob announced the draw and by the time me and Scotty reached the hat, there were only two pegs left, Scotty pulled one out and chucked it on the floor for me, H2 at Hambridge, that'll do nicely! which left him with 123 and I must admit I felt for him a bit as he can't draw for toffee on the river at the moment. Rob had no such problems as he was on peg H3 again and his drawing arm was back with a vengeance.
We got to the river and it looked perfect, a tinge of colour, some pace and there were small fish topping everywhere. I spent a little while trying to get my box level as the bank was a bit awkward and then I had to do a bit of tree pruning. all of which left me rather short of time. The first rig out of the box was nowhere near deep enough, the second rig was way too deep and while I was faffing about, Rob shouted the all in. By the time I had finally got the rig sorted and started fishing, Rob had already caught six fish!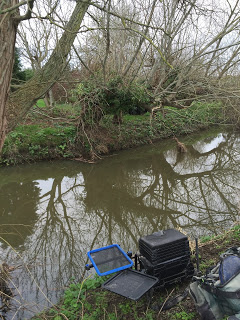 I was on peg H2 at Hambridge and it's the first time I've been below the bridge!
I slipped a caster on, shipped the pole out to 8.5 metres and inched the float through, after a few feet, the float buried and the strike saw a fair bit of blue hydro exit the pole tip before I netted a decent roach of 5-6oz and I hoped I'd be seeing plenty more of the same. My next few fish were tiny roach so I tried a grain of hemp to try and improve the stamp of fish but it just resulted in lots of missed bites and a couple of fish the same size as the caster fish I was catching. I then tried a 6mm black Marukyu JPZ pellet and first chuck I had a better roach which also signalled the appearance of a fair sized pike.
I ended the first hour with 20 fish and I'd become somewhat preoccupied trying to catch quality fish.and was a long way behind Rob already and I could also see Fieldy on the other side of the bridge swinging in small fish on a regular basis. I tried fishing two sections to hand but only had a few small roach so I stuck another on and started catching really well, small roach, dace and chublets but with the odd better 4oz roach in amongst them. I had 41 fish in the second hour and was starting to make a dent in Rob's early lead.
If it started to go quiet I'd add another section and get a few more fish but there were obviously several pike about as both me and Rob suffered several attacks during the day and I think they were pushing the roach around the peg a bit. I did hook a nice roach at 8.5 metres and a decent pike nailed it straight away, I had it on for ages and at one stage I thought I might actually land it but they don't like it when they're losing and it spat the roach out at the net!
Rob was still catching well, he was getting a lot of small fish but he also netted a nice perch around 1.5lb and was putting a good weight together. I just couldn't catch quality consistently and no matter where I put the rig, I'd get a bite and there must be one heck of a lot of fish at Hambridge at the moment. Among the roach I was getting the odd chunky little chublet, small dace and gudgeon and even had a tiny skimmer while Rob added a ruffe and a small trout to his mixed bag!
Just for a change I had no clue what sort of weight I had, I thought 160 fish would have to give me double figures, maybe as much as 15lb if they averaged an ounce and a half a piece but some of them were tiny. I spent most of the match fishing the shorter line as every time I hooked a fish in the middle that bloody pike would have a go at it! Rob had another good perch and was also ahead of me on numbers of but despite his protests that a lot of his fish were tiny gudgeon, I was having none of it!
With the light fading and about half an hour to go, I started getting some chunky roach and I ended up with 196 fish, we packed up and Rob reckoned I'd beaten him but as he had three perch that probably went the best part of 4lb between them, I knew I hadn't. We loaded the cars before walking back with the scales and Rob went first and plonked 15lb 4oz on the scales before it was my turn and my fish went 11lb 15oz and those perch had made all the difference.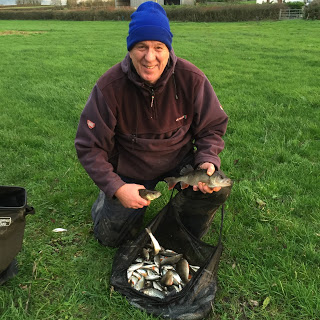 Rob had 15lb 4oz including some nice perch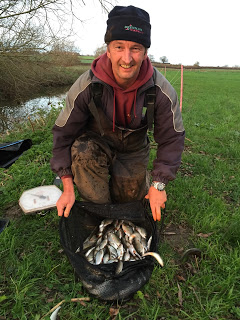 I had 11lb 15oz (and needed some perch!)
Back at the results and Fieldy had weighed 16lb 11oz from above the bridge to push me down into third place and there was still the other section to come back yet! Karl was above Graham and was unfortunate to lose two big chub. Harry was first back from Isle Brewers and said Justin had the top weight with 9lb 3oz from 125 so I'd hung on to third place and picked up £20 plus a pound off Steve P who had 7lb 10oz from peg 128 and was just behind Ashley with 7lb 14oz from 129 and Scotty did well to catch 7lb 11oz from peg 123. Harry caught 5lb 7oz from 124 and Bob didn't weigh in from Barney's Bend (126).
1 – Graham Field (Taunton) – 16lb 11oz
2 – Robin Cox (Ilminster) – 15lb 4oz
3 – Jamie Rich (Against Men and Fish) – 11lb 15oz
Sections
A – Justin Charles (Ilminster) – 9lb 3oz
B – Ashley Tomkins (Tackleuk) – 7lb 14oz
So after five matches and dropping the worst result, Fieldy leads with a perfect four point score followed by Rob and Justin who both have eight.
Next up – The River Isle
Coming soon – My SSP Baits review
Check Out – My last match (below)