Looking for a gift for the angler in your life? Check out these fantastic GABY fish pillows, something a little different and they are just gorgeous, equally at home on the sofa or in a fisherman's tackle den. They look really life like and the first time I saw one of the carp pillows in a classic 'catch' pose I had to look twice!
They are made in Poland to very exacting standards and are a quality product, the technical blurb is as follows,
These Gaby Fish Pillows are soft and colourful, produced from the best materials, are well-made and realistic in both colour and appearance. With a soft-touch finish and printed on both sides, these are made of polyester and are firmly stuffed with soft fibre-filler to keep their shape.
The fish are made from strong hardwearing polyester with a shiny gloss finish.
The pillows have undergone rigorous laboratory tests performed by SGS in the UK for compliance with applicable safety standards of toys EU safety standards (EN 71). CE tested for toy safety (ages 3 upwards).
Washable at 30 degrees / Not suitable for children under 3 years
They are available in a wide range of designs/species and come in several sizes, for the coarse fisherman there are pike (80cm and 110cm), common carp (64cm and 100cm), mirror carp (61cm and 100cm), wels catfish (115cm), zander (77cm) and tench (60cm).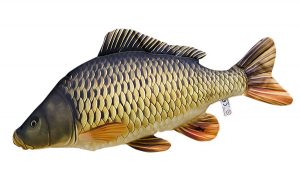 If sea fishing is your thing, there are flounder (45cm), sea bream (60cm), Atlantic mackerel (60cm), cod (75cm) and sea bass (70cm).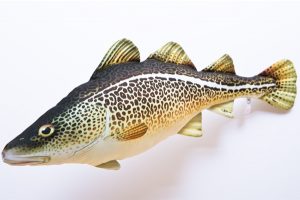 Big game lovers are also catered for with blue marlin (118cm) and Atlantic Bluefin tuna (65cm) and there are even rainbow trout (62cm), largemouth bass (67cm) and a killer whale (118cm) available! There are some tropical species like the regal tang (56cm) and emperor angel fish (56cm) which are bound to find some fans among fish keepers and kids can't fail to fall in love with some of the more colourful fish like koi carp (60cm), goldfish (45cm) and the ever popular clownfish (56cm).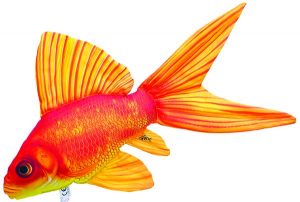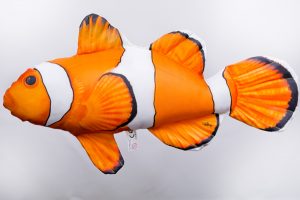 It really is a comprehensive range with something for everyone and if you're not 'hooked' by anything you've seen above, how about a starfish (55cm), seahorse (60cm) or choice of two different crabs! (60cm).
Prices range from £9.99 to £24.99 with free delivery in the UK, check them all out here
At the Big One show we visited the GABY stand and the fish pillows were hugely popular with kids and adults alike. They are incredibly tactile and the hardest decision you will have to make is which one to get, you think you've found the one for you but then you spot another equally gorgeous specimen, my personal favourites were the perch, tench and goldfish.
The range is expanding all the time and I'd love to see Siamese carp and I think an arapaima pillow would look stunning with the colours and similarly the Amazon redtail catfish but I'm not sure how realistic that idea would be due to it's 'whiskers'.