1993
I was by now fishing a lot of Chard matches and we used to fish the reservoir regularly where there had been an explosion of three to the pound skimmers and it was fantastic fishing with some big weights caught, Les Braunton broke the match record with 76lb 14oz on six metres of pole to hand. I managed fourth place that day with 39lb 2oz on the waggler.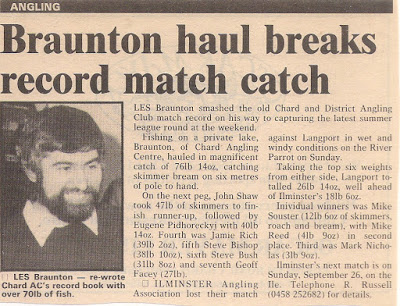 New Chard AC match record
We also fished Sadborow for the first time and a new lake at Howley which was set in the side of a hill and could be very wind affected but I absolutely loved the place, it was really intriguing fishing and evolved a lot over the years we fished it. In the early days, it was waggler fishing for small carp which we would catch fishing quite light and feeding pinkies, you literally had to cast as tight to the far bank as possible and bites would come on the drop so it was busy fishing and you were constantly casting out and feeding. If only we'd have had longer poles and pellets back then, we'd have taken the place apart!
I'd started work with the National Rivers Authority in 1991 and as you would expect there were quite a few keen anglers working in the fisheries team. There was a big annual Water Industry Coarse Angling Championship (WICAC) that was contested by all the different water companies and regions of the NRA plus other organisations and was hosted in a different region each year. It was a big match and when I found out about it, I was keen to try and get in the team.
My boss was also the captain of the team and used to organise a three day festival a few weeks before the WICAC and basically if you did well in the festival you were in the team! It was held on three very different venues, Shearwater lake, the King's Sedgemoor Drain (KSD) and the Bristol Avon. I'd fished and done okay on the KSD before but the other two venues were new to me.
First up was Shearwater and asking around, the main method was the groundbait feeder for skimmers and small carp that averaged a pound apiece. I drew on the lawn side and felt a bit out of my depth (literally!) when the guy on my right set up his box on a platform quite a way out whereas I only had my fibreglass seat box and little Octoplus legs. I only had my 10ft Daiwa Cavalier tip rod with a cage feeder and on the whistle cast out a modest way while my neighbour launched his to the horizon and when he had a small carp on his first chuck, I feared the worst.
Then I had one and by keeping it nice and tight I started catching well and had a really nice match catching 17 carp, 6 skimmers and a few bits for 29lb 7oz and third place on the day, a good start to the festival. The following day on the KSD saw me catch 4lb 2oz of roach and skimmers on the waggler which put me midway but it should have been so much better as I lost a tench and two big eels at the net which would have been enough to win.
The final day was on the Bristol Avon in Bath and it was quite an awkward venue to fish if I remember rightly as we were all quite high off the water and sat behind railings. I fished an insert waggler down the middle of the river, feeding maggots and hemp and caught small roach and the odd chublet steadily throughout the match to weigh 5lb 7oz which was enough for second place on the day. I finished third in the festival so not bad for my first attempt although I was left rueing those lost fish on day two. My boss said I was in the team for the WICAC in September so it was mission accomplished.
I started fishing some mid week opens at Shearwater and enjoyed a fair bit of success on a variety of methods, after practising before the first one, we stopped to watch Geoff Salisbury, who was fishing the feeder and catching carp and bream but he was also feeding hemp and caster heavily on the waggler line and as soon as he saw carp swirling, he switched to fishing the waggler shallow and bagged up so I filed that away for future reference.
In the first open I drew on the road bank just up from where we had watched Geoff and it was all going really well, I was catching small carp and some nice skimmers on the feeder while all the time feeding hemp and casters on the waggler line. I was neck and neck with the angler on the next peg and then I saw a swirl and it was time to play my trump card. I picked up the waggler rod, cast out, the float buried and a carp was on, it was all going to plan, or it would have been if the reel didn't still have the anti reverse on! Even though the carp were small, they still went like a rocket and I couldn't get the anti reverse off in time and it snapped me, I lost everything and went back on the feeder while I set up the waggler rod again. My neighbour took advantage of my schoolboy error and went on to beat me, I still framed with 16lb 10oz and picked up £50 but it was an opportunity missed.
In the next open I drew on the opposite bank and couldn't catch on the feeder but had a really nice day fishing light with the waggler and caught 17lb 9oz of skimmers, roach and a few carp to win the section. After the results we saw Ian Parsons and a mate bagging up on the dam wall, fishing the waggler shallow with loads of maggots, another nugget of info for another day.
Of course in the next match I pulled out a peg on the dam wall (my drawing arm worked better back then!) and I felt quite optimistic after watching Ian bag up the previous week. Nobody else on the dam seemed very happy about it though so perhaps they knew something I didn't! I set up a waggler and a feeder and for bait I had some Sensas Carp 3000 groundbait plus a pint each of casters, maggots and hemp.
On the whistle, all around me cast feeders out while I started on the waggler feeding casters and hemp, over the next hour, the guy on my right had two carp on the feeder while all I had to show for my efforts was a couple of little roach. I was just beginning to think I'd got it horribly wrong and was about to reach for the feeder rod when the float buried and I was into my first carp.
I carried on catching well and was comfortably ahead of those around me and I even heard the angler on my right say to someone that I had it sorted before switching to the waggler, he started catching as well but as long I carried on putting fish in the net I was in with a great chance of winning. I could see trouble ahead though, as I was running out of bait, I had to start rationing the amount I was feeding and it was affecting my catch rate. Another Chard bloke, Brian Moss, was a few pegs along and as he wasn't catching he packed up and let me have his casters with about an hour to go.
I upped the feed again but the damage had already been done and the fish had drifted off to my neighbours, by the final whistle it was going to be close between several of us. When the scales reached me I weighed 17lb 3oz which just beat the guy on my left but Ian Toulson on my right won the match with 21lb 6oz. I finished fourth and picked up £70 but it was an opportunity missed as along with running low on bait, I lost four carp as well.
Then it was up to Yorkshire to fish the WICAC on the River Ouse, we had a practice day and found the river quite high and coloured. I fished a maggot feeder with a big bow in the line to help it hold bottom and bites were normally drop backs, I had a nice day catching only my second ever barbel, albeit a small one of 2-3lb, plus a few eels and most of the team caught, mainly eels with Steve Waugh catching a nice bream and with more rain forecast we felt the maggot feeder would be the best method to get a few bites.
Then it was the main event itself and the team draw put me in a section where apparently, there was a good chance of a bonus fish. I got dropped off and it was quite a long walk to the river (I never owned a trolley back then either!) and my day got off to a bad start when the strap on my rod holdall broke and I ended up pulling it behind me like the world's laziest sausage dog! I finally got to the river and was faced with a raging brown torrent, it was on the verge of being unfishable but hopefully it would drop during the day.
I started on the maggot feeder but had to add extra lead and feed out a big bow of line to get it to hold bottom. I was fishing a fairly light hooklength (1.7lb Bayer Perlon) with a size 20 hook hoping to just get a bite but for a couple of hours it felt like I was going through the motions. I was getting the odd knock as debris coming down the river hit the line and every so often it would build up enough to dislodge the feeder and cause a drop back bite. I must admit I thought I was going to blank, odd bleak could be seen pimpling the surface and I tried running a float down through shallow but never had a bite although after the match it became apparent that the teams that had done well, targeted the bleak to ensure everybody in the team caught.
Yet another drop back and I struck expecting to see the line festooned in weed like a washing line again but this time there was solid resistance and then a big fish tore off downstream and I was convinced I'd hooked a barbel, wary of the small hook and light hooklength I played the fish with kid gloves and when it surfaced it was a decent bream! The trouble was I just couldn't get it near the net as every time it went broadside in the strong flow, it was carried downstream and I was just waiting for the hook to pull or line to break.
Finally it surfaced in the slacker water near the bank and I inched it towards the net, convinced disaster would strike at any second but everything held and it went in the net, I was shaking like a leaf. I never had another bite and at the weigh in, my single fish went 4lb 5oz which put me second in the section of twenty anglers. In hindsight (which is a wonderful thing), after landing that fish, I should have put on a big hook and heavier hooklength and sat it out with a lobworm for another big fish, perhaps even switched to the straight lead. I think it was a possible match winning peg that day.
I dragged my rod holdall back across the field and at the results, I'd actually finished sixth overall (they paid the top five!) but I still picked up £20 for second in the section. Another member of the team, Steve Waugh, also found a bonus bream, his was 5lb 1.5oz, to win the section and finish third overall. Along with a couple of mediocre results and two not so good ones, the team finished a respectable fifth (out of twenty teams).
Next up – Part 9 (1994).