Hi Matthew, thank so much for agreeing to answer my questions, I was going to say 'As I know you're a busy man' but you've just left 'The Wright Stuff' after 18 years, what are your plans now?
Well, I'm definitely going to do more fishing! Aside from earning a living broadcasting, I'm eyeing up a nice radio gig as we speak, I'm going to run assisted DIY bonefishing trips in Turks and Caicos.  I've been lucky enough to use my tv earnings to fish all over the place – I've a very understanding wife – and when I stumbled on this little island where you can pick up bonefish off the beach I decided to put down a few roots. You should come see for yourself one day. I've got kayaks and paddleboards, the idea being I can drop you at my favourite spots and let you go it alone or  I can wade with you, spotting if required.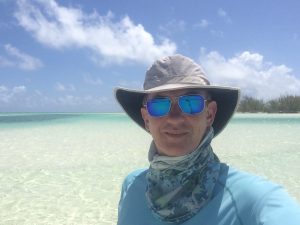 I watched the show fairly regularly and you certainly don't shy away from being controversial, have you ever discussed the whole 'Fishing is cruel' subject?
Nature is cruel but sadly there are a growing number off people out there who've completely lost perspective, making sensible debate on this issue all but impossible.
What do you put the long running success of the show down to?
Until the last six months I used to love getting up at ridiculous o'clock to prepare the show. I think my genuine enthusiasm or loathing for the issues we tackled came through and viewers appreciated my honesty.  I had no budget to speak of, no resources like PRs or news teams to fall back on like, say, Victoria Derbyshire and yet we used to get three times the audience using nothing more than our wits. No wonder I feel knackered now I'm done!
If any of the readers fancied a career in television, what advice would you give them?
Work hard and be careful who you trust!
Can you tell us how you got into fishing and what was your first fish?
Sitting on the front of a sailing boat on the Norfolk Broads in 1973. I was eight years old and caught 14 fish that holiday on a little all-in-one fishing kit my dad bought me at Potter Heigham. My first catch on that trip was an eel
You're a keen fly fisherman but have you ever tried other types of fishing and if not, do any take your fancy?
I've tried most kinds of fishing, even beach casting for cod (never again – I've never been so cold or defeatist!) and I used to love taking carp off the top or freelining right up against the bank. Float-fishing for tench too. But I've become preoccupied with fly fishing for the last 20 years or so.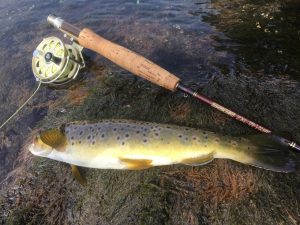 It must be quite a welcome contrast from the hustle and bustle of being a tv celebrity to being beside an idyllic chalk stream, do you get bothered much on the bank?
I rarely see a soul! I'm quite well known in the trout world as I'm vice president of the Wild Trout Trust and president of Amwell Magna fishing club and do a bit of speaking and the like to fishing clubs but on the river I'm just another angler. I'm keen on camping out next to rivers, particularly in Wales where I can go days without seeing a soul.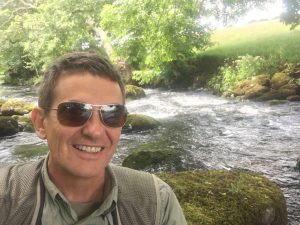 Have you got any high profile celebrity fishing buddies?
No tv celebrity fishing buddies although Marco Pierre White and I have been talking about going pike fishing for nigh on 20 years now and we've yet to wet a line! Dave Brock, frontman with Hawkwind, has threatened to come with me a couple of times. He recorded some of the band's biggest albums in a studio on the banks of the Monnow in Wales and used to have a dabble when he got a chance. I'm still waiting for the call from Paul Whitehouse, I've taken over from Jeremy Paxman as president of the Amwell Magna Fishing Club and met him a few times. My most famous fishing buddies I suppose come from the angling world: Jon Beer, a good friend and star writer for Trout and Salmon magazine, and I've been out a few times with rod builder Luke Bannister too.
Fishing has never really taken off on tv despite reportedly being the highest participation sport/hobby in the UK, what are your thoughts on it and are there any fishing shows you enjoy?
Not sure that's entirely true: the late Jack Hargreaves would certainly take you to task for that! Robson Green has done good business for Channel Five and don't even get me started on the awesome A Passion for Angling series with Chris Yates and Bob James. I'm a big fan of Cyril Chauquet's globe-trotting tv work, likewise Jeremy Wade and I'd love to take part in that show where rival anglers had to live on what they caught up in Scotland. It was on Discovery a few years back.
Have you ever fancied fronting a tv show or have you ever been approached, maybe this could be your next project?
I've been trying to get something off the ground, a bonefishing show for a while now. It's been tricky getting the filming right due to all manner of technical problems. On two occasions where we've been all set to record, tropical storms have swept in and scuppered everything, two very costly failures. I've got a bit more time on my hands now so might have another go…!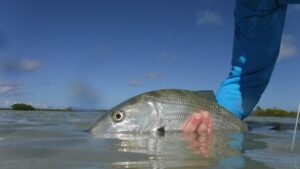 Have you ever done any fishing abroad? Are there any places you'd like to fish?
As mentioned earlier, I've been very lucky to have a tv presenter's income for the past of 20 years which I've invested in all manner of adventures from New Zealand to Honduras, taking in India, Bhutan, Nepal, South Africa, North Africa, Slovenia, Ireland, Canada, Mexico and Cuba along the way. My favourite place though is still the Usk on a late summer evening.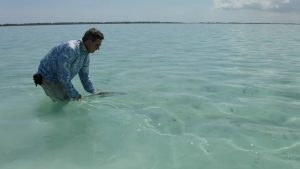 Have you any angling heroes or anyone who has inspired you?
I've been inspired by a great many people along the way. Dick Walker's columns in the Angling Times to Matt Hayes on TV. I'm currently enthralled by Peter Hayes and his book Flyfishing Outside The Box which encourages us trout fishers to do just that. He turns many conventions on their head in a most persuasive fashion.
What's your biggest fish in the UK? And abroad?
Who cares how big a fish is?  I've had bonefish approaching the world record but Mrs Wright has house honours for trout, a wild brown close to 4lb from the Usk.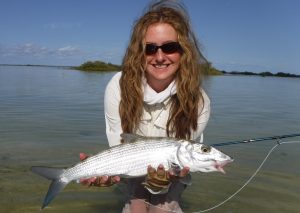 Have you got one piece of advice that will help the readers put more fish on the bank?
You make you're own luck. The more you put in to your angling, the more you'll get back.
Apart from fly fishing, have you got any other hobbies?
I'm really into vintage motorbikes maintaining and restoring as much as riding.
Have you ever tried tying your own flies?
I'm self-taught but do a fairly decent Crazy Charlie. I'd rather tie bonefish flies than trout flies as I tend to lose more of the latter….!
Well thank you for giving up your time but before I let you go, here's a few more quick-fire questions,
What's your favourite drink?
Wine. No, whisky. No, wine! No, whisky, repeat until semi-conscious.
Favourite meal?
A pork pie while wading.
Do you support a football team?
Crystal Palace. I used to coarse fish the lake near Selhurst Park as a kid.
Favourite film?
Usual Suspects
TV show?
The Simpsons
What music do you listen to?
Currently enjoying Steely Dan and the Grateful Dead (1977 Cornell if you're an enthusiastic Dead Head like me)
What's your idea of a perfect day?
My perfect day would involve waking to the Dead, pootling down to the river on my 1952 Panther rigid and then fishing a cane rod, silk line and hand-tied fly. Nice and simple like.
Many thanks again Matthew, from Against Men and Fish
*All photos courtesy of Matthew Wright