It was the last league match this week and I was standing in for Yardie, we all knew which pegs we'd be on and my home for the day would be peg 16. Not my favourite area if I'm honest although Picky had done well off it in the last match. After another excellent Millfield café brekkie, we all headed out the pond, it was already shaping up to be a really hot day and it looked like summer had finally arrived. As for the league, the Tart had won it with a match to spare and I was a little disappointed that he hadn't turned up in the crown and cape he'd promised us!
I got to my peg and for company I had Shane on peg 15 and there was nobody in peg 17 which is always a bit of a bonus, Mark G was on 18 and The Hoff, Smithy and Bish were opposite on pegs 4, 5 and 6 so some good banter was guaranteed! I set up my trusty inline dibber to fish 6mm banded pellet at 11.5 metres, a Drennan 0.4 gram Carp 1 for the 5 metre meat line plus a little hand made float for the inside on my left at top two plus two. On the side tray I had live and dead red maggots, 6mm meat and Bait-Tech Carp and Coarse 6mm pellets, I also mixed up some groundbait for the margin line.
On the whistle I cupped in some meat at 5 metres and then two pots of loose groundbait up the edge before shipping out the shallow rig with a 6mm banded pellet. I barely had time to fire some pellets out when the float buried, I lifted the rig and a fish bow waved off! I dropped the rig in again and away it went, this time I connected with the fish and safely netted a nice common, what a start!
Shane was fishing a feeder up the edge to his right and he was into a fish straight away and then added a second and a third in quick succession! I had my second carp and looking up the pond, I could see Bushy on 7, the Tart on peg 9 and Dunner in peg 10 all playing fish. Before the first hour came to an end, I had my third carp and it was neck and neck between me and Shane.
If the first hour had been really good, the second hour was anything but, there were plenty of carp swimming about but they didn't want to know. After such a good start I didn't have anything in the second hour and Shane was stuck on three carp as well. Smithy hooked a carp that led him a merry dance and went round every lily it could find but fair play to him as he landed it safely, Hoff had a nice skimmer but Les, Chilly and Butch were struggling. Bushy was getting the odd fish from his margins and was just ahead with four and the Tart and Dunner were on a similar number. Apparently Picky on peg 12 was getting some lumps and he was on a golden peg as well.
It was now really hot, (prompting the Hoff to take his shirt off which wasn't a pretty sight) and there were carp everywhere but they were playing hard to get, finally one slipped up and after a lengthy battle I slipped the net under a lovely 8lb plus fish. Commander Smith and Bish started getting the odd fish shallow and I could see the Tart testing how strong his footplate was, I guess that's what he was doing stood up on it! I managed to stalk a couple more carp and pulled out of one as well.
I'd seen Butch land a couple of carp and apparently Oz on 19 was getting a few now, Captain Smith was starting to catch from his inside lines and Bish had landed a couple more fish. I'd been feeding meat regularly on the five metre line and also cupping in the odd pot of loose groundbait up the edge. With around two hours to go, I could see quite a few bubbles coming up over the meat line so it was time to try it for the first time. I lowered the rig in and toss potted some meat over the top, after a few minutes, the float slid along the surface and I struck into thin air!
Next put in, after a few minutes, the float went again and this time I connected with it, initially I thought it was a good skimmer but it woke up and a brief scrap followed before I netted a chunky mirror to put me on seven carp. I missed a good bite next chuck and was starting to think there might be a few fish there. Typically the float then just sat there and it was black with carp on the long line now the pole wasn't waving over their heads.
I quickly tried up the edge but never had a sniff so it was back out shallow doing a bit of stalking, the Tart netted a decent eel and I heard him say that Picky had landed a couple of 'Barney Rubbles' (double figure carp) but it's well known the Tart can be way off with his estimates and can't even lie straight in bed! I mugged another decent carp but Smithy had now gone ahead on numbers of fish and Chilly was catching well from his inside lines. Shane had two more carp on the feeder, but from the middle this time to put him on five fish.
I had another to put me on nine fish and with around half an hour left, I had another go up the edge but still no indications and I spent the last ten minutes back out shallow but didn't add anymore to my tally. Les blew the whistle to signal the all out and the Tart shouted down to ask how many I had and said he'd had eleven and with Smithy on ten, me on nine and Chilly, Bushy, Picky and Oz all on eight, this could be rather close.
After loading our cars, the scales arrived at peg 1 to start the weigh in, Butch weighed 14lb 6oz and then Chilly had 36lb from peg 2, Les didn't weigh and the Hoff had 16lb 14oz. Then we got to Smithy on peg 5 and while he was weighing in, we tucked into his cakes, this week he'd brought on  a fine selection including some delicious coconut macaroons. He weighed 44lb 4oz and I was pretty sure I didn't have that, I thought I might have around 40-42lb (three fish for 18lb and six averaging 4lb apiece).
Bish had six for 28lb from peg 6 and Bushy's eight carp went 33lb 14oz, Howard had 10lb 4oz from peg 8 and then it was the Tart's turn, he was still saying he only had 40lb and his carp were 'squeakers', his eleven carp and an eel went 47lb odd and a decent skimmer gave him a total of 50lb 2oz. Dunner had five carp for 20lb from peg 10 before the scales headed round the other side of the pond.
Mike Collins on peg 11 had 17lb before Picky put some lumps on the scales to weigh 43lb 14oz and go into third place. Rich Collins had done well on peg 14, catching shallow to weigh 31lb 12oz and then Shane had five carp for 20lb 2oz. I was next and I hoped I had enough to sneak into the frame, it was close (check out the video clip on the Facebook page) and Les called it 45lb 2oz and I'd gone into second place. Les then gave my hat it's annual wash by chucking it in the pond!
Mark G weighed 18lb from peg 18 and then Oz had 27lb from peg 19, last but not least was Exeter Mike who had 20lb 12oz from peg 20.
Back at the results, Picky was fourth, Smithy third, I was second and had a nice pick up of £85 and the Tart won to finish off the league in style.
1 – Brendon Ions (Tackle Trader) – 50lb 2oz
2 – Jamie Rich (Against Men and Fish) – 45lb 2oz
3 – Mike Smith (Torquay) – 44lb 4oz
4 – Alan Gage (Chard) – 43lb 14oz
Sections
A – Andy Winter (Chard) – 36lb
B – Steve Bush (Chard) – 33lb 14oz
C – Rich Collins (Chard) – 31lb 12oz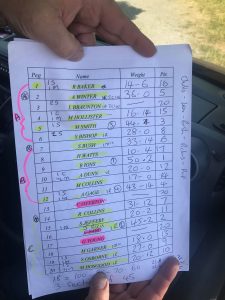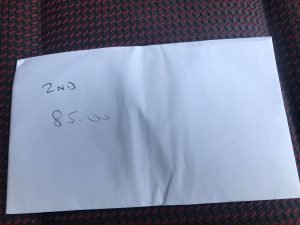 Then Les read out the final league standings, Dunner was fifth, Picky fourth (and my blank cost him a place – sorry again mate!), Smithy was third, Bushy second and the Tart was the champion. Fair play to him for winning it with a round to go, he won two of the matches and framed seven times on his way to victory.
1 – Brendon Ions – 39 pts
2 – Steve Bush – 64 pts
3 – Mike Smith – 77 pts
4 – Alan Gage – 82 pts
5 – Alan Dunn – 92 pts
The club would like to say a huge thanks to Les for running another great league and to the anglers for making it so enjoyable and of course massive thanks also to Commander Smith for bringing the bait every week and supplying the cakes!
I fished six of the matches and didn't do too badly, I had a win, two seconds and a third plus a mediocre result and of course that blank (sorry Picky!). On the side bet front it was 3-3 with the Tart although overall the score this year is now 6-4 in his favour (he's already text to remind me I forgot to pay him today!).
Next weekend I've got a double header with Todber on the Saturday and then Summerhayes on Sunday.
Next up – Todber Manor
Coming soon – A great interview that's a little bit different
Check Out – My last match (below)