I'd really enjoyed the last two matches here so booked in for this weeks open on Longs. A quick stop at the Little Thief and then I was on my way. I pulled into the carpark and as well as all the regulars, it was great to see Phil 'Digger' Denslow who I haven't seen for yonks! I got a couple of nets paid my pools and had a coffee before Pete announced the draw, I had the last ball in the bucket and was slightly disappointed when I saw I was on peg 10, Mark Leahy cheered me up a bit when he said he'd had some big skimmers the last time he was on it fishing for carp.
My neighbours for the day were Glynn Wickham on 12 and he wanted a pound sidebet and Dan Squires was the next peg on my right on 7, so loads of room. Gareth Lennox had drawn the golden peg which was 34. I set up a 0.3 gram NG Mini Gimp for the top two lines straight out, left and right and a 10 x 11 MW F1 Slim for the five metre line and three ten metre lines. On the side tray I had 2mm Bait-Tech Carp and Coarse Pellets, 4mm Xpands, Special G Gold soft hooker pellets and I mixed up some of The Juice groundbait.
On the whistle I cupped in a ball of groundbait at top two straight out and then some micros left and right, on the longer lines I put in two balls on the right, micros straight out and then some micros at ten metres in front of the empty pallet on my left but out around the same distance as my short line. I decided to not feed the five metre line until shortly before I fished it. I started on the short left hand line with a 4mm expander but after ten minutes I hadn't had a touch so I switched to the right hand side with the same result.
Next up was the short groundbait line and I finally started getting some indications, I missed two bites before catching a 6oz skimbob to get off the mark, I added a couple of small roach and two more skimmers to put me on 1.5lb after an hour, not bagging but steady. The second hour got off to a literally flying start with two leaping skimmers around 12oz-1lb apiece, a smaller one and a couple more bits and with 4lb in the net I was beginning to think I could be in for a really good day. It was all going rather well and although I'd briefly foulhooked a couple of carp, with over an hour and a half gone, I hadn't landed one.
I should have known better as the next fish was a carp which led me a merry dance and stirred up my inside line and I never had another skimmer in the remaining fifteen minutes of the second hour. Dan was catching carp well and looking to be on for another good weight but I couldn't really see how anybody else was doing. A slow start to the third hour had me thinking it was time to try the longer lines but then I've had a really good run of five skimmers and was up to 9lb by the halfway point.
Three more skimmers put me on 12lb and then Adie appeared behind me, he said Glynn was catching well and admitting to 8-10lb and he had another good skimmer while Adie was talking to me, I said I probably had double figures and he left us to it. I was getting the skimmers in twos and threes before it would go quiet and the odd carp wasn't helping matters. I netted a 6oz skimmer but was busting for the loo, so stopped to answer the call of nature and when I finished I asked Glynn how he was doing and he said he had around 15lb so there wasn't much between us.
I sat back on my box and first chuck the float buried and a big fish powered off, I initially thought carp but then it stopped and a big 2lb+ skimmer flew out the water and shed the hook – bugger! I really could have done with that fish, next put in I had one about a pound and then a smaller one and the short rest had done it some good (in hindsight I should have fed a top two plus one line and alternated, nicking a couple of fish off each line).
I had a couple more skimmers and some roach and was on about 15lb with an hour to go, but then the carp moved in with a vengeance so I fed some micros on the five metre line and would try it after ten minutes. After another carp on the short line, I went over my new line where there were some blows coming up, the float settled before disappearing and the strike saw a carp tear off before the hook pulled and the rig was tangled round the top of the pole. I sorted it out but the next put in, the same thing happened, this carp led me a merry dance and wrapped me round some reeds, I netted it but snapped the hooklength and that was enough of that.
Back on the top two and I tried a Special G Gold soft hooker, after a short wait, the red tipped float sunk from view and a decent fish moved off and another good skimmer about 1.5lb leapt out of the water, this one stayed on and there were still five minutes left, no more indications and the all out was called. I had 21 skimmers plus a few bits and by my reckoning I had 16.5lb, which hopefully would be a bit more as I tend to be a little conservative with my estimates!
Glynn said he thought he had 20lb and it should have been more as he lost nine 'leapers', I didn't think I had that. As I took my kit back to the car, Chris on peg 1 said he'd had a really nice day and might be close to Glynn's weight so although I'd had a lovely days fishing, it was looking like there would be no envelope this week.
I caught up with the scales just as they reached Glynn, looking at the board, Gareth was the top weight so far with 121lb and looking like he'd take the golden ball fund as well. Roger was leading the silvers with 6lb 6oz from peg 27. Glynn pulled his net out and weighed 21lb 5oz, a lovely days fishing, then it was my turn and for once I was quite close with my guesstimate (I must be slipping!) as I weighed 17lb 5oz and had to pay him a nugget.
Dan had 112lb 3oz of carp to go into second place overall and that just left Chris, he had a nice net of silvers too and wasn't far off, weighing 19lb 11oz. Back at the results, Gareth was called out as the winner, followed by Dan and then Jim Jenner with 77lb from peg 31. Glynn and Chris were first and second in silvers.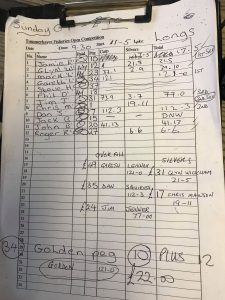 1 – Gareth Lennox (Frenzee) – 121lb
2 – Dan Squire (Summerhayes) – 112lb 3oz
3 – Jim Jenner (Summerhayes) – 77lb
Silvers
1 – Glynn Wickham (Summerhayes) – 21lb 5oz
2 – Chris Mawson (Summerhayes) – 19lb 11oz
Some really good silvers weights today, I should have done better really, I lost that good leaper, missed quite a few bites and never even tried my ten metre lines! Like I said earlier I should have fed a top two plus one line and swapped between the two as resting the top two line definitely helped. Also I had more bites when there was a bit of ripple on it so maybe they backed off when it went calm or perhaps the carp pushed them out, all food for thought.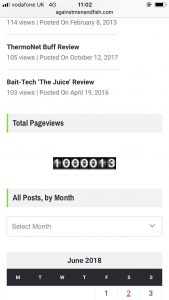 In other news, the blog flew past one million hits today (if only I had a pound for each one!), so a massive thanks for all your support, as always I love to hear your feedback and see photos of your catches, get in touch via the contact form. I've got loads of great content coming up and another fantastic competition soon so please keep checking back.
Next up – Perry St
Coming soon – Loads of great content coming up
Check Out – My last match (below)