A rare double-header for me this weekend, kicking off with Todber today, after two brilliant days fishing on my first couple of visits, I'd been itching to getting back to this excellent fishery again. I met Scotty and Ben Simmonds for breakfast at Cartgate before making our way there. As we pulled into the car park, it was pretty packed with another good turn out, including none other than the superstar that is Des Shipp who's been enjoying a rich vein of form at the venue with numerous open wins and a festival victory.
The draw was announced and I was towards the back of the queue along with Scott and Ash, Des only went and pulled out peg 48 on Hill View where I was the last time and everyone was predicting yet another victory for the England man. With only a few pegs left in the hat, I pulled one out and opened the ticket to see the number 60 on Hill View staring back at me, I showed Ash who said it was one of the best feeder pegs on the lake! Those that know me will be chuckling right now as I haven't used a feeder for a long time and quite a few people don't think I own a reel, let alone know how to use one! Ash had drawn peg 53 on Hill View, Scotty was on Homeground 79 and Ben was next to Des so no pressure there then!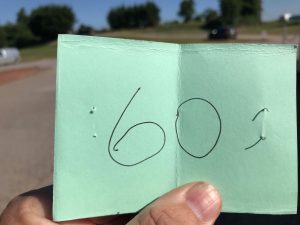 Parking behind my peg, there was a nice ripple and I really fancied I'd catch shallow especially as there were loads of fish rolling and moving about. The usual rigs were assembled, an inline dibber to fish 6mm banded pellet at 11.5 metres, a Drennan 0.4 gram Carp 1 for a top two plus two meat line and a little hand made float for fishing the same distance but angled to my left. My side tray was nice and simple with 6mm Bait-Tech Carp and Coarse pellets, micros, meat and some corn.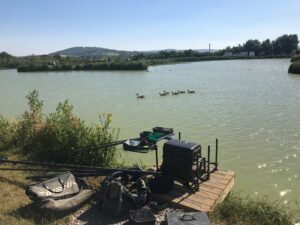 On the whistle, I fed the meat line and then put in some micros and corn to the left before starting shallow and firing out a few pellets while lifting and dropping the rig. I fully expected to catch quite quickly but after 15 minutes I hadn't had a bite! To be fair, it looked like it was a slow start for everyone around me, Adrian Dew on my right only had one carp and Jim Butcher and Pete Neate on my left had only had a couple of fish on the paste, even Des wasn't bagging over on peg 48.
I came in on the meat line and started getting bites but only from tiny little tench and a couple of 4oz skimmers, so I tried a 6mm banded pellet on the hook and feeding a few 6mm's along with the meat, this worked to a certain extent and I had a few carp but it certainly wasn't fast and furious. I was still feeding the shallow line and had another go but still no bites and I was scratching my head. Pete and Jim were now getting a few more fish but they were still struggling to my right and somebody shouted across to ask Chris Davis on peg 34 (next to Adrian) how he was doing and he replied saying he only had four carp.
As the halfway point approached, the guys on my left were catching well and every time I looked over, Des and Martin Rogers behind him were netting fish. I'd been feeding the micros and corn line regularly and was going to try it for the first time but went out shallow for another go. I fired out a few pellets, the float buried and elastic streamed from the pole tip, this was more like it! I shipped back gently only for the hook to pull out at the net! Next chuck I hooked another but straight away I knew it was foulhooked and a big ghostie flew out the water, I had it on for ages and started to think I had a chance of landing it but of course the hook pulled out of that one as well.
The next one was foulhooked too but I safely landed it and shallowed up a few inches, this helped and I started to catch quite well although I felt I was a long way behind the two guys on my left and the anglers to my right were getting some lumps down the edge. I started missing loads of bites which I think were probably carassio, a couple of lost fish wasn't helping my cause much either and I felt like I was just going through the motions.
With about an hour and a quarter to go, I decided to try the other short line for the first time and it was solid! I had a lovely 3lb+ tench, three good skimmers plus some small tench and skimbobs and five carp and didn't want the match to end, in the last five minutes, I lost a decent skimmer, then pulled out of a big fish before landing a leaping pound skimbob on the whistle. My final tally was 28 carp plus my silvers and I was left wishing I'd tried that line an hour earlier as I reckoned I could have put a good net of silvers together.
It really is a slick operation at Todber, no sooner had the all out been sounded, John and his team were starting the weigh in, the scales reached me and my carp went 47lb 8oz and then my silvers weighed 15lb to give me a total of 62lb 8oz which was still a nice days fishing. Martin Rogers had the top weight on the lake with 161lb 8oz with Des second with 154lb although apparently he'd gone over in one of his nets by 10lb!
Back at the results and the top three weights all came from Homeground with James Knight leading the way with 189lb 6oz from peg 80, the top four silvers weights also came from there with Nicky Collins weighing 44lb 14oz from peg 84. Scotty came fourth in the silvers with 21lb 6oz from peg 79 and the top silvers weight on Hill View was 19lb 14oz so I wasn't actually too far away and should have fished my corn and micros line earlier.
Looking at the weigh sheets I hadn't disgraced myself as the pegs either side of me weighed 62lb 10oz and 58lb (and I thought they'd battered me!) and from pegs 54 to 61 and 34 to 47, the top weight was 96lb 2oz with the only 100lb+ weights on our lake coming from the pegs on the spit.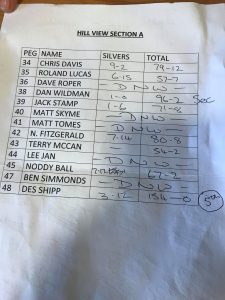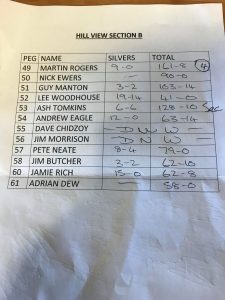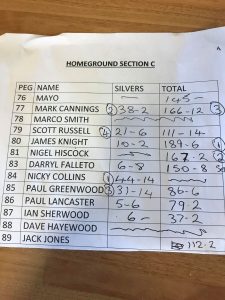 1 – James Knight (Todber) – 189lb 6oz
2 – Nigel Hiscock (Todber) – 167lb 2oz
3 – Mark Cannings (Todber) – 166lb 12oz
4 – Martin Rogers (Todber) – 161lb 8oz
5 – Des Shipp (Preston Innovations) – 154lb
Silvers
1 – Nicky Collins (Todber) – 44lb 14oz
2 – Mark Cannings (Todber) – 38lb 2oz
3 – Paul Greenwood (Todber) – 31lb 14oz
4 – Scott Russell (Tackleuk) – 21lb 6oz
Sections
Hill View A – Dan Wildman (Todber) – 96lb 2oz
Hill View B – Ashley Tomkins (Tackleuk) – 128lb 10oz
Homeground C – Darryl Falleto (Todber) – 150lb 8oz
What an incredible venue and I can't wait to come back for another go, I'm going to aim to fish it at least once a month.
*Photos courtesy of Todber Manor
Next up – Summerhayes
Coming soon – Loads more great content
Check Out – My latest interview with tv star Matthew Wright (below)