I was at Summerhayes for the second match of the weekend and we were on Sellicks this week. As well as some of the regulars it was brilliant to see Paul Homewood who I hadn't seen for ages, Ben Simmonds was also fishing again after winning on his first visit from peg 23 a few weeks back. Pete announced the draw and I pulled out peg 9 which was also a golden ball although it was only worth £8. The next angler on my left was Paul on peg 12 with Mark Leahy and Ben on my right on pegs 6 and 4 respectively.
It was hot and quite humid and there were loads of carp swimming about. I set up a 0.3 gram NG Mini Gimp to fish top two on my right and at top two plus one straight out and a 0.6 gram Malman Pencil for three ten metre lines, to the right and straight out which I would feed with micros and then at the same distance to my left but down the middle which would receive two balls of groundbait. As always my side tray was nice and simple, Bait-Tech 2mm Carp and Coarse micros that I'd soaked the night before plus 4mm Xpands for the hook, I also mixed up some Bait-Tech 'The Juice' and F1, two of my favourite groundbaits for commercials.
On the whistle I fed all five lines before starting on the top two line, there were quite a few small bubbles coming up which I didn't think were carp. After five minutes, a really good bite resulted in a small carp tearing off which rather knocked my theory into a cocked hat! Next put in the float sailed away and the strike was met with solid resistance, this fish wasn't doing much and I felt sure it was a skimmer but then a small carp came up, hooked in the wing! A third carp followed in quick succession and that was enough of that!
Next up was the ten metre micros line and I've had a couple of indications before swinging in a 2oz skimmer to open my silvers account, next chuck I had a decent skimmer of 8oz but then I foulhooked a carp briefly and it was already obvious they were going to be a problem as they were coming up for floating debris and several times the float has gone sideways as one has swum into the line. By swapping between the two lines I'd fed with micros, I added another three skimmers between 6-8oz to finish a fairly busy first hour with five skimmers for 1.5lb and three carp.
At the start of the second hour I've hooked a decent fish which I just knew wasn't a carp and a lovely little crucian around the pound mark popped up and I netted it safely. I had a couple of blades and another decent skimmer and although I wasn't bagging, my silvers catch rate was chugging along nicely. I was swapping between the three longer lines but a couple of tries over the groundbait only resulted in carp. Paul, Mark and Ben were all catching carp well and it was looking like there were going to be some good weights.
I was dripping in some micros on the two shorter lines and as per usual wanted to leave the top two plus one line as long as possible before trying it. There were quite a few small bubbles coming up on the top two line and they didn't look very carpy unlike the three longer lines which were all fizzing like jacuzzi's. The third hour was a bit of a struggle and in amongst hooking carp, I only managed a few blades, it started to rain quite heavily too and I had to put on my waterproofs.
With half the match gone, I had around 3.5lb of silvers and I was off the pace as normally 10-12lb is needed to win the silvers on this lake. I tried the top two line and had several carp but did have a nice little 8oz tench, a decent skimmer and a blade to add another pound or so to my total. I was dying to go on the top two plus one line which I'd been priming all match so with two hours to go went on it for the first time. After a short wait, a lovely positive bite resulted in yet another carp making a bid for freedom.
My next fish was a decent skimmer that flew out the water followed by a blade and then another decent leaper before the carp moved in again. With carp now blowing on all five of my lines, I tried fishing away from the bubbles but only had the odd blade and there were carp just everywhere. I did manage another nice little tench from the top two plus one line and had a couple of blades from the ten metre groundbait line, including one right on the whistle. My final tally was 26 silvers (2 tench, 1 crucian, 8 decent skimmers and 15 blades) which I thought might go 6-7lb but I didn't think it would be enough today.
The scales started with Ben who had caught really well fishing shallow again and weighed 109lb 7oz, his peg did look a bit like a battle zone though with a broken top kit and a snapped landing net pole strewn around! Mark didn't weigh on peg 6 and had also suffered some problems with angry carp as he had a box full of mangled rigs! Then it was my turn and my dozen or so nuisance carp went 36lb 8oz and my silvers went a level 8lb.
Paul had 91lb 15oz on peg 12, Roy weighed 2lb 2oz of silvers and 79lb 2oz of carp and then Dave Romain on 16 had 93lb 6oz, Vic on peg 21 had 39lb 11oz of carp and 5lb 10oz of silvers and then Jim Jenner on 23 weighed 98lb 11oz for second spot. So I won the silvers and picked up £32 plus £8 for the golden peg.
1 – Ben Simmons (Summerhayes) – 109lb 7oz
2 – Jim Jenner (Summerhayes) – 98lb 11oz
Silvers
1 – Jamie Rich (Against Men and Fish) – 8lb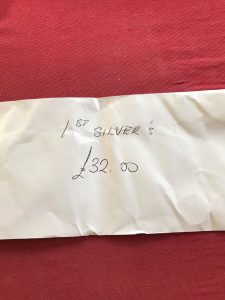 I do enjoy fishing Sellicks, despite the rather modest silvers weights and it's fished really well for carp with four weights over 90lb.
*Photo courtesy of Ben Simmonds
Next up – Summerhayes
Coming soon – My next trip down memory lane
Check Out – My last match at Todber Manor (below)