It was back on Sellicks this week and I was really looking forward to it, that was until my phone alerted me that I had a text message and when I looked, I saw the name that everybody dreads appear on the screen, The Torquay Tart was informing me he was fishing and bringing some of his 'disciples' (his words) with him.
After breakfast, I arrived in good time and as I pulled into the car park, it was already really busy as there was a club match on Longs as well. One of the first people I saw was the Tart and I paid him the pound I owed from the last Perry St match, his disciples today were Geoff (in his favourite peach top!), Glen, Jack and Jay Jay, Exeter Mike was also in attendance as was Nick Chedzoy who I hadn't seen for ages. Along with several regulars, there was a decent turnout of fourteen anglers fishing our match.
Pete announced the draw and I ended up with the last ball in the bucket which turned out to be peg 15, the same number as last week and much like the last match, it's a good carp peg! It can do decent weights of silvers but I'd rather have been on pegs 17-21 on the straight. I did ask the Tart if he wanted a pound on our respective positions in silvers and carp but he declined as more people fish for carp so the odds would be stacked in my favour, not as daft as he looks that boy!
I got to my peg and there was quite a thick scum on the surface and I could see loads of carp swimming about underneath which was a tad worrying! I had an empty peg to my left and then Gareth was on 17, on the other side of me was Jack on 14 with Glynn on 13 and the Tart on 12 although thankfully my view of him was obscured by a little island. He must have been feeling confident though as he had a change of heart and wanted to accept the side bet.
With the prolonged hot spell, the lake was a good foot and a half down and you could see plumes of silt coming up where carp were feeding in the edges. I set up a 0.3 gram NG Mini Gimp to fish top two left, right and straight out and also at top two plus one straight out. For the two ten metre lines I set up one of Smithy's wire stemmed floats.
On my side tray I had Bait-Tech 2mm Carp and Coarse micros that I'd soaked the night before plus 4mm Xpands for the hook with a pot of Special G Gold soft pellets as a change bait. I'd also mixed up some Bait-Tech 'The Juice' groundbait the night before. I was ready with plenty of time to spare so went up to annoy the Tart for twenty minutes.
I headed back with a couple of minutes to go and on the whistle I cupped in micros left and right, a ball of groundbait straight out and then micros at ten metres to the right and two balls of groundbait angled to the left before starting on the right hand short line. I was getting the odd indication and then missed a good bite before catching a 2oz skimmer to get off the mark. The next fish I hooked didn't feel like a carp and I would have put a sizeable wager on it being a small tench or crucian but I was gutted when an 8oz carp popped up!
I foulhooked a carp which wasn't on long and there were loads of carpy looking bubbles coming up so it was time for a change and I went in on the left hand line where a very similar sequence of events followed, I had a another little skimmer and then hooked a fish that I wasn't sure about and this time a mirror carp of a pound was the culprit. Next stop was the middle short line and you guessed it!, a little skimbob was first and then a fish jagged about the peg but this time it was a tench of around 8-10oz.
Roger Russell turned up for a walk round and said Glynn had caught a decent skimmer and a few bits while he was there so he was doing okay. I had a good bite which I missed but then connected with a fish halfway up and a foulhooked carp took off, I had it on for ages and Rog soon got bored watching me and went to see how the rest were doing. I eventually netted a decent carp hooked in the rudder but by now the first hour was up and although I wasn't bagging, I probably had a pound of silvers which wasn't too far off the pace as I thought, much like the last match on Sellicks, 8lb would be enough today.
I went out over the ten metre micros line and started getting bites but missed several on the trot which I think were either liners or small fish, I tried to avoid striking at the bites where the float went sideways but quite a few times I've struck at what looked like a proper bite, only for a carp to bow wave off. After foul hooking another carp, I switched to the groundbait line and caught a 6oz skimmer straight away but then the swim erupted with bubbles so I went back over the micros. After a few minutes, the float lifted and I didn't want to strike in case it was a liner but then it slid along the surface before submerging, I lifted into it and there was a satisfying thump, thump of a decent skimmer and then it was off and there was slime all up the line – gutted.
I did manage one of 8oz which came on the drop plus a blade to put me on 2lb after two hours, Glynn asked how I was doing and I said struggling, he said he had 2.5lb tops so if he was telling the truth (unlikely!), there wasn't much between us. I was feeding a few micros on the top two plus one line every time I shipped out but would leave it for at least four hours before trying it. The third hour I spent most the time hooking (and losing) foulhooked carp and they were being a real pain. Jack was catching quite well as was Gareth but they both suffered a few losses as well.
I even tried starting a new line at ten metres but it wasn't long before the carp were there as well and with the pond being so low, you could see tail patterns when they arrived. I came back in on the short lines but apart from a couple of small skimbobs, it was hard going. It was really hot as well and at times, you could barely touch the pole and I was looking forward to my frozen bottle of blackcurrant that I had in a cool bag.
With around two hours to go, it was time to try the top two plus one line although rather worryingly, there were lots of blows coming up over it and I feared it would be more of the carpy same. Glynn asked how I was doing again and I replied I had 1.5lb or so while he was admitting to 5lb so it would still only take a couple of decent skimmers to push him close.
I had a couple of small skimmers quite quickly before the inevitable carp moved in, once again my expanders were suffering in the heat so I tried a Special G Gold soft pellet, I did miss a couple of bites and also bumped a fish that could have been a decent skimmer but I'm really not sure and then literally seconds before the end of the match, the float sailed away, only for me to miss it! On the whistle I heard Exeter Mike shout 'Fish on' and looked up to see him net a decent skimmer. My final tally was 14 silvers (two half decent skimmers, one tench plus blades) which I thought might go 2.5lb plus around ten carp mostly hooked in the fins or up the bum!
Glynn was still only admitting to 5lb although I'd seen him net a good skimmer late on and Roy Hughes reckoned he had 5lb in the first hour! Roy on peg 11 had caught carp well again as had Gareth and Jay Jay on peg 21 had done well and even chucked back two big skimmers so he could use the net for carp! I packed up and had a nice healthy swig of ice cold blackcurrant before taking my kit back to the car, I asked Mike how he'd done and he was admitting to pound of silvers despite that last fish looking bigger than that on it's own!
After loading the car, I caught up with scales as they were weighing in Geoff (and his peach shirt) on peg 6, I had a quick look at the weighboard and Mark Leahy was winning with 89lb 11oz from peg 2 and the top silvers weight was only 1lb 6oz, Geoff had 59lb 10oz which included three nice crucians for 4lb so any chance of picking up second in the silvers disappeared. Nick Chedzoy had 64lb 10oz on peg 8 before Roy had 124lb 3oz from peg 11 and was looking good for his second win on the bounce. The Tart weighed 67lb 3oz from peg 12 so would be stopping for battered sausage and chips on the way home and then Glynn's 5lb of silvers miraculously turned into 8lb 7oz!
Jack had 40lb 7oz on peg 14 and then my silvers went 2lb 15oz so yet another poor effort at estimating but worse was to come! Gareth had some lumps and weighed 114lb 2oz to go into second place. As it stood, the Tart was lying fourth in the carp and I was third in the silvers so as the famous song goes 'It's coming home, it's coming home, The Tart's pound is coming home!'.
Exeter Mike was next and his six skimmers weighed 4lb 1oz which was only slightly more than his 1lb estimate! and all of a sudden me and the Tart were level again and we could be heading for penalties! Jay Jay then had 97lb 10oz to push the Tart down into fifth and that just left Craig on peg 23 who had 55lb 4oz.
Back at the results and of course the Tart was up to his usual shenanigans, saying that as Jay Jay had chucked back two big skimmers he'd beaten me as well but if it ain't on the board, it don't count and he reluctantly gave me my pound back from this morning and the score now stands at 6-5 in his favour.
1 – Roy Hughes (Summerhayes) – 124lb 3oz
2 – Gareth Lennox (Frenzee) – 114lb 2oz
3 – Jay Jay (Torquay) – 97lb 10oz
Silvers
1 – Glynn Wickham (Summerhayes) – 8lb 7oz
2 – Mike Hosgood (Near Exeter) – 4lb 1oz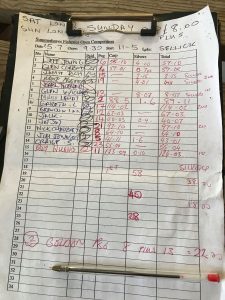 So that's two wins out of two for both Roy and Glynn (who has now beaten me three matches on the trot and I'm thinking of setting up a direct debit for my pound each week!). I'm having another go next week and I think it's on Longs so come back then to see how I get on.
Next up – Summerhayes
Coming soon – My next trip down memory lane
Check Out – My last match at Summerhayes (below)