It was around this time that fishing was starting to change beyond all recognition, carp venues were springing up all over the place, although the massive weights you see these days were still a long way off. Poles were improving all the time and I bought a new one from Les's, it was a 14 metre Silstar that cost me £900 which was a lot of money then! I was still fishing Ilminster and Chard matches on the Isle throughout the winter but when the season finished I headed to places like Perry St, Howley and Sadborow.
Looking through my records, the first match win of the year came at Howley in March, as I mentioned in a previous post, the pond was set in the side of a hill and could be very wind affected. I'd drawn end peg 9 (the Tart didn't fish with us back then so other people could have a go on the end pegs!) and the wind was horrendous, I did manage a carp close in on the pole early in the match but then the wind put an end to that. I tried fishing a little bomb tight to the far bank (I knew what a rod and reel was then!) but never had a touch. Several other anglers had two or more carp and I was well out of it, I tried flicking the lead over the pole line and after a short while, the tip pulled round and I had my second carp. During the remainder of the match, I managed two more and weighed 9lb (no need for three keepnets back then!) which tied for first place with Geoff Facey.
We also fished Perry St a lot which was a very different venue in those days, it held carp but they averaged double figures along with a decent head of tench plus roach, rudd, perch and eels. Bushy won the Good Friday match on 1st April with three carp for 27lb, I managed 1lb 5oz which was mostly small fish! I fared better in May with another win at Howley, this time with three carp for 6lb 8oz followed by two wins at Sadborow, once with thirteen carp for 17lb 13oz from what is now peg 5 and then with fourteen carp for 15lb 13oz from peg 9. In that match I saw a small goldfish right at the start and successfully mugged it (nothing new there then!) and only won by a few ounces so it was worth it's weight in gold!
Chard's presentation night was at the Cotley in May and I won the Ash Shield which, if I remember rightly, was for the highest combined individual weight over three matches in a pairs series. Some very young faces in the photo below and also sadly a couple no longer with us.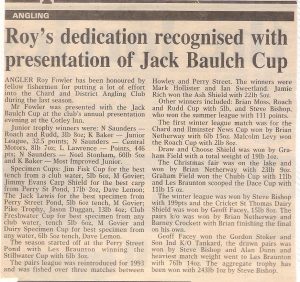 I was still fishing under the Chard Angling Centre banner and Les entered the team into division two of the Drennan Superleague. It was a big step up for us, travelling miles, fishing new venues and we had a new sponsor in the shape of Sharp Electronics. The same Sharp Electronics that sponsored football giants Manchester United! We hadn't been head hunted by Alex Ferguson though, Mark Saunders, dad of Andy and Nick who fished with us was the owner of Sharp Retail Systems who basically supply Sharp cash registers all over the UK. They had a budget for advertising and supported us with clothing and also paid our entry to the league, Mark also put up a bottle of champagne for everybody who won their section.
One of the first rounds was held at Cardiff Docks and we always tried to practice beforehand so we could formulate a team plan, I think we went up midweek and to be honest, we struggled until we saw a local fishing the whip, feeding quite heavily with groundbait and bagging up. We tried it and started catching a few fish so we decided we would feed a long pole line but start on the whip and stay on it as long as we were getting bites.
On the day of the Drennan match, I was in the squad and we headed up in convoy with several of the cars having wooden pallets strapped to their roof racks. Why? you may ask, well the pegs on the far side of the docks were all on a high wall with railings which would make fishing very awkward. Now I can't remember if we came up with the idea or pinched it from locals in the know but the pallets would be used as a platform with car jacks under the railings to secure them so you were effectively on a ledge over the water – genius idea!
Of course I ended up on one of those pegs and despite some funny looks from other teams, it worked a treat. The fishing was hard going though and I managed a very welcome bonus 12oz skimmer on the whip and added a few small roach on the long pole to weigh a pound which was enough to win my mini section of seven anglers and pick up £35. The team had a mixture of results and finished about midway. The day ended on a sour note though as the results were in a pub in a really rough area. All the teams were advised to post a sentry in the car park as the local toe rags all knew there would be loads of fishing gear to be had while the anglers enjoyed a pint and waited for the results. Despite having one of the team on patrol outside, Bushy's car was broken into and his rod holdall nicked!
The next round was a couple of weeks later on the Bristol Avon, I was in the team again and travelled up with Andy Saunders and Steve Raybould who were both bank running. Steve dropped Andy and me off at my section and we headed off down a steep slope, as we reached the bottom it became apparent we were in the wrong place. There were no mobile phones back then and we were starting to flap a bit, we could see an angler in the distance heading off across the field so it looked like he was in the same boat and we went the same way, hoping we were going in the right direction.
Even though in those days we only carried a box, carryall and rod holdall, I was glad Andy was there to help as it was a scorching hot day and I was drenched with sweat. We reached the far side of the field only to be met by an impenetrable hedge with no gates and we had no choice but to turn around and retrace our steps. The start time of the match had come and gone and I was nowhere near a river, let alone my peg and I was flagging a bit and dreading what Captain Les would have to say.
We got back up the steep slope to the layby on the main road and we had no clue what we were going to do next but Steve turned up after going to the next section and when he reached my peg and saw it was empty, he realised what had happened. He had some cold orange and it was the best drink I've ever tasted. I finally reached my peg and I was a knackered, sweaty mess, I quickly set up a groundbait feeder and lobbed it out while I set up the rest of my kit. I asked Andy and Steve if they could get me a can of cold drink from a shop or something and was overjoyed when they returned with a can of Lilt, it was already open but I didn't think anything of it and took a deep swig and quickly realised the can was full of river water, thanks guys! I went on to catch a few perch on the waggler and weighed 1lb 8oz for 5 points with only 1lb 13oz needed for 9 points, not a good day!
There was also a round on the Taunton and Bridgwater canal and I was bank running, the team did an awesome job winning the day with 88 pts which included four section wins and two seconds, a brilliant performance.
In September I fished the Water Industry Coarse Angling Championship again, this time it was held on some ponds in Newport, Wales. I really struggled and caught three eels and five gudgeon for 1lb 6oz which put me halfway up the section and as a team we didn't disgrace ourselves although we were a long way off a podium place.
Later that month I actually won a match at Chard resi with 38lb 12oz, quite a modest weight by today's standards but a really enjoyable day fishing the waggler and corn, I had two carp for 14lb, a 4lb bream, a 2lb tench and forty nine skimmers and roach for a nice £100 pick up.
Another match worth mentioning this year was a Chard pairs match in October with one angler on the Isle and one on the resi, I fished the river and drew peg 19, a proper flier and had a lovely day catching my first bream on the Isle, four chub, chublets, roach, dace and gudgeon for 12lb 13oz and first place, my partner blew out on the resi so we didn't feature in the frame!
As we headed towards the end of the year, the Xmas Fayre matches were always well attended and good fun, I drew peg 19 again but this time at Coxes on Ilminster's stretch. I caught three chub and a chublet for 7lb (and lost two) which was enough for fourth place on the day to win a nice box of chocolates and I picked up £65 as two didn't go in the super pool and then won a 15lb turkey on the raffle (I've always been a spawny git!).
Next up – Part 10 (1995)