This match was supposed to be on the River Tone but due to low flows and weed it was switched to Stathe, a venue I haven't fished since 2007! The matches used to be won with decent nets of bream and tench on chopped worm and caster fished across but judging by recent reports, there aren't as many bream around now although odd tench along with some good perch have been featuring in decent nets of fish. I was really looking forward to it and we had a good turnout with twelve anglers representing Ilminster AA.
Quite a few us of met at the bowling club for breakfast before heading to Stathe, Taunton had twelve fishing as well and it was great to see Andy Saunders fishing his first match for a long time, Steve Maynard who'd make the long trip up from Cornwall and also Paul Blake who I hadn't seen for a few years. We all paid our pools and Taunton's match secretary Dan Baldwin said we would draw for which club had odd or even peg numbers, we nominated Tony Newman to draw for us, with strict instructions to come back with odds but he came back with evens!.
Then we did the draw for numbers and I pulled peg 6 which at least meant I didn't have too long a walk, but then things got even better when somebody said I was the first peg past the wires, so basically an end peg – ideal! Dan drew peg 1, Adie was on 2, Kev Williams on 3, Tony on 4, Ian Burton on 5, then me, Ian Brewer on my left and Terry 'The Toast' completed our section.
I set up a 4 x14 Drennan Roach with 0.10mm bottom and size 18 B611 to fish just past the middle at 10 metres and then a 0.4 gram Drennan Carp with 0.14mm to a size 16 B911 to fish across at 13 metres. I had plenty of bait with me, worm, caster, maggot, pinkie, hemp plus I was trying the new Bait-Tech Pro Natural Fine Lake Dark for the first time.
On the whistle I cupped in a ball of groundbait containing pinkies, casters and hemp at ten metres and then chopped worm and casters on two lines at 13 metres angled to my left and right. I started over the groundbait with single red maggot on the hook, Ian Burton on my right was into fish straight away on the whip as was Ian Brewer on my left. My first fish was a tiny little rudd, two more followed so I switched to caster and started getting some better rudd and roach around the 2-3oz mark, I was feeding casters and hemp over the top and catching steadily but nowhere near as fast as the two Ian's who were both catching well on the whip including the odd net fish.
After an hour I had around 20 fish for 2lb or so but was itching to go across on my worm lines, I picked up the heavier rig, put on half a worm, shipped across and toss potted in some worm and caster. The rig settled and the float went straight under, only for me to miss it! I checked the bait was still on and lowered the rig back in, after a few minutes the float slid along the surface before submerging and this time the strike was met with solid resistance, I shipped the pole back to get the fish in the middle and in the gin clear water I could see it was a decent tench, it came in like a baby until it saw the net and then went berserk! With the robust gear I had on, it didn't give me too many problems and I safely netted a lovely fish around 2.5lb.
I went back out and fed another dollop of chopped worm and caster via the toss pot and I didn't have to wait too long for the next bite, as soon as I struck I could tell it wasn't a tench but a nice perch of 6oz or so came to the net. Next put in I went over the right hand line but never had a bite, back to the left and another perch about the same size as the first and it felt like there were a few fish there. Ian on my right was still catching well but Ian on my left had slowed up. My next bite resulted in another big fish plodding around, this one was a stonking perch of 2lb plus and I was really enjoying this.
Back out again and bites were coming quite quickly, I struck at the next indication and loads of grey hydro came out I shipped back and big fish headed off down the drain and I had no choice but to follow it with the pole, it stopped and felt like a really good fish, I started easing the pole back and then the hook pulled out – gutted wasn't the word for it! There was thick slime all up the line and I was sure that fish was going to cost me today.
The next chuck, the floats gone again and another decent fish was on, it wasn't giving me too many problems and then there was a huge swirl and I thought a pike had grabbed it, I shipped back and then could see it was another tench, a good one too and I safely netted a four pounder to give me nearly double figures and we were only half way through the allotted five hours. A couple more 6-8oz perch followed and I really thought I was going to do a big weight.
Simon Garbutt walked down to get something from his car and said they were struggling up further, on his return he said Dan on peg 1 had caught a big bream and Kev Williams on peg 3 was bagging with quality roach and rudd. With around two hours to go, they started pumping and the drain began pulling strongly from left to right, I was having to almost hold my float back and my bites just stopped! It looked like Ian on my right had slowed up as well, I gave it another quarter of an hour but no more fish so I decided to have another go down the middle where I'd been feeding hemp and caster.
I started getting some lovely rudd and roach on caster although a sizeable pike also made its presence known. I was having to net the odd fish and then hooked what felt like a good rudd only for Mr Pike to nab it, it also had a go at a nice 4-6oz roach but I got that one out. I was hoping the pumping would stop before the end of the match so I could go back across, I didn't think it was worth feeding anymore worm over there as it would just get swept away with the tow.
Mark Saunders (Andy's dad) came for a walk around and stopped for a chat, I hadn't seen him for years and it was lovely catching up with him. While he was with me and with around three quarters of an hour left, the pumps finally fell silent, I potted in some more worm and caster and went back over it with half a worm. There were some bubbles coming up and I was sure there were still big fish over there, a good bite resulted in a 2oz rudd (which the pike had a go at!) and then I had a few knocks but nothing positive.
With twenty minutes remaining, I had a lovely slow, positive bite and thought 'Here we go', only for me to strike into thin air! A few minutes later and an identical bite but this time the elastic came out on the strike and it felt like a big fish, I shipped back and the fish was in the middle and then the bloody hook pulled out of that one as well, I initially thought tench but it might have been a big perch. There were still ten minutes left and I thought I might get another chance but that was the last of the action.
I ended up with 46 fish and thought I probably had 10-12lb but I didn't think it would be enough and felt sure those two lost big fish were going to cost me. I packed up and took some of my kit back to the car, Dan was admitting to over 20lb and looking good for the win, Adie on peg 2 said he thought he might have double figures and he also said Kev Williams had caught well but both had slowed up when the pumps started.
We walked up to start the weigh in with Terry on peg 8, he had 1kg 550 or roach and rudd and then my left hand neighbour, Ian Brewer, had a similar net weighing 2kg 300. I was next and my fish went 6kg 350 (around 14lb in old money!). Ian Burton on peg 5 had a nice day on the whip to weigh 4kg 100 of rudd and roach.
Tony on peg 3 had 1kg 425 and then Kev Williams pulled his net out and it was going to be close, the digital display settled on 6kg 075 – phew! Adie had a nice net of mainly perch weighing 5kg 700 before we got to Dan, he had a cracking net of fish including a big bream, perch, quality roach and rudd for a brilliant 11kg 125.
As the other sections arrived back, it was obvious that the further up the drain you went, the harder it got, Monkey won the next section up with 2kg 075 and Jake did really well to win the top section with 1kg 100 and was the only angler to break a kilo up there. Thanks to Steve Hurford for the photos*
1 – Dan Baldwin (Taunton) – 11kg 125
2 – Jamie Rich (Ilminster) – 6kg 350
3 – Kev Williams (Taunton) – 6kg 075
Sections
A – Adie Bishop (Ilminster) – 5kg 700
B – Monkey (Taunton) – 2kg 075
C – Jake Woodard (Ilminster) – 1kg 100
So I ended up in second place and had a nice pick up of £80 plus nuggets off Hurf, Steve P and Andy and I was relieved that those two lost fish hadn't cost me because even if they'd been 4lb apiece it wouldn't have been enough to beat Dan.
On the team front we were well beaten by Taunton's 29kg 500 to our 18kg 625 but we didn't disgrace ourselves by any means with three of us picking up money and five Ilminster anglers in the top ten.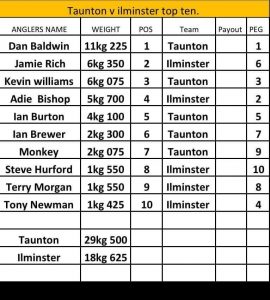 The club would like to say a massive thanks to Dan Baldwin and Taunton AA for hosting us, it was a very well run match with a really friendly bunch of lads and I'm looking forward to the return fixture on the Isle in November.
Next up – Silvers final at Summerhayes
Coming soon – Some great interviews
Check Out – My latest 'Random Ramblings' (below)