When I left you in the last instalment, Andy Saunders and myself were lying in joint second place with Nicky Collins and Mike Stone in the popular Chard Spring Pairs league behind Tony Rixon and Pete Sivell. Me and Andy were also in shares and so far he'd picked up every match whereas I hadn't contributed any money!
The penultimate round on May 26th put me on peg 22 in the Chard resi high numbers section, while Andy was at Sadborow. I had Graham Skinner on my right with Les Braunton on the other side of me, I fished the feeder and had a steady day catching 25 skimmers and hybrids plus a few bits for 16lb and a long awaited section win. Graham was second with 13lb and Les had 10lb for third. Andy came back with 5 points and I was finally able to give him some money back! Our 13 points put us back into second spot, one ahead of Collins and Stone although an awfully long way behind Rixon and Sivell who could probably bring deck chairs and a book to the last match!
As it was a Bank Holiday weekend, we had a match at Howley on the Monday and I really fancied peg 8 which was my favourite swim and only went and pulled it out the hat! (I'd like that drawing arm back again please!). I enjoyed a fair bit of success fishing short, usually by reeds and it was always fun trying to add sections as an angry carp took off across the pond!
I had a steady day catching three carp (including two nice ghosties), six skimmers and two roach for 14lb 11oz and first place on the day. Skinner was second with 12lb and Dunner third with 11lb but I felt really sorry for my mate Janders who had three carp for 10lb 15oz but he lost four including one that he missed the keepnet with!
We were back at Howley the following Sunday and I drew peg 2 which was one of the pegs I didn't want but there were loads of carp showing, I had two early carp on the lead fished tight across before coming in on my six metre pole line, I started catching skimmers and that was where I stayed, ending up with 25 skimmers, 1 crucian, 1 perch plus a few roach and a 5lb carp (plus the two on the lead from earlier) for 22lb 12oz and another win. Barney Crockett was second with 14lb and Dunner was third with 13lb.
Then the next match was the final round of the pairs on 9th June, I was at Howley and pulled out peg 3 which wasn't the best and Andy was on peg 2 on Perry St low, not a great peg either, were we going to fall at the last hurdle?, was all our hard work over the last five rounds going to be in vain? The pressure was on.
I set up a tip rod but was hoping to fish the short pole all day as it was a tactic that had served me well in recent matches. I started off well catching loads of roach along with the odd slightly better perch, skimmer and hybrid of 8oz or so on caster. Bob Gullick (who I think was standing in for Mark Harper) and Les were both catching well but I was doing okay. I then hooked my first carp which ripped straight through the reeds and snapped me, the second one went through Bob's swim, collecting his pole rig in the process – whoops! I eventually lost that one as well and this most definitely wasn't going to plan!
By this stage, I think everybody apart from me had landed carp and I was well down in the section and blowing it! Just before the end I hooked another carp and I played it with kid gloves, eventually landing a 3.5lb fish after the whistle. Les won the section with three carp, skimmers and loads of roach for 18lb, Bob was second with five carp and skimmers for 15lb and my single carp, eight skimmers and loads of roach and perch went 13lb for third and 6 points.
Andy did well to come back with 5 points which gave us a total of 74 points and when Nicky said he had 4 points, that put them on 66 so Stoner had to have won his section for them to tie and when he arrived back, he'd done exactly that, so we finished on the same points in joint second place. We picked up £75 each and the Bristol Evening Post came to take photos of the top three pairs, Tony and Pete, Andy and me and Nicky and Mike. I didn't manage to get a copy of the paper at the time and I have tried contacting them since to see if I can get a print of that photo but no joy which is a shame as it's not often you get a result in such prestigious company.
I also managed a result in the final evening league match at Howley, I drew peg 1 which was an end peg flier and had eight carp, four skimmers plus some bits for 20lb 1oz and first place, I ended up in third place in the league behind Paul Garrett in second and Bob Gullick who won it.
With the close season over it was time to practice for the Drennan Superleague again, the first round was on the Taunton and Bridgwater canal which was our home water, I struggled in practice and was bank running on the day along with Andy Saunders. The team on the day was Fieldy, Nic Saunders, Bushy, Les, Jack Symonds, Geoff Facey, Pete Wellman (Basher) and Dave Lawrence and we had a mixture of results but finished in the top half.
The next practice was an open on the Gloucester canal and there were some big names fishing including the likes of Jeff Perrin and Steve Newell. It was hard going and I just managed the odd small skimmer and eel on the feeder and pole. Then it was round two on the T & B canal again and I was running the bank once more, Bushy won his section and Les did well in his but the rest of the team struggled and we finished 8th on the day, dropping to 5th in the league.
On 28th July I was in the squad for round three on the Gloucester canal and I did okay, I had a 4oz skimmer and an eel on the feeder and seven eels on the long pole to weigh 2lb 10.5oz for 9 points out of 14 but as a team we had a disaster, finishing last. We were back for another practice the following week and drew next to Tony Rixon, I chucked back about 1.5lb and Tony gave me a right battering with 3lb 12oz of eels.
For round four I drew a really good peg on a bend and started on the feeder and was getting a few indications, I had four skimmers and from bank runners, I knew I was doing well in the section. I then got things wrong by staying on the feeder when I should have fished the pole line as there were fish blowing there. I didn't have anymore fish and my four skimmers weighed 4lb 15oz with 5lb 2oz second and 5lb 15oz winning the section and framing so a good opportunity missed. The team finished 7th on the day and we moved up a place!
The final two rounds were in September on the Bristol Avon so we went up to practice, we caught on the pole and waggler plus we also fed an eel line for the pole. I ended up with 45 fish (roach, perch, dace, chublets, bleak and a couple of eels) for around 3lb or so. Round five saw me draw a nice peg opposite a marina but I've struggled, getting a few small fish on waggler, pole and whip, I did get a couple of eels late but only weighed 2lb for midway in the section. The team did well and Captain Les actually won the match.
I did manage a decent result at Chard resi in the Wednesday open with 51 skimmers on the feeder for 30lb 14oz and second place from peg 40.
The final Superleague match was a bit of a nightmare and I really struggled for 9oz which gave me five points! As a team we finished second from bottom and overall we ended up tenth out of thirteen teams, a disappointing campaign!
Back down the resi for another midweek open and I drew peg 48 which is a flier and I had a few skimmers and then hooked a big fish, mindful of the light hooklength, a long fight followed before I slipped the net under a lovely mirror carp of 12lb 10oz, my first ever double! It was weighed and returned straight away, I went on to catch another 35 skimmers which went 23lb 4oz and my total of 35lb 14oz was enough to win the match and I had a nice pick up of £100.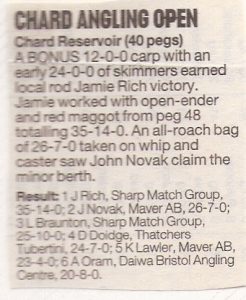 On a pleasure session at the Viaduct in October with my mate Arf, I actually caught my first ever grass carp of around 4lb, I was convinced it was a big chub until I netted it!
The following Sunday, Les had arranged a pairs match with one angler on the resi and the other on the Isle. Fieldy was my partner and he drew peg 15 at Horlicks (know as Dead Mans Bend) and I was on peg 32 down the resi with Ian Parsons on the next peg. We both started steadily with five skimmers apiece in the first hour and it was right peg to peg battle, I managed to get two or three fish ahead and then with a couple of hours to go, he stopped catching but then landed a 7-8lb carp in the last hour and this one was going down to the wire.
I ended up with 66 skimmers and a couple of bits which went 39lb exactly, Ian weighed 36lb 12oz and as the scales carried on up through the woods, there were a couple of 37lb weights but I actually won the lake, a great days fishing. Back at the results and Fieldy had struggled for 10oz but lost three eels which proved costly but we still sneaked into fourth place and last in the money.
I managed a second place down the resi on 10th November with 46 skimmers and a few bits for 26lb 8oz from peg 48, just behind Ray North who had 27lb 4oz next door on peg 47, I still had a nice pick up of £75 though as Ray didn't go in the super pool!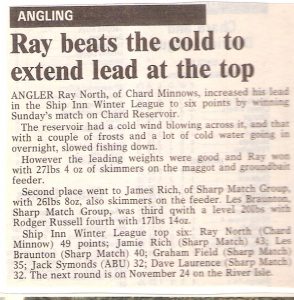 Then basically the rest of the year just sort of fizzled out with no results of any note, in Ilminster's Xmas Fayre, I had 4lb 13oz from peg 85 (The Big Bend at Ashford) to finish nowhere but as everyone took home a prize, I had a crate of Miller Lite. I fared even worse in Chard's Xmas match on the resi when I drew peg 35 and caught the grand total of 1lb 9oz! Had a lovely meal up the Cotley Inn and won a bottle of rum which I gave to my dad.
The final match of the year was the teams of four on the Isle, I drew peg 87 (The Kink at Ashford) and it's a peg without much form and I blanked, Captain Les never had a bite either so needless to say we didn't do very well as a team!
Come back for my next trip down memory lane to see if I got off to a good start in 1997.