For round two of the Spring League, my section would be at Sadborow and with the forecast for another blazing hot day, I was hoping to avoid the two pegs behind the back of the island, as I felt all the fish would be in the open water pegs. After breakfast at 'Spoons we headed to Perry St to do the draw, Hoff called us up first so we could be on our way. Paul Homewood went before me and when he opened his canister, he was on peg 2 which is spot on with an empty peg either side and it had won the section in round one, I looked at mine and I was on peg 5, behind the island and it had been last in the section in the first match, I talked myself into that!
We got out the pond and there were loads of carp moving although there was also loads of crap on the surface which would be a bit of a pain in the bum. I took my kit round and my peg was nice and shaded for now, my neighbours for the day were Oz in peg 4 and the Hoff on my left. I set up a Drennan 0.4 gram Carp 1 for the top two plus two, a 0.3 gram Drennan Margin Crystal to fish two areas of the island, up towards the inlet and the margin to my left, lastly I had to set up an inline dibber for fishing shallow. On the side tray I had red maggots (dead and alive), some micros, Bait-Tech 6mm Carp and Coarse pellets, Scopex corn plus some groundbait I'd mixed the night before.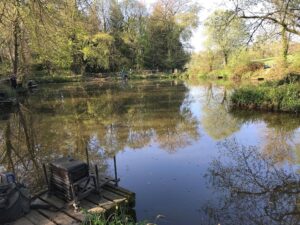 Plumbing up, the float has gone sideways down the middle as a fish went into the line and the same thing happened over by island so there were obviously a few fish about and I got a bit over excited, prompting me to predict that you'd need 100lb to win it and 70lb to frame!
Hoff managed a slightly better toot on his whistle this week and we were off, I cupped in micros and corn by the island and up by the inlet and dead reds down the middle before starting across to the island with corn on the hook. I had a couple of knocks and then a liner and I felt sure I'd catch quite quickly. No more indications so I moved to the other island line and had what looked like a proper bite but I missed it!
Rich Collins had the first carp on the pond and I thought it was only a matter of time before we started catching, a further ten minutes passed and I was now fishing up by the inlet but still nothing and it was looking like my earlier optimism was misplaced! Paul got off the mark with a nice skimmer and Exeter Mike had a roach but that was it for the first hour!
Going into the second hour I tried the top two plus two line for the first time and second put in, the float slid along the surface and a small perch flew out of the water on the strike and I was relieved to put a fish in the net, especially as a few people hadn't caught yet. Mike landed his first carp and Paul had a couple shallow to go into the lead. Another half an hour passed with no signs and with a few fish cruising about, I had to try shallow so picked up my faithful little dibber and went out with a banded 6mm pellet.
I tried mugging the odd fish that went by but they didn't want to know and I didn't know what to try next, then finally after nearly two hours, a carp slipped up and I carefully played it before landing a 2-3lb fish. I had another quite quickly which probably put me second on the pond behind Paul who had six plus that skimmer and over the next hour or so I had a couple more but so did Mike on peg 9.
As we reached the halfway point, Paul was winning the section with Mike and me on four carp, Hoff, Rich and Dunner had one apiece and Oz had caught a small perch which he chucked straight back. I had a couple more carp shallow and then nothing for ages so went back down the middle with three dead reds on the depth rig, no indications but then a decent carp appeared and I couldn't resist lifting the rig out and laying it in the fish's flight path and it took the bait (despicable!).
With two hours to go I fed my margins with six pots of loose groundbait and micros and would try it with an hour to go. Back shallow and I stalked a couple more carp, Hoff had a couple doing the same but Oz hadn't hooked a carp all day. I kept an eye on the margin swim but didn't see any indications of fish at all, I did try it briefly but the float never even wobbled so I stayed shallow for the remainder of the match.
It was nip and tuck between Exeter Mike and me and I thought I was one fish ahead but then Dunner started catching quite well and it was all getting rather close. I managed one more carp to put me on twelve which I thought put me two ahead of Mike. Hoff blew for the end of the match and Paul shouted across to ask how many I had, I told him and he said he had eleven plus two skimmers, Dunner had seven and Mike had eleven so it was going to be incredibly tight.
We packed up and weighed the Hoff in first, he had four carp for 12lb, Rich had three for 11lb 4oz and then Dunner's seven went 28lb 4oz. Exeter Mike had eleven for 30lb 6oz and then we got to Paul, he pulled his silvers net out and he actually had three skimmers and a quality roach for 7lb 12oz which was the equivalent of three carp and with his carp nets, his total was 39lb 10oz and I knew I didn't have that.
Oz didn't weigh and then it was my turn, it was closer than I thought and my weight was called at 37lb 8oz so I needed one more but I hadn't lost anything today so was pretty happy to finish second.
Back at the results and the Tart had done brilliantly to weigh 105lb 12oz but had gone over the limit in one net and was knocked back to 36lb 8oz, going from first to fourth in the section! I still paid him a nugget though as technically he had beaten me! Think he definitely needs to get a new clicker as he was 3lb under in one net and 30lb over in the other! Due to the Tart's misfortune, Bushy won the section with 75lb from peg 4, with Smithy on peg 17 in second place with 57lb 12oz and Chilly third with 38lb 14oz from 19.
Shane won the other section with 68lb 10oz from peg 13, Carl had 67lb 2oz from peg 10 for second and Mark G was third with 37lb 12oz. Picky finished last in his section and had to pay the price!
Sadborow
1 – Paul Homewood (Taunton) – 39lb 10oz
2 – Jamie Rich (Against Men and Fish) – 37lb 8oz
3 – Mike Hosgood (Nr Exeter) – 30lb 6oz
Perry St A
1 – Steve Bush (Chard) – 75lb
2 – Mike Smith (Torquay) – 57lb 12oz
3 – Andy Winter (Chard) – 38lb 14oz
Perry St B
1 – Shane Jeffrey (Chard) – 68lb 10oz
2 – Carl Everton (Torquay) – 67lb 2oz
3 – Mark Garner (Chard) – 37lb 12oz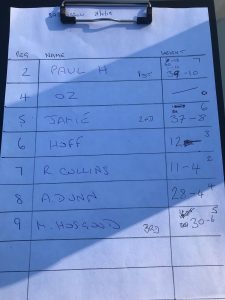 Here's a list of the framing pegs in each section so far (I've used peg 5 at Perry St from today as it did actually provide the top weight),
Sadborow
2 – 2 times (won 2)
4 – 1 time
5 – 1 time
8 – 1 time
9 – 1 time
Perry St A
5 – 2 times (won 2)
4 – 2 times
17 – 2 times
Perry St B
7 – 1 time (won 1)
13 – 1 time (won 1)
14 – 2 times
10 – 1 time
11 – 1 time
So another decent result in the league and I picked up £43 for second in the section, it's early days in the league but here are the top ten after two rounds,
Steve Bush – 14 pts
Jamie Rich – 13 pts
Carl Everton – 12 pts
Mike Smith – 11 pts
Steve Bishop – 10 pts
Brendon Ions – 10 pts
Mike Hosgood – 10 pts
Paul Homewood – 10 pts
Mark Hollister – 9 pts
Shane Jeffrey – 9 pts
The score on the world famous Nuggetometer now stands at 3-2 and I hold a slender lead!
Next up – Todber Manor
Coming soon – Another great review
Check Out – My last match below