With it being a long weekend, I always try a fit in a couple of matches and with nothing on locally, I put my name down for the open at Todber on Good Friday. I was up really early and after a quick pit stop at Cartgate, I made good time and was soon pulling into the fishery car park, the match was a sellout with 57 booked on including England star, Des Shipp. The draw was announced and I delved into the bucket of dreams (and nightmares), I opened the ticket and saw peg 83 Homeground staring back at me, I asked Adam Palmer what it was like and he said it's a really good silvers peg so I bought a couple of pints of dead reds from the shop before driving the short distance to the lake.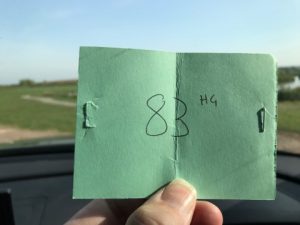 My peg certainly looked nice, it was the last one on the far side with loads of room and there was a nice ripple on it too, I had the legend Roy Worth on my left and I could see Tucks across on peg 80. I set up two Drennan 0.4 gram Carp 1's, one for a top two plus three and the other for 11.5 metres and a little hand made float for fishing on the inside to my right. On the side tray I had dead reds, some micros, corn plus some Bait-Tech Special G Green and Juice groundbait I'd mixed the night before.
On the whistle I cupped in two balls of groundbait on the short line and the same at 11.5 metres plus micros and corn down the edge before starting on the short line with three dead reds on the hook and toss potting some in, I missed a bite first put in and then second chuck, the float slid away and the strike was met with solid resistance, I shipped back carefully before netting a nice 2lb skimmer. I had a couple of smaller skimmers and then had a bigger one around 3-4lb and I was getting regular bites from little skimmers, some tiny little tench and the odd roach, I even had my first carp but at 3oz, it didn't give me too many problems!
Roy and Vince Shipp next to him were getting odd carp and Keith Milner on 82 was catching carp and getting some big skimmers as well. After an hour I had around 10lb, maybe a little more although I did bump off a couple of decent fish as well. I topped up all three lines and as soon as I dropped back in on the short line, I had another decent skimmer and I was really enjoying myself although I felt sure the carp would muscle in at some point. It was more of the same in the second hour and I even had a 12oz roach and a couple of perch.
I was up to 20lb after two hours but felt sure sport would slow at some point, I fed my lines again but this time I was having to wait longer for bites and only had a couple of small tench and some roach. On the longer line for the first time and had to wait ages for a bite and what I thought felt like a good fish, turned out to be an 8oz skimbob hooked in the wing! I then pulled out of two in quick succession and my next fish was a 3lb carp and from doing really well, I was now struggling. I went back on the short line and hooked another carp but as I shipped back, it wasn't tearing about and then it tried going under my nets which made me think it might be a tench and sure enough a lovely 3lb tinca came to the top to salvage a poor third hour and put me on around 25lb.
Hour four was similar and I tried the inside line but only missed one bite on corn, back on the short line and I was still getting quite a few roach, small skimmers and tench and the odd better skimmer. I tried corn a few times and had to wait ages for bites and only managed a couple of little tench on it, dead reds were definitely best. I could see Tucks catching skimmers and to my left they were all catching carp well and I couldn't believe I'd only hooked two (I wasn't complaining though!).
The short line had slowed right up although I was getting quite a few tench around 8-12oz from the longer line along with the odd skimmer. With about an hour to go, I fed the last of my groundbait and I'd nearly used the two pints of dead reds, in a bid to try and make what I had left last to the end, I started feeding micros with a few dead maggots but I had two carp in two chucks so that wasn't the answer, I also missed the keepnet with one of them! (not that it would matter today).
I left the long line for a bit and had a few more fish from the shorter line before going back out and had a couple more including a nice 3lb skimmer just before the end, what a lovely days fishing. I'd tried to keep track of what weight I had and thought I had around 37lb although I hadn't included all the bits and bobs so maybe a few pounds more. I packed up and took my kit back to the car, Tucks asked how I'd got on and I said I probably had 30lb, he said he might have 25-30lb.
The scales arrived and Darry Mayers on 77 weighed a brilliant 205lb 6oz, Jason Crump next door had 110lb 14oz and then Eddie Green weighed 118lb 4oz. Then Tucks pulled his silvers net out and his weight was called at 43lb, I didn't think I had that and apparently there were a couple of 44lb plus weights on Ash lake and I was starting to think those fish I'd pulled out of were going to be costly. Keith had 107lb 2oz which included 26lb 12oz of silvers and then it was my turn. As I lifted the net out, I knew it was more than I thought and my weight was called at 51lb 8oz. Roy had 117lb 2oz, Vince weighed 110lb 12oz and there were several more brilliant weights on our lake with Joe Sheppard weighing 180lb 12oz from peg 88, what a venue!
Back by the tackle shop and apparently there was a 59lb 4oz of silvers on Hill View but hopefully I might sneak in the silvers frame. John announced the results and when he got to the silvers, I was called out in second place and had a nice pick up of £75. To be honest I should have been a lot closer to the winning silvers weight but I learnt a lot today and I'd do a few things differently next time. I've had a brilliant days fishing, really enjoyed it and I can't wait to get back for another go.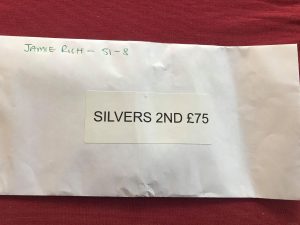 1st: Darryl Mayers 205lb 6oz (Peg 77 HG)
2nd: Joe Shepherd 180lb 12oz (Peg 88 HG)
3rd: Pete Neate 148lb 0oz (Peg 61 HV)
4th: Mark Wynne 143lb 14oz (Peg 60 HV)
5th: Mark Cannings 133lb 12oz (Peg 54 HV)
6th: Andrew Eagle 128lb 8oz (Peg 48 HV)
Silver's 1st: Dave Willmott 59lb 4oz (Peg 44 HV)
Silver's 2nd: Jamie Rich 51lb 8oz (Peg 83 HG)
Silver's 3rd: Stu White 45lb 12oz (Peg 67 ASH)
Silver's 4th: Mark Harper 44lb 8oz (Peg 64 ASH)
Silver's 5th: Steve Tucker 43lb 0oz (Peg 80 HG)
Section A: Adam Palmer 120lb 14oz (Peg 34 HV)
Section B: Steve Martin 108lb 6oz (Peg 57 HV)
Section C: Mark Poppleton 118lb 0oz (Peg 69 ASH)
Section D: Mark Pepperell 121lb 12oz (Peg 90 HG)
*Photos courtesy of Todber Manor
Next up – Sadborow
Coming soon – Another great review
Check Out – My latest match below