With Longs and Sellicks both fishing well for silvers with around 20lb needed to win, I was looking forward to my first visit of the year so phoned Pete to book in, only for him to say there were club matches on both ponds and Sunday's open would be on Willow! I messaged Jeff in the week to find out if he knew how Willow was fishing and he said he was fishing the Mendip Nomads match on Longs and would ask if there were any spaces. So I was delighted when he got back to me and said there was room for me and Karl Aplin who also wanted to fish.
I met Jess (Zooner) and Karl for breakfast at the Toby before we headed to the fishery, the car park was already rammed and there were more cars arriving all the time. All the regulars were in attendance and it was also nice to see Ads Palmer, Eric Fouracres, Yardie and Chris Mawson who were fishing the match on Willow. The draw was announced for our match and I was hoping to draw in the 30's as they're normally a good area for silvers, I grabbed a ball and when I looked, I was on 32, ideal! I received the usual abuse that I'm always on flyer (I'm never sure, is it flyer or flier?) although I'm not convinced drawing the 30's three times in 18 months puts me in draw bag territory! Venue silvers expert, Jeff Sparkes, who'd drawn peg 8, which isn't a great silvers peg, wanted to pay me the pound before we started but we all know there are no certainties in match fishing, so I declined.
I also had a nugget with Zooner who was on peg 25 which I wouldn't have fancied, elsewhere Bill 'The Paste King' Hopping was on 37, Roy Hughes was on 20 with blogger Lee Williams next door on 19 and Karl drew peg 6. My peg looked quite nice with a little bit of ripple but the wind was bitterly cold. I set up a 0.2 gram NG Mini Gimp to fish top two straight out and left and right plus a 0.3 gram version to fish top two plus two, the side tray contained the usual Bait-Tech 4mm Xpands for the hook, some wetted down micros for feed plus some Juice and Special G Green groundbait I'd mixed the night before.
On the whistle, I fed half a pot of micros either side and then put in a ball of groundbait on the two other lines before starting on my left. It took ten minutes to get my first bite which of course I missed!, then a few minutes later I missed another and then it was third time lucky and there was the satisfying solid resistance on the strike before a decent skimmer nodded it's head and I safely netted a nice fish around 1.5lb. My next fish was a foulhooked 8oz skimbob and then with around 30 minutes gone, Pete asked how I was doing, I told him and with that, the float sunk from view. It felt like a decent fish but despite Pete trying to convince me it was a crucian, I had a sneaky suspicion it was a lethargic carp and sure enough, it woke up a bit and gave me the runaround before I netted a 3lb common.
I could see Jeff over on peg 8 netting the odd fish but at this early stage it looked hard going for most. Just before the first sixty minutes was up, I struck at a good bite and a decent skimmer flew out of the water, straight into the reeds and snapped me! I put a new hooklength on, fed some micros on the left hand line and switched to the right, I had a bite quite quickly and netted another 8oz skimmer. That was the only bite from there, so after another go on the left and no more fish, next up was the top two groundbait line but this was as dead as a dodo as well.
With around two hours gone, I had to stop to put my coat on as it was really cold whereas those on the opposite side and down on the bottom bank, where it more sheltered, were in shirt sleeves and shorts! I fed both the groundbait lines with another ball before trying the short left hand line again. The rest had done it some good as I had two decent skimmers in quick succession although one was foulhooked in the cheek so it felt like there were some fish there but they just weren't really feeding. This was further backed up when I struck at an indication only to prick a good skimmer and came back with a small scale on the hook.
As we approached the half way point, I'd only added another 3lb carp and was going nowhere fast, nobody on out side was catching much and I hadn't even seen Bill up on 37 catch much. Jeff was still catching fairly regularly and I needed to start catching some big skimmers if I was to do any good today. I went out on the top two plus two line for the first time but it was more of the same, I finally had a bite but bumped what felt like a small skimmer and then things got worse when I hooked what felt like a better one but it came off as I shipped back!
No more bites on the longer line so fed it again and came back on the top two line to the left and had two decent skimmers in two chucks so once again the rest had done it some good, so I cupped in some more micros and tried the right hand side but no more indications there or on the short groundbait line. Back at top two plus two and after an age, the float sunk from view and I had another half pound skimmer. I was getting bites on this longer line but having to wait ages and the next skimbob was 3oz, I had three more small skimmers but felt I needed the bigger fish if I was going to challenge Jeff.
With twelve skimmers for 5-6lb in the net, I spent the rest of the match on the inside to the left hoping a couple of the 2-3lb skimmers would get me out of jail, it didn't happen and the only other action I had was a 3lb ghostie that had me convinced it was big skimmer. The guy on my left had packed up early and it had been hard going for the pegs on the track side, I only hooked three carp all match which shows the fish weren't being very active. Jeff was in charge of scales and I asked if he had 10lb and he replied he had a bit more than that so I paid him my pound and when I told Zooner I had 5lb or so, he said he had more than that as well so it was looking like I'd be £2 down on the day.
The scales started at 39 where Tom Wheatley had 18lb 10oz, Bill had 40lb 15oz which included a big perch of 2lb 11oz that had a liking for Bill's paste!, Lee Philips on 35 had 32lb 14oz, Sam on 34 didn't weigh and then my silvers went 7lb 15oz which was a bit more than I thought and I chucked back my carp. Ian Graham on my right weighed 23lb 11oz and then a young lady called Lucia had 4lb 4oz on peg 29, great to see youngsters fishing and she stuck it out in bitterly cold conditions.
Chris H on peg 27 had 21lb 10oz and then Zooner pulled his silvers net out and it was going to be close and his weight was called at 7lb 10oz (sorry mate!) so at least I was evens on the side bets. The lad on 23 didn't weigh and then we got to the pegs on the bottom bank, Roy had a nice net of silvers weighing 12lb 9oz on peg 20 and then Lee next door went into the overall lead with 52lb 7oz, Steve Coles and Darren didn't weigh and then Ben Baron on peg 13 had 48lb 8oz to go into second place.
Mark Leahy on 12 had 5lb 10oz of silvers and then Jamie Baron on 10 had 42lb 7oz, Jeff was next and was admitting to between 10lb and 15lb and weighed 14lb 1oz so spot on with his estimate and fair play to him on winning the silvers from an unfancied peg. Karl had done okay and weighed 22lb 8oz from peg 6, Pete Evans had 22lb 4oz on peg 4 and Steve Lannery on peg 2 had 46lb 6oz to go into third place.
1 – Lee Williams (DT Floats) – 52lb 7oz
2 – Ben Baron (Mendip Nomads) – 48lb 8oz
3 – Steve Lannery (Mendip Nomads) – 46lb 6oz
4 – Jamie Baron (Mendip Nomads) – 42lb 7oz
Silvers
1 – Jeff Sparkes (Summerhayes) – 14lb 1oz
2 – Roy Hughes (Summerhayes) – 12lb 9oz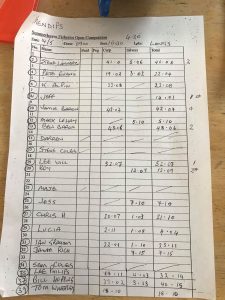 So a disappointing day for me and if I'm honest I haven't fished a great match, I've lost/bumped two skimmers, had that flyer (flier!) come off and missed a few bites so I wouldn't have been too far away with them and I also had some dead reds with me but didn't even try them. To be fair the wind hasn't done us any favours either and if you look at the results sheet, nobody did any good from the pegs along the track side with all the framers coming from the more sheltered pegs on the bottom bank and the far side.
Next up – Todber Manor
Coming soon – My next great interview
Check Out – My latest match below
*Sponsored post*
Somerset Angling – Helping you catch more fish
If you're out fishing over the Bank Holiday weekend, don't forget to pop into Somerset Angling to pick up some bait and while you're there, check out the extensive range of terminal tackle, accessories and larger items like rods and the new Matrix boxes. The friendly staff are always on hand to offer advice on tackle and venues etc.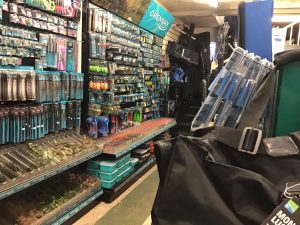 A tackle shop run by anglers for anglers.
Somerset Angling, 74 Bath Road, Bridgwater, Somerset, TA6 4PL
Tel – 01278 431777
Bank holiday opening:
Good Friday ..9am-4pm
Saturday 20th April..8am-5pm
Easter Sunday… Closed
Bank holiday Monday ..Closed
*All photos courtesy of Somerset Angling
*Sponsored post*