When Bait-Tech started publicising their new product range for 2019 earlier this year, it was a fairly modest release compared to previous years but there were some right crackers amongst them with several complimenting existing ranges perfectly.
Pro Natural Bream Dark – I love the Pro Nat range of groundbaits and use them for nearly all of my fishing on lakes and rivers and this new addition was a 'natural' progression and I couldn't wait to use it in anger. It's finely milled and it's dark colour comes from natural ingredients so unlike a lot of similar products out there, it won't wash out!
For it's first outing, I mixed up some up 50:50 with regular Pro Natural for a match on the River Parrett, I cupped in three balls at the start and then fed a little nugget every few fish and had a lovely day catching 169 fish for 14lb 10oz. My next outing with it was even better still, the River Isle was the destination and in very wet and windy conditions, I had another cracking days fishing, this time I had 107 fish for 15lb 12oz and top weight on the day, you can check out that match here
Max Feeder – I hardly ever do any feeder fishing these days (although I'm hoping to change that in the near future) but that's not to say this groundbait won't have a regular place in my carryall. I've started using it as my margin mix, it's a lovely olive colour and contains elements of Special G Green, milled fishmeal pellets and milled halibut pellets among loads of other ingredients and is packed full of nutrients. I mix up most of my groundbait the night before now and adding some of the new Krill & Tuna CSL glug to the water gave an already potent groundbait, even more punch.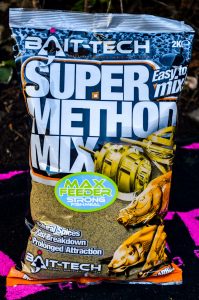 CSL Glugs – Two new glugs for this year, Natural and Krill & Tuna, I already use 'The Juice' and the Special G glug loads and I can see these two getting just as much use. There is just so much you can do with a glug, add it the water for mixing groundbait, add it to meat or pellets to give them added attraction or just do what it says on the tin and use it to 'glug' your hookbaits.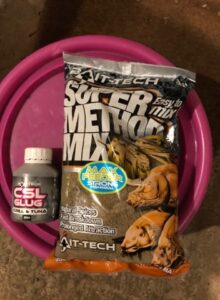 Halibut Marine 8mm Pellets – Not a new product as such, but a new size, 8mm's were available pre-drilled but these are a non-drilled version to complete the range.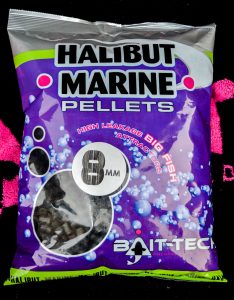 KnT Boilies – Being a match angler, I don't use boilies very often so all I can tell you about these is what it says on the website! 'The warm, rich red colour of these boilies coupled with the 5 different types of meal, including LT94, kelp meal and tuna meal make this one to watch.'
Coming in 300g pouches or 5kg bags they are available in 10mm, 15mm and 18mm.
I will take some with me on my next trip to Thailand so I'll let you know how I get on with them over there.
Knt Pop Ups – These compliment the KnT boilies perfectly
KnT Washed Out Dumbell Wafters – A great addition to the wafter range, I've caught loads of fish on the Juice wafters and these have a really potent fishy smell and I'm looking forward to doing some mugging with them.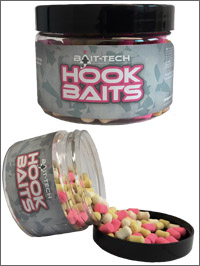 Check out the website here – Bait-Tech
*Bait-Tech sent me these products for free in exchange for an honest review. All opinions contained in this post are my own.