We were back at Sadborow for round five and after a gorgeous hot and sunny day on Saturday, I was hoping for more of the same but as I loaded the car, it was overcast and looking like we'd be in for some rain. We met at Millfield cafe for breakfast and after everybody was fed and watered, it was time to draw and Hoff called us up first so we could be on our way. I fancied the open water pegs (1, 7, 8 and 9) and was hoping to avoid the pegs behind the island (4 and 5), I also didn't particularly want peg 3 at the front of the island.
I grabbed a little canister and when I opened it, peg 5 was staring back at me – bugger! Bish was on 4 so we were next to each for the second match running, the Tart was on 7 which had won the last match with Mark G on 8, Paul H on 9, Smithy on 1 and Hoff on 3. We headed off and on arrival the pond looked nice with loads of carp swimming around near the surface.
I set up a Drennan 0.4 gram Carp 1 for the top two plus two meat line, a 0.3 gram Drennan Margin Crystal to fish two areas of the island and up towards the inlet plus the margin to my left, lastly I had to set up an inline dibber for fishing shallow. On the side tray I had red maggots (dead and alive), 6mm meat, Bait-Tech 6mm Carp and Coarse pellets, Scopex corn plus some groundbait I'd mixed the night before.
Hoff got us underway and I fed the meat line and then by the island and up towards the inlet with pellets and corn before having a go at the cruisers with my shallow rig, Smithy had one nearly straight away and the Tart flew out of the blocks. It took me a little while to persuade a carp to take the bait and by that time the Tart already had three or four and lost a couple as well. Mark G was also catching quite well and Paul was off the mark on peg 9 although the Tart kept telling him that peg always comes good late!
After an hour I had four carp and Bish was on a similar number but already we were a long way behind the Tart who was getting a fish a chuck and even standing up at times, looking like a demented heron so he could spot his next victim! After two hours I was up to eight fish but well off the pace with the front runners being the Tart, Mark and Smithy.
Then disaster struck when I hurriedly shipped my pole back after seeing a pod of carp that looked ripe for stalking and my rig went up the tree to my left! I grabbed the elastic and there was an almighty THWACK and the rig twatted me in the knuckles but at least I'd got everything back, – phew! The pain of my throbbing knuckles was offset by the relief at not losing my faithful little dibber that had caught me hundreds, nay, thousands of pounds of carp over the years, I then went to move the float up the line slightly and the float and the short stem parted company!
I decided to just push it together again and soldier on, I saw another group of carp to my right over towards the island so had a go at them, I flicked the rig in front of them, it shot under and I struck expecting loads of elastic to come up but instead the rig went up the tree above it! This time there was no saving it and after the inevitable THWACK, this time there were no throbbing knuckles as the rig was no longer attached to my line – gutted!
I got another rig out, a little Drennan Crystal Dibber and managed another carp but I was going nowhere fast and with Bish now on eleven carp and Hoff starting to catch well, I was probably near the bottom of the section! The Tart was still bagging and on for a good weight and the smug grin was back with a vengeance! So with half the match gone I tried the meat line for the first time, I missed a couple of good bites before hooking another carp and then had a decent spell, landing several carp in quick succession, I also pulled out of a couple.
Bish had a couple of carp fishing up towards the inlet so I started firing a few 6mm pellets up there and also kept pinging a few over by the island as well. After it initially feeling like there were loads of fish on the meat line, the bites soon tailed off and as so often happens on this pond, sport slows right up, even the Tart was now trying his other lines. Then in a continuation of my comedy of errors, I dropped my catapult in the lake which then sank like a stone (why don't they make catapults that float!). I dredged around with my landing net but no joy although after losing my favourite dibber I wasn't giving up on my nearly new catapult just yet.
I'd shipped my pole back with it resting on my keepnet and the rig still in the water and started having a poke around with my cupping kit, after much faffing about with the opposite end I slowly lifted it up and had managed to get the bottom through the catapult elastic, just then my top four headed towards the lake as a fish picked up the hookbait and tore off! So I had the pole with an angry carp attached in my right hand and my catapult precariously hanging from my cupping kit in the other! I was trying to thread the cupping kit under my landing net pole so I could lift it up and finally managed to do that but then the fish came off! What a palaver!
Odd fish were still coming out although everybody had slowed up and Paul was really struggling despite the Tart repeatedly telling him peg 9 always comes good late! No more bites on the meat line so I went up towards the inlet with corn on the hook and tapped in some bait and lifted and dropped the rig, I had two carp quite quickly and thought I might get a few, at one stage Bish struck into one and then my float went and I hooked a carp as well. After those three fish, I couldn't get a bite again and those fish just wouldn't settle, I had another go shallow and the next carp came from 13 metres towards the front of the island. The cruising fish were now laughing at any attempts to mug them so I spent the last three quarters of an hour fishing the meat line, I did have one more carp and then with a minute to go, missed a lovely slow bite and that was that.
My final tally was eighteen carp which at 3lb apiece would give me around 54lb, I think Bish had seventeen so it was going to be close, Hoff had twenty plus a couple of skimmers so I knew he'd beaten me and I was pretty sure, Smithy and Mark had more than I had as well. The Tart had clicked 110lb so another pound would be going to the wrong side of the world famous nuggetometer! Paul had struggled despite the Tarts assurances his peg would come good late and he was admitting to 30lb.
After packing up and loading the cars, it was time for the weigh in and the Tart wanted to start with me (which would mean he was weighed last, another sure sign he'd done well!). My two carp nets went 57lb 12oz which was pretty close to my estimate but I still thought I was going to finish well down. Bish had 47lb 12oz and then Hoff had a couple of skimmers for 4lb 10oz and with his carp he weighed 64lb so there were only a couple of fish in it.
Then we got to Smithy and after two weighs, his total was 50lb 4oz which surprised me as I thought he was miles ahead of me, Paul was nearly spot on with his estimate as he weighed 31lb and then Mark G pulled his nets out and again it was going to be close, his total was 53lb so I'd done better than I first thought. Lastly we got to the Tart and after his four nets were totted up, he weighed 130lb (and he'd chucked back a 2lb skimmer). I paid him another nugget and then we all tucked into some lovely cookies provided by Smithy before heading back for the results.
Perry St had fished really well with Picky winning the high numbers with a brilliant 104lb on paste from peg 11, it was a golden peg as well so the Tart not only ruined my day, he stopped Picky taking home a bumper payday! Dunner was second with 73lb 8oz from peg 14 and Bushy was third with 61lb 7oz from peg 20. Les won the other section from peg 10 with 85lb 12oz, Exeter Mike was second with 57lb 4oz from peg 8 and Carl was third with 47lb 2oz from peg 4.
Sadborow
1 – Brendon Ions (Tackle Trader) – 130lb
2 – Mark Hollister (Chard) – 64lb
3 – Jamie Rich (Against Men and Fish) – 57lb 12oz
Perry St Low
1 – Les Braunton (Chard) – 85lb 12oz
2 – Mike Hosgood (Nr Exeter) – 57lb 4oz
3 – Carl Everton (Torquay) – 47lb 2oz
Perry St High
1 – Alan Gage (Chard) – 104lb
2 – Alan Dunn (Chard) – 73lb 8oz
3 – Steve Bush (Chard) – 61lb 7oz
So not a disaster for me (apart from losing my dibber!) and I picked up £30 for third in the section but I'm going to need some good results in the remaining four rounds if I'm going to do any good in the league. To be fair the Tart did really well today and two section wins out of two in a really tough section is pretty impressive. The Tart and Bushy are starting to pull away from the chasing pack although there could be some twists and turns to come yet,
Brendon Ions – 31 pts (359lb 4oz)
Steve Bush – 31 pts (317lb 11oz)
Mark Hollister – 27 pts (201lb 14oz)
Mike Hosgood – 27 pts (182lb)
Jamie Rich – 26 pts (189lb 15oz)
Mike Smith – 25 pts (196lb 6oz)
Carl Everton – 25 pts (174lb 8oz)
Shane Jeffrey – 22 pts (187lb 14oz)
Les Braunton – 22 pts (170lb 6oz)
Alan Dunn – 21 pts (165lb)
Here's a list of the framing pegs in each section so far,
Sadborow
2 – 3 times (won 2)
7 – 2 times (won 2)
9 – 2 times (won 1)
5 – 3 times
8 – 2 times
4 – 2 times
3 – 1 time
Perry St
5 – 4 times (won 2)
14 – 4 times (won 1)
11 – 4 times (won 1)
10 – 3 times (won 2)
17 – 3 times
4 – 3 times
1 – 2 times (won 1)
7 – 2 times (won 1)
8 – 2 times (won 1)
13 – 1 time (won 1)
19 – 1 time
20 – 1 time
Lastly, here's the Nuggetometer, I'm still having a few problems with it, hopefully it'll start working correctly soon!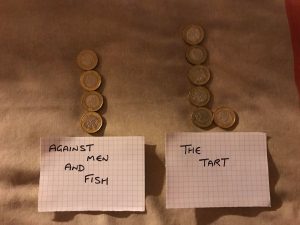 The blog is a bit late again this week so I apologise for that, but I've had a lot on, the Tart has been texting saying 'Come on, my disciples want to read about me' which about sums him up!
Next up – Trinity Waters
Coming soon – Another great review
Check Out – My last match below