Another Bank Holiday means another days fishing so I booked into Summerhayes but this time the match was on Longs. I stopped at the Toby for breakfast but was a little early (yes you read that right, early!) and as I parked up, Alvin, Debs and Jess (Zooner) were already outside waiting for it to open. With our bellies full, it was off to Bridgwater, there was decent turnout for this one with fifteen booked in, all the regulars were there including Jeff Sparkes who wanted to top up his piggy bank and Bill 'The Paste King' Hopping who catches so many fish, I'm sure he was a carp in a previous life!
I was hoping to draw a peg on the bottom bank as pegs 15, 17 and 19 have been doing well for silvers recently but pulled out peg 31 which is still a decent area, Jeff pulled out peg 27 and was all for giving me his pound already, despite Gabe Skarba winning the silvers off 29 recently. Roger Kimberley drew that one and news of my poor recent silvers form must be spreading as he wanted a pound on it and with Alvin and Jess also keen to empty my pockets, this could be an expensive day!
My peg looked quite nice with the wind blowing left to right and some reeds on the inside to the right. I set up two 0.3 gram NG Mini Gimps, one to fish top two straight out, left and right and the other to fish top two plus two. On the side tray I had Bait-Tech 4mm Xpands for the hook, dead reds, some wetted down micros for feed plus some Special G Green and The Juice groundbait I'd mixed the night before. If I'm honest, I've lost my way at Summerhayes a bit, I used to do really well feeding micros and fishing soft pellet over the top but I've struggled to make it work in recent matches.
I was ready in plenty of time so after a natter with Jeff, I went to the hut and got another coffee before heading back to my peg with a couple of minutes to go. Pete got us underway and I cupped in balls of groundbait to the left, straight out and on the top two plus two line and then some micros on the short line by the reeds. I started by the reeds with an expander on the hook but after ten minutes I hadn't had any indications so I switched to the left with the same result. Roger had a couple of skimmers quite quickly and Jeff was off the mark as well and I was behind already!
I tried straight out on the short line and finally had a bite after half an hour but of course it was a little carp which I hoped wasn't a sign of things to come, so I tried double dead maggot to the left and the float flew under but this time it was a tiny roach and once again I was going nowhere fast! After three quarters of an hour, I missed a lovely slow bite to the left and then next chuck, another good bite saw a decent skimmer come flying out of the water, it jumped a further three or four times and I was sure it would come off but it stayed on and I slipped the net under a nice 1.5lb fish.
As the first hour came to a close, there wasn't much between Roger and me although Jeff was admitting to 5lb already! No more bites to the left so I moved to the line in front and had a nice skimmer, the next put in I hooked a better fish which didn't feel like a carp and a nice tench around 1.5lb came to the top before sliding in the net, that's more like it! I've then had a really good spell catching another six skimmers over the next hour between 4oz and 12oz although I did lose one at the net. I fed another ball of groundbait and tried to the left and right again but no more bites from either line. Back out in front and I had another five skimmers in hour three and was starting to think I could do a good weight. Roger was getting odd fish but Jeff was still catching well.
But then in the fourth hour, I've gone from getting regular indications to not getting any bites at all! I tried all three short lines but it had switched off, it also looked like Roger and Jeff had slowed up as well. I went out to the top two plus two line for the first time but no bites there either, back on the short line and then out of the blue, the float sailed away and as I struck, a decent skimmer leapt out of the water and came off – bugger!
With two hours left I've tried the longer line again and after five minutes, a positive bite resulted in a decent skimmer, next chuck the rig had barely settled before going under and a big skimmer leapt out of the water. I had another nice little run of fish with most coming as I laid the rig in, I did lose a good fish that tore off and then stopped but came off as I shipped back, I also had another little carp.
Any hope of a similar last hour soon disappeared when I couldn't get a bite again and despite resting the longer line for a bit, the only bite I had was from a carp. I ended up with nineteen skimmers and that tench which I thought might go 8-9lb but I didn't think it would be enough today. Jeff was admitting to 12-15lb so I knew I was a quid down already.
The scales started with Jason King on peg 35 and he had 38lb 1oz of carp and 2lb 3oz of silvers and then Rob W on 33 had 48lb of carp. As we headed to my peg, Alvin turned up and said he'd struggled for 4lb of silvers, he paid me his pound which I gave straight to Jeff but at least I was evens for now but then he said Zooner probably had 10-12lb of silvers on peg 15. I pulled my net out and it was a little more than I thought (nothing new there then!) and Pete called it at 11lb 9oz.
Roger weighed 7lb 5oz so I was another nugget to the good and then we got to Jeff, he had a lovely net of fish weighing 19lb 14oz, we were just about to go to the next peg when he found another pound skimmer in his net (not that he needed it!). Roy Hughes on 24 had 42lb 3oz of carp and Dan G on 21 had 30lb 7oz. Simon W on 19 had 8lb 2oz of silvers and then Alvin had 40lb 2oz of carp and was bang on with his silvers estimate of 4lb.
Zooner was next and when he pulled his net out, it was going to be close, the display settled on 10lb 15oz and I was still hanging on to second place and 3-1 up on side bets. Mark Leahy didn't weigh on 12 and then Harry M on peg 10 had 29lb 3oz, Rob had done well from peg 7 on Cyanide Straight to weigh 8lb 13oz of silvers, Rod on peg 2 had 44lb 14oz of carp to go into second place and then last but not least was Bill on peg 38 and he had 64lb 7oz of carp for yet another win.
So I ended up in second place, picked up £40 and learnt a few things today although I'm still off the pace and more work is required! The carp weights were really close with one fish separating several places between third and sixth.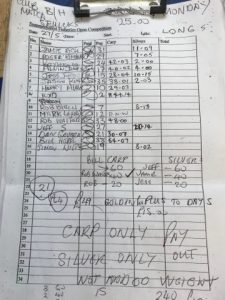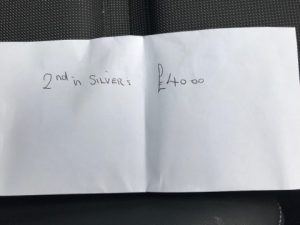 Carp
1 – Bill Hopping (Summerhayes) – 64lb 7oz
2 – Rob W (Summerhayes) – 48lb
3 – Rod (Summerhayes) – 44lb 14oz
Silvers
1 – Jeff Sparkes (Summerhayes) – 20lb 14oz
2 – Jamie Rich (Against Men and Fish) – 11lb 9oz
3 – Jess Jordon (Summerhayes) – 10lb 15oz
Next up – Sadborow
Coming soon – A feature on bait
Check Out – My latest match below