The final match arrived and the two gladiators prepared to do battle one last time, in the red corner was Steve 'The Carp Slayer' Bush and in the orange corner was Brendon 'The Beastmaster' Ions (aka The Tart). Only one point separating them after eight matches but who would emerge from the ring victorious? Bushy held the slender advantage and a section win would see him crowned the league champion, slip up and the Tart could snatch the silverware at the death!
They were both at Perry St today, Bushy in the high numbers section and the Tart on the opposite bank, in both sections there are a couple of potential banana skin pegs along with some out and out fliers, would it come down to the draw?
As for me, I was down in fifth place, two points behind the Hoff and Exeter Mike and three ahead of Smithy, third place was still mathematically possible but I'd need to win the section and other results would have to go my way as well. I really fancied pegs 2, 7, 8 or 10 and was hoping to avoid 4 and 5, they're both capable of winning the section but the lilies can be a nightmare and several pole sections had already paid the price in previous rounds!
Most of us met at the cafe and after ordering a kids breakfast at 'Spoons last week, Picky wasn't going to make the same mistake again and went for the Millfield full monty!
After fuelling up for the day ahead we then made our way to Perry St to do the draw, I asked Bushy where he fancied today and he said as the wind had been blowing up towards pegs 1 and 20 all week, he thought they'd do well but I'd still rather be up the other end. Hoffy called us up to draw first and when Exeter Mike said he was on 4, I felt it was safe to grab a little canister. I opened it up and couldn't believe it when 10 was staring back at me, I'd been fantasising about it all week and in my opinion, it's probably the best, most consistent peg on the pond. In all the years I've fished matches at Perry St, I think I've only drawn it about three times and always done well off it.
The Tart was on 5 again and I said he'd do well as both him and Bushy seem to have got fishing the margins sorted and recorded some big weights. Dunner was on 1, peg 2 wasn't drawn, Exeter Mike was on 4 with Smithy on 7 which I also fancied and Oz was on 8. Then it was the turn of the other section to draw and Bushy got his wish and pulled out peg 20 although I still wasn't convinced as it's only done well once in eight matches although admittedly it was Bushy on it that day!
My peg looked lovely and there were a few fish moving about but they weren't cruising which I thought was a really good sign for fishing shallow properly. I was going to avoid the lilies and fish shallow in open water, on the deck with meat at five metres and then by the floating fish refuge on the inside to my right where the Tart had caught well when he drew it. On the side tray I had live and dead red maggots, meat, 6mm Bait-Tech Carp and Coarse pellets plus some groundbait I'd mixed up the night before.
It was shaping up to be a scorcher of a day although my peg was quite shaded, Smithy turned up for a natter and then the Tart arrived to ask if I had some sun cream he could borrow and judging by the glare coming off his lily whites, that was a very sensible move! With a few minutes to go, they headed back to their pegs and then the Tart shouted the all in. I cupped in some meat at five metres before starting with the shallow rig set at around 18 inches deep and pinging a few pellets out on a regular basis. As I've said many times on the blog, two fish an hour isn't normally far away here so it's not a fish race and I got off to a brilliant start when my elastic was ripped out after only a few minutes and I safely netted a two pounder.
Derek on peg 11 was also into a fish really quickly and I could see Smithy's elastic out up on peg 7 as well, I added a second carp not long after but it was another 2lb 'squeaker' whereas when Del had his second it looked like a lump, probably twice the size of my two added together! Just before the first hour was up, I had my third carp but Smithy was catching well and Del was bagging opposite although he was in the other section.
I landed my fourth carp quite quickly and although they only went 8lb between them, I was fairly happy with how things were going, I was catching steadily and hadn't lost anything yet. Of course that was famous last words, I saw a carp near the surface a bit closer to the lilies so flicked the rig in front of it and it took the pellet, I put the pole under the water and shipped back as fast as I could but already the fish was right in the back of the lilies and snapped me!
Back out shallow, I couldn't get a bite and there weren't that many cruising about and the ones that I could see were well out of range. There were loads of blows coming up where I'd been pinging pellets so I went out with the depth rig with banded pellet and was lifting and dropping but that wasn't the answer either and from doing okay, it felt like I was starting to lose my way. Apart from Smithy and Del, it sounded like the pond was fishing quite hard and the Tart hadn't even caught yet! I shallowed up to a foot deep and had a go at mugging but they were having none of it and I didn't want to feed the margins too early so went back out long on the deck. I started getting indications and had four carp in quick succession, including some better ones.
By now, we were approaching the halfway mark and it never ceases to amaze me how quickly time seems to pass, when that whistle goes at the start, you've got a full six hours ahead of you and it seems like an age but when it's not happening and you're trying different things without actually catching anything, it flies by! By all accounts, the Tart only had three carp but I knew that would change when he started fishing the margins. I cupped in four pots of loose groundbait on my inside line and would keep an eye out for any signs of fish.
It didn't take long for some tails to start waving at me so I quickly shipped back and picked up my margin rig and went in with a cube of meat on the hook, it was time to fill my boots (and hopefully my nets!). The float shot away and I've hooked what felt like a big fish, I've added some sections and the fish eventually stopped and I started to gain ground but from the way the rig was shaking, I knew it was foulhooked, probably in the tail and not long after the hook pulled. Back in and another decent fish headed off, this one went for miles and I was sure it was foulhooked as well, it gave me loads of problems but this time luck was on my side and I netted a 6lb fish, hooked in the wing!
There were tail patterns coming up but I just can't seem to get this margin fishing right and I spent ages mesmerised by the tails when I wasn't actually putting anything in the net! Del was still catching well as was Smithy and he also shouted up that the Tart was starting to put a few fish together. I'd only seen Bushy catch a couple of fish and thought the Tart had a chance of overhauling the one point deficit. No more fish from the inside so I cupped in some more groundbait and went back out long and had three more carp on the deck to put me on twelve fish and with nearly two hours left, I still thought a good weight was on the cards.
More fish signalled their presence on the inside so I came back in and spent ages trying to make it work when I'd have been better off staying out long, I just couldn't believe I wasn't catching when there were obviously quite a few fish there, I tried meat and big bunches of maggots but the only action was another lost foulhooker. Going into the last three quarters of an hour and still stuck on twelve fish I've gone back out on the deck. The Tart shouted down to ask how Bushy was doing and he replied he was on eighteen carp! He then asked Derek who said he was on fifteen so it was looking like Bushy would still take the title.
Time was ticking by and I couldn't believe I'd gone nearly two hours without adding anything to my tally and then with ten minutes to go, the float buried and I hooked a fish but it wasn't on long and may have been foulhooked. A few more minutes passed and a quick check of my watch showed that was nearly it and I was waiting for the Tart to signal the all out when the float sailed away and a fish was on, I took my time with it and landed a nice 4lb mirror a few minutes after the whistle.
I finished with thirteen carp which I thought would give me around 50lb, it was sounding like it would be between Smithy and the Tart for the section and when Exeter Mike said he had twelve carp plus some silvers, I knew he'd beaten me as well as I'd had several 'squeakers'. I took my kit back to the car and asked the others how they'd done, Oz had caught a few carp and a big eel, Smithy said he had around 60-70lb, the Tart had clicked 69lb but said he might have missed a fish off, Mike from near Exeter said he had 50lb plus and Dunner had struggled on peg 1.
Doing some mental arithmetic, if Smithy won the section and I finished fourth, we'd tie on points for fifth place and he'd beat me on weight so I found myself in the unheard of position of actually hoping the Tart would win the section! I was first to weigh and my first net went 19lb 4oz and the second one went 29lb 12oz to give me a total of 49lb, Oz had 15lb 8oz and then Smithy weighed 71lb 10oz before we got to the Tart who as ever was underplaying what he had. His first net was 10lb 14oz, his second went 31lb and his third carp net was 36lb 4oz, he also added a big eel and a few silvers for 3lb 10oz which added all together gave him a total of 81lb 12oz. Exeter Mike weighed 65lb and then Dunner had 27lb 4oz.
In the other section, Bushy had a brilliant 103lb 7oz which was his third 100lb+ weight on the trot in the league, it also put him in with a shout of his second golden peg win in as many matches! Derrick was second with 77lb 10oz and had fished a really good match, Picky was third with 43lb 2oz from peg 16, Paul had 41lb 6oz from 19, Mark G weighed 26lb 9oz from 14, Mike C had 20lb 8oz on peg 3 and Rich C in 17 didn't weigh. Thanks to Derek Hounsell for the photo*
For the final results we were back at Perry St Club,the Sadborow section got back and Bish had the top weight out there with 89lb 1oz from peg 5 with Hoff second from peg 3 with 53lb 6oz and Butch was third with 39lb 6oz from peg 9 followed by Shane with 37lb 12oz from peg 8, Howard with 30lb 14oz from 7, Beki with 12lb 4oz from 1 and Les didn't weigh on peg 4.
Sadborow
1 – Steve Bishop (Chard) – 89lb 1oz
2 – Mark Hollister (Chard) – 53lb 6oz
3 – Butch Baker (Chard) – 39lb 6oz
Perry St Low
1 – Brendon Ions (Tackle Trader) – 81lb 12oz
2 – Mike Smith (Torquay) – 71lb 10oz
3 – Mike Hosgood (Nr Exeter) – 65lb
Perry St High
1 – Steve Bush (Chard) – 103lb 7oz
2 – Derek Hounsell (Chard) – 77lb 10oz
3 – Alan Gage (Chard) – 43lb 2oz
After Hoffy had worked out all the points, he read out the final league results in reverse order, Smithy was sixth with 45 points, then it was me with 46 and I picked up £40, Exeter Mike was fourth with 49, Hoffy third with 50, the runner up was the Tart with 58 and Bushy was crowned a worthy champion with 59 points. To be fair it's been a right ding dong battle between Bushy and the Tart all the way through, there was added drama when the Tart went over in a net which cost him several points and ultimately the league. There was very little separating them, they both had six section wins and some impressive weights along the way, Bushy had three 100lb+ weights and his lowest weight of the series was 51lb 6oz! On his march to the title he also won the golden ball twice. As for the Tart, he had the biggest weight of the series with 130lb at Sadborow and apart from the match where he lost a net, his lowest section placing was second.
On a personal level, I've had a really enjoyable league winning my section twice but some poor decisions along the way have cost me a few places and I think third was definitely feasible. Take today for example, I'm sure if I'd have stayed fishing on the deck longer and not got hypnotised by the waving tails again, I would have done enough for third in the section but then again if, in the Tart's words, 'I'd put my big boys trousers on and fished in the lilies', I might have won the section! There were several matches where another fish or two would have got me another point and then there was the fourth round where I drew peg 17 and scored a lowly 3 points and I honestly don't think there was anything else I could have done that day, Bish was on 16 and scored 2 points and the pair of us have really struggled.
1 – Steve Bush – 59 pts (747lb 5oz) – League Champion
2 – Brendon Ions – 58 pts (679lb 10oz)
3 – Mark Hollister – 50 pts (408lb 6oz)
4 – Mike Hosgood – 49 pts (450lb 2oz)
5 – Jamie Rich – 46 pts (416lb 13oz)
6 – Mike Smith – 45 pts (475lb)
7 – Shane Jeffrey – 38 pts (357lb 8oz)
8 – Steve Bishop – 38 pts (349lb 8oz)
9 – Howard Watts – 38 pts (287lb 7oz)
10 – Paul Homewood – 36 pts (313lb 7oz)
Here's a list of the framing pegs in each section,
Sadborow
7 – 6 times (won 3)
5 – 6 times (won 2)
3 – 4 times (won 1)
2 – 3 times (won 2)
9 – 3 times (won 1)
8 – 3 times
4 – 2 times
1 – 1 time
Perry St
14 – 7 times (won 3)
5 – 6 times (won 3)
11 – 6 times (won 2)
4 – 6 times (won 2)
10 – 5 times (won 3)
7 – 5 times (won 1)
17 – 4 times
1 – 3 times (won 1)
19 – 3 times
8 – 2 times (won 1)
13 – 2 times (won 1)
20 – 2 times (won 1)
16 – 2 times
2 – 1 time
Lastly, here's the final Nuggetometer and the Tart has given me a right hiding which I probably deserved for starting it when I was 3-1 up as it's only spurred him on and I got my comeuppance, fair play mate!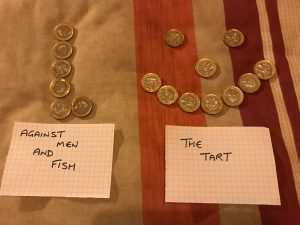 Here's a look back at the league in numbers,
Most section wins – Steve Bush and Brendon Ions with six
Best peg at Sadborow – Peg 7 (three section wins, framed six times)
Best peg at Perry St – Peg 14 (three section wins, framed seven times)
Biggest winning weight at Sadborow – Brendon Ions – 130lb
Biggest winning weight at Perry St – Steve Bush – 104lb 8oz
Golden pegs won – Steve Bush – two
Number of 100lb+ weights – five 
So huge thanks to the Hoff for organising a great league and to all the anglers for making it such a good laugh. Thanks also to Millfield cafe for looking after us in the mornings and of course Smithy for bringing the cakes!
And lastly, how spoilt are we with fishing on the telly at the moment, it's the last episode of Monster Carp on ITV4 tomorrow night but then Gone Fishing with Paul Whitehouse and Bob Mortimer starts on Friday at 8:00 on BBC2 and then next week there's a new series of Fishing Allstars with Dean Macey and Adam Rooney on Thursday at 8:00 on ITV4, can't wait!
Next up – Summerhayes
Coming soon – Another great review
Check Out – My latest match below