For the penultimate league match we were at Sadborow and I was really looking forward to it as you're normally guaranteed plenty of bites and the banter is always top notch. Lying fourth in the league, just a point behind Exeter Mike, I wanted to do well and spent a fair bit of time doing some prep on Saturday, tying rigs and hooks, chopping meat and mixing groundbait.
I was up early and on arriving at the cafe, there were a few already there including the Tart who had bagged himself an end peg! When everybody was fed and pools paid etc, we headed out to Perry St to do the draw. Hoff called us up first so we could be on our way and I really wanted to avoid peg 4 behind the island so had the last peg in the bucket. As everybody started opening their canisters, nobody was admitting to having it and I started to fear the worst. I plucked up the courage to have a look and was hoping to see 1, 7 or 9 staring back at me but although I had managed to avoid 4, I was on 8 which is a decent peg but hasn't been great in recent matches.
The Tart had drawn peg 3 which hasn't been great either although he did have his usual empty peg next door! Smithy was on peg 1, Oz was the unlucky angler on peg 4 with Carl on 5, Exeter Mike on 7 and Pup on 9. My peg looked really nice with the corner to my left and an inviting margin to the right. There were already loads of carp cruising about but as my peg was under the trees in the shade, I couldn't really see them very well.
I set up a Drennan 0.4 gram Carp for the top two plus two meat line, a 0.3 gram Drennan Margin Crystal to fish the corner and the right hand margin and a 0.3 gram Drennan Crystal Dibber for shallow/mugging/stalking. On the side tray I had red maggots (dead and alive), 6mm meat, Bait-Tech 6mm Carp and Coarse pellets plus some groundbait I'd mixed the night before.
The Tart was in charge of getting us underway (God help us!) and muttered 'all in' as he didn't even have a whistle (very unprofessional), I threw some meat in on the short line and went straight out with the shallow rig, the Tart was into a fish within 30 seconds and then had another next chuck, Smithy was off the mark quickly and Oz flew out of the blocks (although I couldn't see him behind the island). The Tart hooked another, Smithy had his second and already I started to think I might be in trouble!
Then my float disappeared and elastic streamed from the pole tip before I landed my first carp, I added a second shortly after to draw level with Smithy and then the Tart said he only had two as he'd lost one of his. I thought I'd go on to catch well but then I've really struggled while the Tart, Smithy and Oz continued to bag up and Carl and Exeter Mike were getting odd fish. After an hour I only had four carp and was well down in the section, Pup on peg 9 was also really struggling with just a couple of fish.
I was still feeding meat on the short line and there were some fishy looking bubbles coming up but I didn't want to go on it yet and it was too early to feed the margins so I persevered catching the odd one shallow. As always the banter was in full flow and it was a right chuckle with some inspired insults flying around the pond, everything from 'Googan's' to our version of 'The Famous Five'!
After a couple of hours, I couldn't resist it any longer so picked up my top two plus two rig, lowered a cube of meat in and toss potted some over the top. After a few minutes the float sailed away and of course I missed it and then missed the next two as well! I did manage to hit the next one which turned out to be a nice 2lb skimmer, next put in I hooked what I thought was another skimmer until it woke up and turned into a 3lb carp! I was getting quite a few indications and with loads of blows coming up, it felt like there were a lot of fish there.
The gruesome twosome opposite were still mugging and catching well despite both of their protestations that they were only catching 'squeakers'! I lost a skimmer and then had a carp come off and typically now I wasn't fishing long, there were quite a few carp moving about out there. Exeter Mike had a decent run of fish from his inside line so with half the match gone I fed my right hand margin and the corner with several pots of loose groundbait and went back out playing cops and robbers.
I managed a couple of fish but also had three on the trot come off for no reason which didn't help my cause much! We were also approaching 'closing time', basically after around three hours, the fish here seem to just shut up shop and you can go from bagging to really struggling with the exception of peg 9 where the Tart insists they always come late! It's probably a combination of being a small pond and angling pressure, it's also very clear which is odd given the amount of fish in there. Sure enough sport seemed to slow up and even the Chuckle Brothers were now only getting odd fish!
Back on the meat line and I had three carp quite quickly but it was short lived, I also saw a couple of tails waving at me from the right hand margin but they disappeared as soon as I went in there, the corner was a similar story, I waited ages for a bite and landed a small 1.5lb carp so went back out long. Apparently Oz had stopped catching, Carl and Mike from near Exeter were still getting odd fish and although Smithy and the Tart had slowed right up, their catch rates were still ticking along with both of them saying the other was miles ahead!
I kept getting hypnotised by the tails in the margins and was spending more and more time in there without actually catching anything! Also now the sun had moved round, I could see the carp swimming about shallow on the longer line which was handy now that they didn't want to know! I did manage to mug a couple more fish but the only action from the margin line was a 2oz perch that took a liking to three dead reds! The Tart was right about peg 9 as they did arrive late and Dunner had three or four fish in the last hour and Exeter Mike joined the 'ghostie' club with a nice fish just before the end.
The Tart mumbled something about the match ending and we all started packing up, I ended up with 20 carp, 2 skimmers and that perch which I thought would go around 55lb (the carp average 2.5lb plus the skimmers) and I was sure I'd be bottom two in the section and my league was over. I actually felt really deflated, I don't think I fished a particularly bad match although I wish I'd spent more time fishing the meat line and ignored the margins, I did lose a few but everybody had.
Of course the Tart started downplaying what he had and was saying he definitely had no more than 70lb but we've heard it all before. The scales started with Carl and he had 48lb 8oz, Oz then weighed 57lb 8oz which was a great weight from that peg and I started to think it was going to be closer than I originally thought. We then got to the Tart and he pulled his third net out and said there was only 10lb in it, the needle pulled round to 20lb 4oz which gives you some idea how this is going to go! His next net was 36lb 12oz and his last net went 37lb 4oz to give him a total of 94lb 4oz and he was the only one surprised by that!
Commander Smith was next and his two nets totalled 69lb 4oz which was less than we thought, Dunner had 32lb and then it was turn, my two skimmers and that perch weighed 4lb 2oz, my first carp net was 27lb 8oz and the second one went 29lb 6oz to give me a total of 61lb which wasn't far off my estimate, that just left Exeter Mike and I knew it was going to be close. He had two proper skimmers for 6lb 6oz, then his first net went 35lb 2oz and the other one weighed 22lb 6oz to give him a total of 63lb 12oz so that last ghost carp had come back to haunt me! So I ended up fourth in the section which wasn't as bad as it could have been although any chance of third place in the league has now gone.
So the Tart had done what he needed to do and we headed back to Perry St for the results and to see if Bushy could match him. We got back and despite him having a moan about his peg, he blitzed the section, the lake and the golden peg with 104lb 8oz from peg 4. Mark G had also done well from peg 10 with 98lb 12oz and Picky was third with 56lb 10oz from peg 7. In the other section Hoff had the top weight with 64lb 10oz from peg 14, Derek Hounsell was second with 59lb 6oz from peg 17 and Butch was third with 56lb 12oz from peg 13.
1 – Brendon Ions (Tackle Trader) – 94lb 4oz
2 – Mike Smith (Torquay) – 69lb 4oz
3 – Mike Hosgood (Nr Exeter) – 63lb 12oz
Perry St Low
1 – Steve Bush (Chard) – 104lb 8oz
2 – Mark Garner (Chard) – 98lb 12oz
3 – Alan Gage (Chard) – 56lb 10oz
Perry St High
1 – Mark Hollister (Chard) – 64lb 10oz
2 – Derek Hounsell (Chard) – 59lb 6oz
3 – Butch Baker (Nr Exeter) – 56lb 12oz
So it's as you were for the top two with just a point separating them so it's a straight shoot out for the title and for the last match they'll be on opposite sides of the pond at Perry St so we'll be able to see how they're doing in their respective sections as the match progresses, who will handle the pressure better? Will there be a final twist? There have been a couple of pegs that aren't great and some absolute fliers, will it come down to the draw? As sporting finals go, this could be up there with the Wimbledon final, England's cricket world cup victory or the Fish 'O' Mania final! Hoff's section win meant he moved up into joint third place with Exeter Mike and I've slipped to fifth with Smithy now three points behind me.
1 – Steve Bush – 52 pts (643lb 14oz)
2 – Brendon Ions – 51 pts (597lb 14oz)
3 – Mike Hosgood – 44 pts (385lb 2oz)
4 – Mark Hollister – 44 pts (355lb)
5 – Jamie Rich – 42 pts (367lb 13oz)
6 – Mike Smith – 39 pts (403lb 6oz)
7 – Howard Watts – 35 pts (256lb 9oz)
8 – Shane Jeffrey – 34 pts (319lb 12oz)
9 – Paul Homewood – 32 pts (272lb 1oz)
10 – Mark Garner – 31 pts (290lb 4oz)
Here's a list of the framing pegs in each section so far,
Sadborow
7 – 6 times (won 3)
5 – 5 times (won 1)
2 – 3 times (won 2)
3 – 3 times (won 1)
8 – 3 times
9 – 2 times (won 1)
4 – 2 times
1 – 1 time
Perry St
14 – 7 times (won 3)
10 – 5 times (won 3)
5 – 5 times (won 2)
11 – 5 times (won 2)
4 – 5 times (won 2)
7 – 4 times (won 1)
17 – 4 times
1 – 3 times (won 1)
19 – 3 times
8 – 2 times (won 1)
13 – 2 times (won 1)
20 – 1 time
2 – 1 time
16 – 1 time
Lastly, here's the Nuggetometer and the Tart has gone even further ahead and to be fair he's given me a bit of a spanking, it would be nice to take a pound off him in the final match to give the score an air of respectability!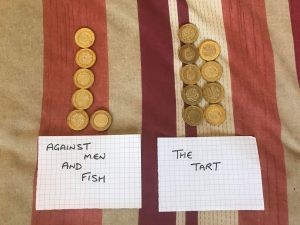 Also I haven't forgotten about the newsletter but we still haven't reached the 50 required for it to start, so if you haven't signed up yet, please do for exclusive content and competitions.
Next up – ?
Coming soon – Another great review
Check Out – My latest match below