The Bait-Tech Juice Dumbells came out in 2017 following on from the release of the massively popular 'The Juice' glug the previous year. Bait-Tech sent me out a package of all their new products and I have to admit I was more excited about trying the groundbaits and the Plum liquid than the Dumbells as I just didn't really know how or when I was going to use them as I don't do much feeder fishing. The review of those 2017 products can be found here.
The Dumbells come in two sizes 8mm and 10mm and three different types, Pop-Ups, Wafters and Sinkers. Each pot contains a variety of fluoro colours, yellow, pink, orange and white and opening a pot, that gorgeous Juice smell is divine. I chucked a couple of pots of 8mm's in my carryall although I still wasn't sure in what scenario I'd actually use them.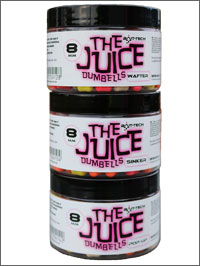 The Chard AC league at Perry St Pond started a couple weeks later and normally a lot of fish are caught up in the water, I finished mid-section in round one so was hoping for better things in the second match, I drew a decent peg and caught quite well shallow with a 6mm banded pellet for the first half of the match before the carp shut up shop although loads could still be seen cruising about. Despite my best efforts they were ignoring a pellet plopped in front of them so I tried a Dumbell and went for a nice visual white one, I spotted a pod of carp heading my way so flicked the rig in front of them and one made a beeline for it.
I landed a good fish of 8-9lb and went on the win the section and the lake with 50lb 6oz, the full report can be found here. Since then, those white Dumbells have caught me loads of fish and won me loads of money, I have caught on the other colours too but white seems to outscore the others but that's probably a confidence thing and the fact I use the white ones more than the other colours.
Juice Pellet Wafters came out in 2018 and then KnT Washed Out Dumbell Wafters followed this year, both come in 8mm and 10mm. The Pellet Wafters are two different shades to match your hookbait and there are three different colours in each pot of Washed Out Dumbells (white, yellow and pink). The Washed Out colours are a great idea as lots of those big old commercial carp start to wise up and have seen it all, these just give you another option. They are also very pungent with a strong, fishy aroma and where the Juice Dumbells smell good enough to eat, the KnT Wafters are the opposite but the fish love 'em!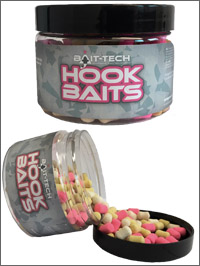 As I said earlier, I don't really do any feeder fishing anymore (although I'm hoping to change that soon!) so I've never tried the Pop-Ups but the Sinkers or the Wafters (if you want a slow sinking bait) are devastating when mugging fish on the pole.
You can check out the full Bait-Tech hookbait range here
Juice Dumbell stack and KnT Wafters photos courtesy of Bait-Tech